Hey Gamer Friends ...
Have a great day!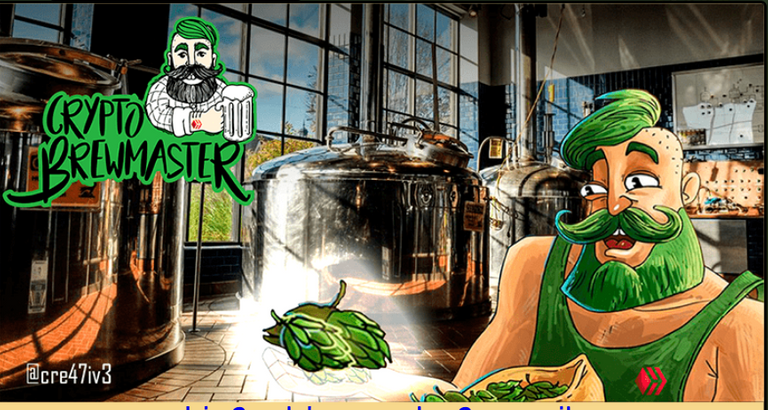 The last 3 days, I rented the Water Tower for two days to collect water, and then I rented Grain Field.
Grain Field costs 12 CBM per day.
2Row Barley and 6Row Barley can be produced in Grain Field.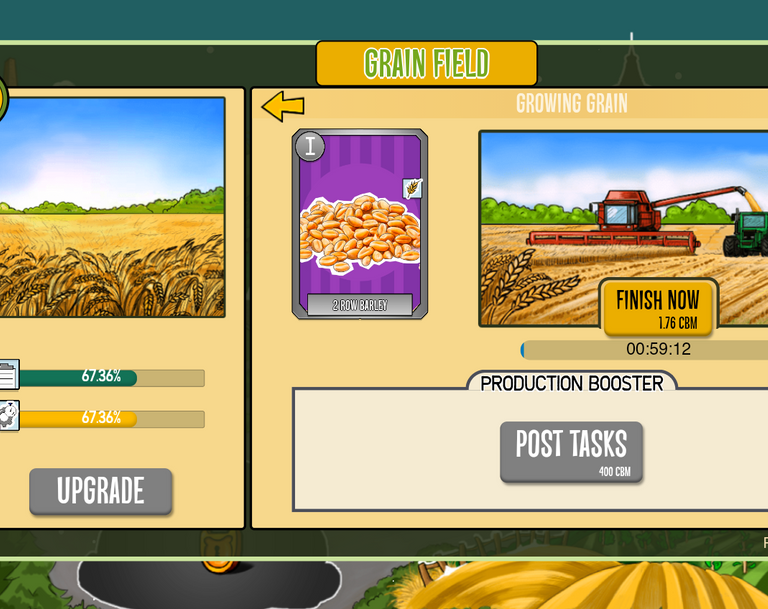 It takes water and energy 2 to produce 2Row Barley and it takes 60 minutes.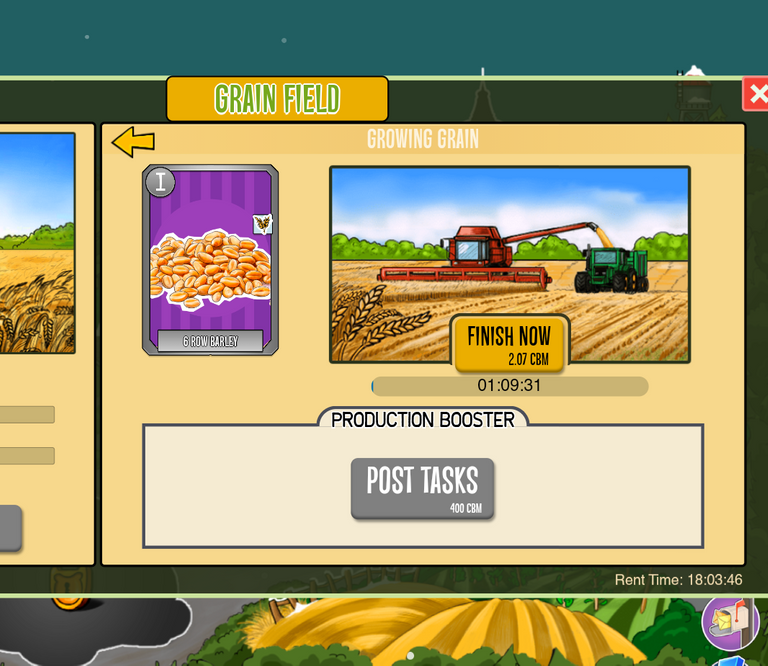 The production of 6Row Barley also requires water and energy 2. It lasts 70 minutes.
The two ingredients were produced alternately.
The rental time is 24 hours, but since it is manually operated, only 5 cards of 2Row Barley and 5 cards of 6Row Barley can be produced.
---
Here, if the leased Grain Field becomes low grade, I need to restore it to upgrade.
You can get more good Ingredient cards only if you upgrade% higher.
---
I rent rental services one by one day because I need CBM tokens to drink more beer to get energy.
If you have more than 300 CBM, you can rent all rentals at the same time.
However, water is essential for these rental services to work.
Therefore, you need to rent a water tower in advance and get a lot of water first.
---
The next day, after collecting 2Row and 6Row Barley , the Malt House was leased for 17.7 CBM per day.
Malt House produces 2Row Barley Malt and 6Row Barley Malt Ingredients.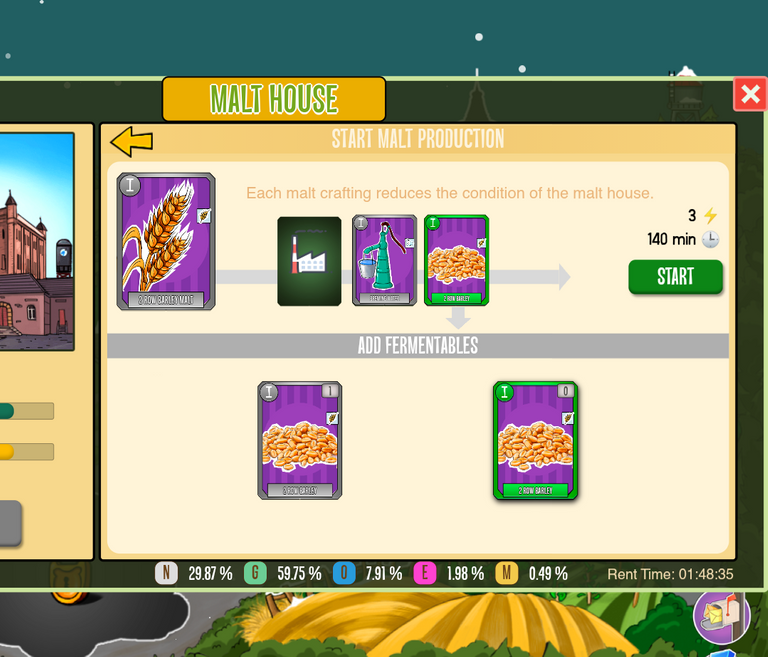 To produce 2Row Barley Malt, we will need Water, 2Row Barley and Energy 3 . It takes 140 minutes.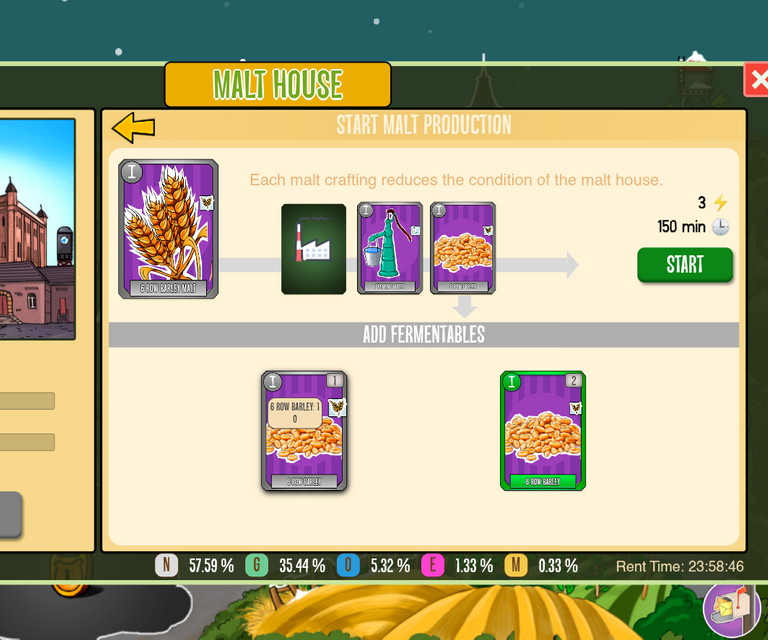 To produce 6Row Barley Malt, we will require Water, 6Row Barley and Energy 3 and lasts 150 minutes.
I took turns producing two 2Row and 6Row Barley Malts and got about three ease.
Here, I think the rental and repair costs for a rental building are more than the cost of producing the ingredients.
You can only make a profit if you win prizes from Cryptobrewmaster. Otherwise, it will hurt the effort.
What do you think?
Thank you for everything.
Tin Aung Soe
ဟိုတစ်နေ့က Water Tower ကို နှစ်ရက်လောက် ငှားပြီး ရေ စုဆောင်းခဲ့ပြီးမှာတော့ ကျွန်တော်ဟာ Grain Field ကို ငှားရမ်းခဲ့ပါတယ်။
Grain Field တစ်ရက်တာ ငှားရမ်းခမှာ 12 CBM ကုန်ကျပါတယ်။
Grain Field ၌ 2Row Barley and 6Row Barley ထုတ်လုပ်နိုင်ပါတယ်။
2Row Barley ထုတ်လုပ်ရန် ရေ နှင့် Energy 2 ကုန်ကျပြီး၊အချိန် မိနစ် ၆၀ ကြာပါတယ်။
6Row Barley ထုတ်လုပ်ရန်မှာလည်း ရေ နှင့် Energy 2 ကုန်ကျပြီး၊ မိနစ် ၇၀ အချိန် ကြာမြင့်ပါတယ်။
၎င်း Ingredients နှစ်ခုကို တစ်လှည့်စီ ထုတ်လုပ်ခဲ့ပါတယ်။
ငှာရမ်းချိန် ၂၄ နာရီ ဖြစ်ပေမယ့် လူကိုယ်တိုင် Manual လုပ်ရတာ ဖြစ်သောကြောင့် 2 Row Barley and 6 Row Barley ၅ ခုစီလောက်သာ ထုတ်ယူနိုင်ခဲ့ပါတယ်။
ဤတွင် ငှားရမ်းထားသော Grain Field မှာ Low grade ဖြစ်သွားလျှင် Upgrade တင်သည့် အနေဖြင့် Restore လုပ်ပေးရပါတယ်။
Upgrade % မြင့်နေမှသာလျှင် Ingredient cards ကောင်းများကို ပိုမို ရရှိနိုင်ပါမယ်။
ကျွန်တော် Rental Services တွေကို တစ်ခုခြင်း ငှားရမ်း အသုံးပြုရခြင်းမှာ Energy ရရှိရန် Beer များများသောက်ဖို့ CBM tokens လိုအပ်သောကြောင့် ဖြစ်ပါတယ်။
သင်တို့မှာ CBM ၃၀၀ ကျော်လောက် ရှိထားလျှင်တော့ Rental Services. များကို တပြိုင်တည်း ငှားရမ်းနိုင်ပါမယ်။
သို့သော် ၎င်း Rental Services များ အလုပ်လုပ်နိုင်စေရန်မှာ ရေ သည် မရှိမဖြစ် လိုအပ်ပါတယ်။
ထို့ကြောင့် Water Tower ကိုတော့ ကြိုတင် ငှားယူကာ ရေ ကို အရင်ဆုံး များများ ရယူထားဖို့ လိုပါမယ်။
2Row and 6Row Barley များ စုဆောင်းခဲ့ အပြီး
နောက်ရက်မှာတော့ Malt House ကို တစ်ရက် အတွက် 17.7 CBM ဖြင့် ငှားရမ်းခဲ့ပါတယ်။
Malt House မှာ 2Row Barley Malt and 6Row Barley Malt Ingredients နှစ်ခုကို ထုတ်လုပ်နိုင်ပါတယ်။
2Row Barley Malt ထုတ်လုပ်ရန် ရေ၊ 2Row Barley and Energy 3 လိုအပ်ပြီး၊ အချိန် ၁၄၀ မိနစ် ကြာပါတယ်။
6Row Barley Malt ထုတ်လုပ်ရန်လည်း ရေ၊ 6Row Barley and Energy 3 လိုအပ်ကာ အချိန် ၁၅၀ မိနစ် ကြာမြင့်ပါတယ်။
ကျွန်တော်သည် 2Row and 6Row Barley Malt နှစ်မျိုးကို တစ်လှည့်စီ ထုတ်လုပ်ခဲ့ရာ ၃ ခုစီလောက် ရယူနိုင်ခဲ့ပါတယ်။
ဤတွင် Rental Building တစ်ခုအတွက် ငှားရမ်းခ နှင့် ပြင်ဆင်စရိတ် Restore ကုန်ကျငွေသည် Ingredient ထုတ်လုပ်ရရှိမှုထက် အကုန်အကျ ပိုများနေသည်ဟု ထင်မိပါတယ်။
Cryptobrewmaster မှ ပေးအပ်သော ဆုများ ရရှိမှသာလျှင် အမြတ်ထွက်နိုင်ပါမယ်။ သို့မဟုတ်ရင်တော့ အားထုတ်ရသော အချိန်များ အတွက် နစ်နာနိုင်ပါတယ်။
မိတ်ဆွေတို့ရော အဘယ်သို့ ယူဆပါသလဲ။
အရာအားလုံး အတွက် ကျေးဇူးတင်ပါတယ်။
တင်အောင်စိုး