The Flicker Haven Farm Files-Holy Hollyhocks!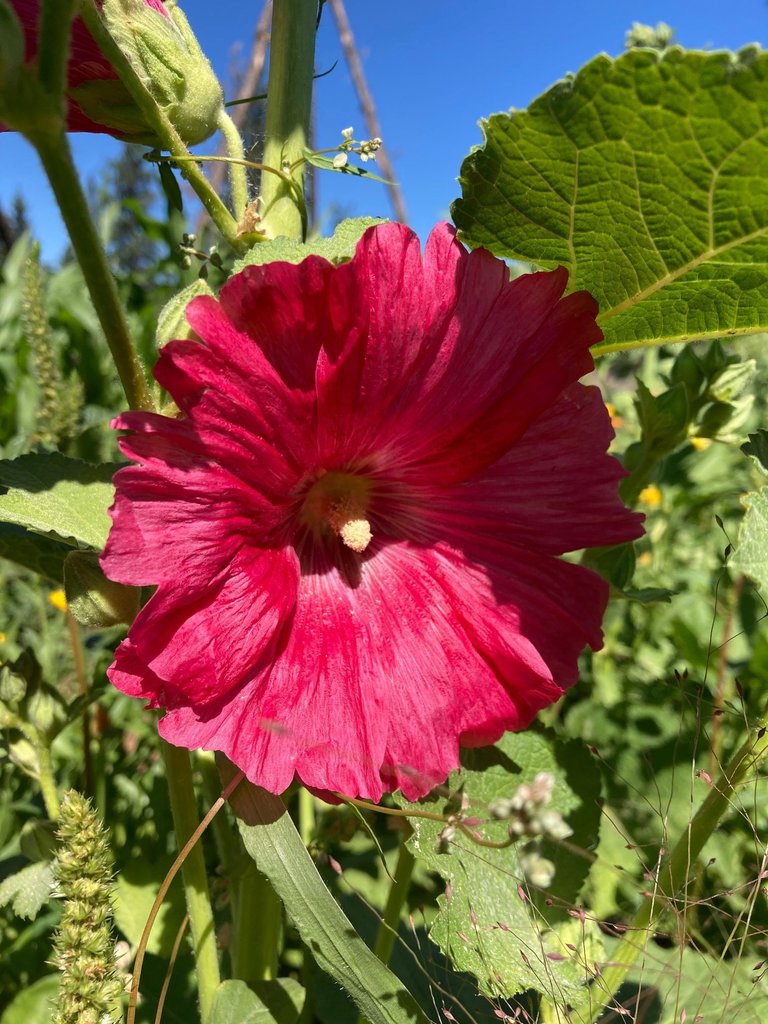 ---

---
Well, in true peak of growing season fashion, everything is exploding and yielding around these parts!
In fact, so much stuff is ripe and ready that I am in an all out struggle to keep up with it. Manic Produce Panic days of August it is!
This morning the hubs and I went and picked blueberries with @scribblingramma up north, and had an absolute blast, which was a nice reprieve full of stained fingers and delightful conversation.
But on the inside I knew what awaited me at home.
---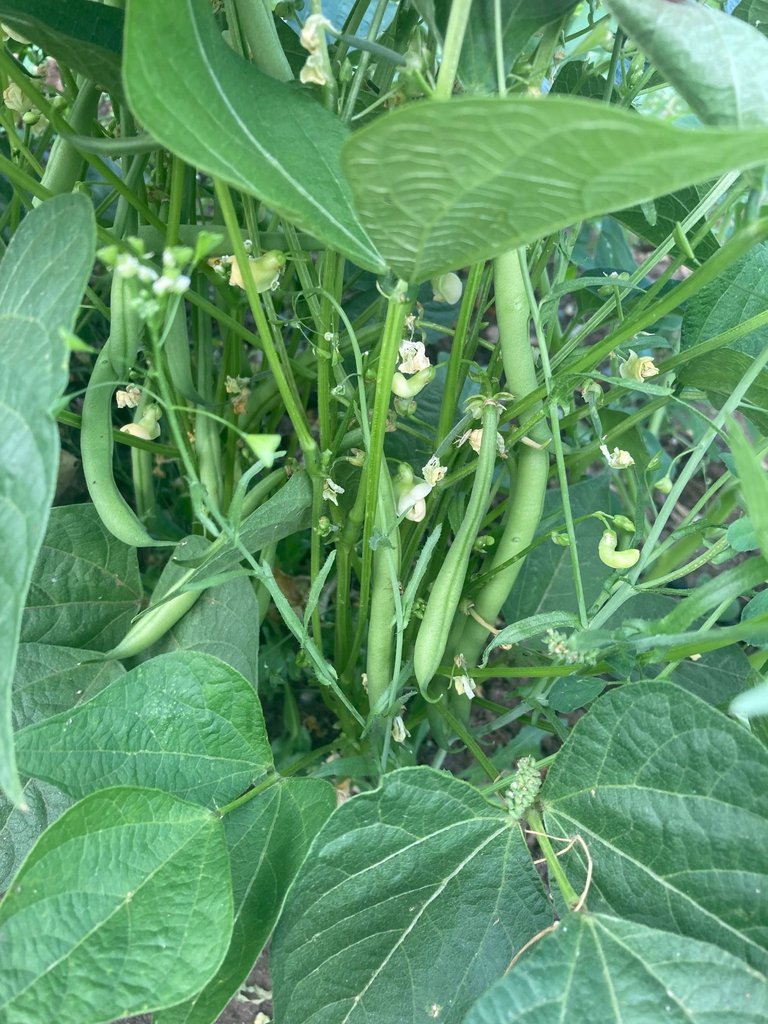 The green beans are just about ready to go full green beaning. Luckily I got learnt a few years ago and seeded them in two plantings so I might have a week or two in between onslaughts, but honestly, plants really do have a mind of their own.
Not that I am sad, I love green beans.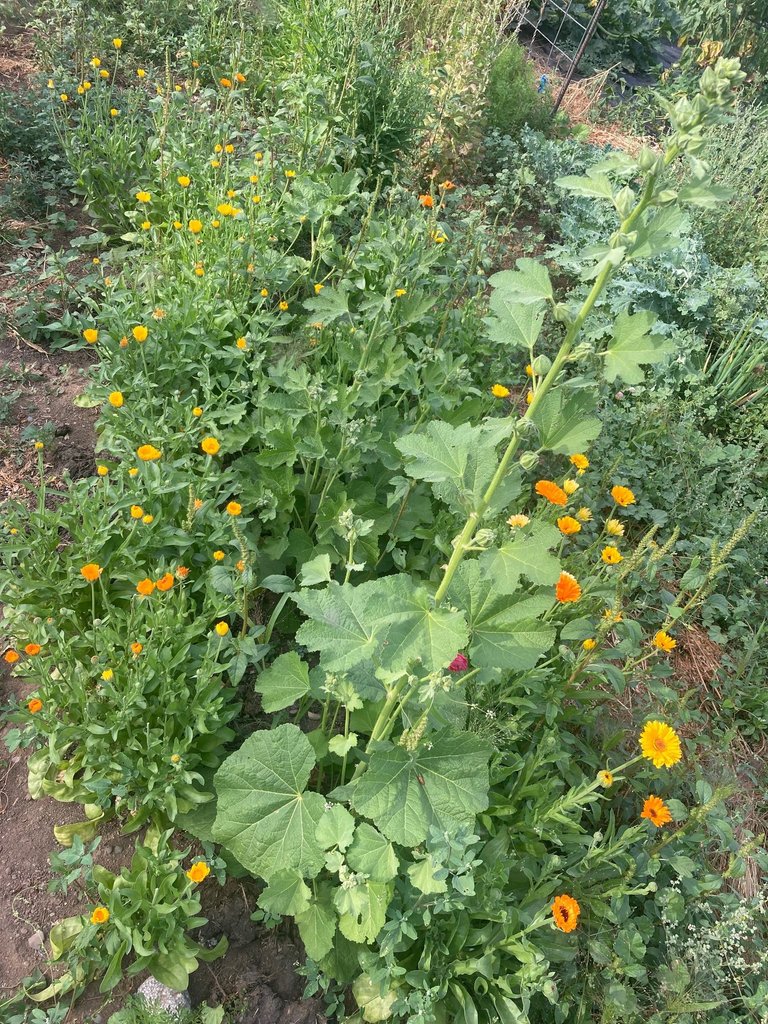 Another plant that is yielding like gangbusters in the garden is my calendulas. One variety that is doing splendid is the Resina, a cultivar that I tried this year because it is supposed to have more resin than any other type of calendula. I have a bunch of salve and cosmetic diy aims to accomplish this fall, so I have been plucking and drying calendula flowers like a mad herbalist.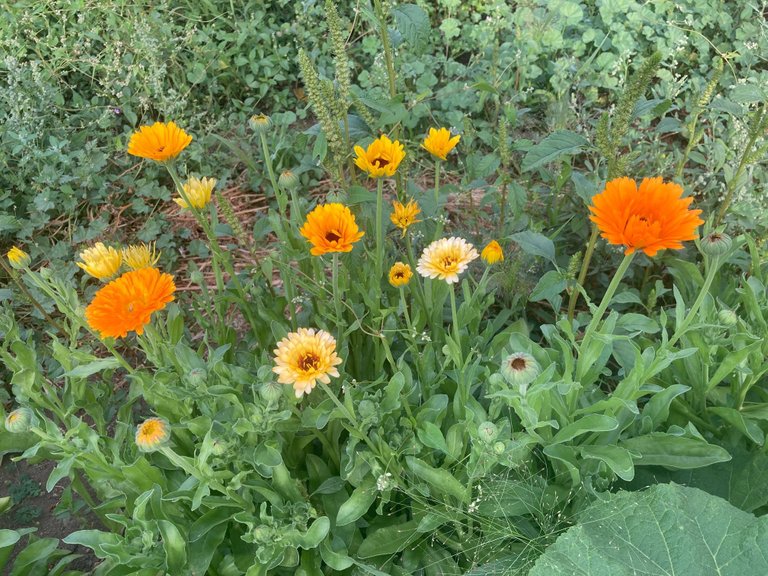 And I can report, that the Resina flowers really do have a high resin content. I have sticky fingers anecdotal evidence!!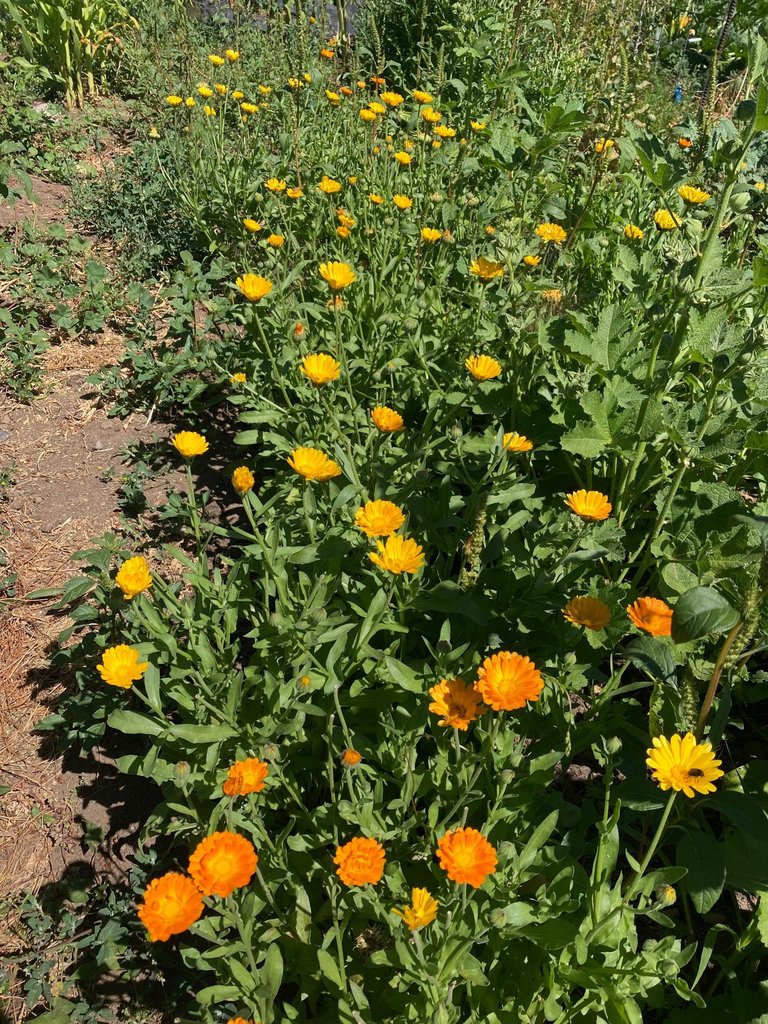 In the middle of my calendula patch are a few hollyhocks that I started from seed, and I have been anxiously watching them start to bloom all week. I'm sure my homesteading pal @goldenoakfarm will be happy to see they are not the black purple ones lol!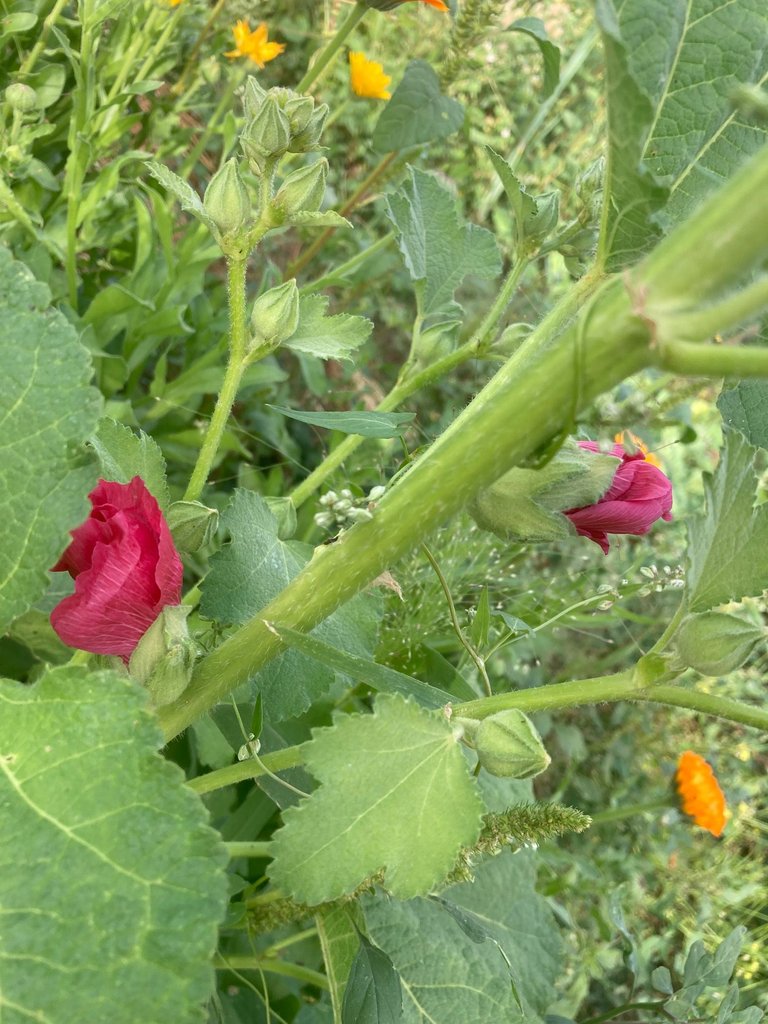 ---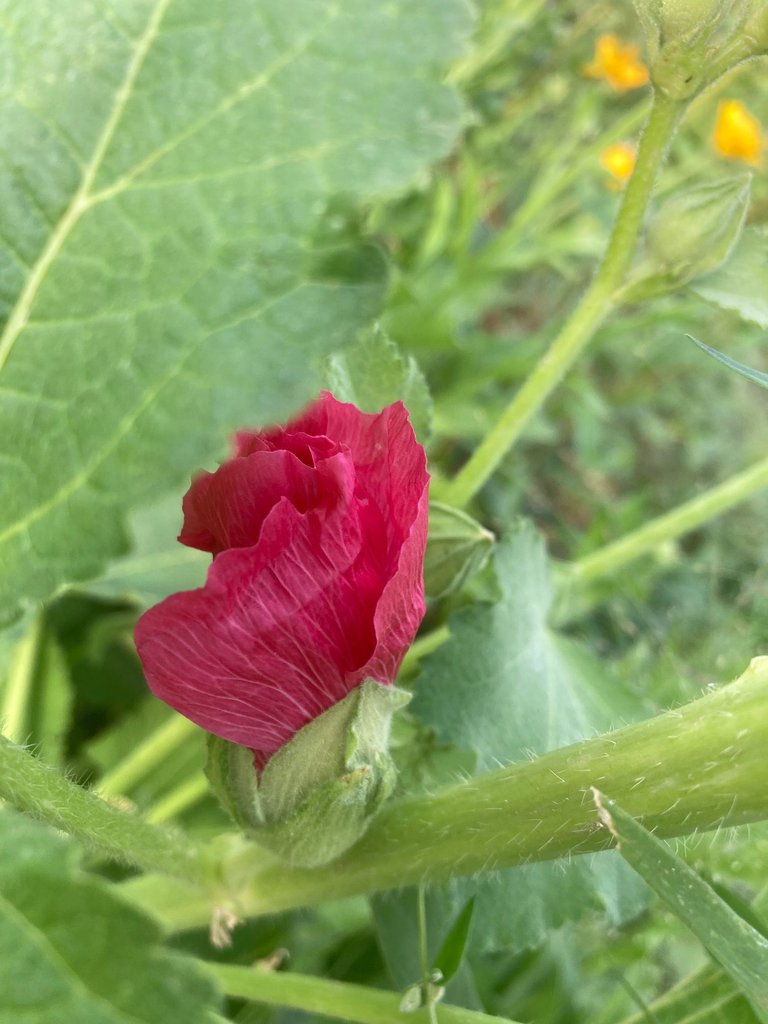 ---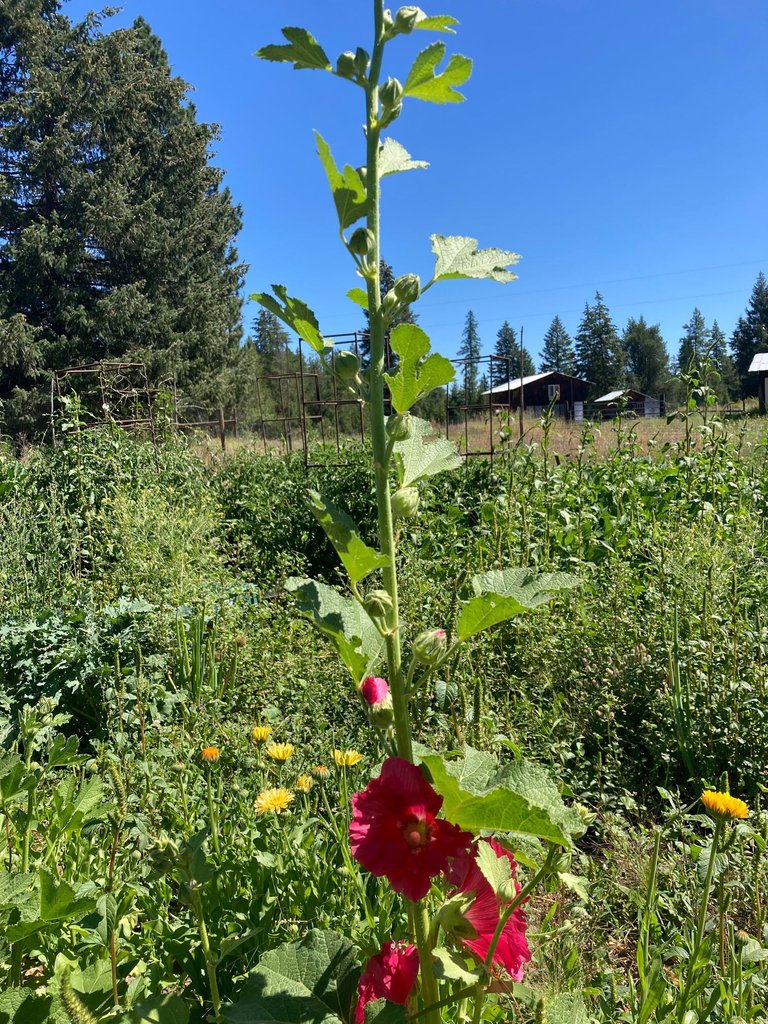 ---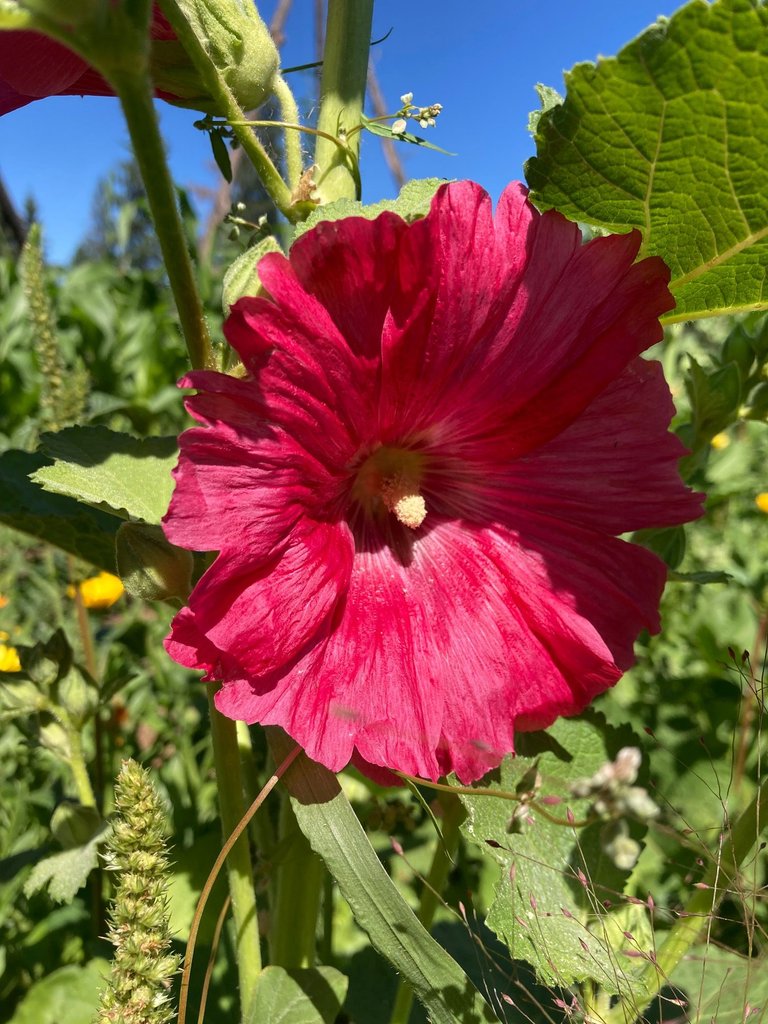 I so love hollyhocks though. Their stately stems and delicate yet large blooms remind me of my grandma. I grew her one and gave it to her for Mother's Day this year, I bet hers is the size of a tree, she has an affinity for fertilizer...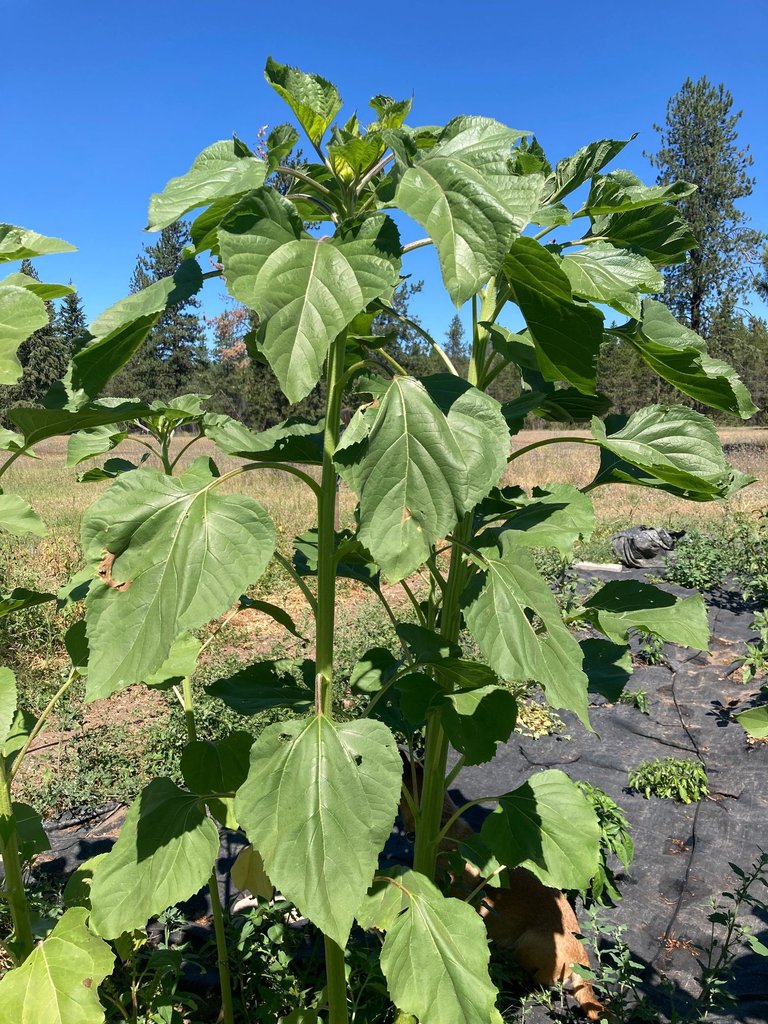 Every year I also put in a few Mammoth Sunflowers as I just adore them. With all the heat the past couple weeks, they have just exploded and are much taller than me now. Okay, that doesn't take much, but I still enjoy ducking under their giant leaves and pretending I am in a tropical rainforest somewhere!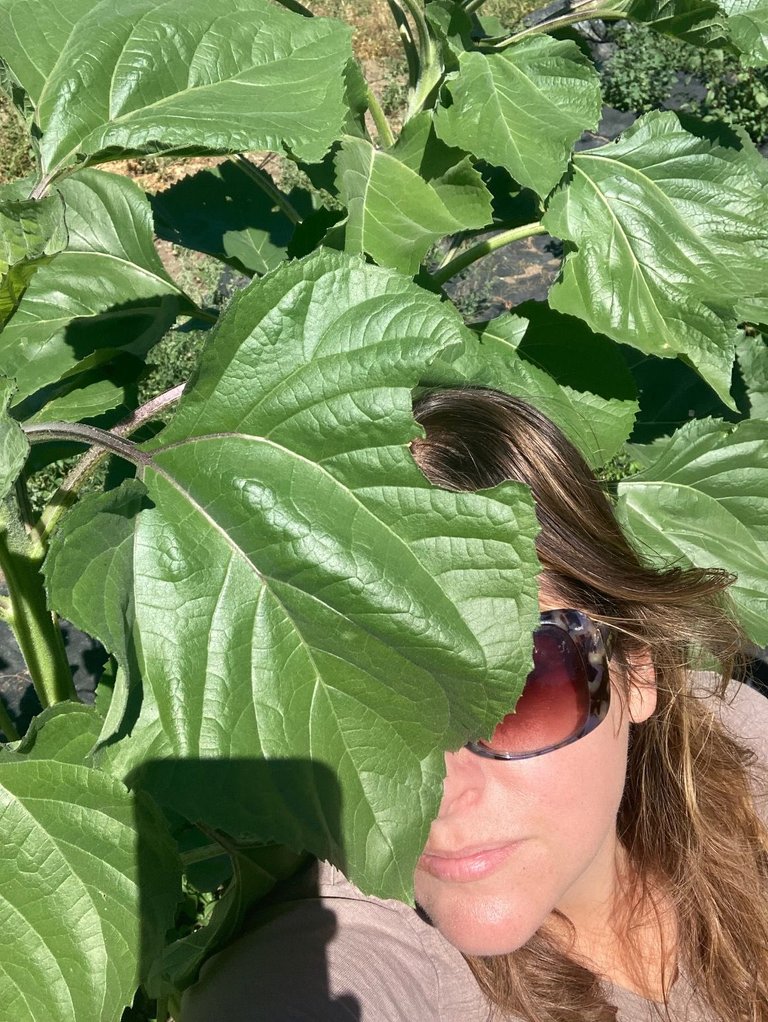 And how bout those hops! The one plant is well over fifteen feet in height now (and still growing), but what's the most exciting is my beanstalk-like friends are loaded with hops berries. SQUEE!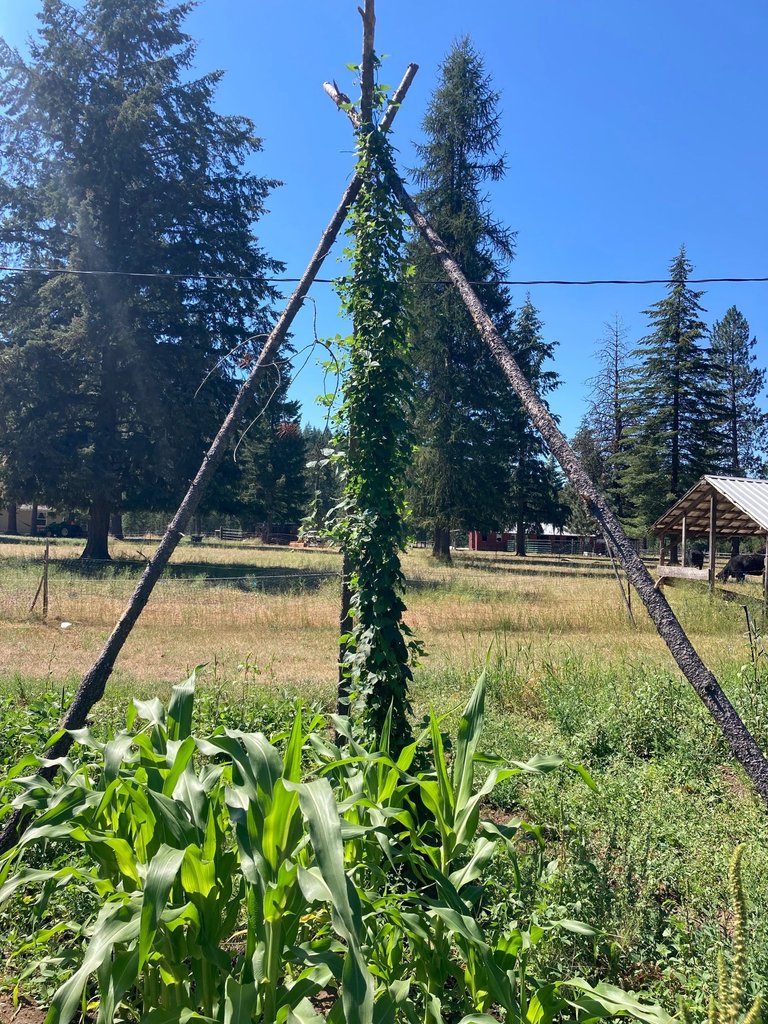 ---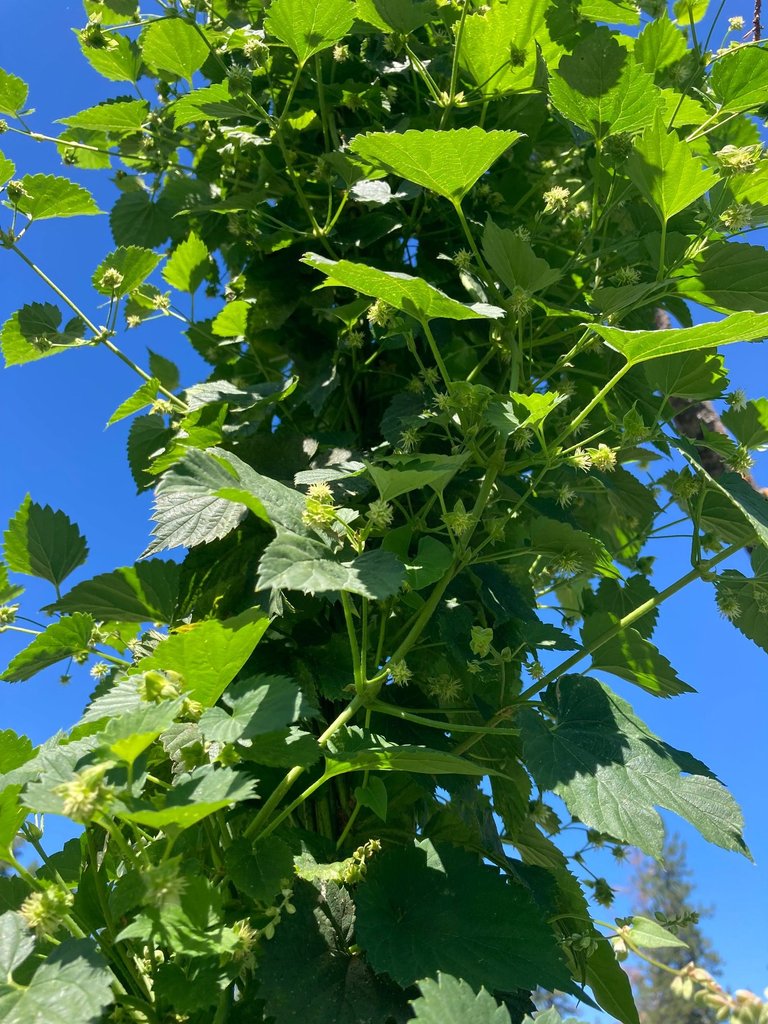 ---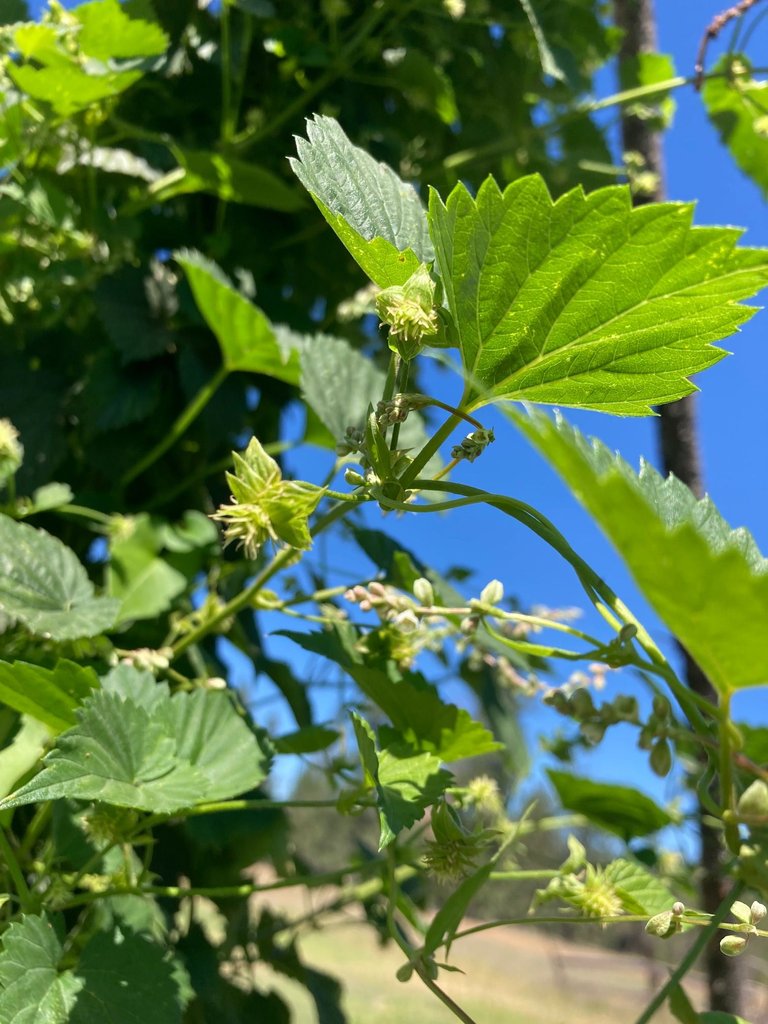 And that brings us to the final thing that I have in excess at the moment: KITTENS.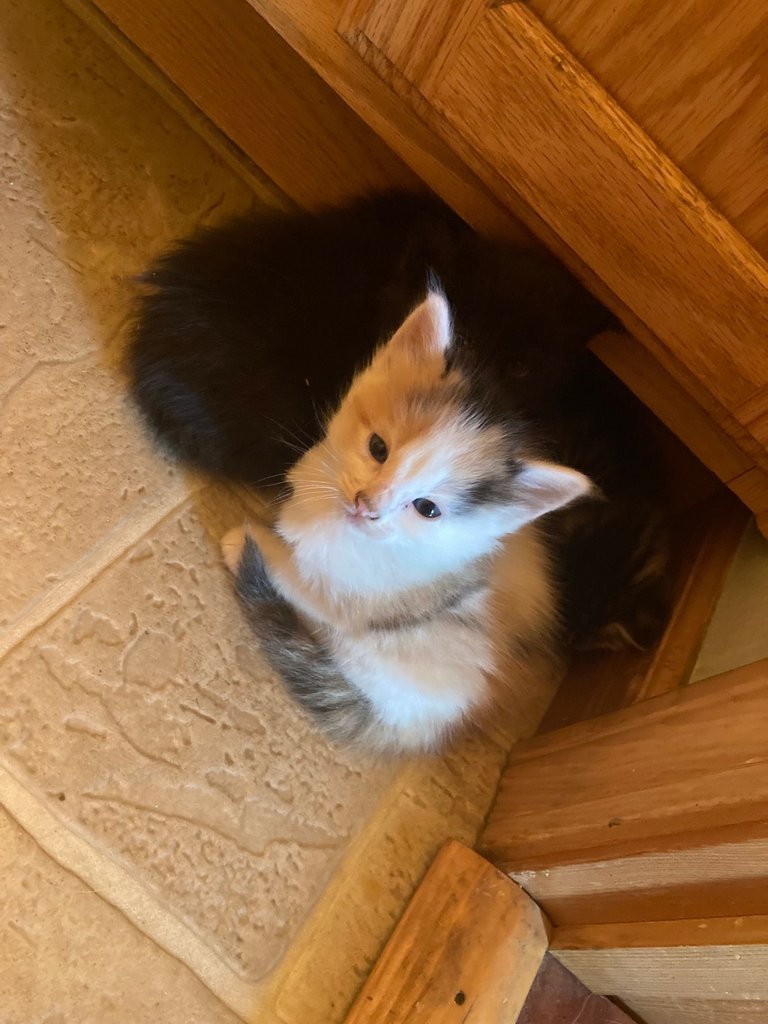 Good lords and a double edge sword is nine kittens a lot once they get mobile! Thankfully two of the little toe-biting heathens are heading to their new home on Thursday as I have the first batch of four all potty trained and eating solid food. They are Olympic athletes I tell ya!
The younger five are in the cute toddling stage, capable of wobble-walking under your toes as you carry zucchini into the kitchen and mewing like they are dying if their mom goes even two feet away from them.
I remember those days...
---
But dang if they aren't precious. My hubs likes to spend the evenings playing Skyrim and vegging on the couch, and every night his veg sesh includes a sprawling patch of kits all over him. It's pretty cute.
And this little guy is Jasper, he, and one of his as of yet undetermined siblings, is going to go live with my parents. I think my mom picked a cutie.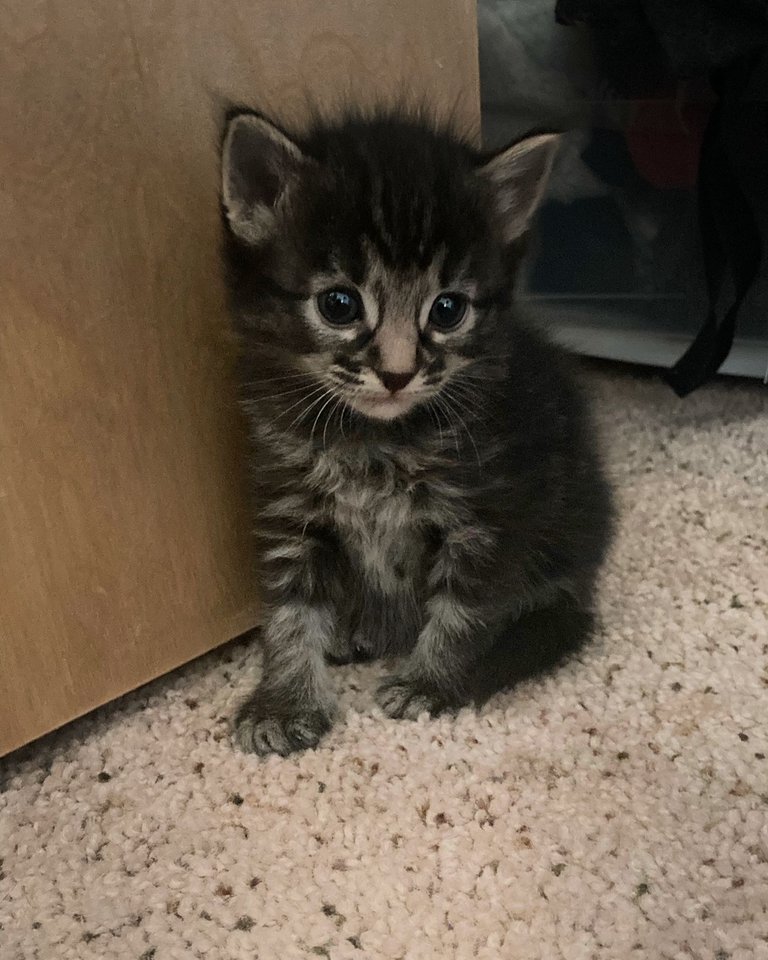 Okay, they are all cute. Just look at this pile of floof laying in my windowsill: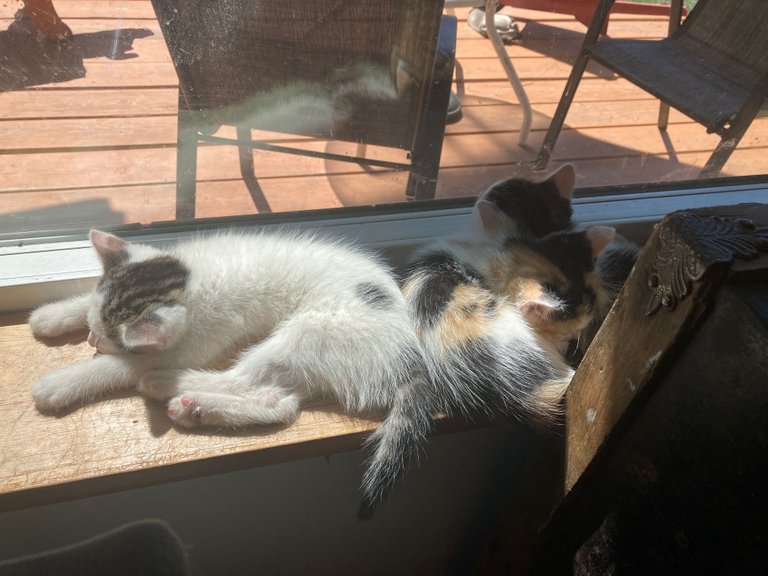 And on that note I am going to leave this garden (and kitten) update missive. I've got green beans to pick and process, zucchini to blanch and freeze, and a whole heck of a lot of weeding to do....
---

---
And as most of the time, all of the images in this post were taken on the author's probably blueberry flavored and most likely destined to be a cat toy iPhone. The text divider image was made in Canva.
---
---
---