My First #GardenJournal Update from the GaiaYoga Gardens Food Forest - GaiaYoga Gardens, Lower Puna, Far East Big Island, Hawai'i - Sunday, November 6, 2022


Warm greetings all! 🙏 💚
This is my first #gardenjournal post, and my first garden update since my breakup with Kaï, and moving out of the Sanctuary of The Blue Dragon, in Seaview, and moving back to GaiaYoga Gardens (after being away for five months and ten days), where I had lived for three and a half years previously. I've been back for almost a month now, and I've been overwhelmingly grateful since my first day. I've been feeling better and better every day, as I work the land, with my beloved plants, and as I get my new nursery space set up and organized.

GaiaYoga Gardens is a 16-acre, off-grid, clothing-optional, food-forest intentional community, deep in the jungle of Lower Puna, in far East Big Island, Hawai'i. The operative part of the for this post is that it is a 16-acre food forest. Because it is not a typical garden (even though there are gardens here), and the gardening and plants are spread throughout the property, I haven't really known where to start in terms of taking photos, describing it, and creating a #gardenjournal post out of it all, but today I gave it a go!

With the gentle nudging from @riverflows, I committed myself to walking the property today to take photos, and then making a post out of it. To help narrow my focus down a bit (absolutely essential in a 16-acre food forest!), I decided to showcase the various fruit trees that are producing fruit now, as well as a handful of other edible and medicinal plants. There are so many plants not shown here...

Since I didn't know where to start, and because I've been putting so much time, attention, and work into getting it set up and organized, I decided to begin at my new nursery space. It's located behind Ano's nursery, which is still notably larger (though with how quichly I collect and propagate plants, maybe not for long!), along the edge of the more wild section of the property. The corrugated metal roofing along the edge is for Ano's new music studio. I took photos from each each of the four corners, and then down the long side. I'll describe the plants in depth in other posts. This is just an introduction.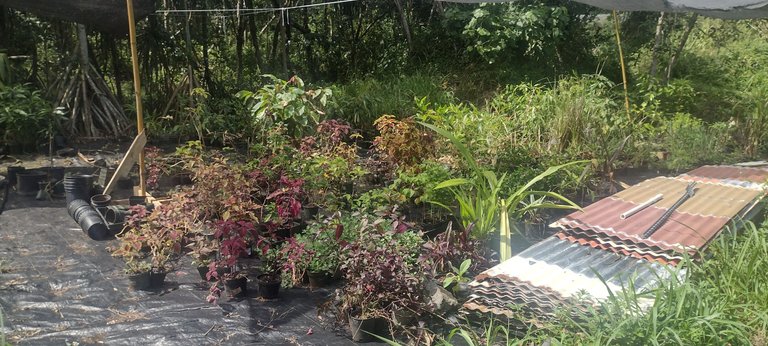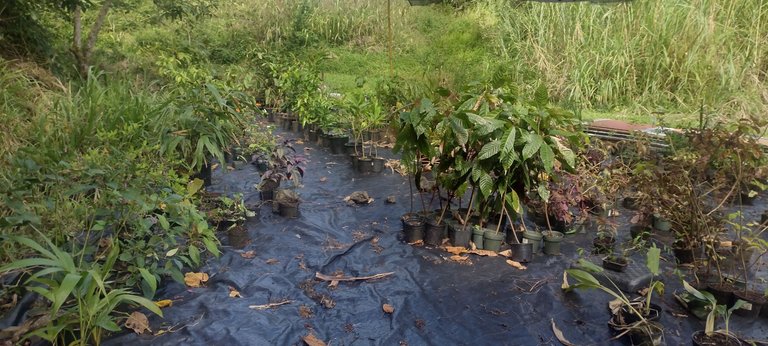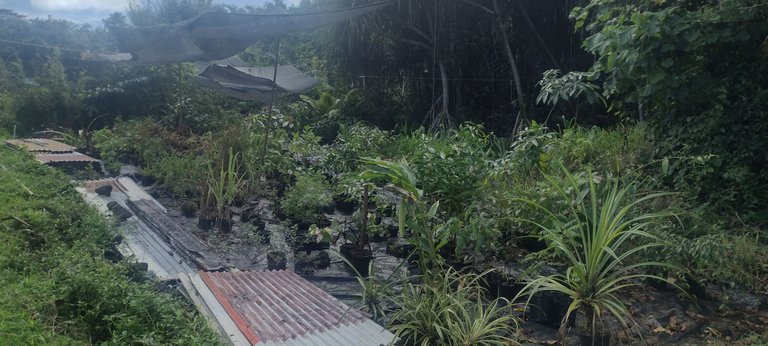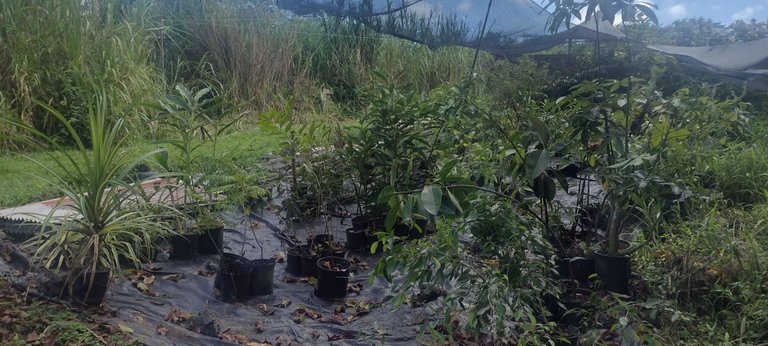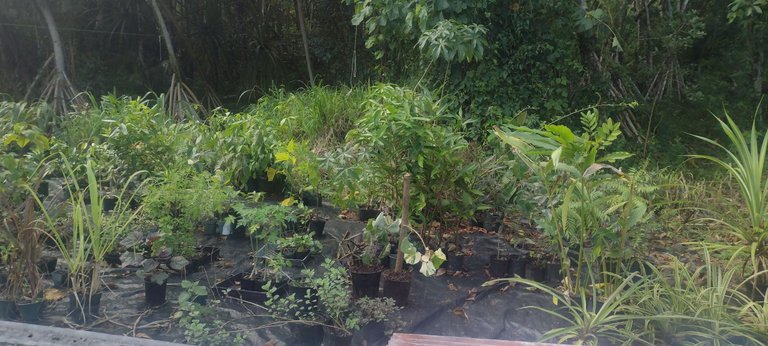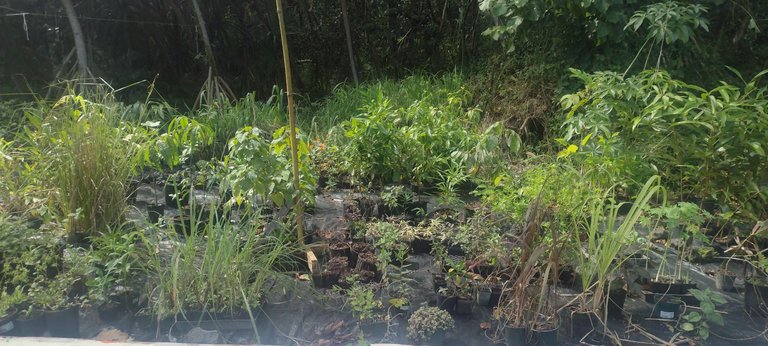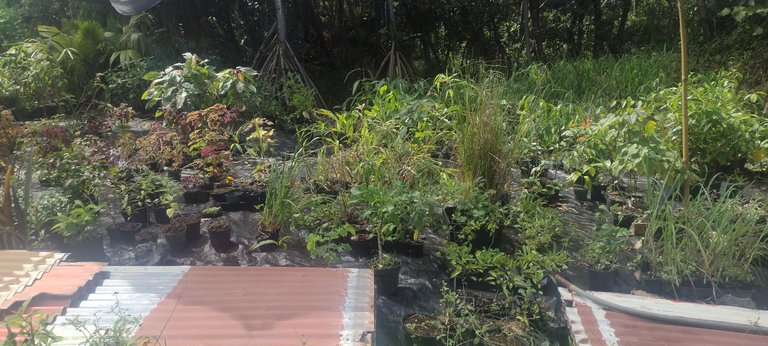 The one actual functional garden at the moment at GaiaYoga is the fenced-in garden next to Kana's 100-year-old Balinese teak house. When I got back of the garden was buried in weeds (there weren't enough people to take care of it), with several important plants that I had planted lost. I did a good weeding with Fiona (one of the women who's staying at GaiaYoga for a few months), and we were able to salvage the Krishna tulsi - Oncimum tenuiflorum and vana tulsi - Oncimum gratissimum that I had planted, and the fast-soreading white-fruited strawberry (presently unknown ID).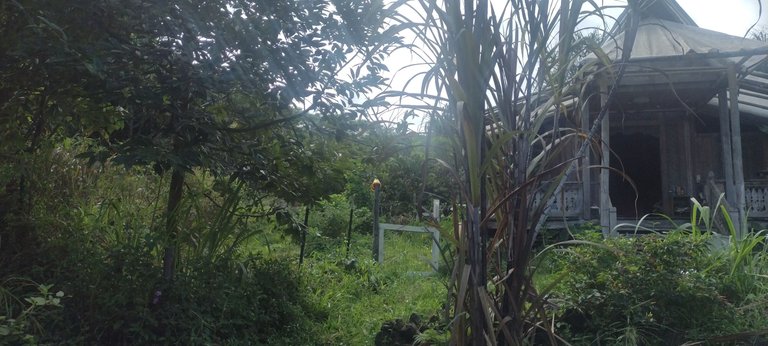 One of my Krishna tulsi and Vana tulsi. These two looked better than the others, since they weren't as covered in weeds, but they were being shaded too much on one side by some Melochia - Melochia umbellata trees (which I trimmed back).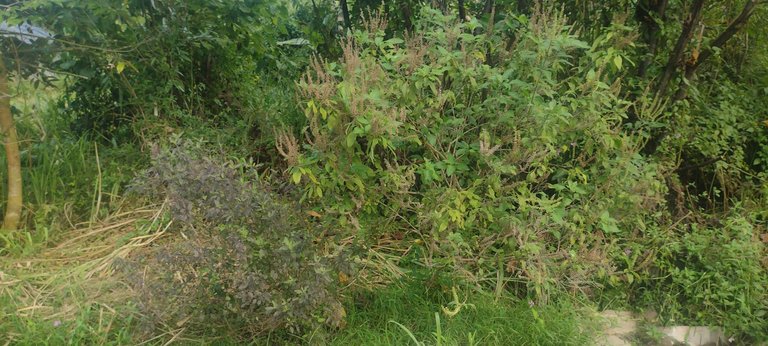 This is a very happy pohā berry - Physalis peruviana that I planted before I left. It was a small, gauky plant when I left, but now it looks amazing! The fruit are delicious and super nutritious, even medicinal. Ano has been propagating it, so now there are several plants.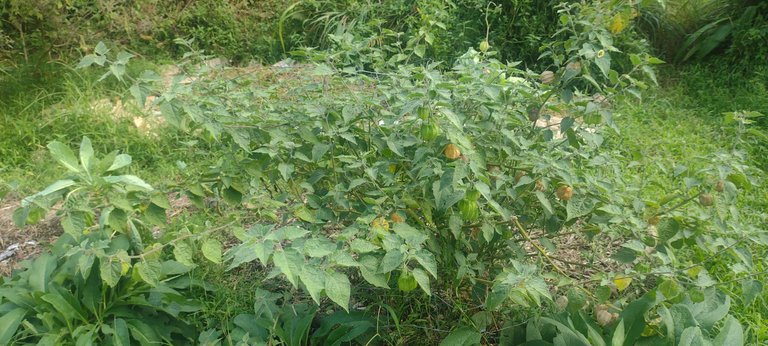 The ripe pohā berry fruit.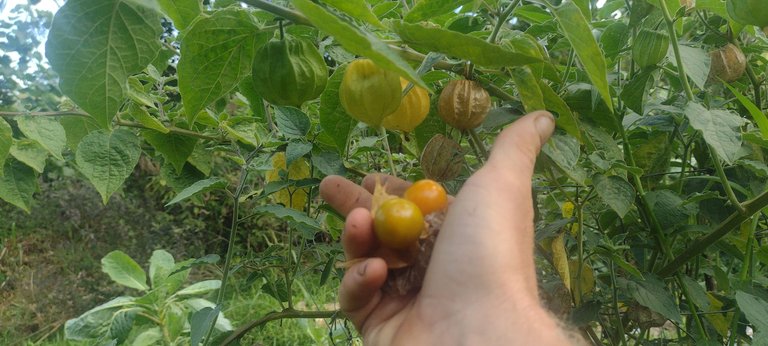 More sad, leggy Krishna tulsi that were salvaged from the weeds. With proper light, they'll bush up nicely, and will be looking good again soon.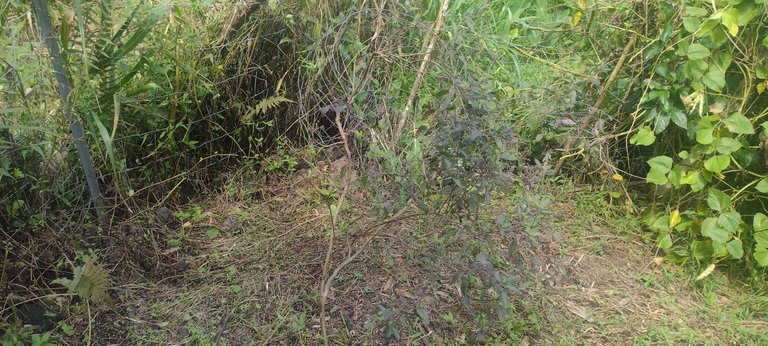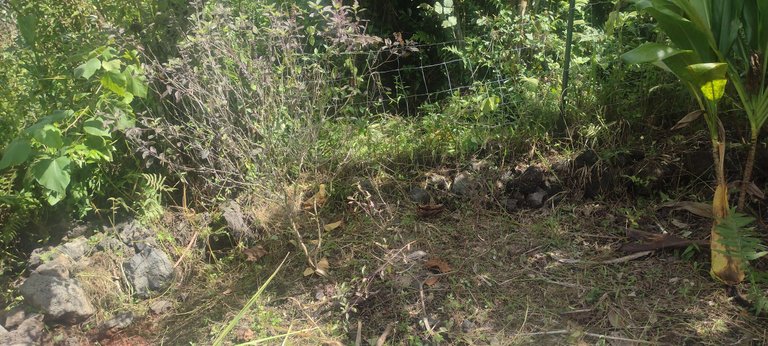 This is a patch of all-purple sugarcane, planted in front of another sugarcane variety with purple culms but green leaves, that I just planted.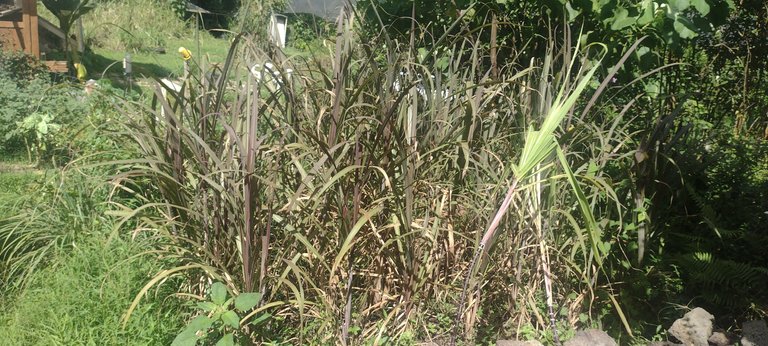 More all-purple sugarcane next to the last Hawaiian hot pepper plant on the property. I planted both before I left. I collected and planted seeds of the Hawaiian hot pepper, because it's a fantastic locally adapted variety that I use constantly in my superfood fire coffee.


Much of GaiaYoga is planted in an open orchard style, with many different trees and herbaceous plants growing everywhere.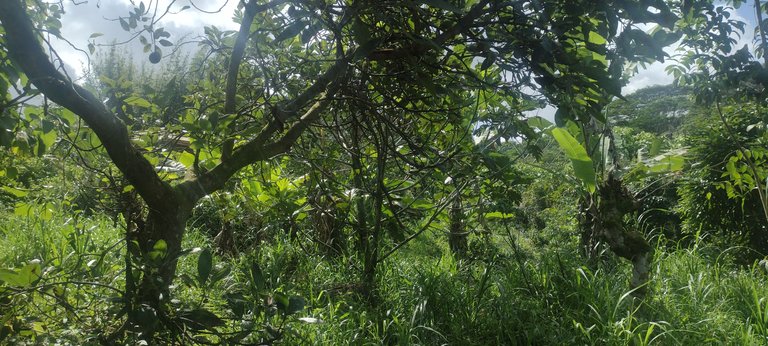 This is jabuticaba/Brazilian grapetree - Plinia cauliflora. There are several of these plantes throughout the property. They fruit four or five times a year, and not all at the same time. I love their sweet-tart fruit!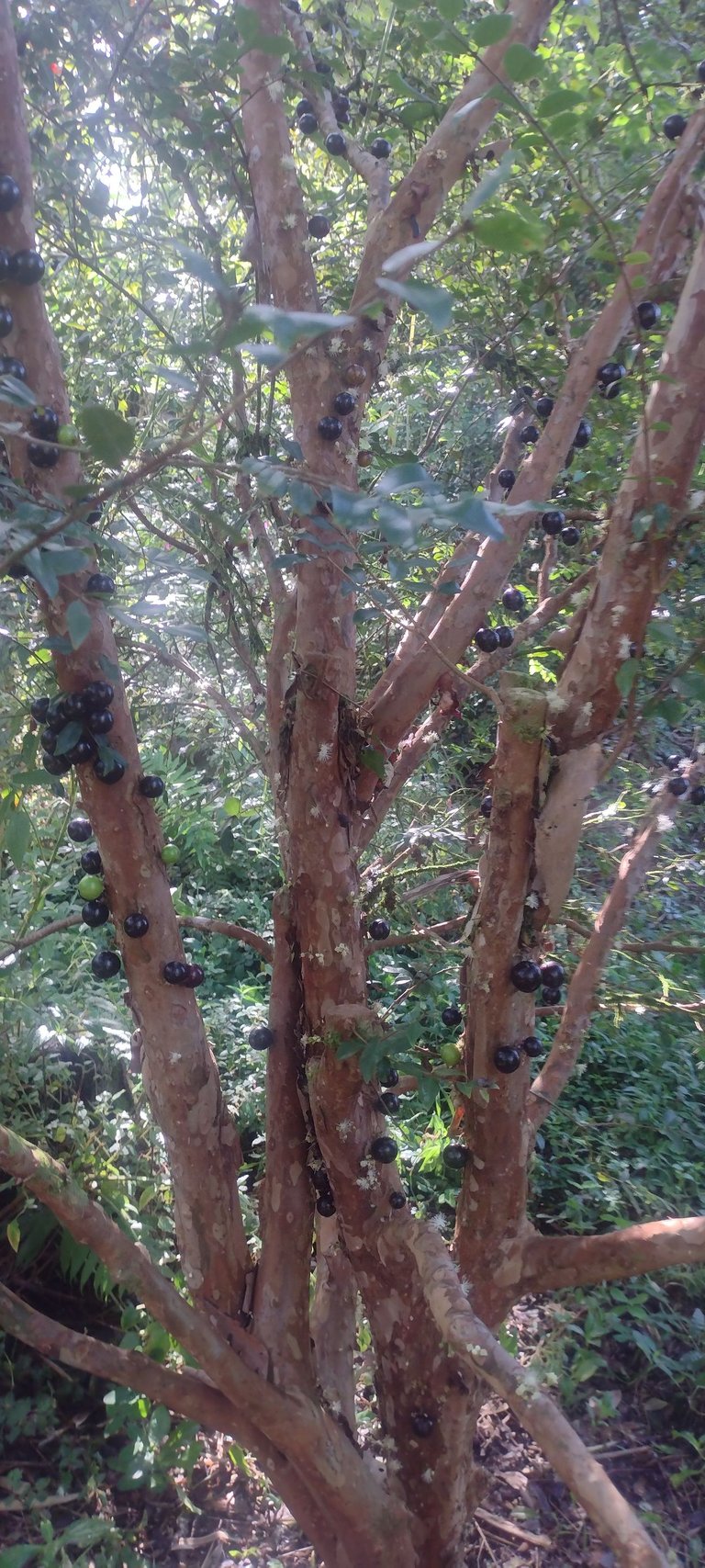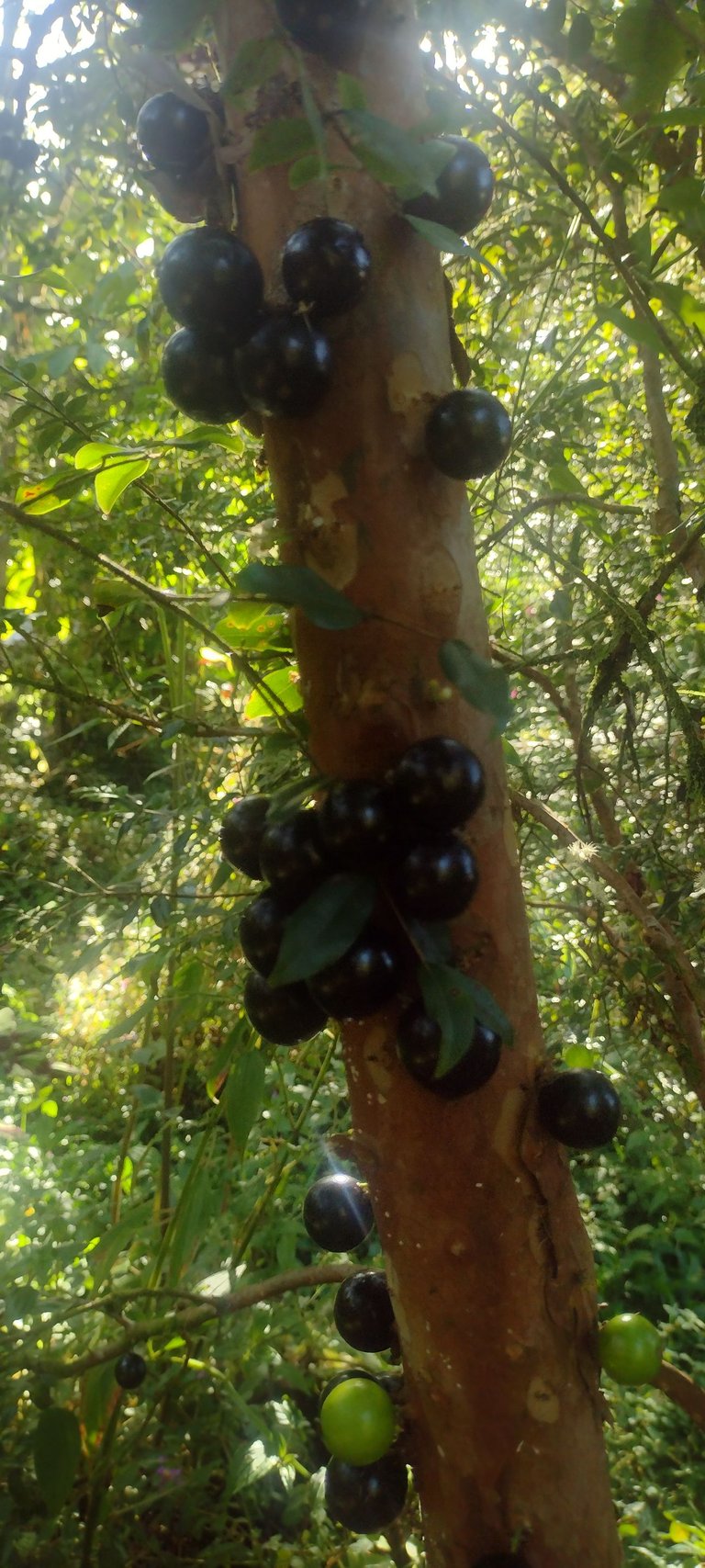 This is one variety a chempedek - Artocarpus integer, a relative of jackfruit and breadfruit. There are several of these planted across the property.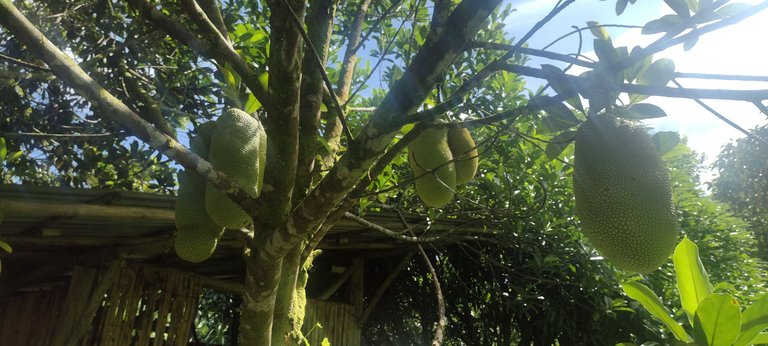 Ano is a coconut onnoisseur, and many different varieties of them all over the property. Ano's also been free climbing coconut palms for more than twenty years. This is one of the dwarf varieties that begins producing nuts when it is still very short.


This is a Jamaica cherry/strawberry tree - Muntingia calabura, a fast-growing tree that produces very healthful delicious fruit. There are hundreds of studies on this tree medicinal qualities. It's been challenging to propagate here, but I've successfully done so three times so far. Ano and I just planted one of the those younger trees the I propagated.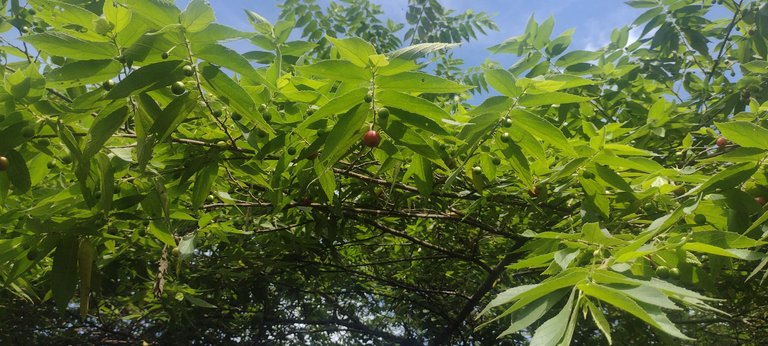 Some shots along one of the central trails, with avocado trees, macadamia nut trees, edible hibiscus/bele - Abelmoschus manihot, breadfruit, jackfruit, and banana plants visible. The aluminum foil seen on the branches of the macadamia nut trees are to air layer them.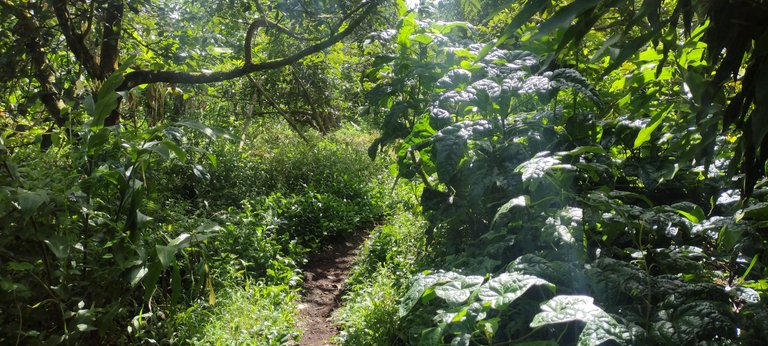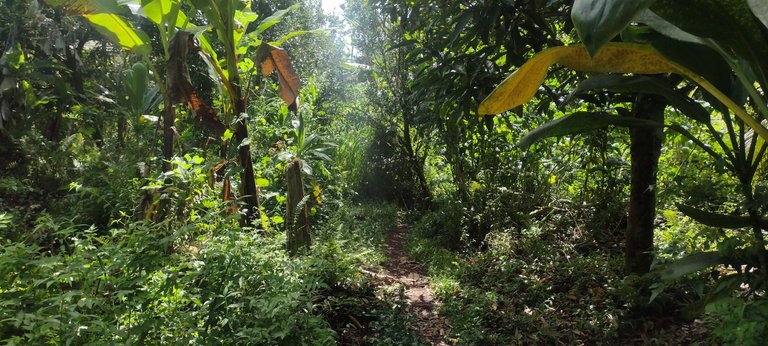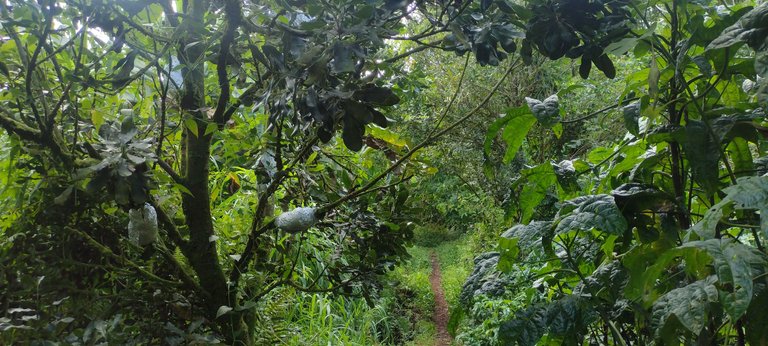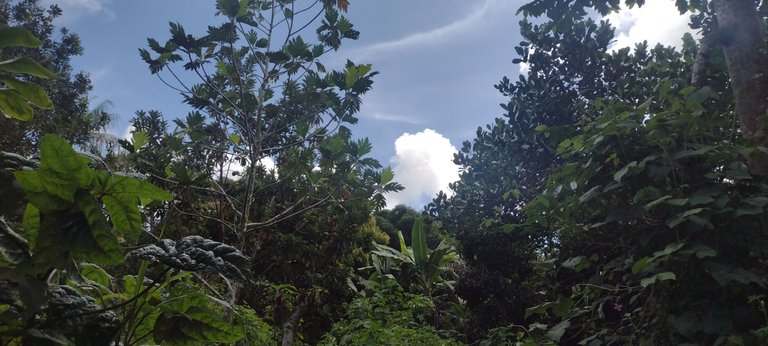 There are lots of white mulberry - Morus alba planted all over the property. These fruit ripen to a purple-black color, and are super yummy, never lasting long on the tree!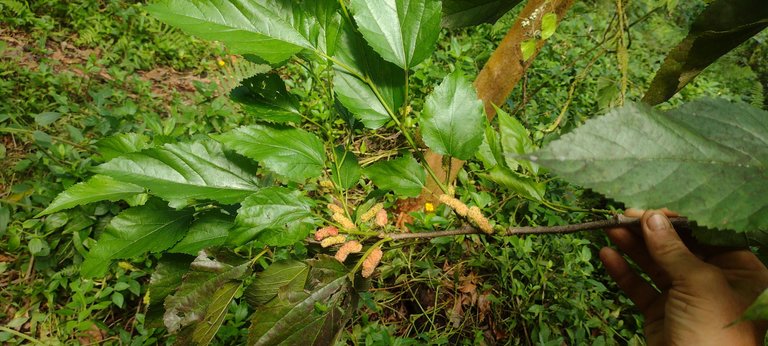 There are many abiu trees - Pouteria caimito planted throughout GaiaYoga too. The fruit is quite unique in flavor, with latex in the skin.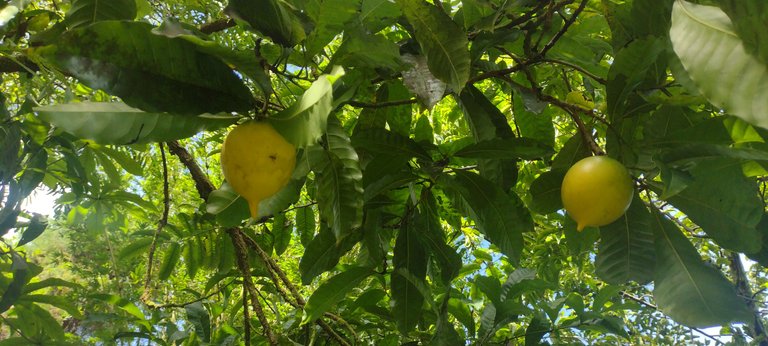 This is another of my Vana tulsi that I unburied from the weeds. It's looking very leggy, but with good sun it will busy up nicely again soon.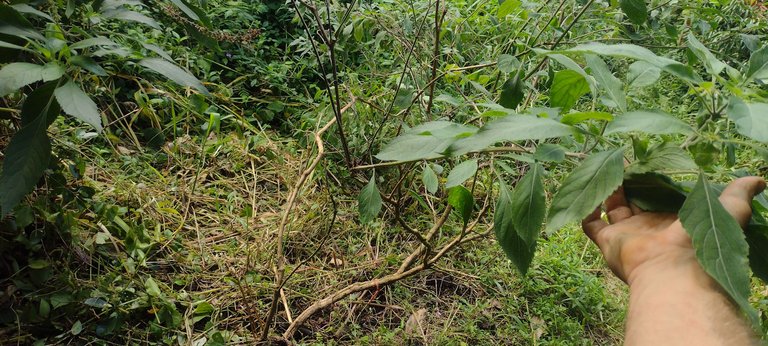 We have many sorts of citrus. These are tangerines.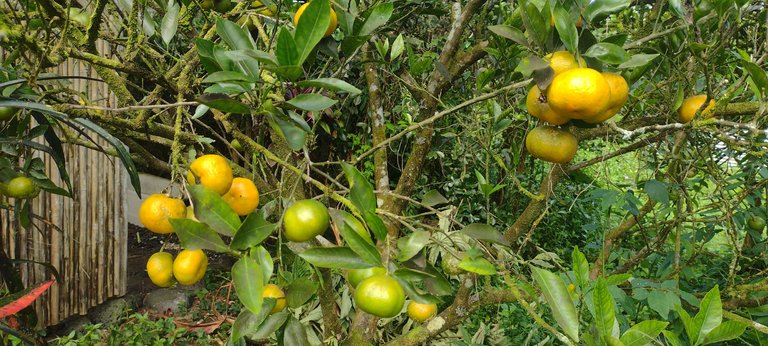 This lemon is very small and funny-looking (we joke and say it's like Charlie Brown's Christmas tree), but it produces wondeful crops of lemons consistently.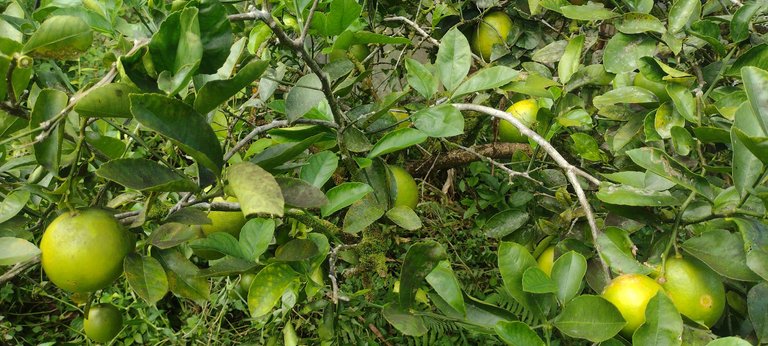 We have bananas literally everywhere, in 30 some varieties.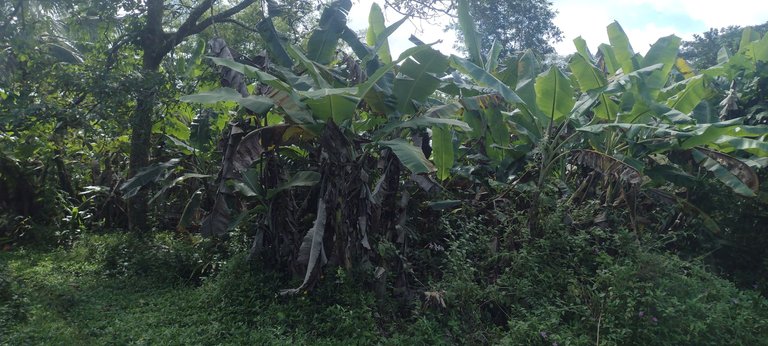 Another plant that is found all over the propery is ketuk/Asian sweet leaf - Sauropus androgynus. This plant is so well adapted here that is seeds itself prolifically. All parts of the plant are edible, but the leaves are most used.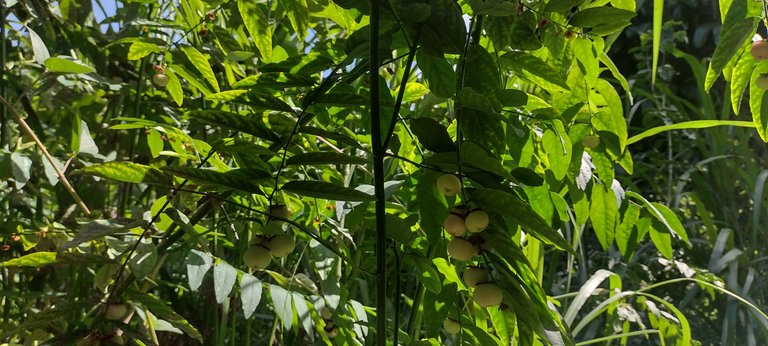 We have several mamey sapote - Pouteria sapota trees planted in various places around the property. It's large orange-fleshed fruit have a taste somewhere between pumpkin and sweet potato.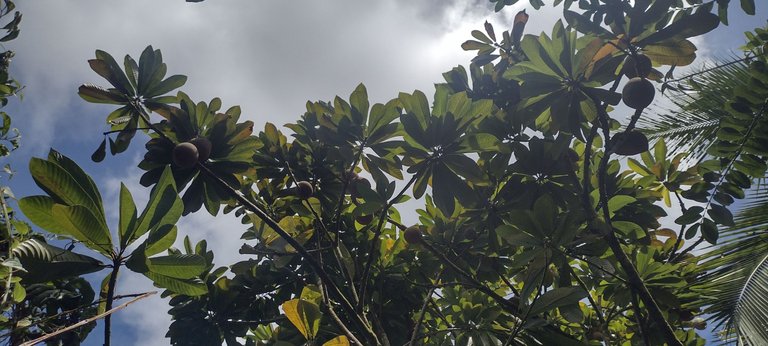 These are a whole bin of mamey sapote that Ano I harvested yesterday.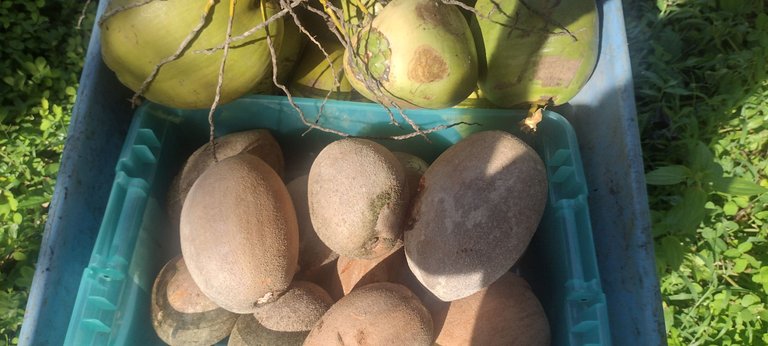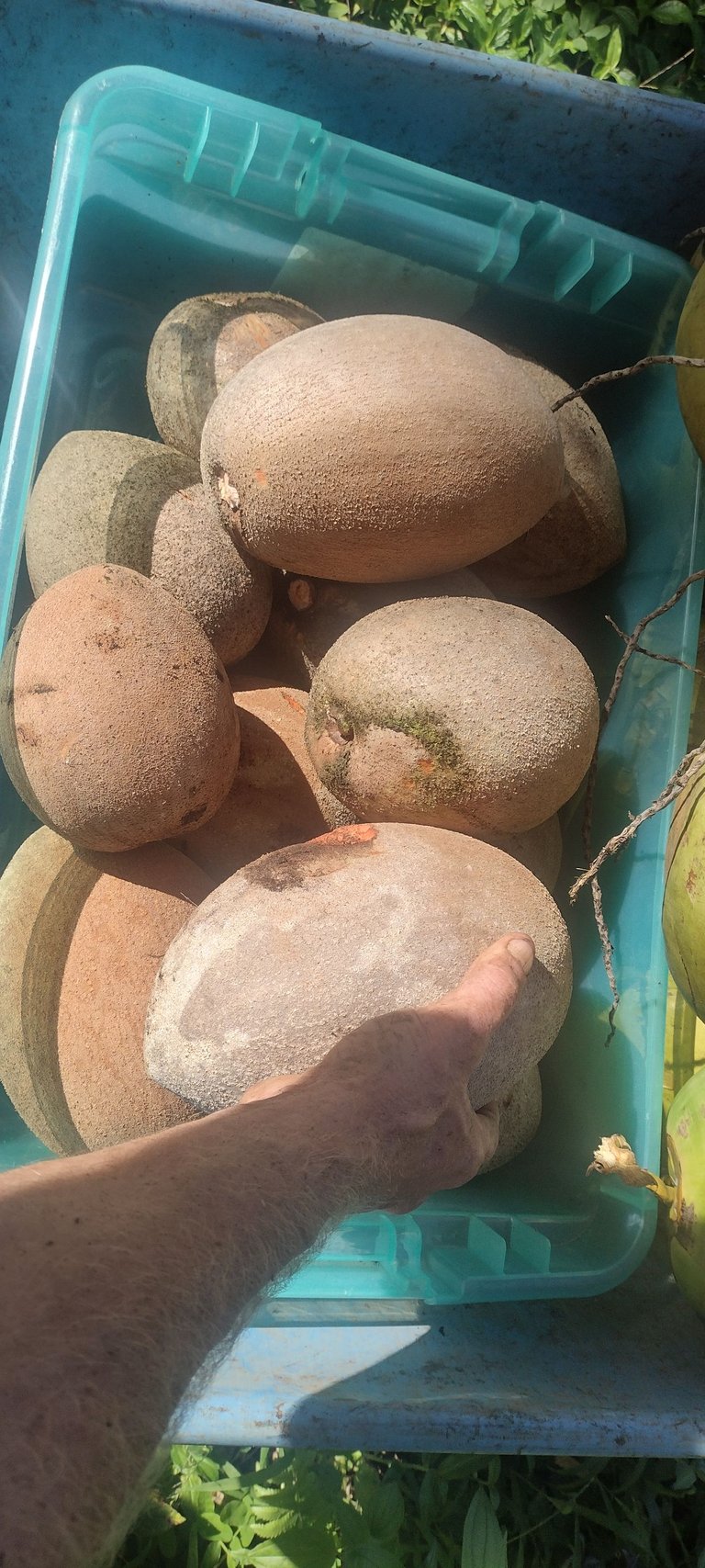 Another view down one of the jungly trails, with mamey sapote and bananas visible.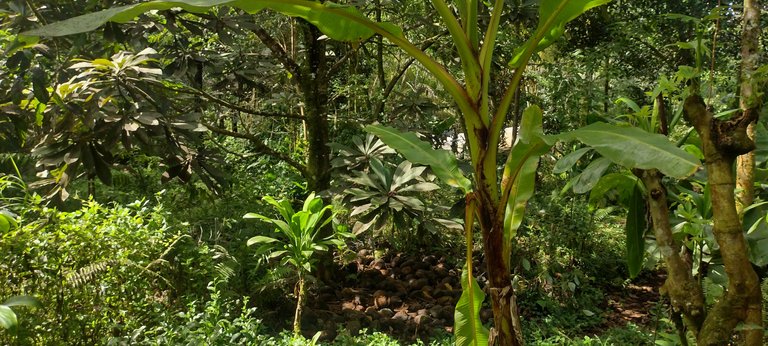 This is a starfruit/carambola - Averrhoa carambola that produces very heavy crops of fruit for months out of the year.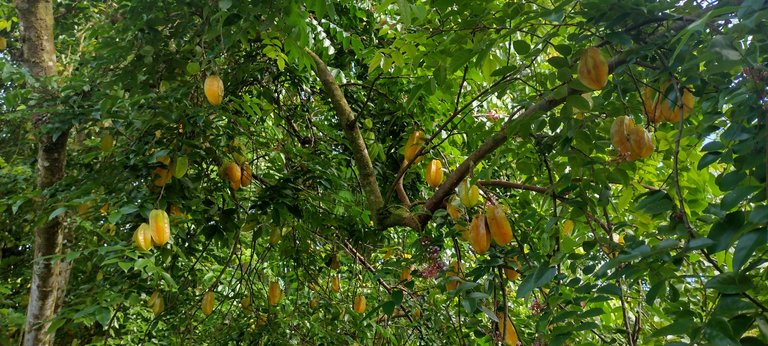 *Another main trail, with bananas and a mango tree visible.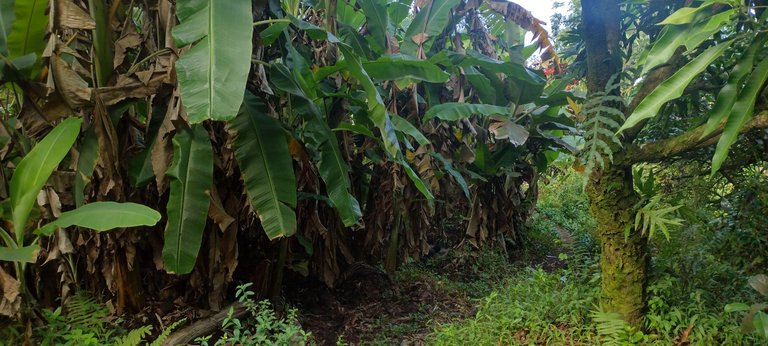 We have a handful of durian - Durio zibethinus trees planted, with some already producing fruit. Some people love them, others hate them. It's not uncommon for people to buy and sell large durian fruit for $30-40 each.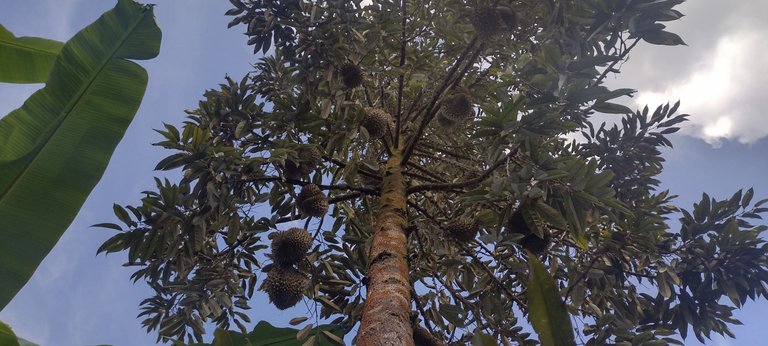 Did I mention that we have so many bananas?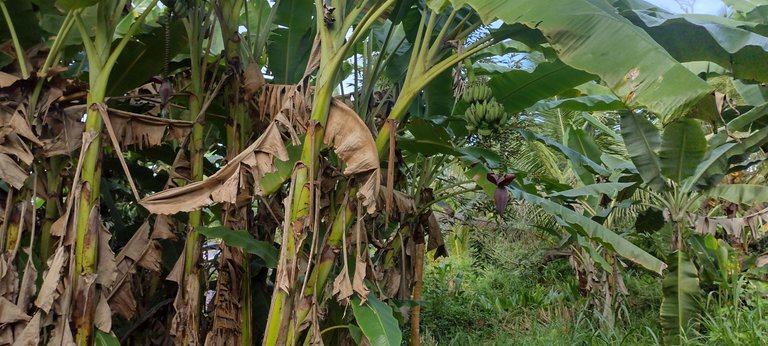 This is one of several coconut sprouting beds, where older 'shaker' nuts are placed to sprout for food. Coconut sprouts are a fantastic food source that most people have never tried. The sweet Styrofoam-like flesh is as curious as it is delicious. We've been clearing this bed of dead nuts to put another round of shakers down to sprout.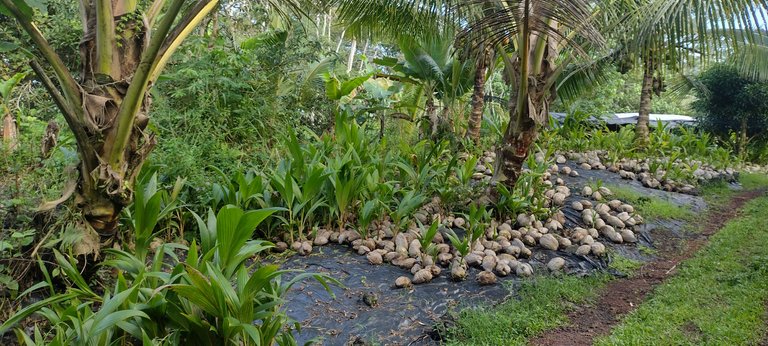 This is the fenced-in citrus and papaya orchard, with many varieties of both.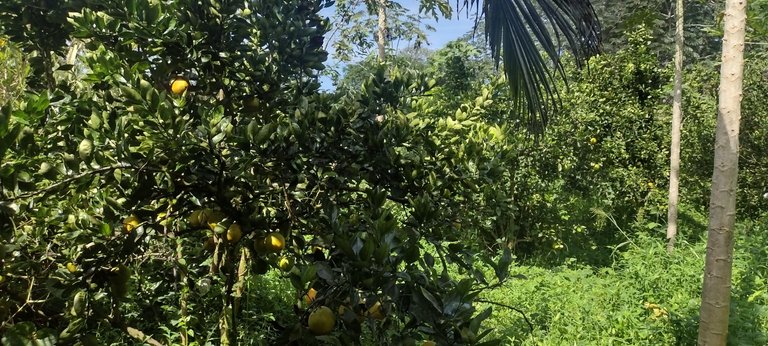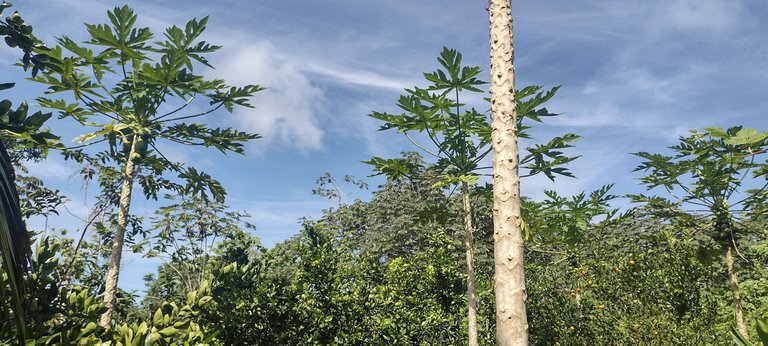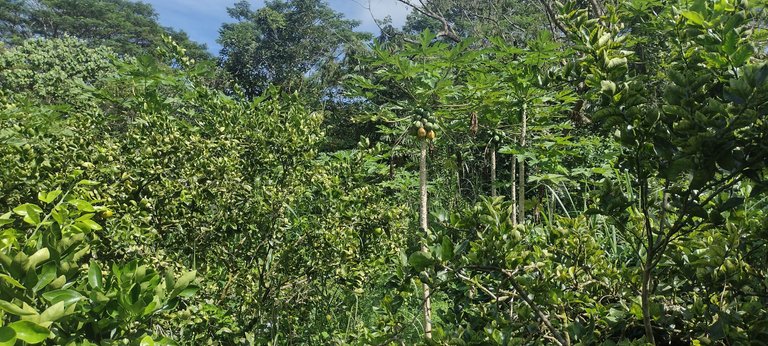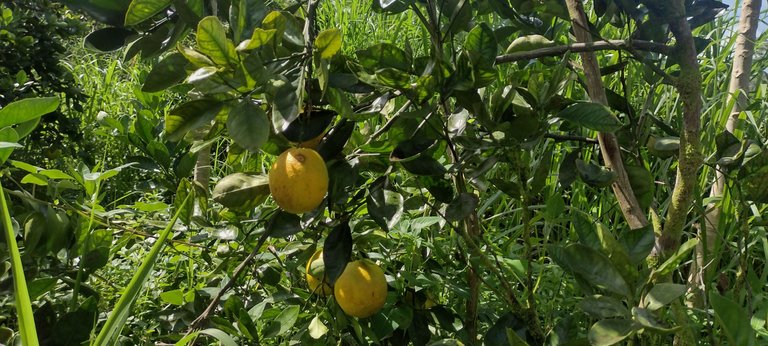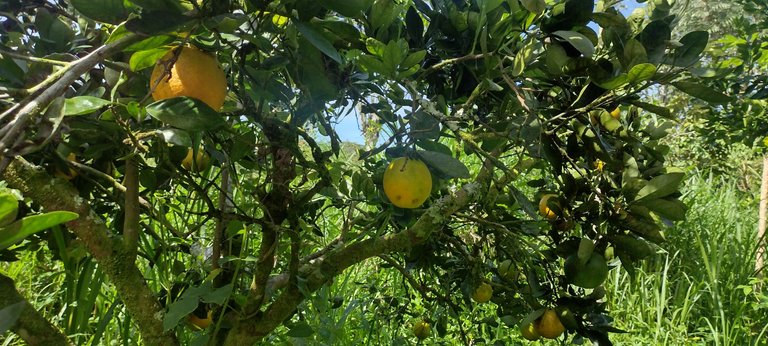 A view toward the car ports, shop, and the upper coco bar. There are over forty different species and varieties of tropical clumping timber bamboos planted across the property, many of which are utilized in construction.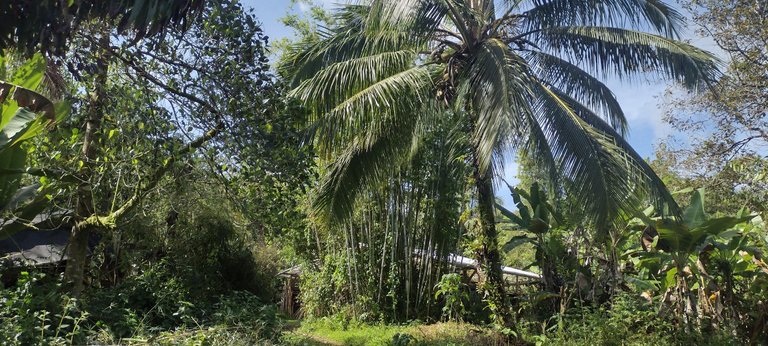 One of many jackfruit - Artocarpus heterophyllus trees growing on the property. Jackfruit is very well adapted here, and seeds itself very frequently.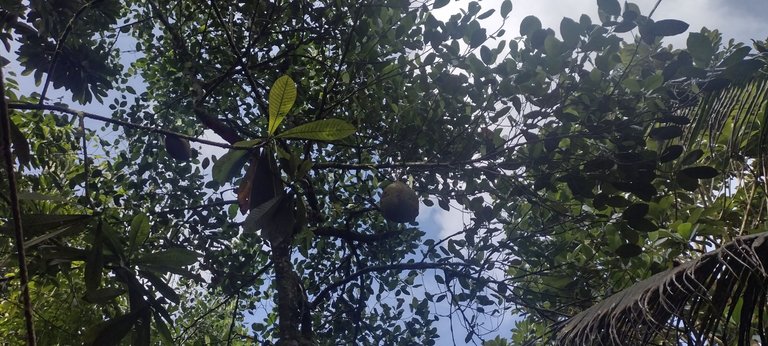 This is peanut butter fruit - Bunchosia grandulifera. There aren't many on the property, but the trees that are here seem to produce their curious and tasty sticky red fruit pretty constantly.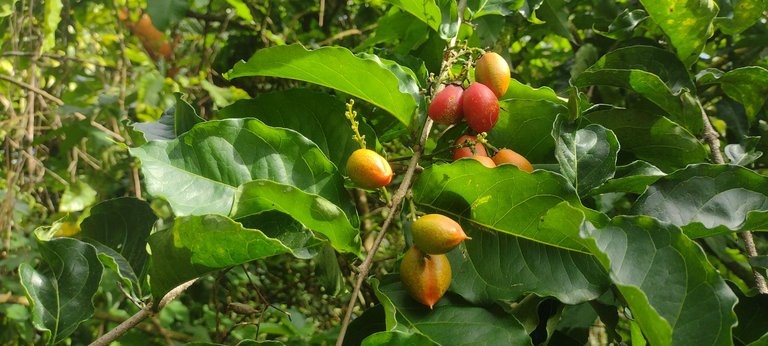 There are a few cacao - Theobroma cacao trees here and there too.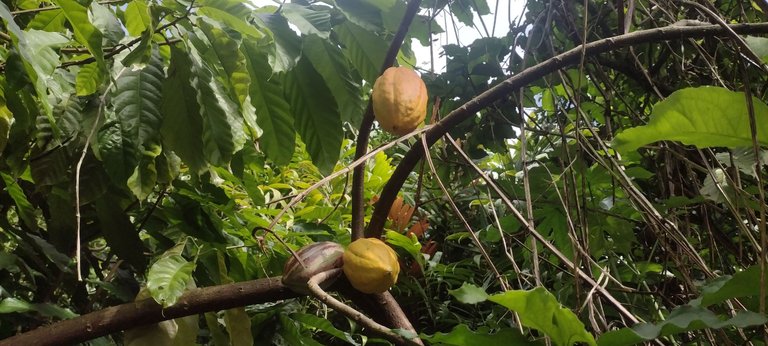 These are Bolivian mangosteen - Garcinia humilis. There are a few of these planted, mostly near the chicken pen. I adore the sweet-tart flavor of the fruit!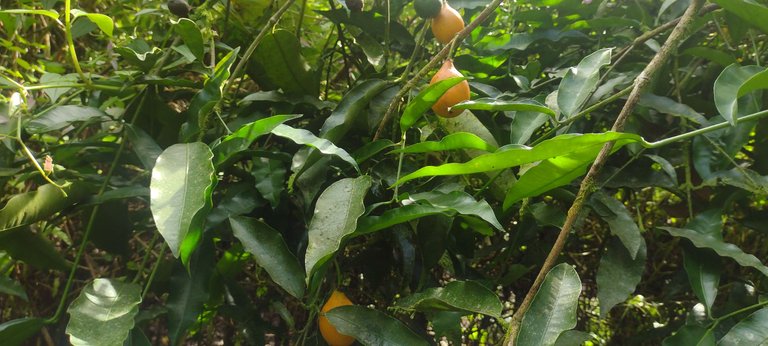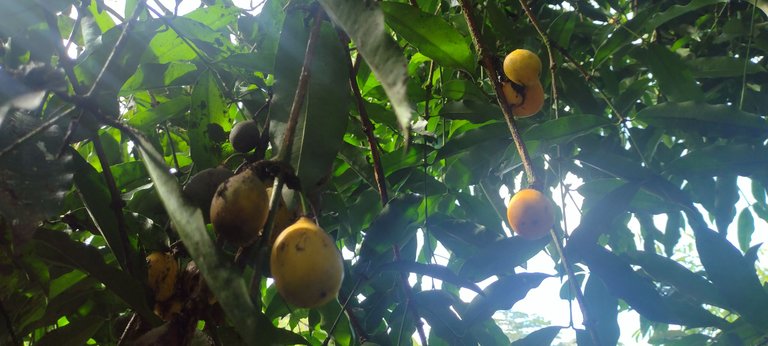 And last but not least, me hiding in an young anatto - Bixa orellana shrub, that I planted more than a year ago.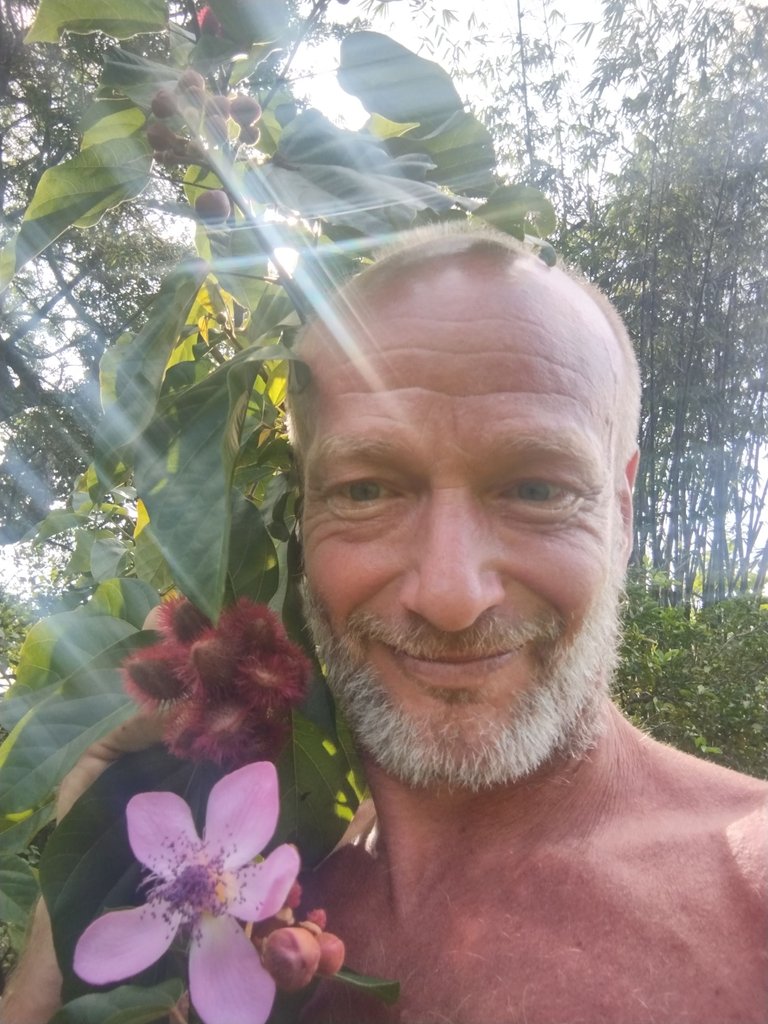 OK my dear garden and plant loving friends, that's all for this #gardenjournal update! This was only a tiny little sliver of what is here. There is so much that I didn't mention or show, of course, which will make appearances in future posts. I hope y'all enjoyed and found this tour of GaiaYoga Gardens interesting! Until next time! 😁🙏💚⚡💥🔥✴️✳️❇️👣🌱

All photos were taken with my Motorola G Power Android Phone.

Thank you all so much who have helped me get to where I am today, and allowing me to share more of the beauty and magic from my life and my world with you, and for your continuous appreciation and support! I am truly deeply grateful! 😁🙏💚

If you'd like to find me on other alternative platforms where I have accounts (I spend most of my time here on Hive), click on this signature image below to go to my LinkTree page.

If you'd like to send me a BTC Lighting Tip (made possible by the fantastic work of brianoflondon on @v4vapp), just scan the QR image below. 👇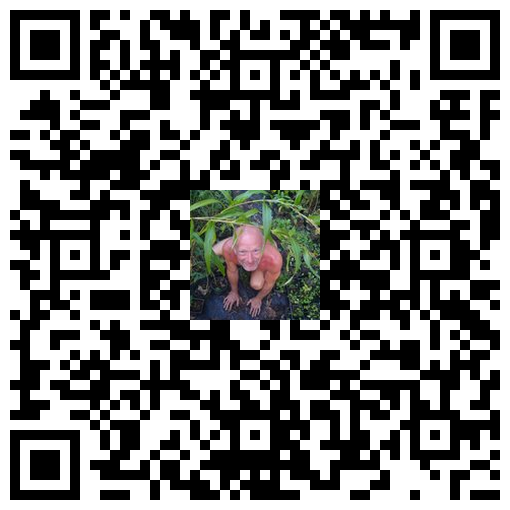 Signature image created by @doze, and the dividers made by @thepeakstudio, with all tweaked to their present form by me.
![Polish_20220714_121452303.jpg](

---
---