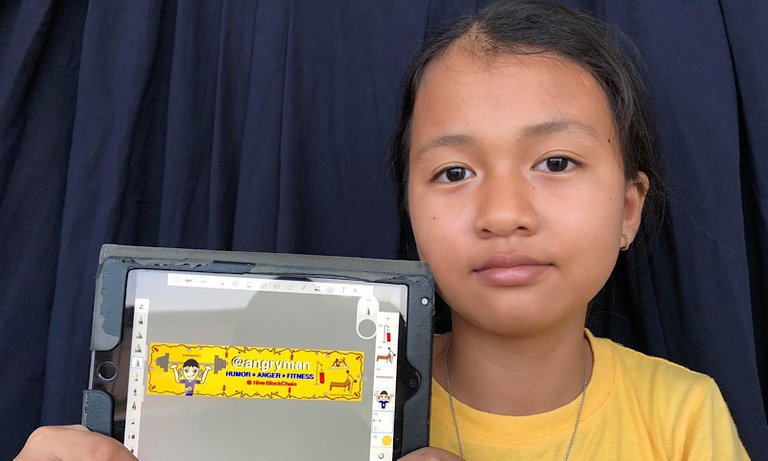 I just finished a banner for @AngryMan, and I will show you all the banner that I drew. My sister said she really likes the dumbbell. I hope he likes the dumbbell too.
---

@angryman, you can copy this code to share your banner in your post.
<center>[![angryman's banner.PNG](https://files.peakd.com/file/peakd-hive/kidsisters/23uFrymDjpj37TNF8Y4c7MMC3sAqn9jahdzACxAwrcfTwXypF5SmmESjiHrKPK7FMdGvg)](https://peakd.com/@angryman)</center>
---
I just finished my banner for @AngryMan. He asked me to draw it with a funny angry man and steam coming out of his ears. My dad told me he likes gyms too. I drew a dumbbell, kettlebell, and more. I don't know how to draw gym stuff but this is the best I can do.
I really hope he likes it. If you (@angryman) don't like something I can change it for you. I have to draw one for @zonadigital21 very soon also. I think I will draw one for the contest on Toys On Hive too. I can't wait to think of ideas for each banner.
---
ATTENTION HIVERS
I would love to draw more banners so if you want me to draw I can. All you need to do is tell me what kind of style you want and I'll do it for you. I love drawing. When I am done I will make a post about it and you can copy it.
---
🙏 THANKS FOR READING 🙏
If you enjoyed this post, please upvote and reblog.
CLICK HERE TO JOIN HIVE AND START EARNING CRYPTO LIKE US