🥗 Grapefruit & Roasted Coconut Salad 🥥 Ital Khmer-ibbean Chefery 👩‍🍳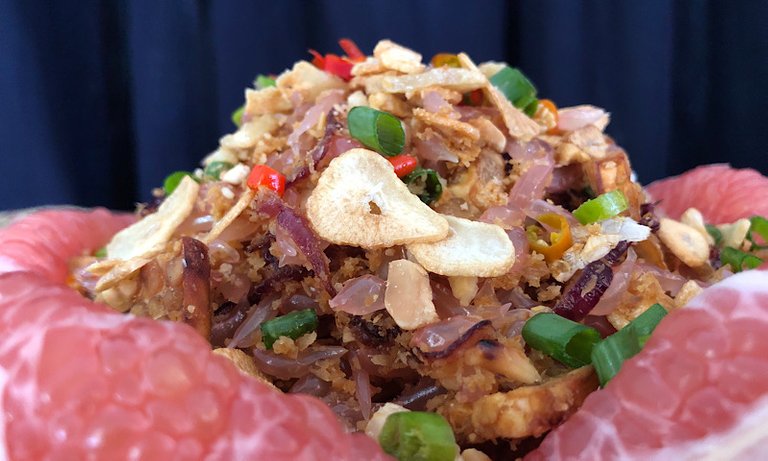 Hi all, I come again with a new recipe to share with you. Some people in my country add other vegetables also, but most people use only grapefruit like me, and they also add pork, chicken, or dried shrimp as they like. Of course I made this recipe 100% vegan.
Some people also add fresh mint and basil, but I used only green onions. Normally we make this with pomelos because we have more pomelos than grapefruits in Cambodia. In Cambodia we call them white grapefruit and pink grapefruit. I just just learned today I am wrong for thinking in English they are called similar names. My husband said they are called pomelos and grapefruits.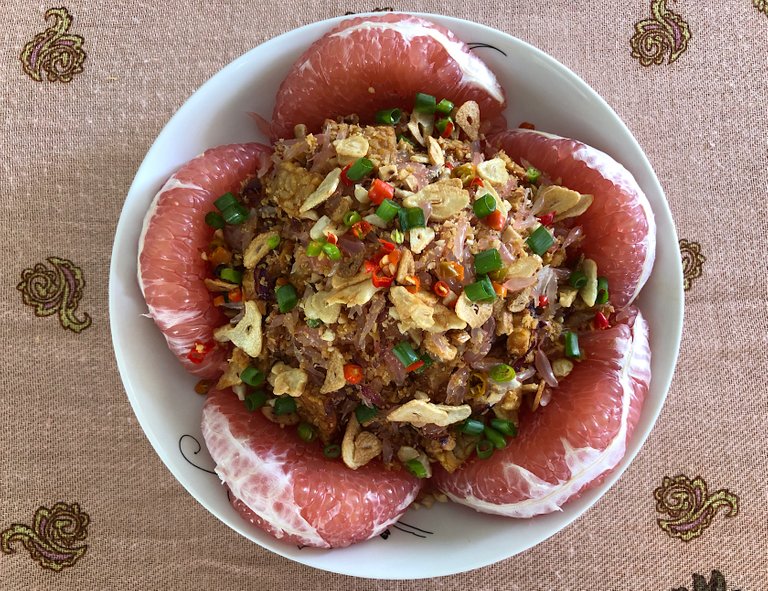 I made this for lunch yesterday and my family loved it so much. My husband said he will buy grapefruit or pomelo again if he see them in the store, then we can eat this dish again.
He said, "Why have you never made this before? I said because there are not many grapefruits now, and when we have a grapefruit we always eat it right away, so not have them for salad.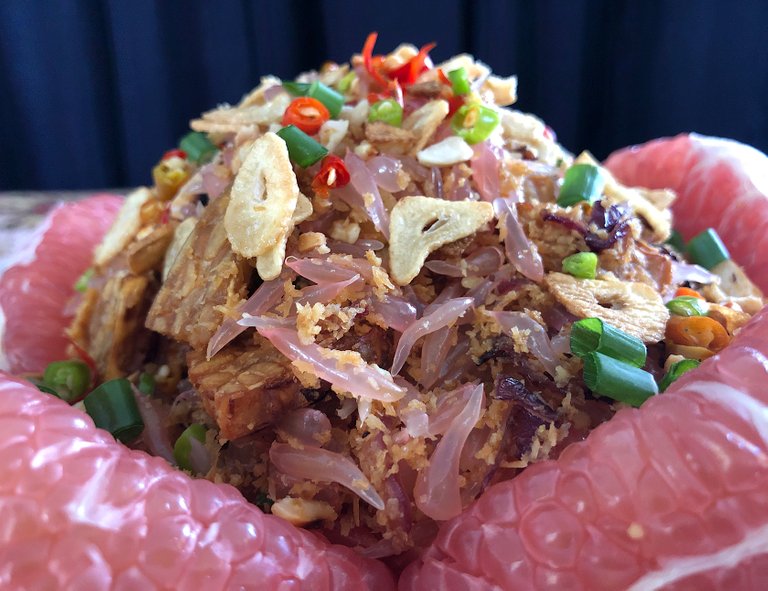 👩‍🍳 Grapefruit & Roasted Coconut Salad (Ital) Recipe 🔪
វិធីធ្វើញាំក្រូចថ្លុងបួស

Ingredients
2 1/2 cups of grapefruit
1/2 cup roasted coconut meat
1 pack of tempeh
roasted peanuts as you like
12 small fresh chilies, or to taste
7 cloves garlic
1 red onion
5 green onion stalks
1 1/2 tsp salt or taste
1 tbsp soy sauce
1 tsp brown sugar or taste
1 tbsp nutritional yeast
1 small lime juice, or to taste
Peel grapefruits and take only inside of grapefruits.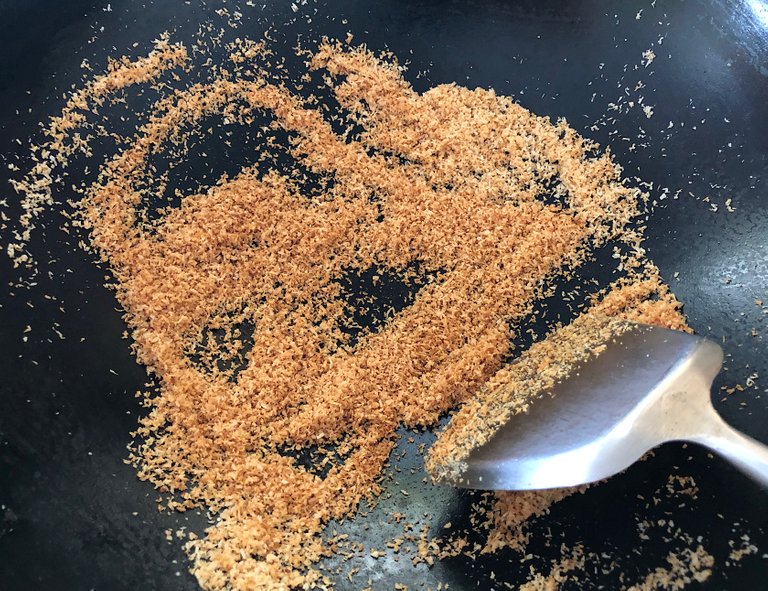 Roast coconut meat until aromatic. Normally we use grated fresh coconut but I don't have any now, I only had dry coconut for this recipe.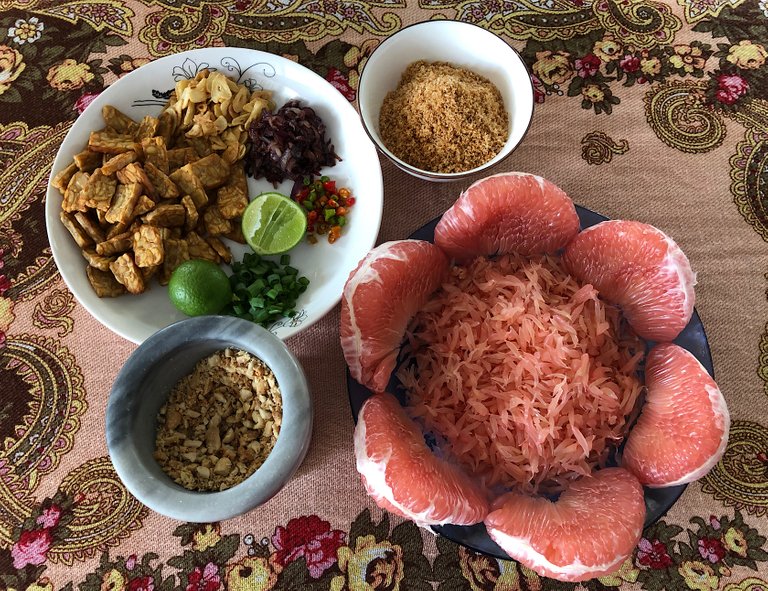 Cut tempeh and fry until brown. Slice garlic cloves and red onions, then fry until brown. Cut green onions and chilies, and crush the roasted peanuts.
Take a bowl and put salt, sugar, soy sauce, nutritional yeast, lime juice, and stir until dissolved. Now add grapefruit and roasted coconut, then mix up well.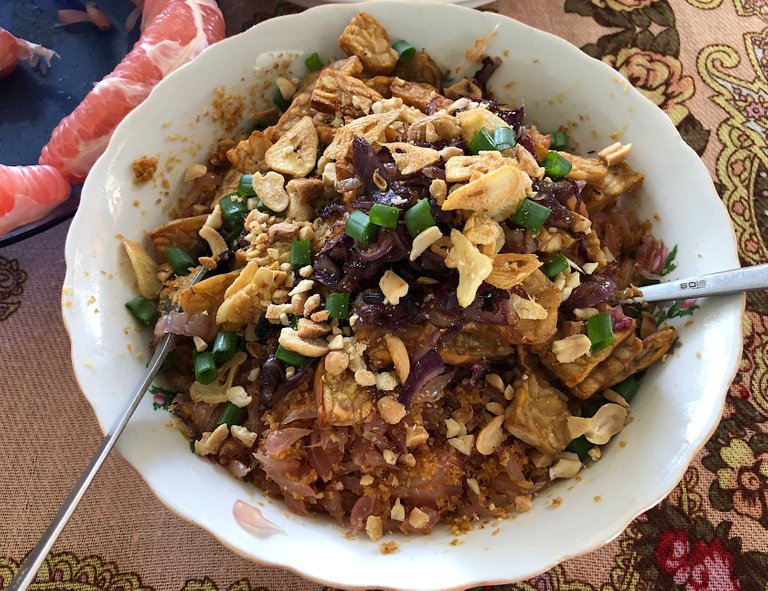 Add fried tempeh, red onions, garlic, roasted peanuts, green onion, chilies, and mix together. It's ready.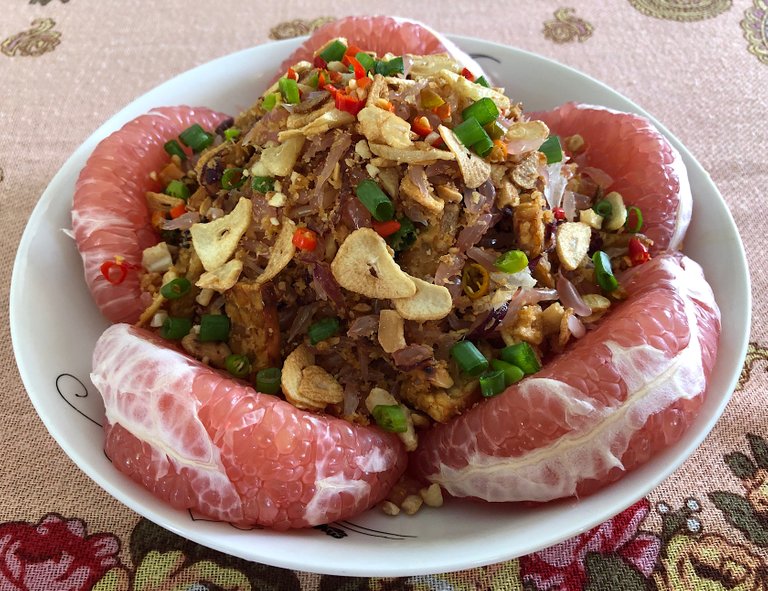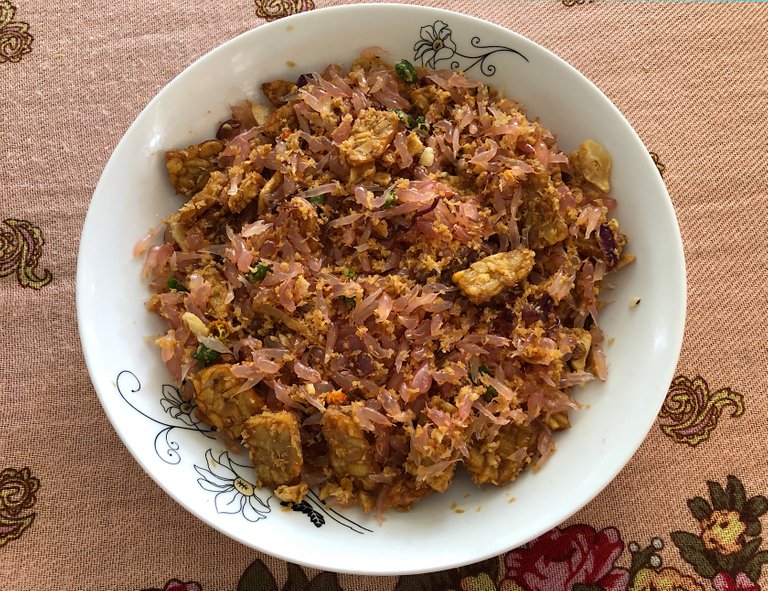 Have a great day and stay safe everybody 😊.
CLICK HERE TO JOIN HIVE AND START EARNING CRYPTO LIKE US

---
---