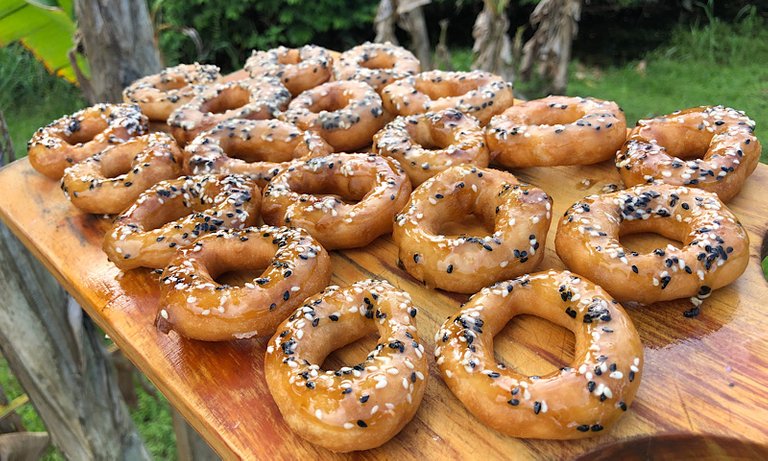 Greetings from Suriname everybody 🙏🏻😊. On Saturday and Sunday it was lockdown, so I was bored because I can't go buy something to eat. Then I have an idea to make Khmer donuts to share with the landlord and with dear friends in Hive too.
My Monkey-B asked me to make these many times, so now I made them. Normally people in my country make them to sell, and we don't make them at home. It's easy to buy them here, but I need to make it by myself for more delicious. I hope you enjoy them.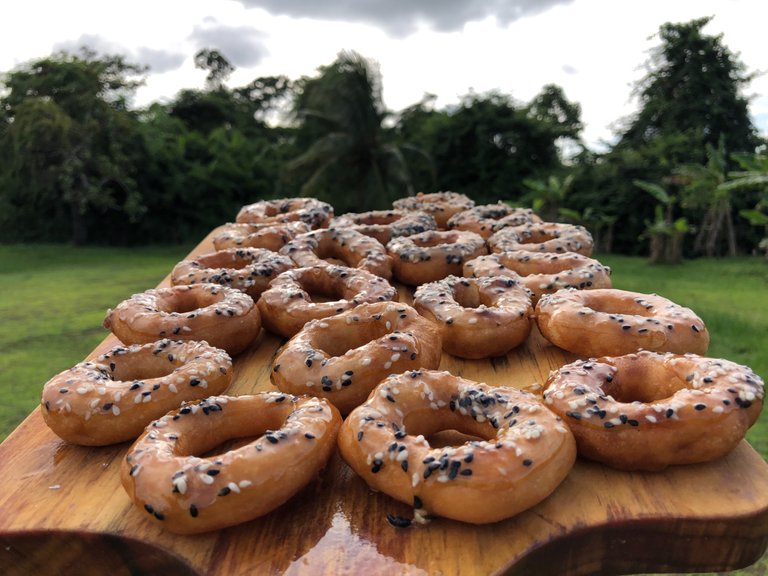 👩‍🍳 Nom Kong - Khmer Donuts 🍩 (Ital) Recipe 🔪
វិធីធ្វើនំកងខ្មែរ

Ingredients From Dough
1 cup sticky rice flour
1/2 cup rice flour
1/3 cup coconut milk
1/8 cup brown sugar or to taste
pinch of salt
1 tsp baking powder
1/4 cup of water, maybe more or less for you
👉 Some people do not use baking powder and some people use it, so you use or not as you like.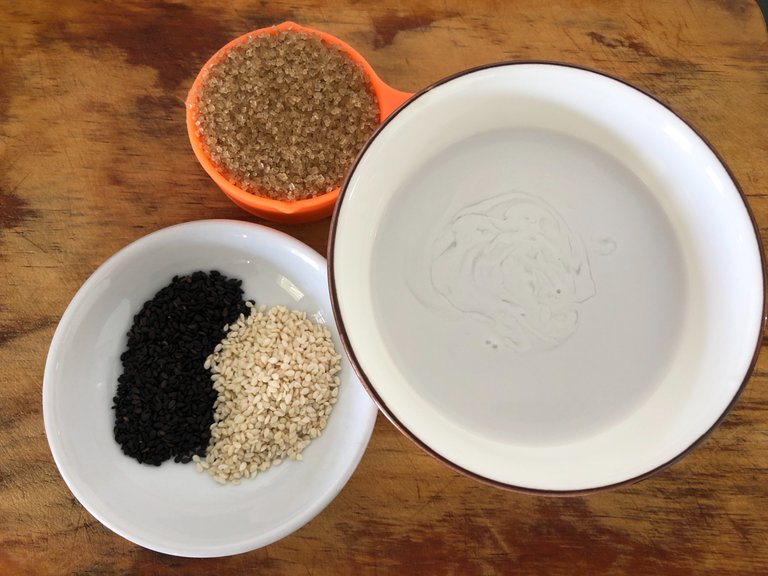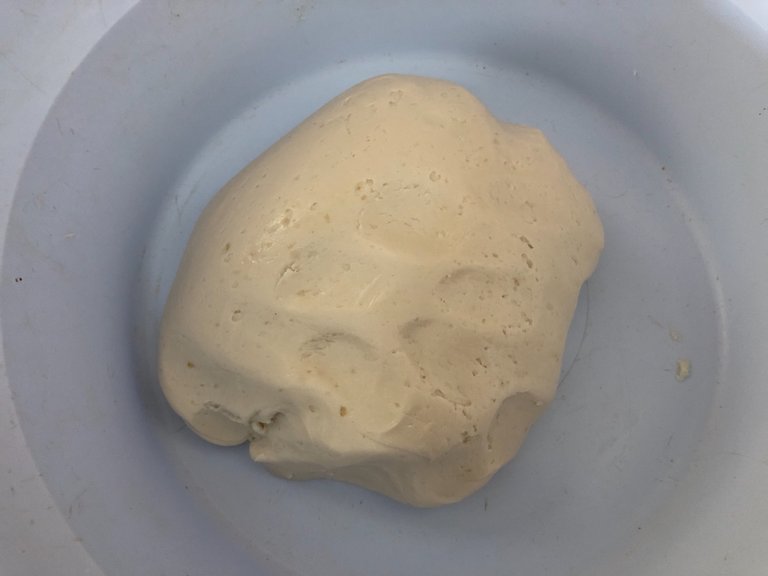 Put all flour in the bowl and add salt, sugar, baking powder, and coconut milk. Stir it well and add the water, then knead to make dough, do it very well.
I shape it like that. My two daughters wanted to make donuts also, so I let them make some for enjoyment.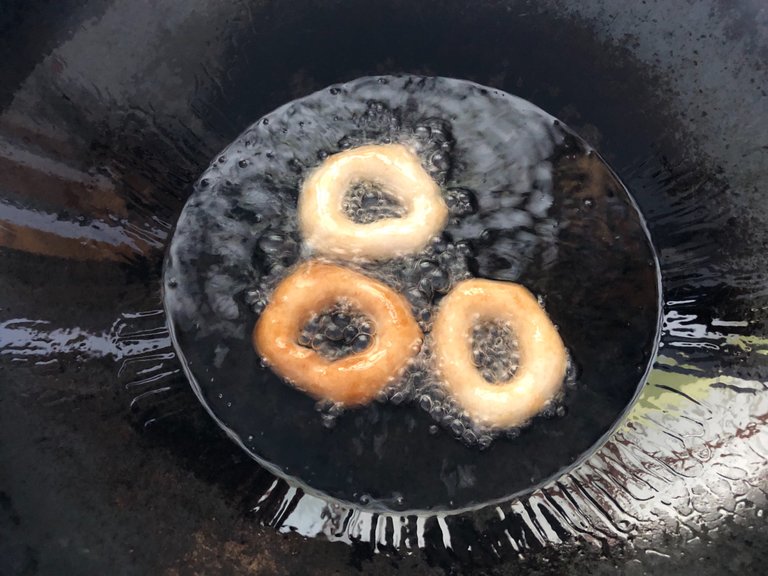 Fry them until brown and remove them from the oil.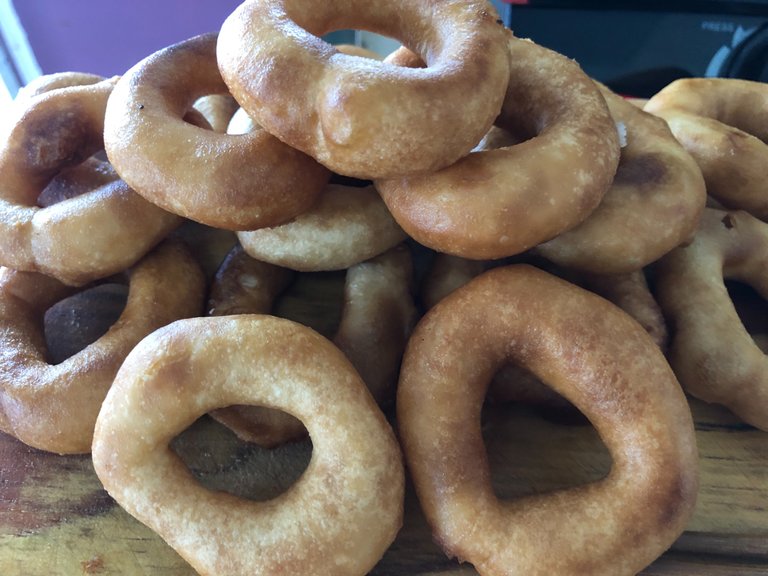 Ingredients For Sesame Glaze
1/3 cup brown sugar
2 tbsp sesame seeds, or as you like
a little water
Normally, people in my country use fresh liquid palm sugar to make this recipe because it's delicious more and smells good also. Sad I do not have it here.
Heat pan and add brown sugar and water, stir until brown and reduce the heat to low. After add sesame seeds and stir again. Then put donut into it like that.
You need to be careful with your fingers because it is hot. During that time we need to do it fast because if we do it slowly the sugar will dry, then it's not possible.
So if we make much dough, we need to make glaze many times for the dough. For this recipe one time is ok.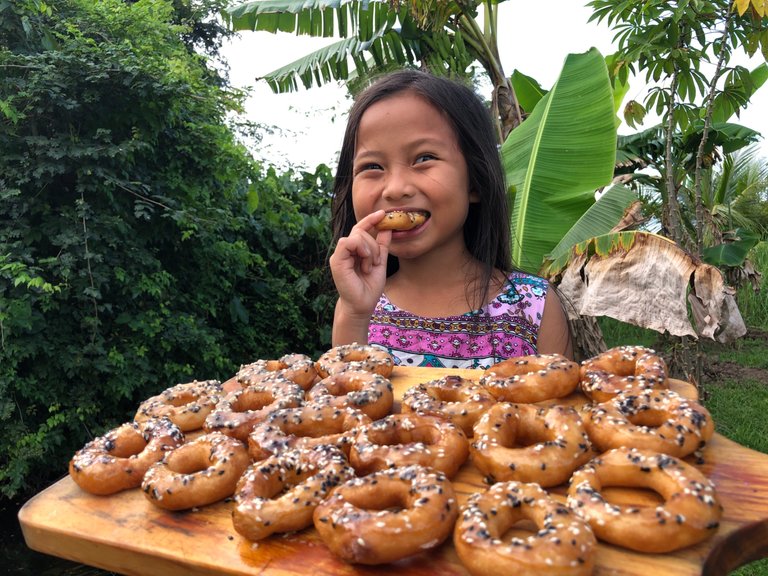 Her face when eating her favorite donut.
I hope you are well everywhere you are. Have a great day everyone and stay safe 😊.
---
🙏 THANKS FOR READING 🙏
If you enjoyed this post, please upvote and reblog.
CLICK HERE TO JOIN HIVE AND START EARNING CRYPTO LIKE US