Can It Wrong To Buy At A LEO Dip?
Hello.
I bought LEO 1000 at the falling down price of LEO about 3 weeks ago.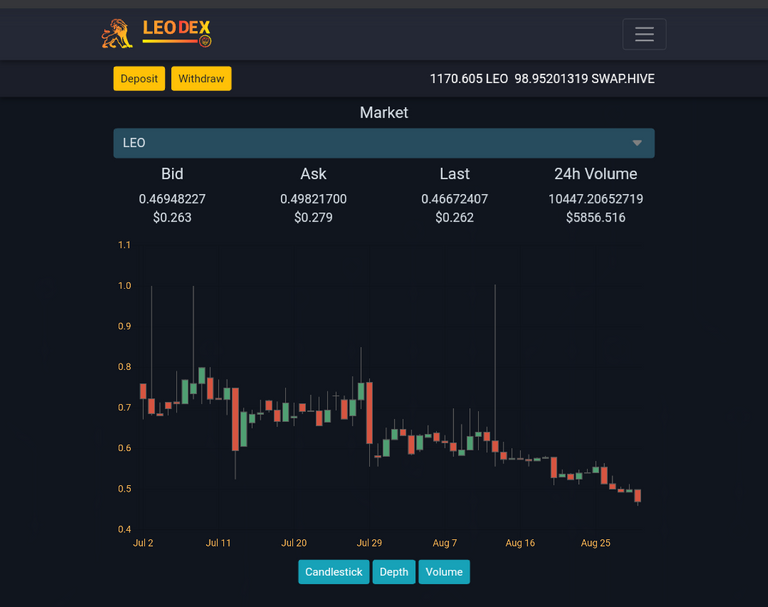 Since then, the LEO has continued to fall sharply, now close to 0.45 HIVE.
Starting with LeoFinance, I have been collecting as much LEO as I can with confidence in LEO.
Another LEO 300 Buy Order is now open.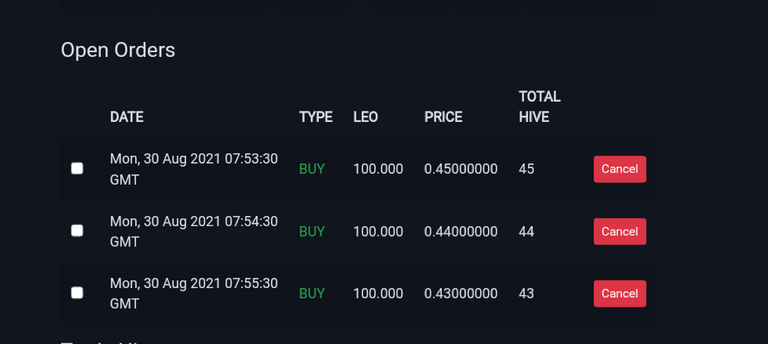 We have set a goal to achieve LEO 5000, so I am prioritizing LEO.
As I am not an expert on crypto, I still do not know whether my actions are right or wrong.
However, I do not want to stop halfway through the journey of faith.
Is it wrong to buy at a dip?
What do you think?
Tin Aung Soe
[Burmese]
မင်္ဂလာပါ
လွန်ခဲ့သော ၃ပတ်လောက်က စလို့ LEO ၏ ကျဈေးကို လိုက်ပြီး ဝယ်ယူခဲ့တာ LEO 1000 ရခဲ့ပါတယ်။
ထိုနောက်မှာလည်း LEO ဟာ ခေါင်းမမော့နိုင်အားဘဲ ဆက်လက်ပြီး တအိအိ ဈေးကျလာခဲ့တာ ယခုဆို ၀.၄၅ HIVE အနားကို ရောက်ရှိနေပါပြီ။
LeoFinance မှ စခဲ့တဲ့ ကျွန်တော် LEO ကို ယုံကြည်စွာဖြင့် တတ်နိုင်သမျှ LEO စုဆောင်းနေခဲ့တာပါ။
ယခုလည်း LEO 300 ကို ထပ်မံ Buy Order ဖွင့်ထားပါတယ်။
LEO 5000 ရအောင် ဆောင်ရွက်မယ် ဆိုတဲ့ ပန်းတိုင်တစ်ခု ချမှတ်ခဲ့ဖူးသောကြောင့် LEO ကိုပဲ ဦးစားပေးအဆင့် သတ်မှတ်ဆောင်ရွက်နေပါတယ်။
Crypto အကြောင်း ကျွမ်းကျင်သူ မဟုတ်လေတော့ ကျွန်တော်၏ ဆောင်ရွက်ချက်များ မှန်သည်၊မှားသည် မသိရနိုင်သေးပါ။
မည်သို့ပင် ဆိုစေကာမူ ယုံကြည်မှုဖြင့် လျှောက်ခဲ့သောလမ်းမှာ တဝက်တပျက်နဲ့ မရပ်တန့်ချင်ပါ။
ဈေးအကျမှာ ဝယ်ယူတာ မှားနိုင်သလားဗျာ။
မိတ်ဆွေတို့ရော အဘယ်သို့ ယူဆပါသလဲ။
တင်အောင်စိုး
---
---