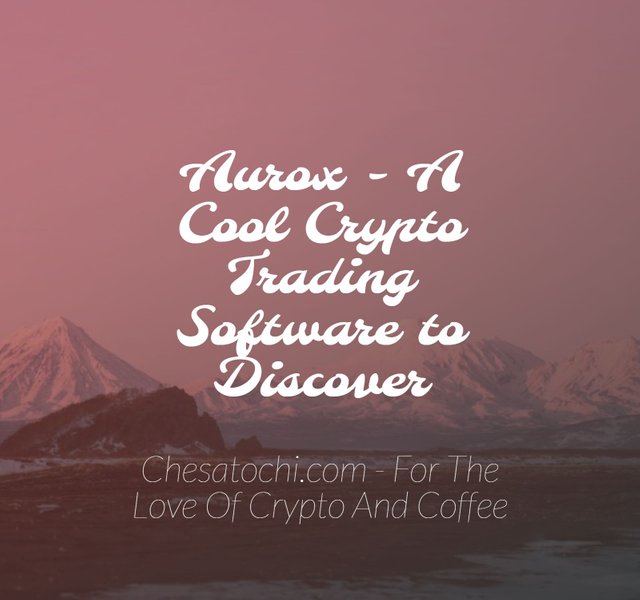 Introduction
I know I should be doing more trading but lately, I focus to create contents online. I will start to include that as well on my crypto blog.
Lately, on LBRY, I saw someone who started to share videos made with Aurox. I know you curious to know what is hidden behind it.
Let's go jump into the world of Aurox.
What is Aurox?
Instead to trade through a browser and consume your CPU intensively. You have a software available that you can download on Aurox website.
You might think that it is not worth your time to make it happen. On the contrary, is a cool idea to give a try.
Aurox provides a way to trade crypto without effort on your computer. You have the freedom to have complete access and the full power of your computer.
API control
You don't need to log each time on the trading exchanges manually. You communicate with the API you set up only one time.
Basically every trade occurs locally via the API. This provides a way to maximize your buy and sell orders.
Trading exchanges supported
At the moment I have made my vlog about it. I discovered Aurox support 9 trading exchanges.
It is not a big amount, but you might find one that fits your personality. ;)
Those supported are:
Binance
Bitmex
Bitfinex
Kraken
Bitstamp
Poloniex
Coinbase Pro
HitBTC
Bittrex
Creation of an account and price
At the moment I tried to create an account for myself, the option was deactivated. You might think is not serious and sucks.
The only option available was to send an email!
I believe is a new service and they received too many requests in a short time, this is my opinion.
You have 14 days free if you want to try the service. One thing that bugs me it cost $29.99 each month for a membership.
I recommend that they offer more affordable plans.
Indicators supported
This is something cool out of the box, they support over 150 indicators. You have heard 150!
You can the opportunity to discover them and maybe adopt a few, then make a killing. It is an exciting feature I believe.
An indicator is a way to know when to buy or sell base on your trading strategy. It is something personal that you need to study and try for yourself.
Scripting
They support Javascript and Pinescript for the aim to enhance your trading even deeper to the moon.
You can script and automate a few things if you are comfortable in that area.
Vlog of the interface of Aurox
You love watching videos and discover by this medium. You can watch it on my channel crypto and coffee on YouTube.
Also, you can subscribe and discover great content.
Last word
I want to give a try for 14 days with the free trial and make trading videos with it. I am going to send an email to Aurox for the creation of an account.
Trading without a browser is something to give a try. This software will provide you an edge and full power on your crypto trading.
You can access the website at this link.
Chesatochi.com–For the love of crypto and coffee
PS: I am not a financial adviser, and this is only my opinion. Always do your own research before embracing investment in the crypto space.
---
Posted from my blog with SteemPress : https://chesatochi.com/aurox-a-cool-crypto-trading-software-to-discover/
---