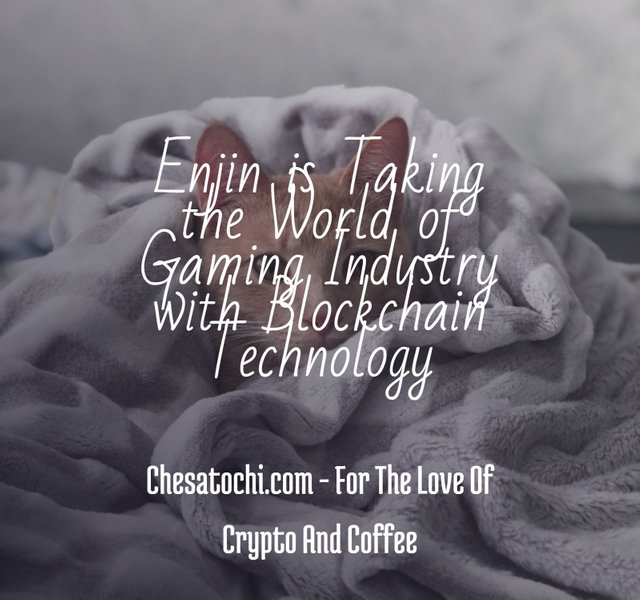 Introduction
We have the chance to see the evolution of awesome platforms in the crypto sphere. I know we are not in the epic bull run of 2017, but at least we start the see the rising projects. Those projects will shine and might be the next blockchain that will dominate the world, who knows.
I am very excited about what is coming on the pipe and one of those projects is Enjin. It is a cool, sexy, and mysterious name that is hidden behind this project.
Introduction vlog
Check my introduction vlog I have made about the Enjin project. You can follow my YouTube channel as well as crypto and coffee.
Sit down and relax about this introduction vlog.
What do you need to know?
It is an important and legitimate question that you need to know if you want to be involved with the world of Enjin. An ecosystem that provides the tools you need to include a blockchain layer with the game development.
It is simple on paper but it is more complex than you think.
Creation of an account on Enjin
I created an account on the Enjin website and you need to pay if you want to use their infrastructure on a monthly term. At least what is cool you don't need to think about this cumbersome process and focus on your game development.
The players don't need to create an account on Enjin but the game sites that use the Enjin ecosystem.
Partnerships
The secret ingredients to make your project shine and succeed. It is to have key partnerships in place that use your technology. Otherwise, you will be only good on paper without no one using your technology.
I invite to discover key partnerships in this article.
Enjin whitepaper
I have read the whitepaper that was created in 2017 and now at the beginning of 2020. This project has made a lot of progress since most ICOs has mostly faded away in the abyss.
It is interesting to know and discover where we are going with the gaming industry and blockchains technology.
You can access and read the whitepaper at this link.
Enjin games
A lot of good games that are coming on the pipe with the integration of Enjin technology. I am very bullish about this project that has made a lot since the beginning.
I discovered an article that shows over 20 games that integrated or will be part of the Enjin ecosystem. Check this list of games right now.
Last word
Blockchain technology has a tremendous opportunity to change the face of the gaming industry forever. This year the gaming industry will reach over 120 billion and this is an enormous market that will continue to grow.
Enjin has a nice track record since his beginning in 2017 and has made steady growth in the right direction. It is exciting to have a good list of games that are building on this ecosystem.
When you provide good games and you can trade your items internally and participate in the internal economy. That is what is thrilling!
Now go check their website and discover more about this technology.
Chesatochi.com–For the love of crypto and coffee
PS: I am not a financial adviser, and this is only my opinion. Always do your own research before embracing investment in the crypto space.
---
Posted from my blog with SteemPress : https://chesatochi.com/enjin-taking-world-gaming-industry-with-blockchain-technology/
---