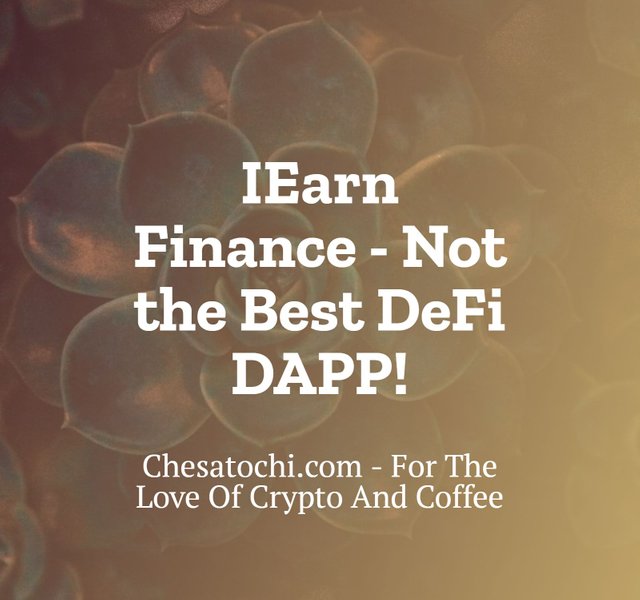 Introduction
The potential of DeFi is something that might have an impact in the crypto sphere. People can develop code and build smart contracts to provide decentralized finance toward the mainstream population.
It is an area that excites me and that can bring a lot toward the banked and the unbanked of this world.
What is IEarn Finance?
The DAPP tries to find the best interest rate among different lending crypto providers. In that way, you don't need to lose your time to find the best place where you can make the most.
As you can see the complete idea is simple and work right from the box.
My experience
The user interface needs to have improvement as it needs more features available. I can understand it might be something new but you need to think about that!
I will not use this DAPP because I had a bad experience interacting with the smart contract. Then I tried to invest 1 DAI and modify the fees and got a lot of errors.
Also, I tried with 2 DAI and got a message that I needed to pay over $15 in fees to initialize the transaction. Come on! I know Ethereum has a scalability problem but I believe it is a poor development with the smart contract.
To be honest I am discouraged about this DAPP and I feel like I lost my time interacting with it.
Lesson to learn
A lot of developers want to build something and make money with crypto. Nothing wrong with that but at least they need to make a good product to use or otherwise their DAPPS will never get traction.
In that case, I believe the person needs to improve the smart contract and improve the design. I don't recommend to use it as it is or you might lose all your profit in fees.
The aim is to make a profit and not pay too much in fees.
Last word
In the current form, I don't recommend using this DAPP. You might face frustration in your way.
You can give it a try if you judge you have the time. I know the idea is good on paper but the DAPP needs a lot of improvement.
You can access the IEarn website here.
Chesatochi.com–For the love of crypto and coffee
PS: I am not a financial adviser, and this is only my opinion. Always do your own research before embracing investment in the crypto space.
---
Posted from my blog with SteemPress : https://chesatochi.com/iearn-finance-not-the-best-defi-dapp/
---