From the depths WATER ELEMENTAL (ENG/ITA) Dagli abissi WATER ELEMENTAL - SHARE YOUR BATTLE Weekly Challenge! WATER ELEMENTAL
---
👉 ENG VERSION 👈

---
Hi Guys, here we are again at the weekly challenge organized by @splinterlands dedicated to the monsters of our favourite blockchain game!
As always we will analyze this week's card in all its features and finally, we will put it to the test in an epic battle :-).
If you want to participate in this challenge too, you can find all the information in the link below !!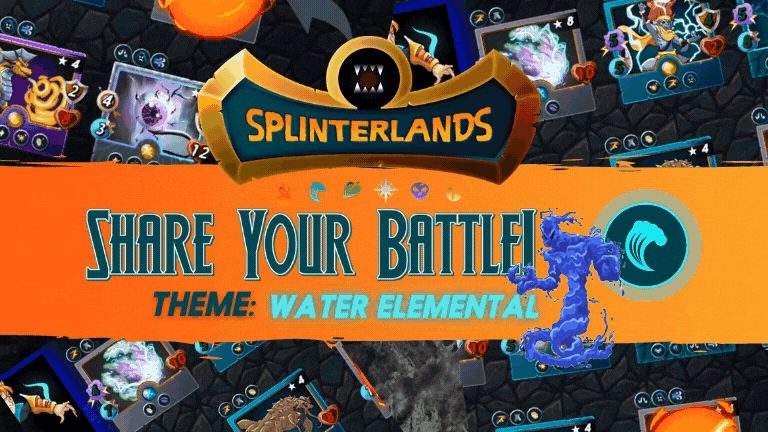 SHARE YOUR BATTLE Weekly Challenge! WATER ELEMENTAL
---
For this challenge this week we are talking about a monster I use a lot, let's talk about:
WATER ELEMENTAL 🌊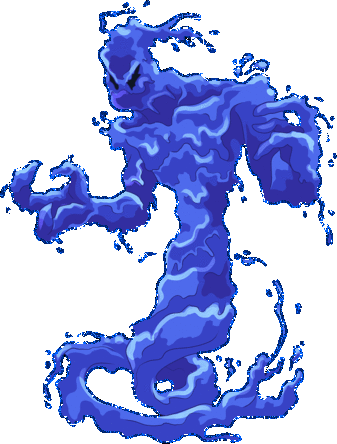 The summoners of AZMARE can summon these monsters the WATER ELEMENTAL, once the duty of their summoners is fulfilled these monsters become free.
Many retreats into the darkest depths of AZMARE and join the hordes of the WATER ELEMENTAL of the abyss.


This card is part of the ALPHA / BETA collection, it is a RARE monster belonging to the WATER element but also usable by DRAGONS.
WATER ELEMENTAL has a RANGED attack and can be upgraded up to level eight.
Beware of RULESETS such as LITTLE LEAGUE which allows the use of monsters with a mana cost of four or less, BROKEN ARROWS which does not allow the use of cards with a RANGED attack and EVEN STEVENS which allows the use of only cards with even mana.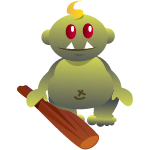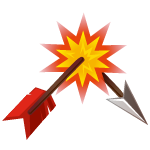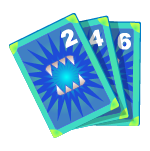 ---
I often use this monster when I use the WATER element, it is a card that for the beginner is very powerful especially for its ability.
Going forward in the game maybe there are stronger cards but let's see in detail WATER ELEMENTAL.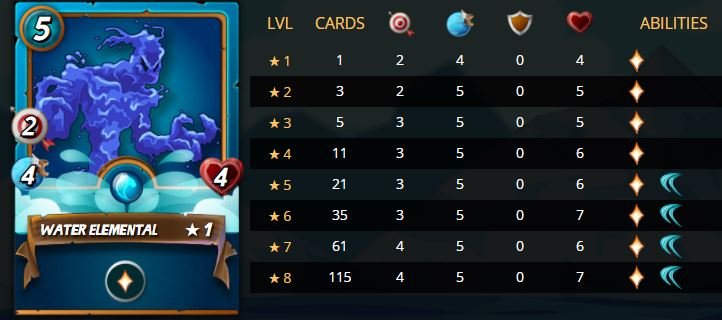 This sea monster starts with a RANGED attack of two and for starters, it's a good attack it can be raised to four once you reach level seven.
He has a stratospheric speed already from level one, speed four and reaches a peak of five at level two, this allows him many chances of dodging and starting among the first monsters to attack.
It has no armour and starts with life four and reaches a maximum of seven at level eight.




WATER ELEMENTAL already at level one has the HEAL ability that allows him to heal himself at every turn, a very precious ability for this monster that combined with his great speed allows him to keep his life always high or almost.
At level five, a second DODGE ability is added that increases the dodging chances even more making it really difficult to hit.


The MANA cost of this monster is five and I think it's a fair cost/power ratio for this card.
---
We just have to see WATER ELEMENTAL in action !!
---
LEEET'S GOOOO!
---
RULESETS:

STANDARD: No changes to Rulesets in-game.
MANA: 23
---
DEPLOYMENT: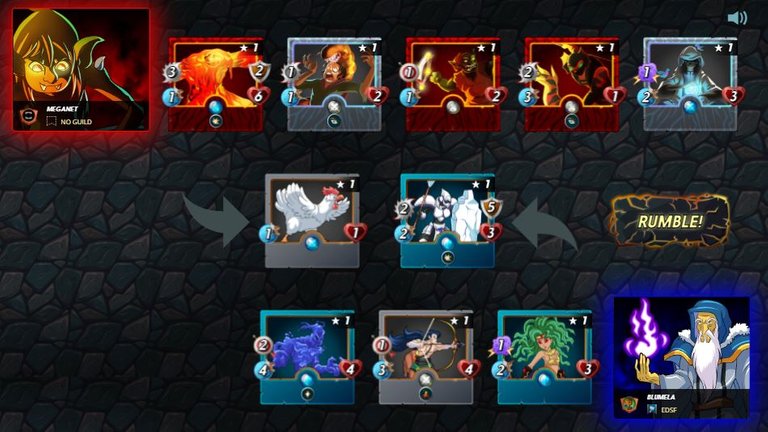 Here we are at the battle, I decided to deploy the WATER element to use our monster and I chose the Summoner ALRIC STORMBRINGER RARE card capable of increasing the magic attack of friendly cards by one.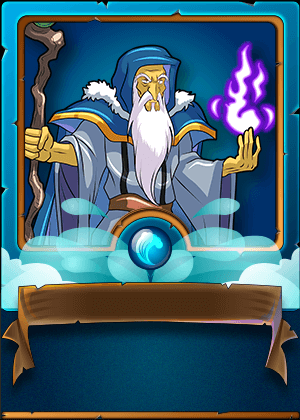 In the front row, I was undecided whether to insert SPINEBACK TURTLE or FROZEN SOLDIER, in the end, I opted for the second, I chose FROZEN SOLDIER for its SHIELD ability which reduces the MELEE damage received by one.
The life and armour of the two cards are equalized and it was the skill of the second that made the difference.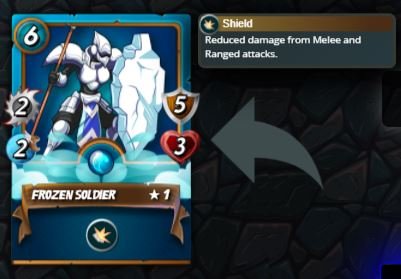 In the back, I have deployed MEDUSA with no ability but with a magical attack that will be enhanced by my Summoner while, in the third row, I have placed CENTAUR a NEUTRAL card with a RANGED attack and SNIPE ability, this power gives priority to our card to attack monsters RANGED, MAGIC or without attachment.

In the last row, I have deployed our monster Challenge WATER ELEMENT I have opted for the last row in case the opponent uses cards with SNEAK power ability that makes the last inserted card attack, in this way our monster has the possibility to heal itself and resist for several turns.
---
My opponent chose the FIRE element by deploying the Summoner PYRE, this monster has the power to increase the speed of friendly cards by one, thereby increasing the dodge chance and attack priority.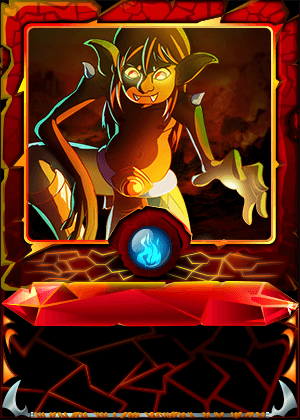 In the first position he put FURIOUS CHICKEN not really a real Tank, I think it serves to make me waste an attack.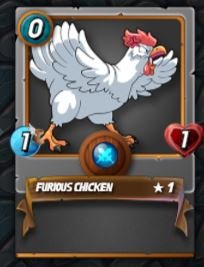 In the second row, he inserted the real Tank LIVING LAVA with SHIELD power which like my first card reduces the MELEE damage received.
In the second position, he has deployed a PARASITIC GROWTH a NEUTRAL card with a MELEE attack but with OPPORTUNITY ability that allows him to attack even from the rear.
In the third row, he has inserted a GOBLIN FIREBALLER card with a RANGED attack devoid of any power.

In the fifth row, he inserted SERPENTINE SPY also this one with MELEE attack therefore able to attack from the rear and as a target, it will have the monster with less life.
In the last row a second NEUTRAL card with an ELVEN MYSTIC magic attack with no power.
---
It took six rounds to win the game.
WATER ELEMENTAL was fundamental for the victory, eliminating numerous monsters and managing to survive until the end thanks also to the deployed tank.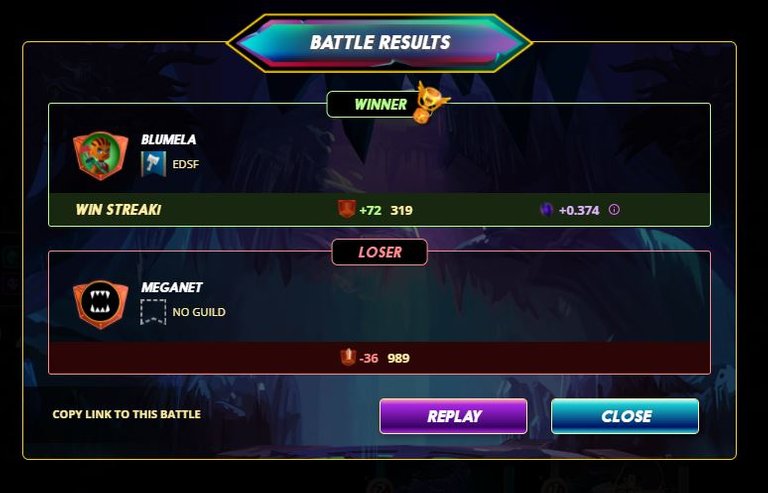 HERE under the REPLAY LINK!
https://splinterlands.com?p=battle&id=373239869428c38540b5a21f27dc7d284b1104a1&ref=blumela
---
I find this card very powerful for starters but I have some doubts once you manage to move up the league.
It becomes a nice boosted card but I think there are cards, at the same cost, much stronger! my suppositions being in the low league ... I just have to make sure over time :).
---
If you haven't tried this game yet my advice is to do it this is my link referral you can use the link if you like it or not but the point is always the one game to try! :-)
https://splinterlands.com?ref=blumela
If you don't like using it;) below !.
Have fun and see you in battle !!
---
The photos and gifs are screenshots taken from the Splinterland game I own or from splinterlands source.
---

---
---
👉 ITA VERSION 👈
---
Ciao Ragazzi, rieccoci qui alla sfida settimanale organizzata da @splinterlands dedicata ai mostri del nostro gioco preferito su blockchain!
Come sempre analizzeremo la carta di questa settimana in ogni sua caratteristica e in fine la metteremo alla prova in una battaglia epica :-).
Se vuoi partecipare anche tu a questa sfida trovi tutte le info nel link qui sotto!!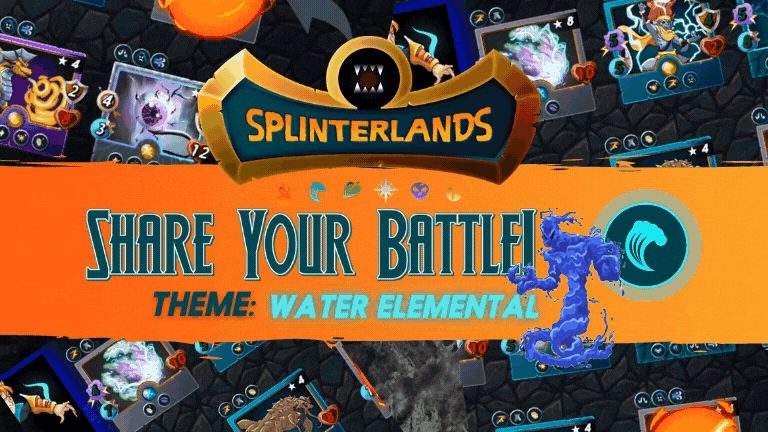 SHARE YOUR BATTLE Weekly Challenge! WATER ELEMENTAL
---
Per questa sfida questa settimana parliamo di un mostro da me molto utilizzato, parliamo di:
WATER ELEMENTAL 🌊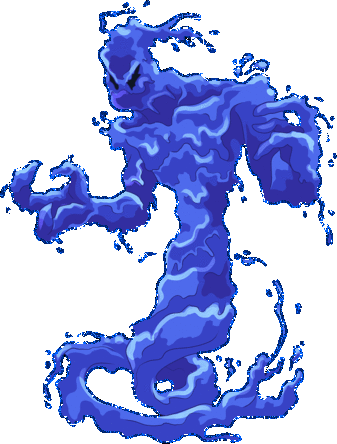 Gli evocatori di AZMARE possono evocare questi mostri i WATER ELEMENTAL, una volta compiuto il dovere dei propri evocatori questi mostri diventano liberi.
Molti si si ritirano nelle profondità più oscure di AZMARE e si uniscono alle orde dei WATER ELEMENTAL degli abissi.


Questa carta fà parte della collezione ALPHA/BETA, è un mostro RARE appartenente all'elemento WATER ma utilizzabile anche dai DRAGONS.
WATER ELEMENTAL possiede attacco RANGED e può essere potenziato fino a livello otto.
Attenzione alle RULESETS come LITTLE LEAGUE che permette l'utilizzo di mostri con costo in mana quattro o inferiore, BROKEN ARROWS che non permette l'utilizzo di carte con attacco RANGED e EVEN STEVENS che permette l'utilizzo di sole carte con mana pari.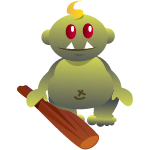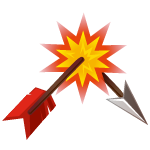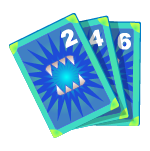 ---
Questo mostro lo utilizzo spesso quando utilizzo l'elemento WATER, è una carta che per chi inizia è molto potente soprattutto per la sua abilità.
Andando avanti nel gioco forse ci sono carte più forti ma vediamo nel dettaglio WATER ELEMENTAL.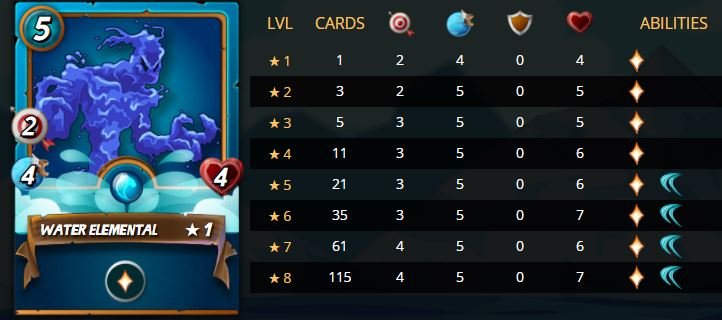 Questo mostro marino parte con un attacco RANGED di due e per chi inizia è un buon attacco può essere portato fino a quattro una volta raggiunto il livello sette.
Ha una velocità stratosferica già da livello uno, velocità quattro e raggiunge l'apice di cinque a livello due, questa gli consente molte probabilità di schivata e di partire tra i primi mostri ad attaccare.
Non possiede armatura e parte con vita quattro e reaggiunge un massimo di sette a livello otto.




WATER ELEMENTAL già a livello uno possiede l'abilità HEAL che gli consente di curarsi a ogni suo turno, abilità molto preziosa per questo mostro che unita alla sua grande velocità gli permette di tenere la propria vita sempre alta o quasi.
A livello cinque si aggiunge una seconda abilità DODGE che incrementa ancora di più le chance di schivata rendendolo veramente complicato da colpire.


Il costo in MANA di questo mostro è di cinque e penso sia un giusto rapporto costo/potenza di questa carta.
---
Non ci resta che vedere in azione WATER ELEMENTAL!!
---
LEEET'S GOOOO!
---
RULESETS:

STANDARD: Nessuna modifica di Rulesets in partita.
MANA: 23
---
SCHIERAMENTO: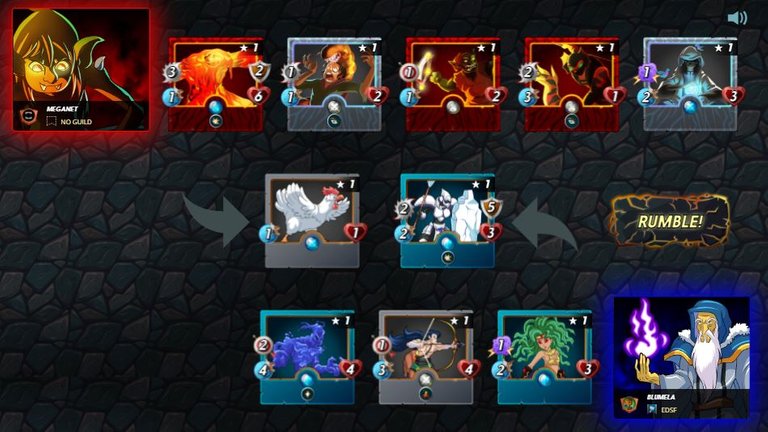 Eccoci alla battaglia, ho deciso di schierare l'elemento WATER per utilizzare il nostro mostro e ho scelto il Summoner ALRIC STORMBRINGER carta RARE in grado di aumentare di uno l'attacco magico delle carte amiche.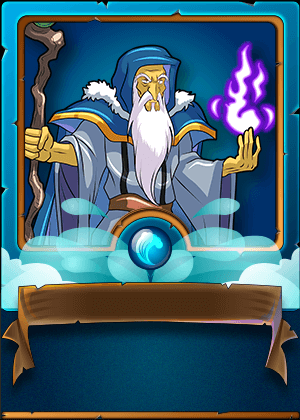 In prima fila ero indeciso se inserire SPINEBACK TURTLE o FROZEN SOLDIER, alla fine ho optato per il secondo, ho scelto FROZEN SOLDIER per la sua abilità SHIELD che riduce di uno il danno MELEE ricevuto.
La vita e l'armatura delle due carte si pareggiano e a fare la differenza è stata proprio l'abilità della seconda.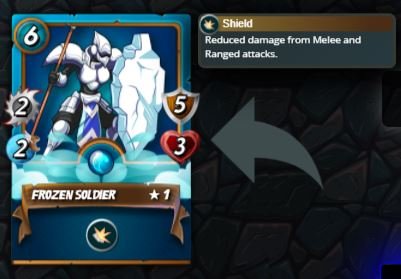 Nelle retrovie ho schierato MEDUSA priva di abilità ma con attacco magico che verrà potenziato dal mio Summoner mentre, in terza fila, ho messo CENTAUR una carta NEUTRAL con attacco RANGED e abilità SNIPE, questo potere da priorità alla nostra carta di attaccare mostri RANGED, MAGIC o senza attacco.

In ultima fila ho schierato il nostro mostro Challenge WATER ELEMENT ho optato per l'ultima fila in caso l'avversario utilizzasse carte con abilità SNEAK potere che fa attaccare l'ultima carta inserita, in questo modo il nostro mostro ha la possibilità di curarsi e resistere per più turni.
---
Il mio avversario ha scelto l'elemento FIRE schierando il Summoner PYRE, questo mostro ha il potere di aumentare di uno la velocità delle carte amiche, aumentando di conseguenza la probabilità di schivata e la priorità di attacco.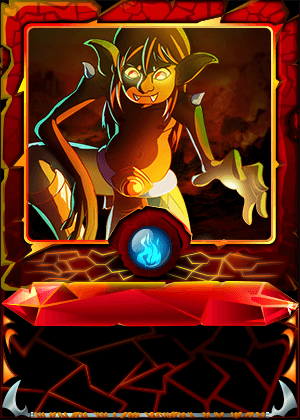 In prima posizione ha messo FURIOUS CHICKEN non proprio un vero Tank, penso serva per farmi sprecare un attacco.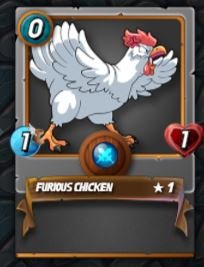 In seconda fila, ha inserito il vero Tank LIVING LAVA con potere SHIELD che come la mia prima carta riduce il danno MELEE ricevuto.
In seconda posizione ha schierato PARASITIC GROWTH una carta NEUTRAL con attacco MELEE ma con abilità OPPORTUNITY che gli consente di attaccare anche dalle retrovie.
In terza fila, ha inserito GOBLIN FIREBALLER carta con attacco RANGED priva di qualsiasi potere.

In quinta fila ha inserito SERPENTINE SPY anche questa con attacco MELEE quindi in grado di attaccare dalle retrovie e come bersaglio avrà il mostro con meno vita.
In ultima fila una seconda carta NEUTRAL con attacco magico ELVEN MYSTIC con nessun potere.
---
Sono serviti sei round per vincere la partita.
WATER ELEMENTAL è stato fondamentale per la vittoria, eliminando numerosi mostri e riuscendo a soppravvivere fino alla fine grazie anche al tank schierato.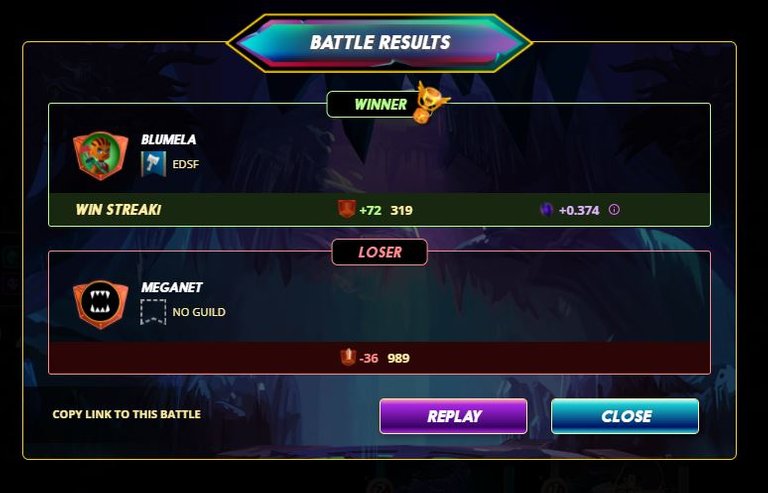 QUI sotto il LINK del REPLAY!
https://splinterlands.com?p=battle&id=373239869428c38540b5a21f27dc7d284b1104a1&ref=blumela
---
Ritengo che questa carta sia molto potente per chi inizia ma ho qualche dubbio una volta che si riesce a salire di lega.
Diventa una bella carta potenziata ma credo che ci siano carte, a pari costo, molto più forti! le mie sono supposizioni essendo in bassa lega... non mi rimane che accertarmene nel tempo :).
---
Se ancora non hai provato questo gioco il mio consiglio è quello di farlo questo è il mio link refferal puoi utilizzare il link se ti fa piacere oppure no ma il punto è sempre quello gioco da provare! :-)
https://splinterlands.com?ref=blumela
Se non vi fa piacere utilizzarlo ;) qui sotto!.
Buon divertimento e ci vediamo in battaglia!!
---
Le foto e le gif sono screen shot fatti al gioco Splinterland in mio possesso o di fonte splinterlands.
---

---
---