FURIOUS CHICKEN 🐔 (ENG/ITA) SHARE YOUR BATTLE Weekly Challenge! FURIOUS CHICKEN

---
👉 ENG VERSION 👈

---
Hi guys, new challenge organized by @splinterlands ?? Here I am!! here I'm!
This week we are talking about a particular card, more than a real fighter it is the mascot of almost everyone, for me certainly ...
If you want to participate in this challenge, below you will find the link with all the info!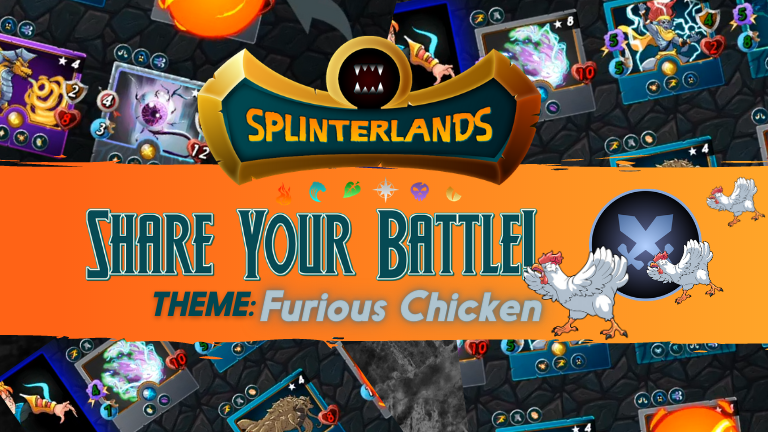 SHARE YOUR BATTLE Weekly Challenge! FURIOUS CHICKEN
🐔🐔🐔
For some time man has been wondering about existential questions such as; Who I am? Where do I come from? Where I go? What is the purpose of life? What is there after death?
was the chicken or the egg born first?
Many of these questions will remain unanswered but for the last question today we will find the answer !!
was the chicken or the egg born first? neither the first nor the second was born first:
FURIOUS CHICKEN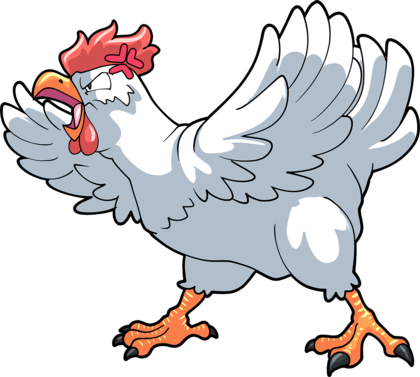 These cute hens have sparked a real revolution in the lands of Splinterlands.
Tired of being "pullied" of being mistreated and being caged, cooked and turned into futile objects they declared war on Splinterlands, under their leadership THE ALPHA CHICKEN all kinds of chicken started a revolution by rebelling against their oppressors giving birth to CLUCKENING.
This hen is part of the REWARD collection, it is a RARE card worth $ 0.39 as of this writing and it is a NEUTRAL card that can be used by all elements.

---
This card is very special! It has a MANA cost of zero and makes it usable almost always.
The strategies are varied, some put it on the front line as a tank to waste the first shot or like me prefer to put it in the last position to always make the opponent monsters with SNEAK skills waste a shot.
FURIOUS CHICKEN can be upgraded up to level eight and its non-existent MANA cost makes it a very weak card in defence and not very powerful in attack.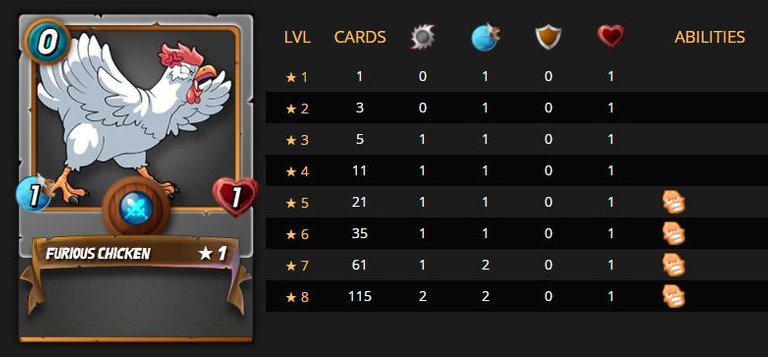 For the first two levels he has no attack, zero, only to the third he adds a point to his attack and reaches a maximum of two at maximum level.
The speed starts from one is a "slow-motion" card up to level six then improves slightly to 2 and so it stays up to level eight.
The armour has not arrived and one's life remains so for all its levels.




FURIOUS CHICKEN gains a level five skill, his only skill, ENRAGE.
This power allows the hen to increase attack and speed of herself when hit ... with life one if hit becomes a roast chicken ;-) barring any armour or life boosted by other allied monsters.

This card is often used as a kamikaze card to waste attacks or to fill the team when lacking mana, a true mascot.
---
Let's see our FURIOUS CHICKEN in action !!
---
LEEET'S GOOOO!
---
RULESETS:

STANDARD: No changes to Rulesets in-game.
MANA: 23
🐔🐔🐔
DEPLOYMENT:
For this reason, both my opponent and I chose the WATER element by deploying a RARE card as SUmmoner ALRIC STORMBRINGER with the power to increase the magic attack of friendly cards by one.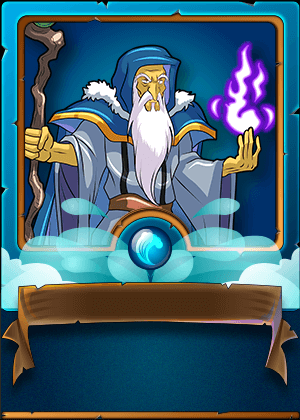 In the front row, I chose to deploy the TORHILO THE FROZEN EPIC card, a very resistant monster with a large amount of shield and life and with the VOID ability that reduces the damage of magical attacks.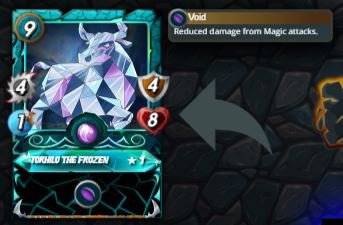 In the second row, I have deployed the RARE COCATRICE card of the NEUTRAL element, I have inserted this card for the little MANA left and I have decided to insert it in the second row in case my TANK is knocked down.
It possesses the FLYING skill which increases the chance of dodging.
In the third row, I placed the MEDUSA RARE card of the WATER element with a magic attack of one, which will be upgraded to two, and no skills being level one.

In the fourth row, I inserted the WATER ELEMENTAL RARE card of the WATER element that has a RANGED attack and the HEAL ability that allows it to heal itself every turn.
In the last position, as my strategy, our beloved hen ready to take blows from any cards with SNEAK power.
---
My opponent has chosen SEA MONSTER common card of the WATER element, great TANK for her use large amount of life and her HEAL ability that allows him to heal.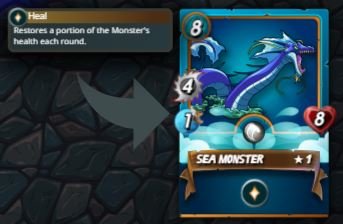 In the second position, he deployed the ENCHANTED PIXIE RARE card of the NEUTRAL element with magic attack and the FLYING ability.
In the third CRUSTACEAN KING common card of the WATER element without attack but with TANK HEAL ability that allows him to heal the card deployed in the first position.

In the fourth row, like me, he entered WATER ELEMENTAL while in the last position ALBATROSS without attack and with FLYING ability.
---
It took three rounds to conclude the battle with my victory.
Our hen lined up in the back was more expectant than anything else, it didn't help much, as sometimes happens, since no opponent's card had the SNEAK ability.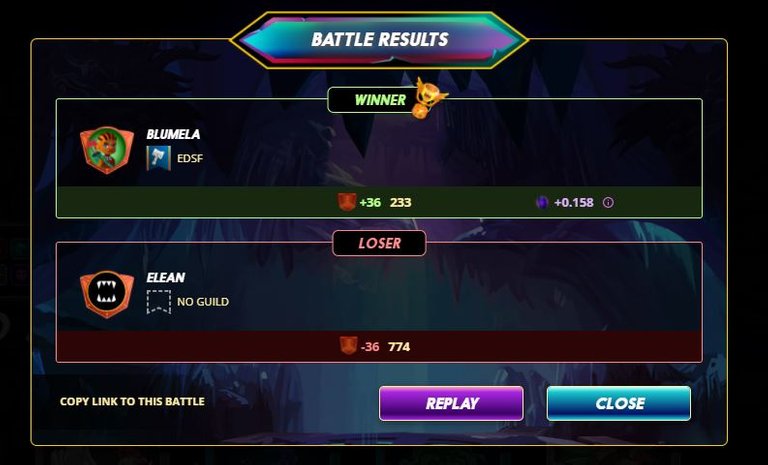 HERE under the REPLAY LINK!
https://splinterlands.com?p=battle&id=d12792f8b351c4606f0af063929a4a9973357b9f&ref=blumela
---
FURIOUS CHICKEN perhaps one of the weakest cards in the game but certainly one of the most used, its zero MANA cost makes it always usable even if often, poor chicken, it is always doomed to death. :-)
---
If you haven't tried this game yet my advice is to do it this is my link referral you can use the link if you like it or not but the point is always the one game to try! :-)
https://splinterlands.com?ref=blumela
If you don't like using it;) below !.
Have fun and see you in battle !!
---
The photos and gifs are screenshots taken from the Splinterland game I own or from splinterlands source.
---

---
---
👉ITA VERSION👈

---
Ciao ragazzi, nuova challenge organizzata da @splinterlands ?? eccomi!! presente!
Questa settimana parliamo di una carta particolare, più che vero combattente è la mascot credo di quasi tutti, per me sicuramente...
Se volete partecipare a questa sfida qui sotto trovate il link con tutte le info!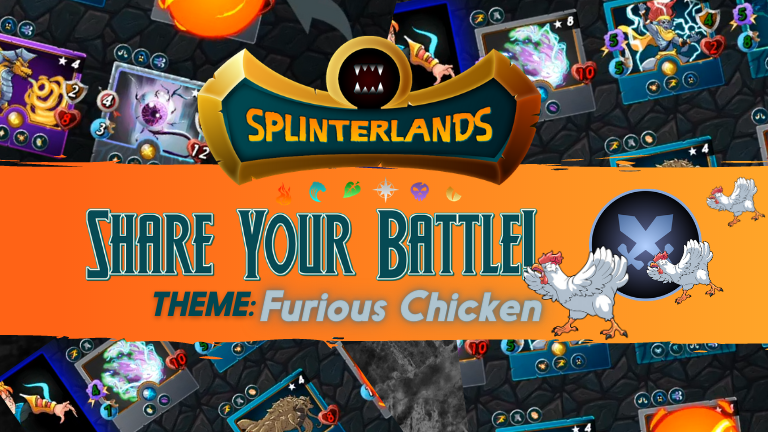 SHARE YOUR BATTLE Weekly Challenge! FURIOUS CHICKEN
🐔🐔🐔
Da tempo l'uomo si interroga su domande esistenziali come; Chi sono? Da dove vengo? Dove vado? Qual è lo scopo della vita? Cosa c'è dopo la morte? è nato prima l'uovo o la gallina?
Molte di queste domande rimarranno senza risposta ma per l'ultima domanda oggi troveremo la risposta!!
è nato prima l'uovo o la gallina? ne il primo ne tanto meno la seconda è nata prima:
FURIOUS CHICKEN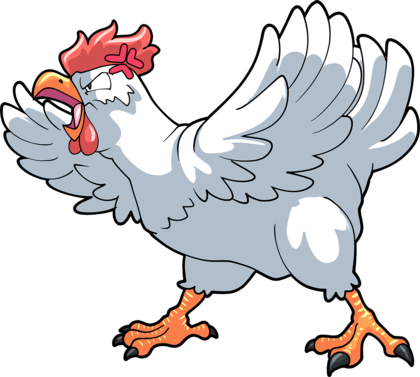 Queste simpatiche galline hanno innescato una vera e propria rivoluzione nelle terre di Splinterlands.
Stanche di essere "pollizzate" di essere maltrattate e essere ingabbiate, cucinate e trasformate in oggetti futili hanno dichiarato guerra a Splinterlands, sotto la loro guida THE ALPHA CHICKEN tutti i tipi di pollo hanno iniziato una rivoluzione ribellandosi contro i loro oppressori dando vita al CLUCKENING.
Questa gallina fà parte della collezione REWARD, è una carta RARE dal valore di 0.39$ mentre scrivo ed è una carta NEUTRAL utilizzabile da tutti gli elementi.

---
Questa carta è molto particolare!, ha un costo in MANA di zero è la rende utilizzabile quasi sempre.
Le strategie sono svariate, c'è chi la mette in prima linea come tank per far sprecare il primo colpo o come me preferisce metterla in ultima posizione per far sempre sprecare un colpo ai mostri avversari con abilità SNEAK.
FURIOUS CHICKEN può essere potenziata fino a livello otto e il suo inesistente costo in MANA la rendono una carta molto debole in difesa e poco potente in attacco.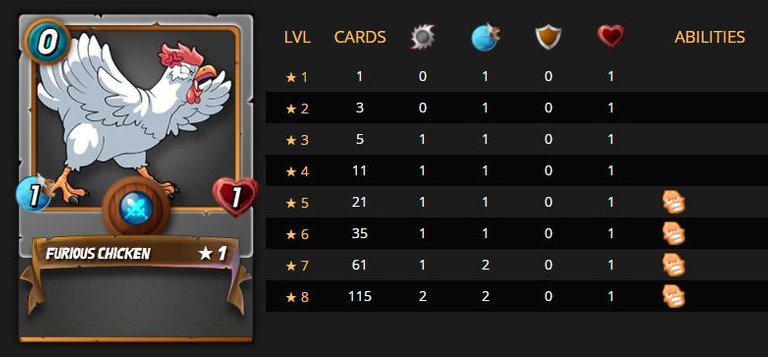 Per i primi due livelli non possiede attacco, zero, solo al terzo aggiunge un punto al suo attacco e raggiunge un massimo di due a livello massimo.
La velocità parte da uno è una carta in "slow-motion" fino a livello sei poi migliora di poco passando a 2 e cosi rimane fino a livello otto.
L'armatura non è pervenuta e la sua vita di uno rimane tale per tutti i suoi livelli.




FURIOUS CHICKEN ottiene una abilità a livello cinque, unica abilità che possiede, ENRAGE.
Questo potere consente alla gallina di aumentare l'attacco e la velocità di se stessa quando colpita... con vita uno se coplita diventa un pollo arrosto ;-) salvo eventuale armatura o vita potenziata da altri mostri alleati.

Questa carta è utilizzata spesso come carta kamikaze per far sprecare attacchi o per riempire il team quando sprovvisti di mana, una vera mascotte.
---
Vediamo in azione la nostra FURIOUS CHIKEN!!
---
LEEET'S GOOOO!
---
RULESETS:

STANDARD: Nessuna modifica di Rulesets in partita.
MANA: 23
🐔🐔🐔
SCHIERAMENTO:
Per questa sia io che il mio avversario abbiamo scelto l'elemento WATER schierando come SUmmoner ALRIC STORMBRINGER carta RARE con il potere di aumentare di uno l'attacco magico delle carte amiche.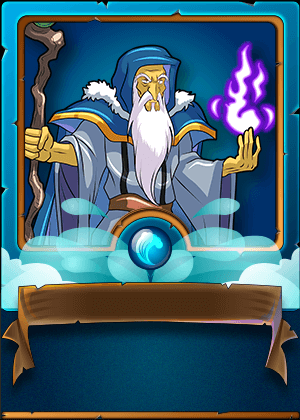 In prima fila ho scelto di schierare TORHILO THE FROZEN carta EPIC, mostro molto resistentecon un grande quantitativo di scudo e di vita e con l'abilità VOID che riduce il danno degli attacchi magici.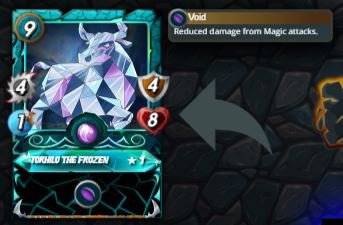 In seconda fila ho schierato COCATRICE carta RARE dell'elemento NEUTRAL, ho inserito questa carta per il poco MANA rimasto e ho deciso di inserirla in seconda fila in caso il mio TANK venisse abbattutto.
Possiede l'abilità FLIYNG che aumenta la possibilità di schivata.
In terza fila ho posizionato MEDUSA carta RARE dell'elemento WATER con attacco magico di uno, che verrà potenziato a due, e nessuna abilità essendo di livello uno.

In quarta fila ho inserito WATER ELEMENTAL carta RARE dell'elemento WATER possiede attacco RANGED e l'abilità HEAL che gli permette di curarsi a ogni suo turno.
In ultima posizione, come mia strategia, la nostra amata gallina pronta a prendere botte da eventuali carte con potere SNEAK.
---
Il mio avversario ha scelto SEA MONSTER carta comune dell'elemento WATER, ottimo TANK per la usa grande quantità di vita e la sua abilità HEAL che gli permette di curarsi.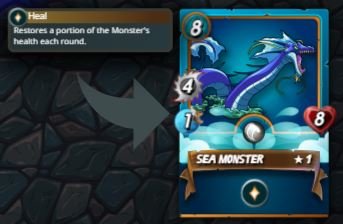 In seconda posizione ha schierato ENCHANTED PIXIE carta RARE dell'elemento NEUTRAL con attacco magico e l'abilità FLIYNG.
In terza CRUSTACEAN KING carta comune dell'elemento WATER privo di attacco ma con abilità TANK HEAL che gli consente di curare la carta schierata in prima posizione.

In quarta fila, come me, ha inserito WATER ELEMENTAL mentre in ultima posizione ALBATROSS priva di attacco e con abilità FLYING.
---
Sono bastati tre Round per concludere la battaglia con la mia vittoria.
La nostra gallina schierata nelle retrovie è stata più aspettatricie che altro, non è servita a molto, come a volte capita, dato che nessuna carta avversaria aveva l'abilità SNEAK.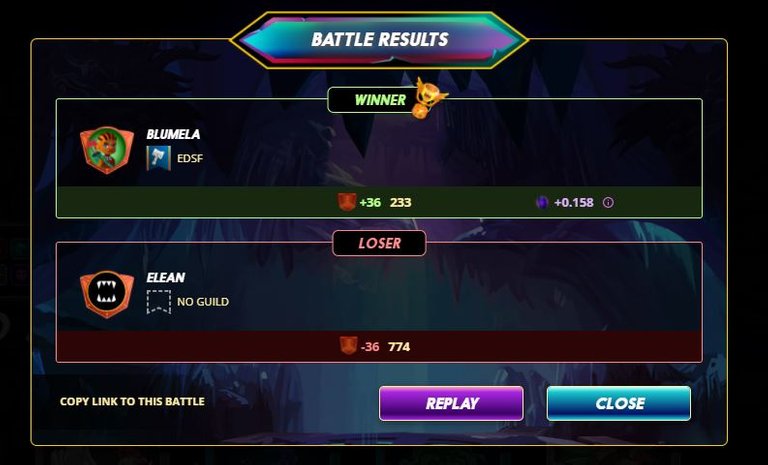 QUI sotto il LINK del REPLAY!
https://splinterlands.com?p=battle&id=d12792f8b351c4606f0af063929a4a9973357b9f&ref=blumela
---
FURIOUS CHICKEN forse una delle carte più deboli del gioco ma sicuramente una delle più utilizzate, il suo costo in MANA di zero la rendono utilizzabile sempre anche se spesso, povera gallina, è destinata sempre alla morte. :-)
---
Se ancora non hai provato questo gioco il mio consiglio è quello di farlo questo è il mio link refferal puoi utilizzare il link se ti fa piacere oppure no ma il punto è sempre quello gioco da provare! :-)
https://splinterlands.com?ref=blumela
Se non vi fa piacere utilizzarlo ;) qui sotto!.
Buon divertimento e ci vediamo in battaglia!!
---
Le foto e le gif sono screen shot fatti al gioco Splinterland in mio possesso o di fonte splinterlands.
---

---
---