STONESPLITTER ORC (ENG/ITA) SHARE YOUR BATTLE Weekly Challenge! STONESPLITTER ORC
---
👉 ENG VERSION 👈

---

Hi Friends, like every week, here we are talking about @splinterlands, more precisely about a monster chosen by the game team!
We will do a roundup of features, pros, cons and see our monster in action!
If you want to participate in this challenge you can find all the info in the link below.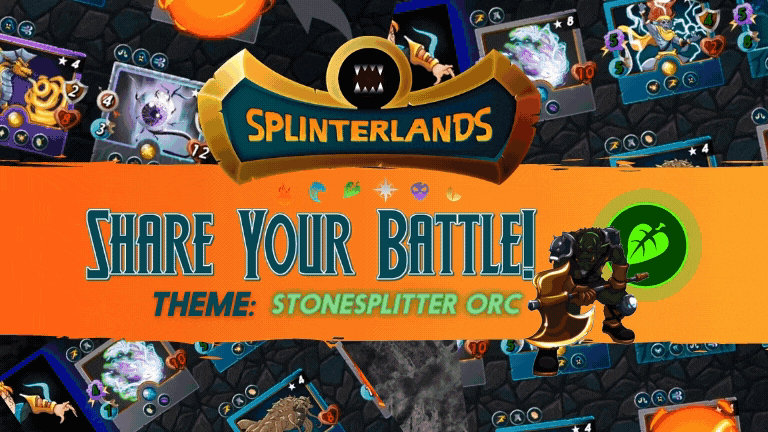 SHARE YOUR BATTLE Weekly Challenge! STONESPLITTER ORC
---
Today we are talking about a card very dear to me, I often use it in battle we talk about:
STONESPLITTER ORC 🌱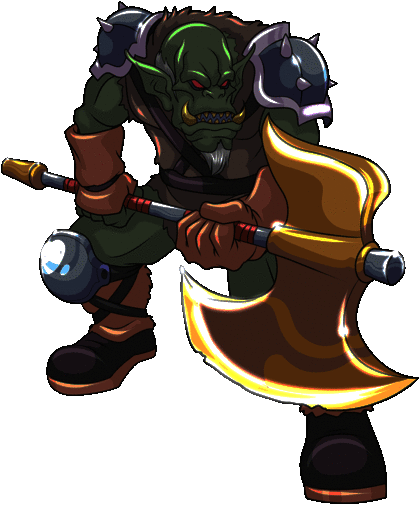 Coming from the island of ANUMUN, these orcs are skilled seekers of precious metals hidden inside the stones that they break with their pickaxe.
They are also dangerous enemies and with the same pickaxe with which they break stones, they can smash the skulls of their enemies.

This monster is a RARE card belonging to the EARTH element but also usable by DRAGONS.
It is part of the ALPHA / BETA collection.
Uses MELEE attack and can be upgraded to level eight.
Beware of RULESETS such as LITTLE LEAGUE which allows the use of only cards with a MANA cost of four or less, KEEP YOUR DISTANCE which excludes monsters with MELEE attack from the games and ODD ONES OUT which allows the use of cards with odd MANA.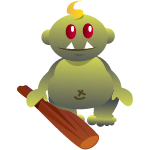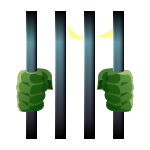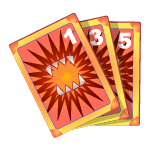 ---
This Orc Miner already from the first level proves to be a powerful TANK thanks to his speed and armour ability, but let's see in detail the evolution of STONESPLITTER ORC.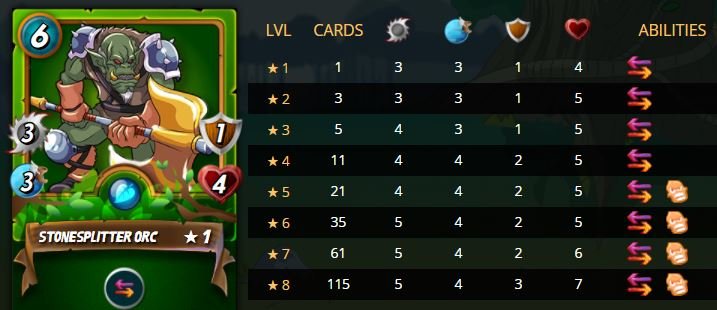 This level one card already starts off with a great attack of three and then moves on to four at level three and its maximum strength of five at level six, STONESPLITTER is a real hitter and when it hits it really hurts.
His speed of three at level one already makes him difficult to hit and can be upgraded up to four at level four.
He starts with one armour that allows him to get through the first blow unscathed, if hit, he can upgrade up to three at maximum level, while life starts at four and reaches a maximum of seven at level 8.
This monster's stamina gradually builds up making it a tough nut to crack.




STONESPLITTER ORC at level one already has a powerful ability, RETALIATE, power that gives him a chance to counterattack monsters that hit him with MELEE attack.
At level five, a second ability is added, ENRAGE, a power that allows him to increase attack points and speed when hit.


The MANA cost of six already seems appropriate to me from the very first levels, his skill in battle can really hurt as his attack points, his speed gives him a lot of dodge chances and his armour allows him to take a few attacks before to be shot down.
---
We just have to see TONESPLITTER ORC in action !!
---
LEEET'S GOOOO!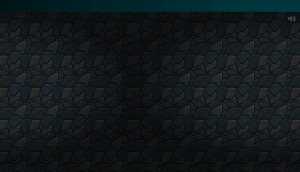 ---
RULESETS:

STANDARD: No changes to Rulesets in-game.
MANA: 29
---
DEPLOYMENT: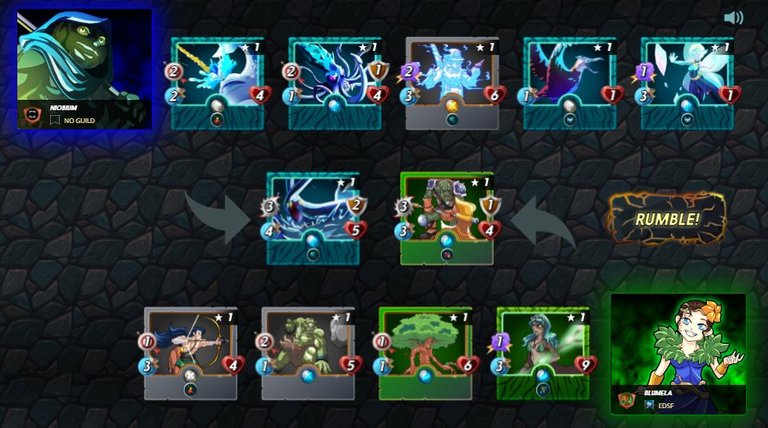 To use our challenge card I have chosen to deploy the EARTH element with the SUmmoner LYANNA NATURE RARE card capable of increasing the life of friendly cards by one.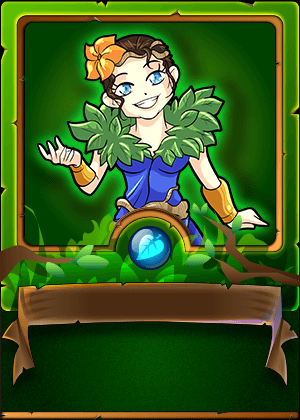 In the first position I entered him, TONESPLITTER ORC, I often use this monster as a Tank for the monsters listed above and often gives me great satisfaction.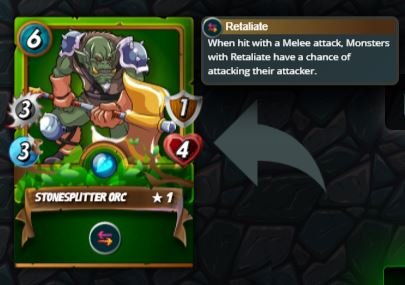 In the second row, I have deployed another RARE card of the element EARTH with CENTAURI NAGE magic attack with the RETURN FIRE power, this ability allows it to return part of the damage when attacked by a card with MELEE attack.
In the third position, I have inserted a third RARE card always of the EARTH element does not have any skills but has a large amount of EARTH ELEMENTAL life.

For the fourth and fifth row, I have chosen two NEUTRAL cards with a RANGED attack, CYCLOPS with no ability and CENTAUR with SNIPE power, this ability allows our archer to attack as the first monster the cards with RANGED, MAGIC or no attack.
---
My opponent chose the WATER element by deploying the SUmmoner BORTUS which has the power to reduce the magic attack of enemy cards by one.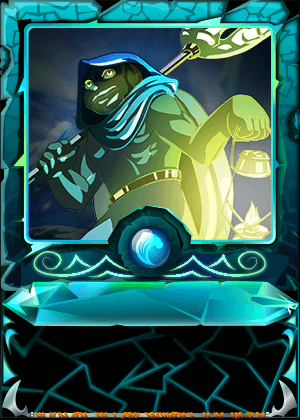 In the first position, he has deployed SERPENT OF ELD RARE card of the WATER element with DODGE ability that allows him to increase the probability of dodging.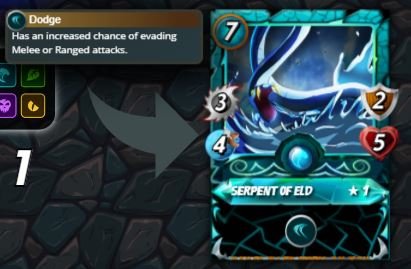 In the second position he put another WATER element card with SNIPE ability the SNIPING NARWHAL common card with a RANGED attack, he will face my CENTAURI NAGE card and may not have been a lucky choice.
In the third row, he inserted GIANT SQUID RARE card of the WATER element with no abilities.

In the fourth position, we find a LEGENDARY wizard with SPIRIT MINER magic attack with DODGE ability while in the fifth and sixth row he deployed ALBATROSS and ICE PIXIE both with FLYING skills.
---
It took five rounds to win the game, and our orc was perfect! he died in the third round but before he left us thanks to his attack and his power he did a lot of damage.
His shield allowed him to withstand an extra attack and his speed also contributed to his survival, helping the rear to take down enemies.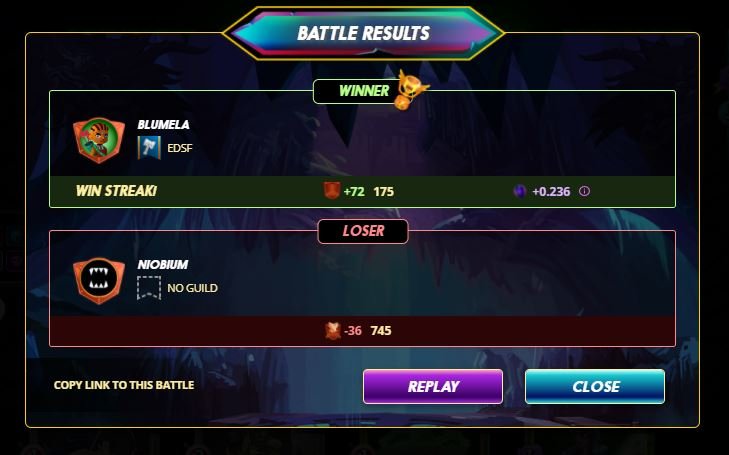 HERE under the REPLAY LINK!
https://splinterlands.com?p=battle&id=bae9a1aeabeac91983c2f42c07ae64b525bcdfda&ref=blumela
---
I like this monster, at my level I think it is really effective, probably with the rise of the leagues and cards other monsters will take its place but for now for the EARTH element I consider it an excellent TANK.
---
If you haven't tried this game yet my advice is to do it this is my link referral you can use the link if you like it or not but the point is always the one game to try! :-)
https://splinterlands.com?ref=blumela
If you don't like using it;) below!.
Have fun and see you in battle!!
---
The photos and gifs are screenshots taken from the Splinterland game I own or from splinterlands source.
---
---
👉 ITA VERSION 👈

---
Ciao Amici, come ogni settimana eccoci qui a parlare di @splinterlands, più precisamente di un mostro scelto dal team del gioco!
Faremo una carellata di caratteristiche, di pro, di contro e vedremo il nostro mostro in azione!
Se vuoi partecipare a questa sfida trovi tutte le info nel link qui sotto.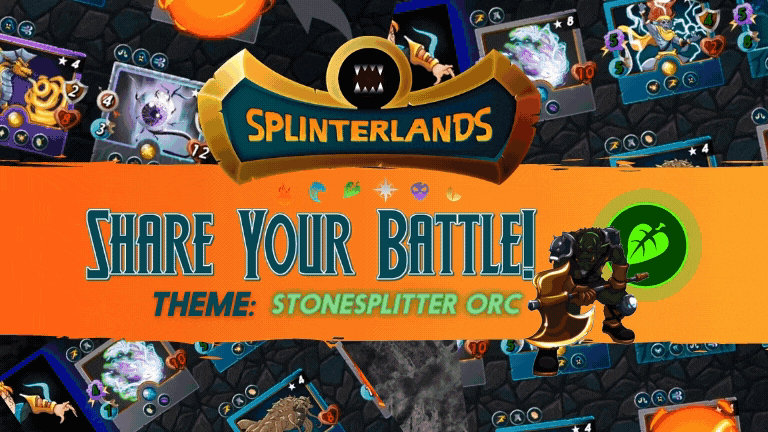 SHARE YOUR BATTLE Weekly Challenge! STONESPLITTER ORC
---
Oggi parliamo di una carta a me molto cara, la utilizzo spesso in battaglia parliamo di:
STONESPLITTER ORC 🌱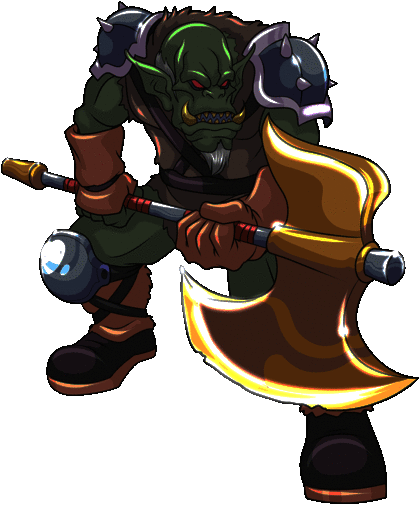 Provenienete dall'isola di ANUMUN questi orchi sono abili cercatori di metalli preziosi nascosti dentro alle pietre che spaccano con il loro piccone.
Sono anche pericolosi nemici e con lo stesso piccone con cui spaccano le pietre, possono spaccare il cranio dei loro nemici.

Questo mostro è una carta RARE appartenente all'elemento EARTH ma utilizzabile anche dai DRAGONS.
Fà parte della collezione ALPHA/BETA.
Utilizza attacco MELEE e pyò essere potenziata fino a livello otto.
Attenzione alle RULESETS come LITTLE LEAGUE che permette l'utilizzo di sole carte con costo in MANA quattro o inferiore, KEEP YOUR DISTANCE che esclude i mostri con attacco MELEE dalle partite e ODD ONES OUT che consente l'utilizzo di carte con MANA dispari.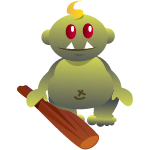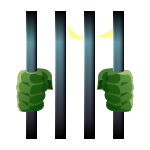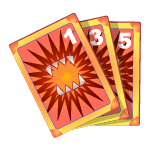 ---
Questo Orco Minatore già dal primo livello si dimostra un TANK potente grazie alla sua abilità velocità e armatura, ma vediamo nel dettagli l'evoluzione di STONESPLITTER ORC.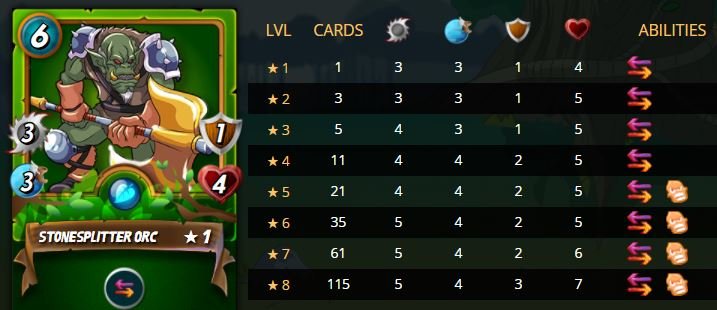 Questa carta a livello uno parte già con un ottimo attacco di tre per poi passare a quattro a livello tre e alla sua massima forza di cinque a livello sei, STONESPLITTER è un vero picchiatore e quando colpisce fa veramente male.
La sua velocità di tre a livello uno lo rende già difficile da colpire e si può potenziare fino a quattro a livello quattro.
Parte con uno di armatura che gli permette di superare indenne il primo colpo, se colpito, si può potenziare fino a tre a livello massimo, mentre la vita parte da quattro e raggiunge un massimo di sette a livello 8.
La resistenza di questo mostro cresce gradualmente rendendolo un osso duro da abbattere.




STONESPLITTER ORC a livello uno possiede già una abilità molto forte, RETALIATE, potere che gli da probabilità di contrattaccare i mostri che lo colpiscono con attacco MELEE.
A livello cinque si aggiunge una seconda abilità, ENRAGE, potere che gli permette di aumentare i punti attacco e la velocità quando colpito.


Il costo in MANA di sei mi sembra già appropriato fin dai primi livelli, la sua abilità in battaglia può fare veramente male come i suoi punti attacco, la sua velocità gli da molte probabilità di schivate e la sua armatura gli consente di subire qualche attacco prima di essere abbattuto.
---
Non ci resta che vedere in azione TONESPLITTER ORC!!
---
LEEET'S GOOOO!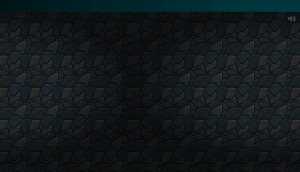 ---
RULESETS:

STANDARD: Nessuna modifica di Rulesets in partita.
MANA: 29
---
SCHIERAMENTO: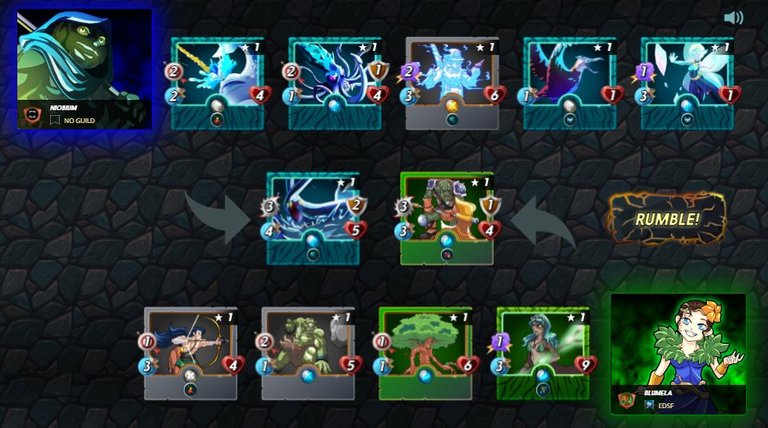 Per utilizzare la nostra carta challenge ho scelto di schierare l'elemento EARTH con il SUmmoner LYANNA NATURE carta RARE in grado di aumentare di uno la vita delle carte amiche.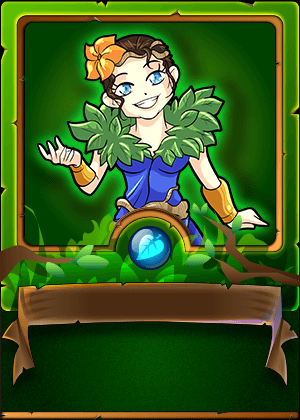 In prima posizione ho inserito proprio lui, TONESPLITTER ORC, uso spesso questo mostro come Tank per i mostivi elenecati sopra e spesso mi da grandi soddisfazioni.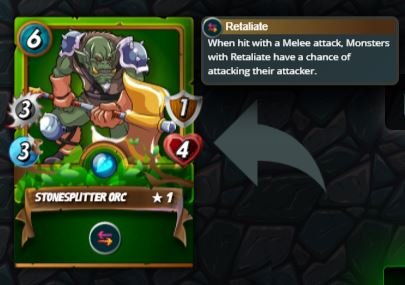 In seconda fila, ho schierato un'altra carta RARE dell'elemento EARTH con attacco magico CENTAURI NAGE con il potere RETURN FIRE, questa abilità gli consente di restituire parte del danno quando attaccata da una carta con attacco MELEE.
In terza posizione ho inserito una terza carta RARE sempre dell'elemento EARTH non possiede nessuna abilità ma dispone di un grande quantitativo di vita EARTH ELEMENTAL.

Per la quarta e quinta fila ho scelto due carte NEUTRAL con attacco RANGED, CYCLOPS con nessuna abilità e CENTAUR con potere SNIPE, questa abilità permette al nostro arciere di attaccare come primo mostro le carte con attacco RANGED, MAGIC o senza attacco.
---
Il mio avversario ha scelto l'elemento WATER schierando il SUmmoner BORTUS che ha il potere di ridurre di uno l'attacco magico delle carte nemiche.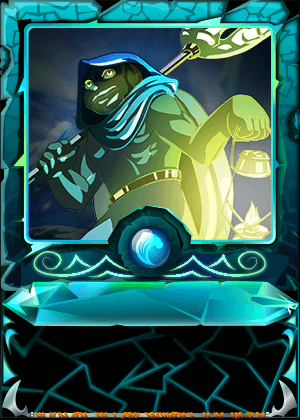 In prima posizione ha schierato SERPENT OF ELD carta RARE dell'elemento WATER con abilità DODGE che gli consente di aumentare la probabilità di schivata.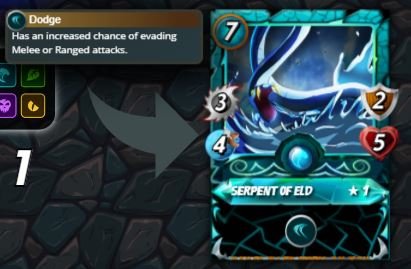 In seconda posizione ha messo un'altra carta dell'elemento WATER con abilità SNIPE la carta comune SNIPING NARWHAL con attacco RANGED, si troverà ad affrontare la mia carta CENTAURI NAGE e potrebbe non essere stata una scelta fortunata.
In terza fila ha inserito GIANT SQUID carta RARE dell'elemento WATER con nessuna abilità.

In quarta posizione troviamo un mago LEGENDARY con attacco magico SPIRIT MINER con abilità DODGE mentre in quinta e sesta fila ha schierato ALBATROSS e ICE PIXIE entrambi con abilità FLIYNG.
---
Sono serviti cinque round per vincere la partita, e il nostro Orco è stato perfetto! è morto al terzo round ma prima di lasciarci grazie al suo attacco e al suo potere ha causato molti danni.
Il suo scudo gli ha permesso di resistere ad un attacco in più e anche la sua velocità ha contribuito alla sua sopravvivenza, aiutando la retrovia ad abbattere i nemici.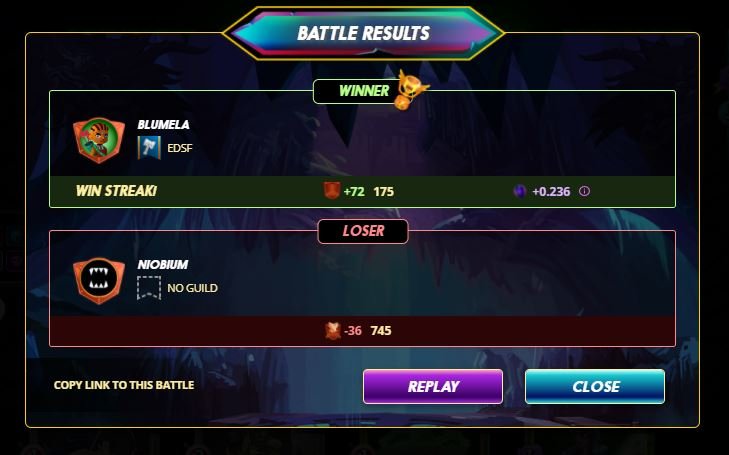 QUI sotto il LINK del REPLAY!
https://splinterlands.com?p=battle&id=bae9a1aeabeac91983c2f42c07ae64b525bcdfda&ref=blumela
---
Mi piace questo mostro, al mio livello lo ritengo veramente efficace, probabilmente con il salire delle leghe e delle carte altri mostri prenderanno il suo posto ma per ora per l'elemento EARTH lo ritengo un ottimo TANK.
---
Se ancora non hai provato questo gioco il mio consiglio è quello di farlo questo è il mio link refferal puoi utilizzare il link se ti fa piacere oppure no ma il punto è sempre quello gioco da provare! :-)
https://splinterlands.com?ref=blumela
Se non vi fa piacere utilizzarlo ;) qui sotto!.
Buon divertimento e ci vediamo in battaglia!!
---
Le foto e le gif sono screen shot fatti al gioco Splinterland in mio possesso o di fonte splinterlands.
---

---
---