The breath of MOLTEN OGRE! (ENG/ITA) L'alito di MOLTEN OGRE! - SHARE YOUR BATTLE Weekly Challenge! MOLTEN OGRE
---
👉 ENG VERSION 👈

---
Hi Friends, here we are at the new challenge organized by @splinterlands ul the best game built on Blockchain.
This week we are talking about a huge monster, and as always we will do a roundup of the positive and negative characteristics up to the battle !!
If you want to participate in this challenge you can find all the info in the link below.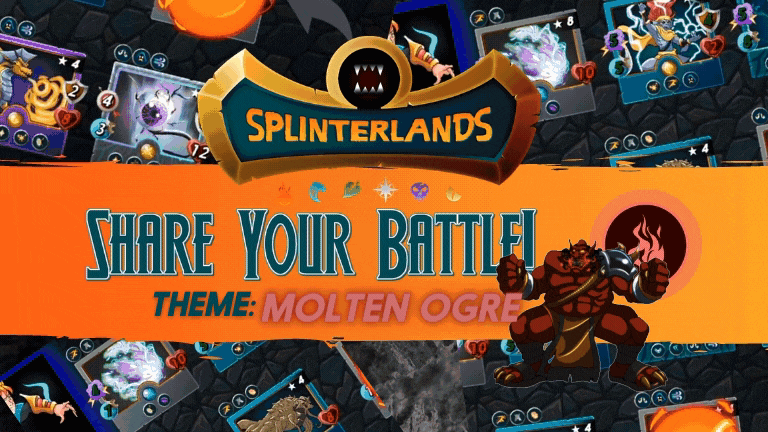 SHARE YOUR BATTLE Weekly Challenge! MOLTEN OGRE
---
We are talking about a giant monster that, as @carrieallen says, has a deadly breath :)
MOLTEN OGRE 🔥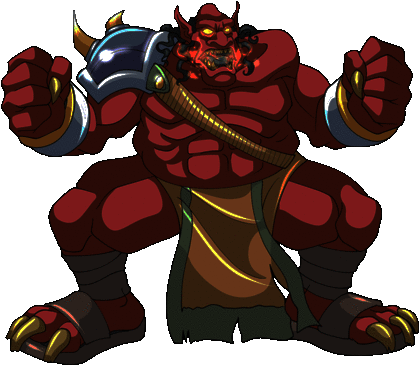 Hailing from the flaming caves beneath the Molten Mountain, these monsters are called by the Torch for Ferexia's greatest military achievements.
They love battles and their incredible security coupled with their strength make opponents run away before the battle.

This card is part of the PROMO (ORB) collection, it is a common card of the FIRE element but can also be used by DRAGONS.
It has a MELEE attack and can be upgraded to level ten.
Beware of RUELESETS such as LITTLE LEAGUE which allows you to use only cards with a MANA cost of four or less, KEEP YOUR DISTANCE which does not allow the use of cards with MELEE attack and ODD ONES OUT which only allows the use of cards with odd MANA.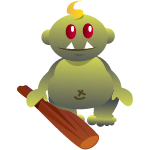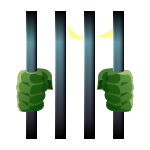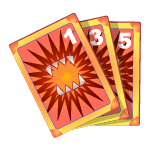 ---
It is not always easy to insert this card in the combat deck due to its high MANA cost, but let's see the characteristics of this monster in detail.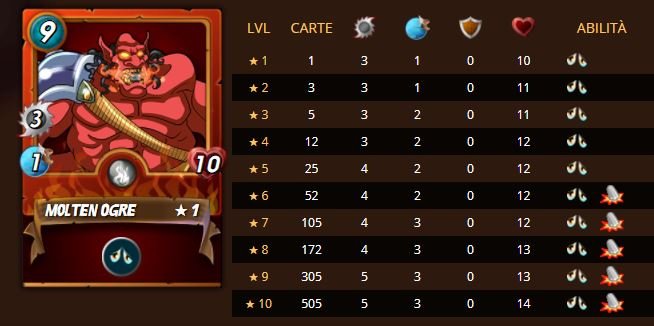 MOLTEN OGRE starts with a medium-high attack of three and can be upgraded up to five by reaching level nine on the card.
The initial speed makes this monster very slow almost in slow-motion :) improves by upgrading the card, at level seven it reaches its maximum speed of three.
It has no armour but its large amount of health, ten at level one up to fourteen at level ten, makes this monster a tough nut to crack.




This card already starts at level one with the DEMORALIZE ability, this power reduces the MELEE attack of all opposing cards by one.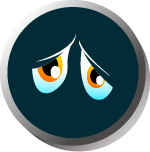 At level six a second TRAMPLE skill is added, this poster allows MOLTEN OGRE to launch a second attack in case the first kills the opponent.

Cost in MANA nine, the cost so high makes it difficult to deploy this card and also the speed makes you prefer other monsters but its ability I find it very useful and when there are games with a large amount of MANA available it is always among my choices.
---
We just have to see MOLTEN OGRE in action !!
---
LEEET'S GOOOO!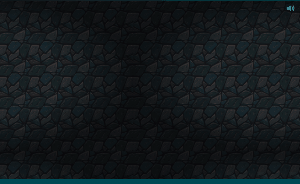 ---
RULESETS:

STANDARD: No changes to Rulesets in-game.
MANA: 25
---
DEPLOYMENT: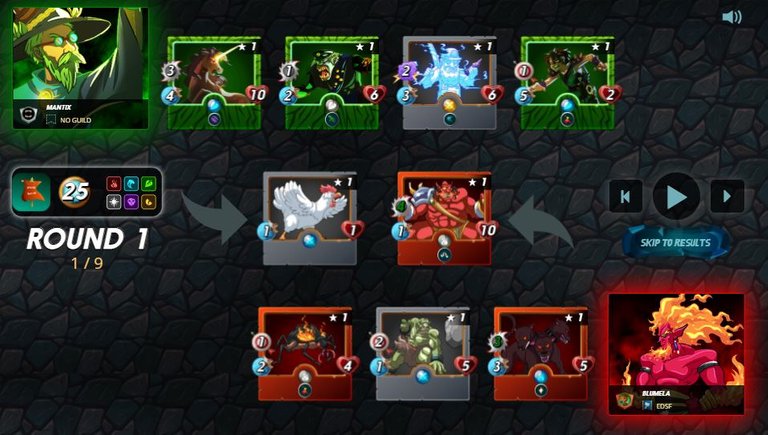 For this game, I chose the FIRE element by deploying the SUmmoner MALRIC INFERNO RARE card with the power to increase the MELEE attack of friendly cards by one.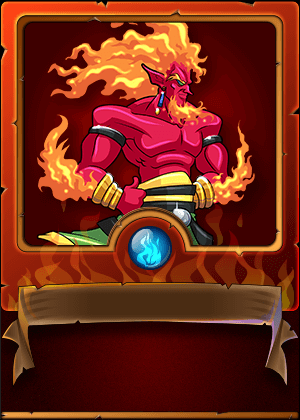 In the first position, I deployed our MOLTEN OGRE challenge monster, his large amount of life together with his DEMORALIZE ability should make him last long, both to defend the rear and to attack and hurt himself.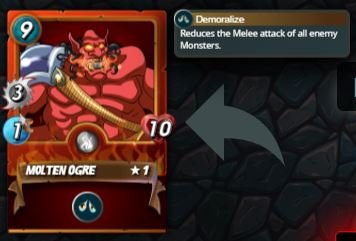 In the second position, as I have been doing for some time now when the MANA is high, I have deployed a second CERBERUS Tank with HEAL ability that allows this card to heal itself every turn.
In the third row I placed CYCLOPS a NEUTRAL card with a RANGED attack, it has no power but it has attack two.

In the last row, I placed the FIRE BEETLE common card of the FIRE element with SNIPE ability that allows the monster to battle with monsters with RANGED, MAGIC or no attack.
---
My opponent opted for the EARTH element by deploying the Summoner WIZARD OF EASTWOOD this wizard has the ability to subtract two armour points from enemy cards, in this case, useless because I have not included monsters with armour.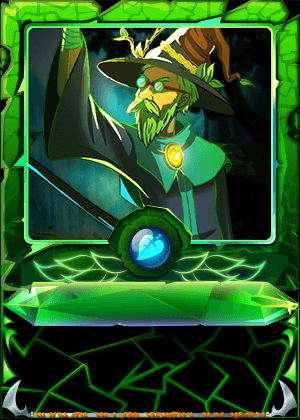 In the front row, he has FURIOUS CHICKEN, this card is not a real tank but it is useful for making the opponent lose an attack.
In the second row here is the real Tank UNICORN MUSTANG Card with a large amount of life and a medium-high attack, it has the VOID ability that reduces the magic damage, even this power in this game is useless.
In the third row, he has deployed ORC SERGEANT card with MELEE attack with REACH ability this power allows the card to attack from the second row and once he has killed the nice hen he will go into action too.

In the fourth row, we find SPIRIT MINER a nice LEGENDARY magician, a NEUTRAL card with magic attack and DODGE ability that increases the probability of dodging, while in the last row he has inserted CHILD OF THE FOREST with SNIPE ability.
---
It took six rounds to finish the battle in my favour.
MOLTEN OGRE died but with honour, before being overthrown he managed to deliver numerous blows and to defend the allied cards which in turn annihilated the enemy.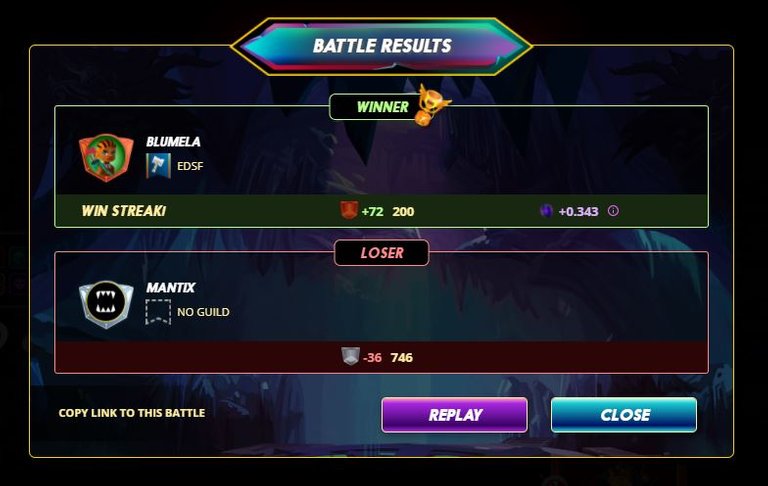 HERE under the REPLAY LINK!
https://splinterlands.com?p=battle&id=8ae19a6928448ba9d098eb70a5af906defb3403c&ref=blumela
---
I think this card is very strong even if its mana cost of nine does not make it the easiest card to put in the deck, however when possible it can have its say and make its power felt.
Going forward with the leagues maybe it could be replaced by stronger cards ... but for now, this is science fiction for me !;)
---
If you haven't tried this game yet my advice is to do it this is my link referral you can use the link if you like it or not but the point is always the one game to try! :-)
https://splinterlands.com?ref=blumela
If you don't like using it;) below !.
Have fun and see you in battle !!
---
The photos and gifs are screenshots taken from the Splinterland game I own or from splinterlands source.
---

---
---
---
👉ITA VERSION👈

---
Ciao Amici, eccoci alla nuova challenge organizzata da @splinterlands ul miglior gioco costruito su Blockchain.
Questa settimana parliamo di un enorme mostro, e come sempre faremo una carellata delle caratteristiche positive e negative fino ad arrivare alla battaglia!!
Se vuoi partecipare a questa sfida trovi tutte le info nel link qui sotto.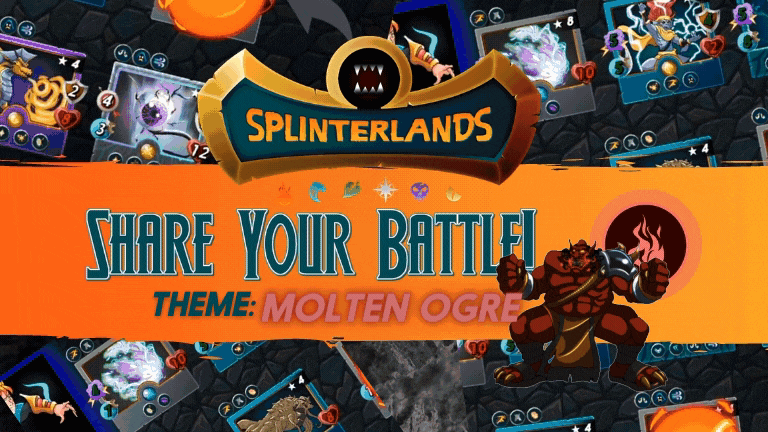 SHARE YOUR BATTLE Weekly Challenge! MOLTEN OGRE
---
Parliamo di un mostro gigantesco che come dice Carrieallen possiede un alito micidiale
MOLTEN OGRE 🔥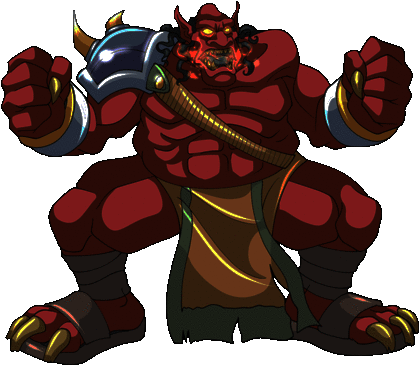 Proveniente dalle caverne fiammeggianti sotto la montagna Fusa, questi mostri sono chiamati dalla Torcia per le più grandi conquiste militari di Ferexia.
Amano le battaglie e la loro incredibile sicurezza abbinata alla lororo forza fanno si che che gli avversari scappino prima della battaglia.

Questa carta fà parte della collezione PROMO (ORB), è una carta comune dell'elemento FIRE ma utilizzabile anche dai DRAGONS.
Possiede attacco MELEE e può essere potenziato fino a livello dieci.
Attenzione alle RUELESETS come LITTLE LEAGUE che permette di utilizzare solo carte dal costo in MANA quattro o inferiore, KEEP YOUR DISTANCE che non permette l'utilizzo di carte con attacco MELEE e ODD ONES OUT che consente il solo utilizzo di carte con MANA dispari.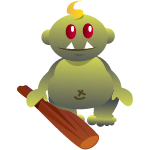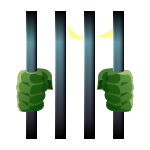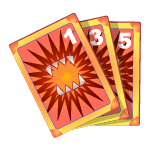 ---
Non sempre è facile inserire questa carta nel deck da combattimento per il suo elevato costo in MANA, ma vediamo le caratteristiche di questo mostro nel dettaglio.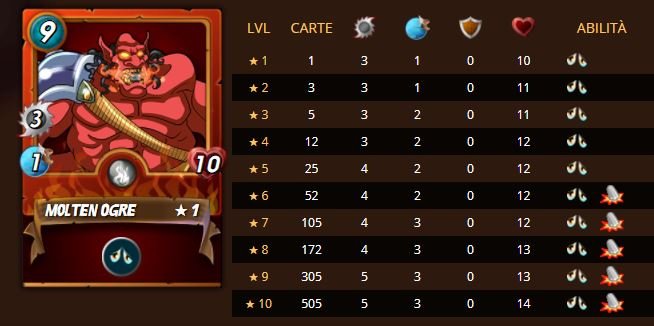 MOLTEN OGRE parte con un attacco medio-alto di tre e può essere potenziato fino a cinque raggiungendo il livello nove della carta.
La velocità iniziale rende questo mostro molto lento quasi in slowmotion :) migliora potenziando la carta, a livello sette raggiunge la sua massima velocità di tre.
Non possiede armatura ma la sua grande quantità di vita, dieci a livello uno fino a quattordici a livello dieci, rende questomostro un osso duro da abbattere.




Questa carta parte già a livello uno con l'abilità DEMORALIZE, questo potere riduce di uno l'attacco MELEE di tutte le carte avversarie.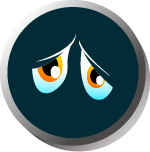 AL livello sei si aggiunge una seconda abilità TRAMPLE, questo postere consente a MOLTEN OGRE di sferrare un secondo attacco nel caso che il primo uccida l'avversario.

Costo in MANA nove, il costo così elevato rende difficile lo schieramento di questa carta e anche la velocità fà preferire altri mostri ma la sua abilità la ritengo molto utile e quando si presentano partite con grande quantitativo di MANA a disposizione è sempre tra le mie scelte.
---
Non ci resta che vedere in azione MOLTEN OGRE!!
---
LEEET'S GOOOO!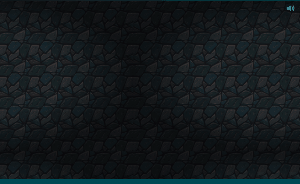 ---
RULESETS:

STANDARD: Nessuna modifica di Rulesets in partita.
MANA: 25
---
SCHIERAMENTO: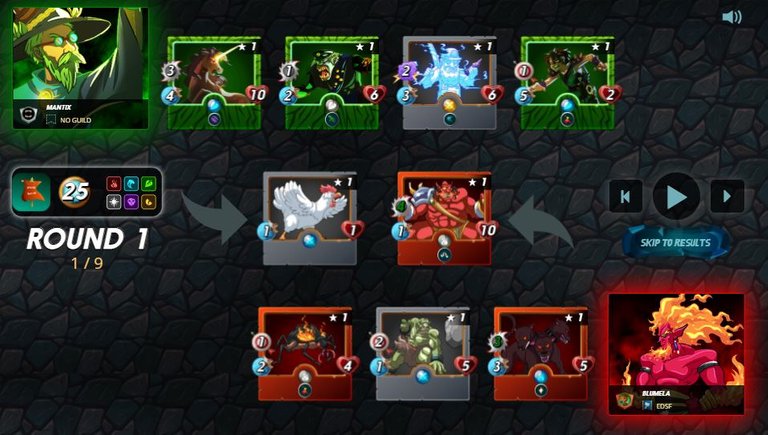 Per questa partita ho scelto l'elemento FIRE schierando il SUmmoner MALRIC INFERNO carta RARE con il potere di aumentare di uno l'attacco MELEE delle carte amiche.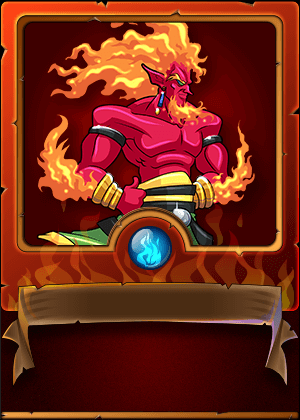 In prima posizione ho schierato proprio il nostro mostro challenge MOLTEN OGRE, la sua grande quantità di vita assieme alla sua abilità DEMORALIZE dovrebbero fare in modo che resista a lungo, sia per difendere le retrovie che per attaccare e far male lui stesso.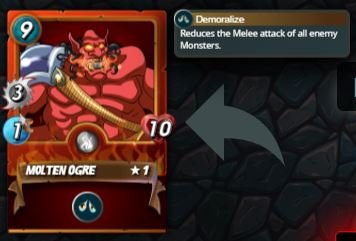 In seconda posizione, come ormai faccio da tempo quando il MANA è tanto, ho schierato un secondo Tank CERBERUS con abilità HEAL che permette a questa carta di curarsi a ogni suo turno.
In terza fila ho posizionato CYCLOPS una carta NEUTRAL con attacco RANGED, non possiede nessun potere ma possiede attacco due.

In ultima fila ho posizionato FIRE BEETLE carta comune dell'elemento FIRE con abilità SNIPE che consente al mostro di battagliare con mostri con attacco RANGED, MAGIC o nessuno attacco.
---
Il mio avversario ha optato per l'elemento EARTH schierando il Summoner WIZARD OF EASTWOOD questo mago ha l'abilità di sottrarre due punti armatura alle carte nemiche, in questo caso inutile perchè io non ho iserito mostri con armatura.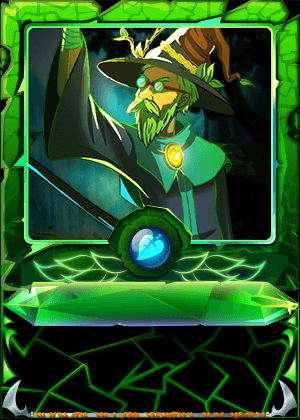 In prima fila ha schierato FURIOUS CHIKEN, questa carta non è un vero tank ma è utile per far perdere un attacco all'avversario.
In seconda fila ecco il vero Tank UNICORN MUSTANG Carta coon grande quantità di vita e un attacco medio alto, possiede l'abilità VOID che riduce il danno magico, anche questo potere in questa partita è inutile.
In terza fila ha schierato ORC SERGEANT carta con attacco MELEE con abilità REACH questo potere consente alla carta di attaccare dalla seconda fila e una volta fatta fuori la simpatica gallina entrerà in azione anche lui.

In quarta fila troviamo SPIRIT MINER un bel mago LEGGENDARY, carta NEUTRAL con attacco magico e abilità DODGE che aumenta la probabilità di schivata, mentre in ultima fila ha inserito CHILD OF THE FOREST con abilità SNIPE.
---
Sono serviti sei round per concludere la battaglia a mio favore.
MOLTEN OGRE è morto ma con onore, prima di essere abbattutto è riuscito a sferrare numerosi colpi e a difendere le carte alleate che a loro volta hanno annientato il nemico.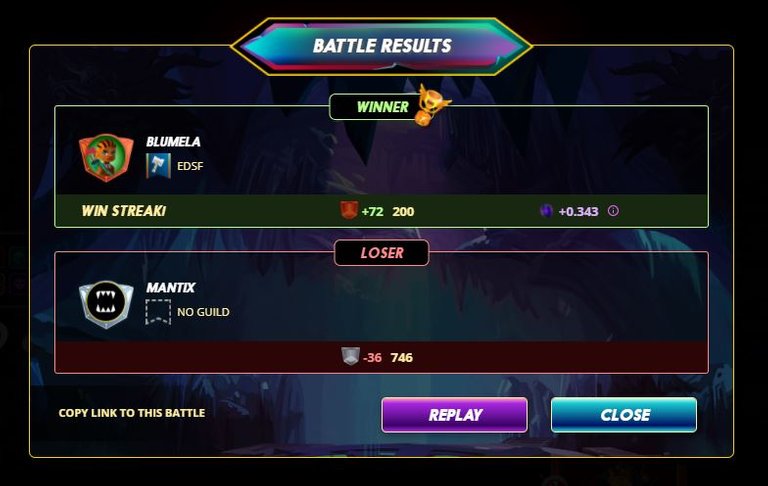 QUI sotto il LINK del REPLAY!
https://splinterlands.com?p=battle&id=8ae19a6928448ba9d098eb70a5af906defb3403c&ref=blumela
---
Questa carta la ritengo molto forte anche se il suo costo in mana di nove non la rende la carta più facile da inserire nel mazzo, tuttavia quando possibile sa dire la sua e a far sentire la sua potenza.
Andando avanti con le leghe forse potrebbe essere sostituito da carte più forti... ma questa per ora per me è fantascienza!;)
---
Se ancora non hai provato questo gioco il mio consiglio è quello di farlo questo è il mio link refferal puoi utilizzare il link se ti fa piacere oppure no ma il punto è sempre quello gioco da provare! :-)
https://splinterlands.com?ref=blumela
Se non vi fa piacere utilizzarlo ;) qui sotto!.
Buon divertimento e ci vediamo in battaglia!!
---
Le foto e le gif sono screen shot fatti al gioco Splinterland in mio possesso o di fonte splinterlands.
---

---
---