Water Summoner VERA SALACIA (ENG/ITA) Splinterlands Social Media Challenge! (Decoupage #6/6)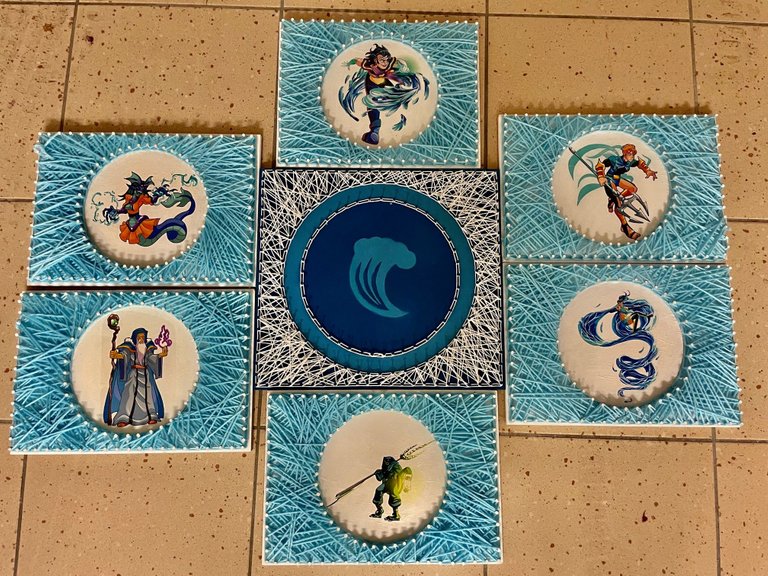 ---
👉ENG VERSION👈

---
Good morning friends!!...
We have come to the end of this saga, six squares dedicated to the Summoners of the WATER element of the legendary game @splinterlands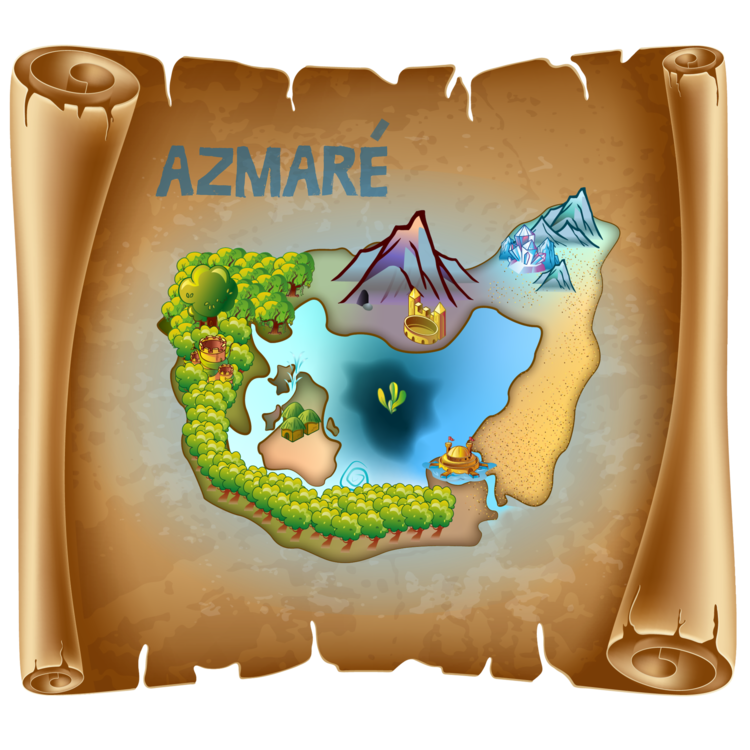 Today I present to you the sixth Summoner that concludes our journey on the island of water, AZMARE 'but you know friends for every end there is a new beginning and we will start with a new story dedicated to the FIRE element and to the Summoners that make up this island but we will see this later today we talk about VERA SALACIA!
This Summoner from the DICE collection is a RARE monster and has a MANA cost of three.
VERA SALACIA! If cleared, it grants SNARE power to all friendly cards, this power removes the FLYING power from enemy cards hit !.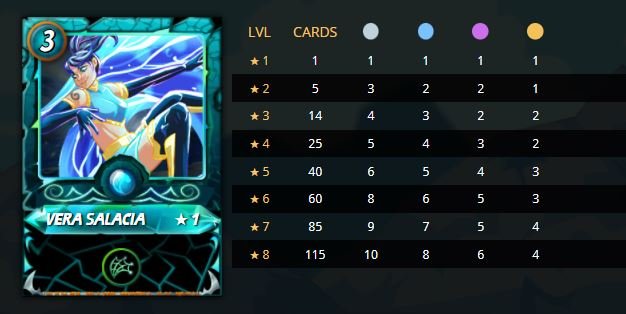 After this brief introduction, we are going to make our painting with the subject ** VERA SALACIA! **,
what we need is a wooden board, nails, white paint, blue string to recall the colours of the WATER element, protective paint and the image of our Summoner printed on paper with the lowest possible weight (I used the 30 grams) to make our decoupage.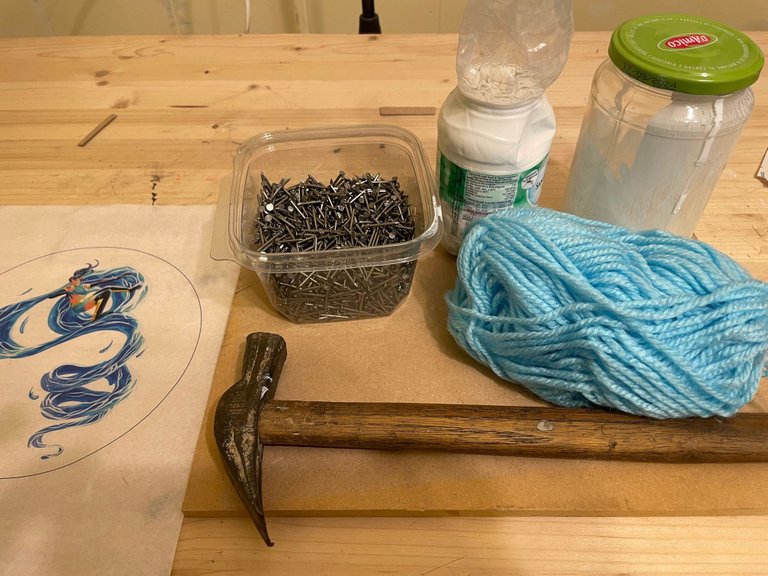 STEP 1
We find the centre of the table, I used a table with measures 31 x 22 centimetres.
Once we have found the centre we make a circle that contains our image, our Summoner must be glued inside the circle so be careful not to make the circle too small.
Once the circle has been made, we draw a frame half a centimetre from the edge on all sides, it will serve as a trace so as not to go too close to the edge, with the nails you risk breaking the board on the edge that is more fragile, half a centimetre from the edge is enough so as not to damage the table.
Traced the circle and the frame we mark the points where we will plant the nails, helping you with cardboard we measure 1.5 centimetres and we begin to mark the points both on the circle and on the frame to have the nails all equidistant.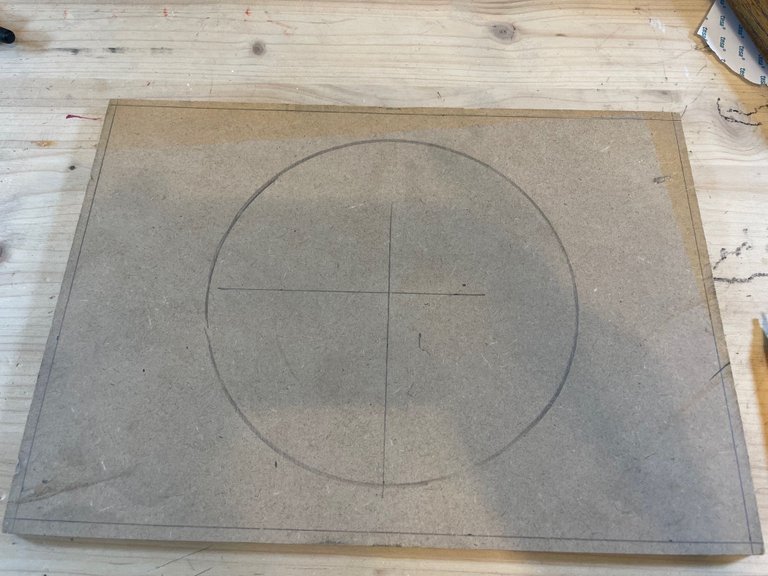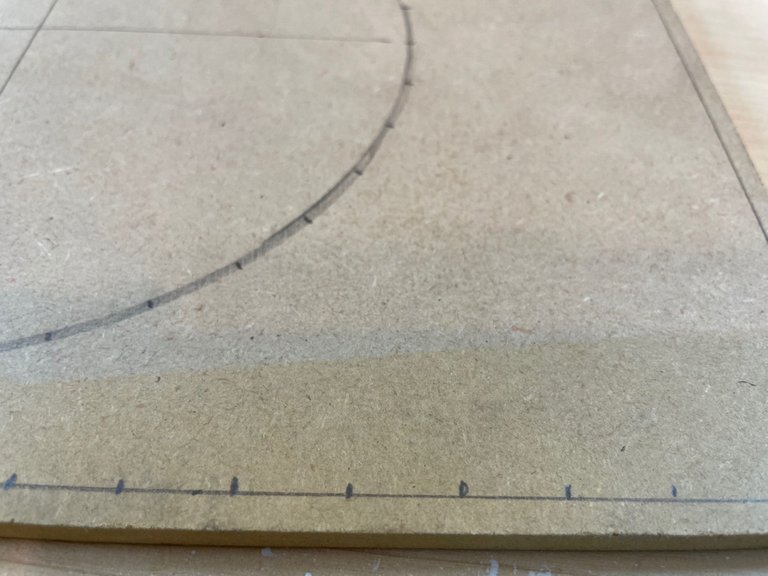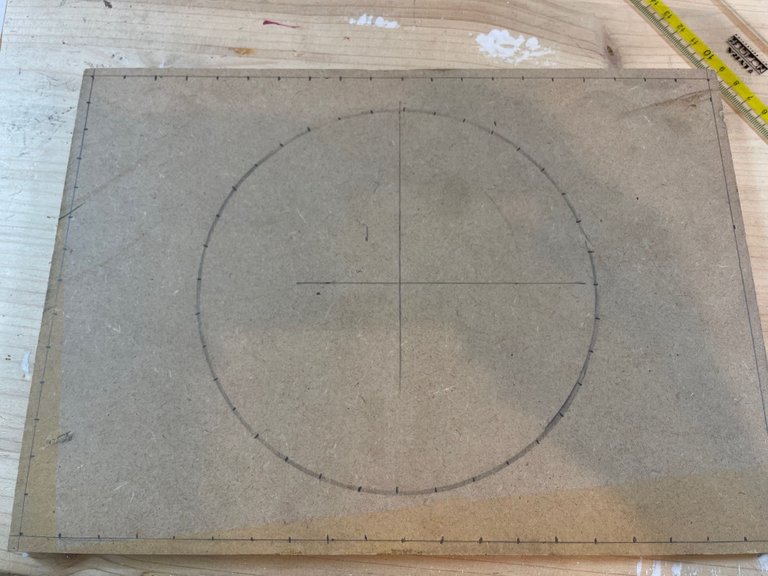 STEP 2
We nail !!! once all the points have been cut, we just have to start driving the nails on them.
I have never bothered to plant them straight and at the same height since they will almost all be hidden by the string that we will insert more advanced.
Armed with patience and BEWARE YOUR FINGERS !!, we drive the nails on all points as in the figure below.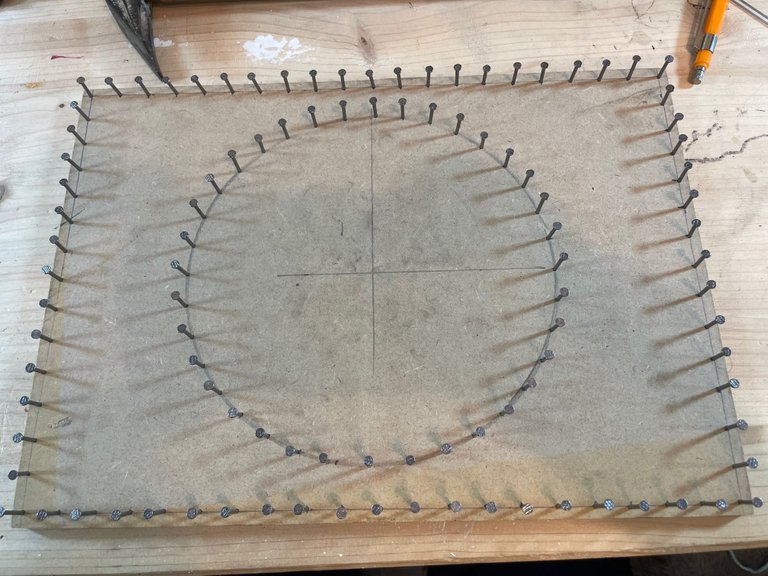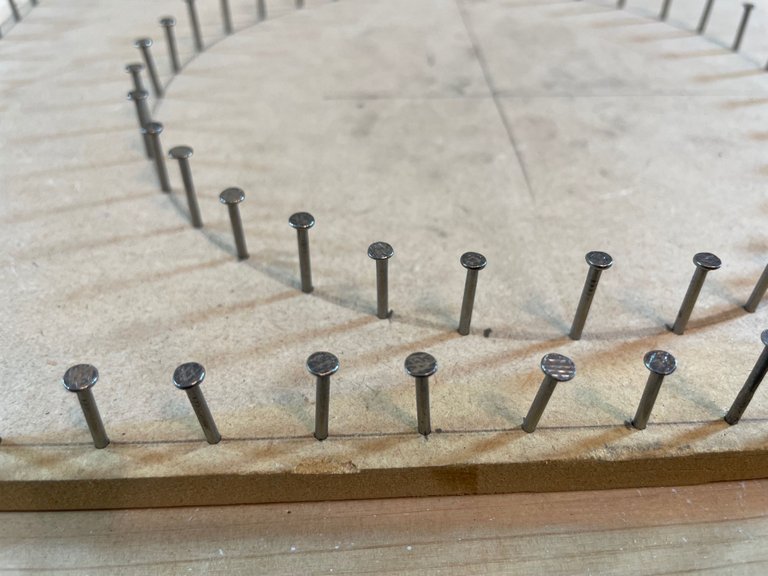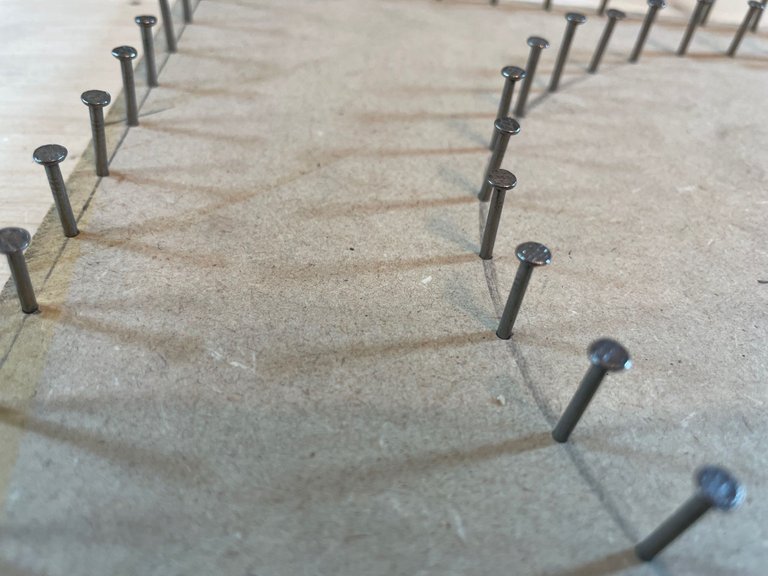 STEP 3
How are the fingers? :-) I'm still cursing a little bit for some wrong hammer on my thumb hahaha
Go on! finished with the nails we varnish the whole nail board including white, I use white because it hides the paper better, even if you use very thin paper in the print with another colour other than white you would see.
We give a coat of white, let it dry and give a second coat of white to make everything more uniform and wait for it to dry.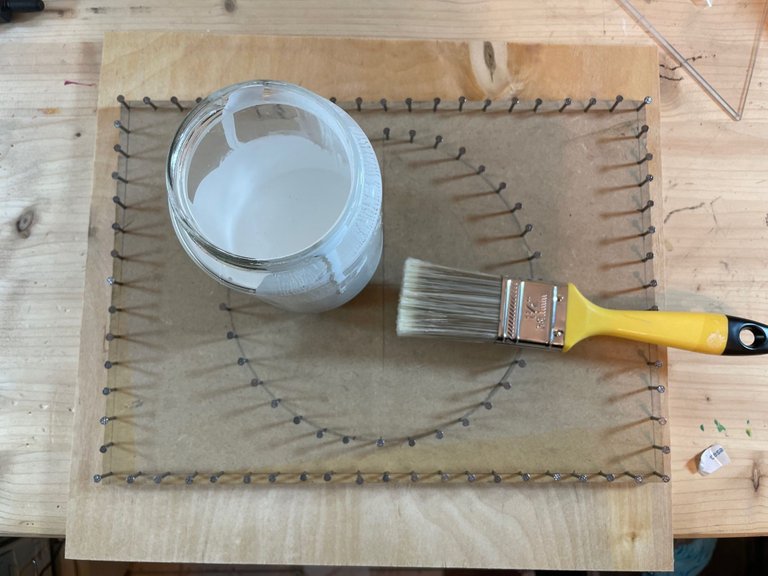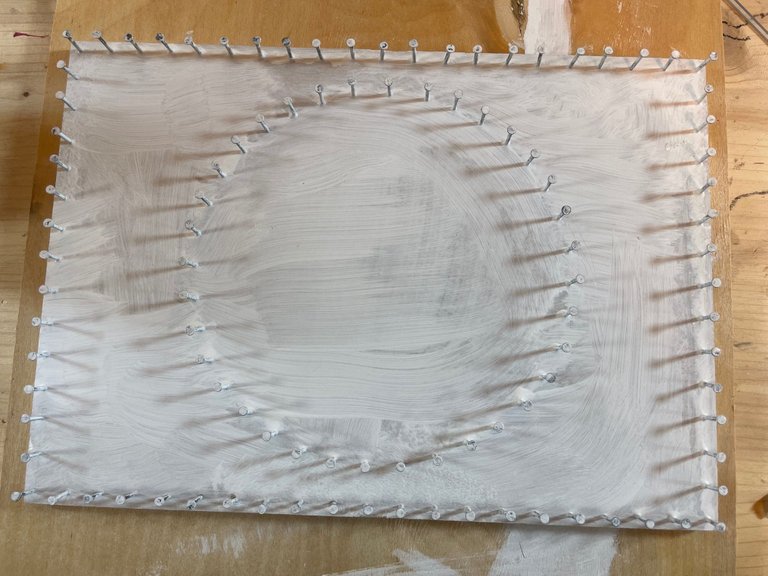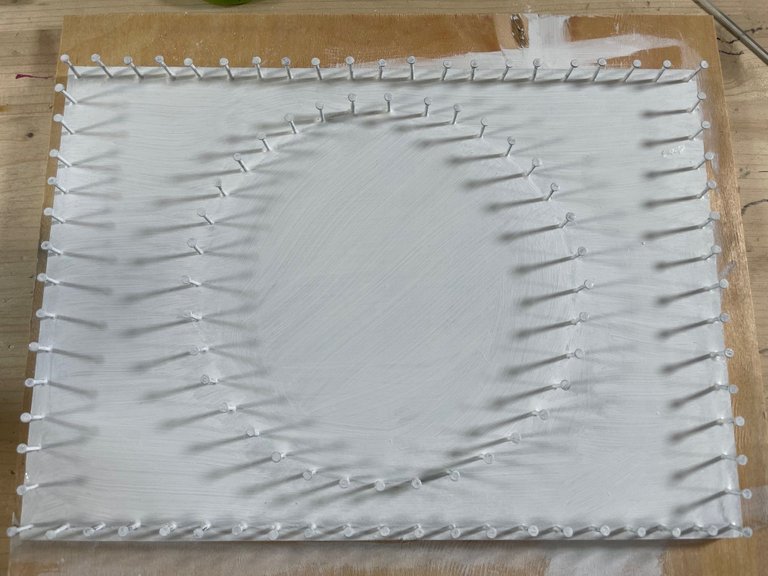 STEP 4
We cut out our image and prepare it to be pasted inside our circle once the paint is completely dry.
I made a reference circle to cut out the image to cover the entire inside of the circle and arrive with the edges of the sheet to the nails all over the circle so as not to leave steps in the middle of the circle visible and a little annoying.
Once cut to the size of the circle inside this, spread the vinyl glue over the entire area and slowly being careful not to make wrinkles in the image, spread it inside, gently removing any bubbles formed here and there.
Let the glue dry and with a brush, we spread a layer of protective paint on the photo, this will make it brighter and impermeable to liquids as well as making the colours more resistant to light.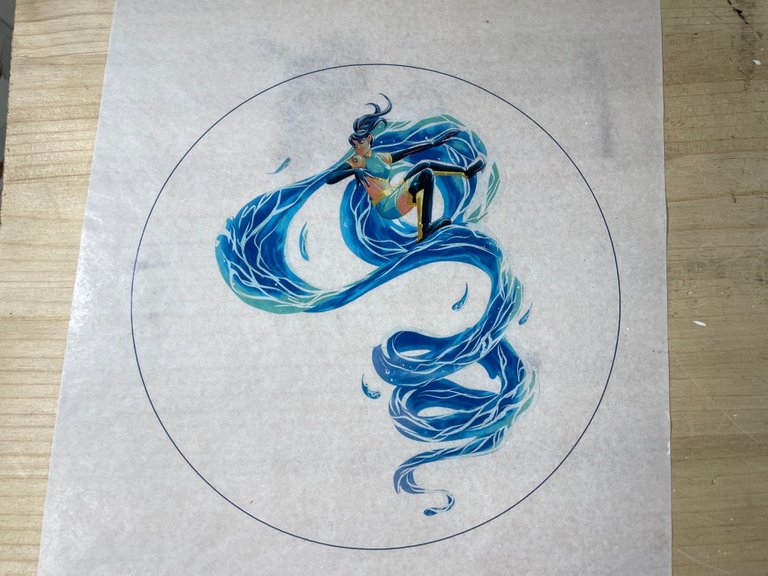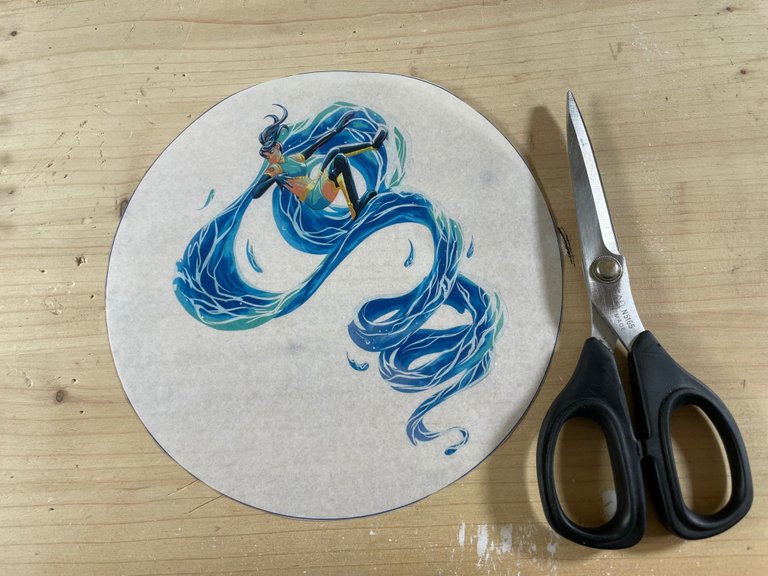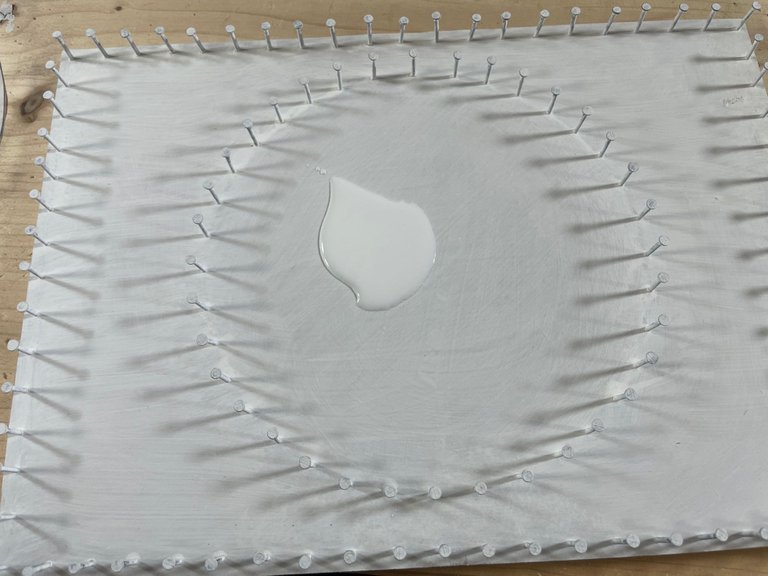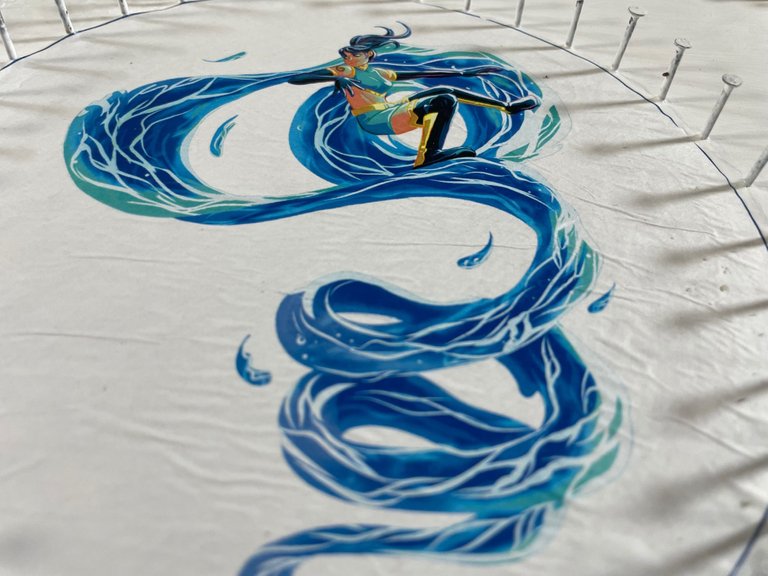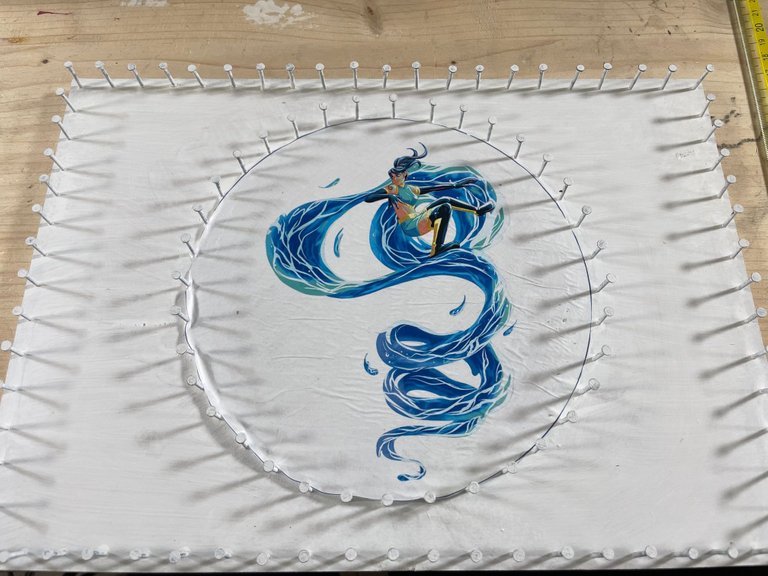 STEP 5
We have almost reached the end of our work, here we need the string and a lot of patience !.
We knot the string to any nail and start pulling it from nail to nail, forming circles first counterclockwise on all the nails then once we have done the whole frame of the edges and the circle we repeat the operation always on all the nails but in a clockwise direction. extinguishing the twine to the base of the nail as in this figure.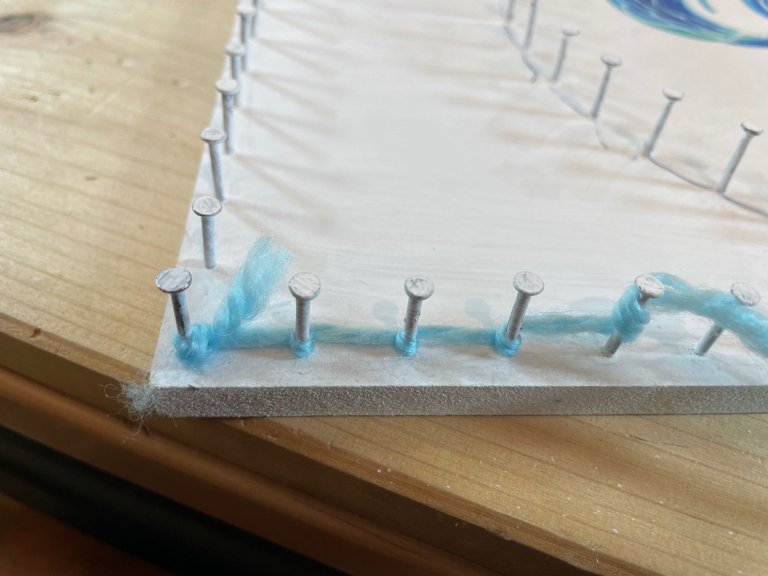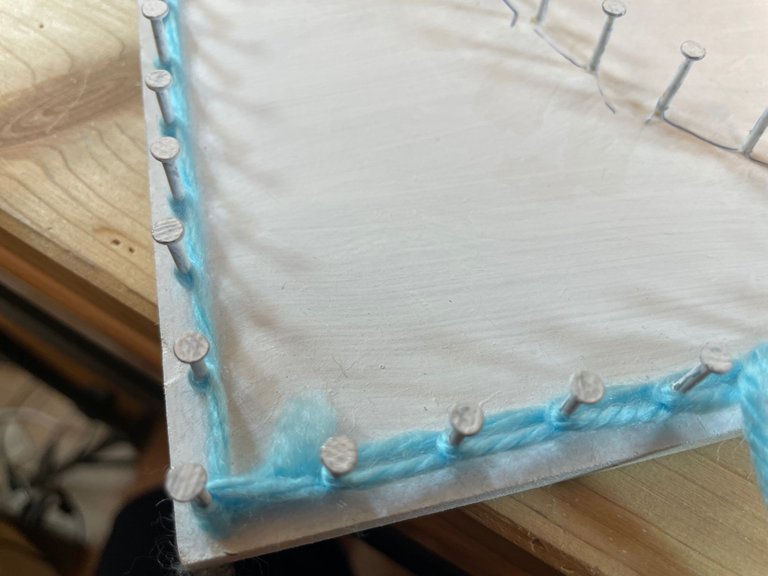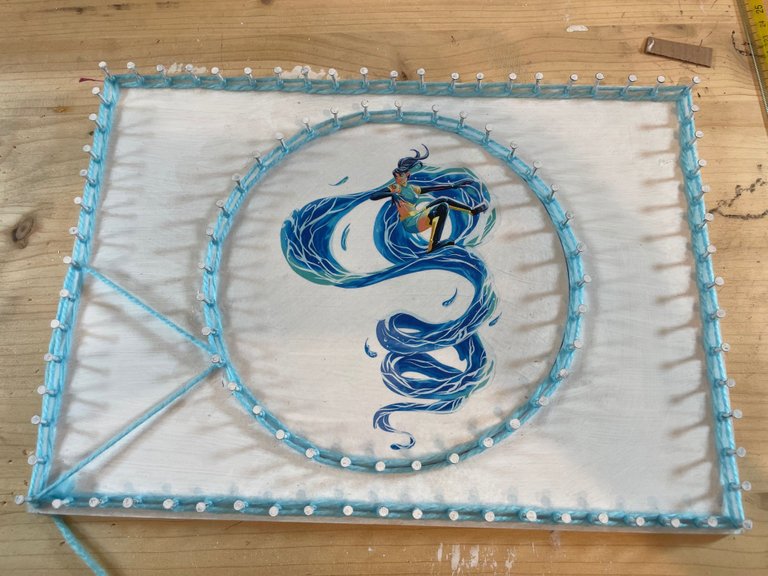 Once the edge has been made, you can indulge yourself as one wants to cover the whole board outside the circle by pulling as much twine as possible between nail and nail at will and feeling.
Here is my final result, there is also the sixth Summoner.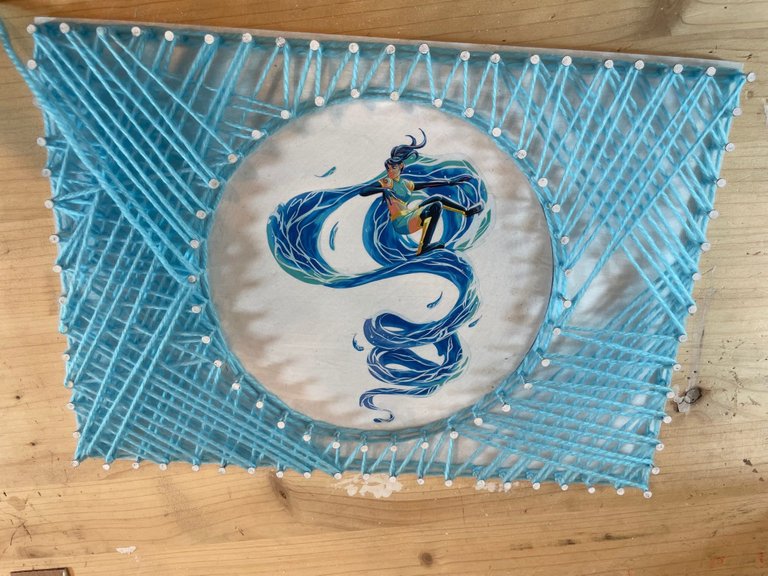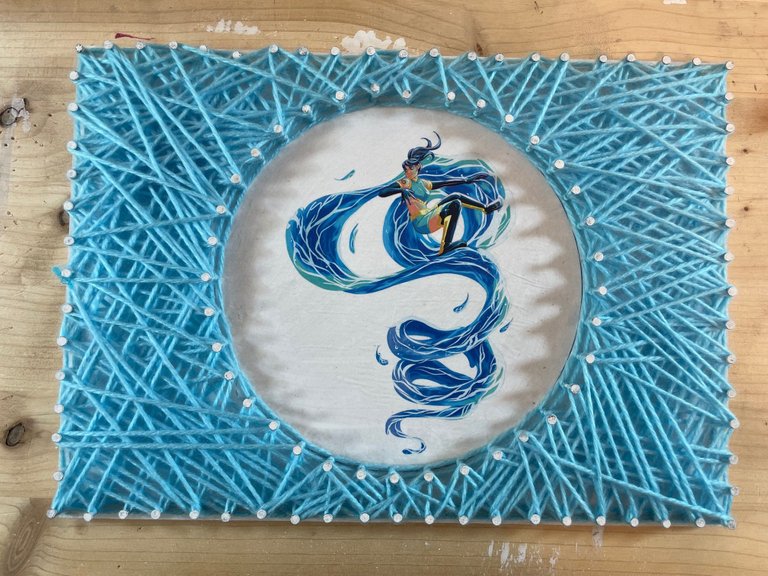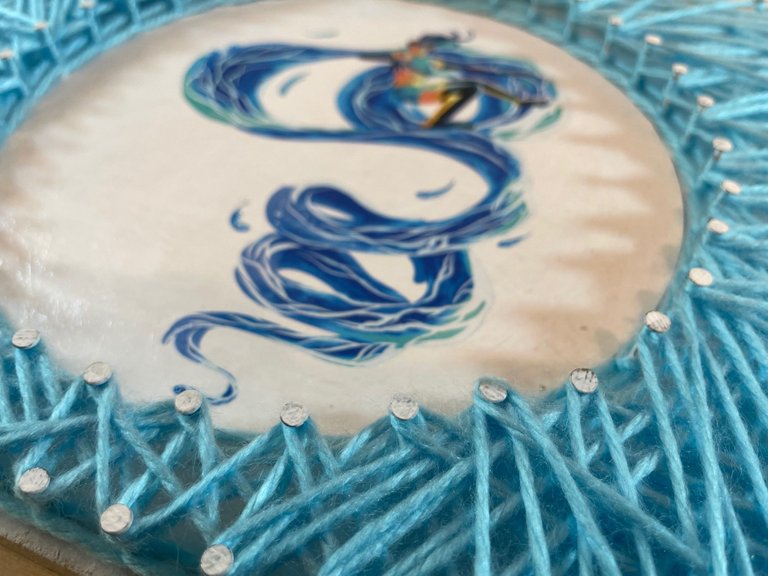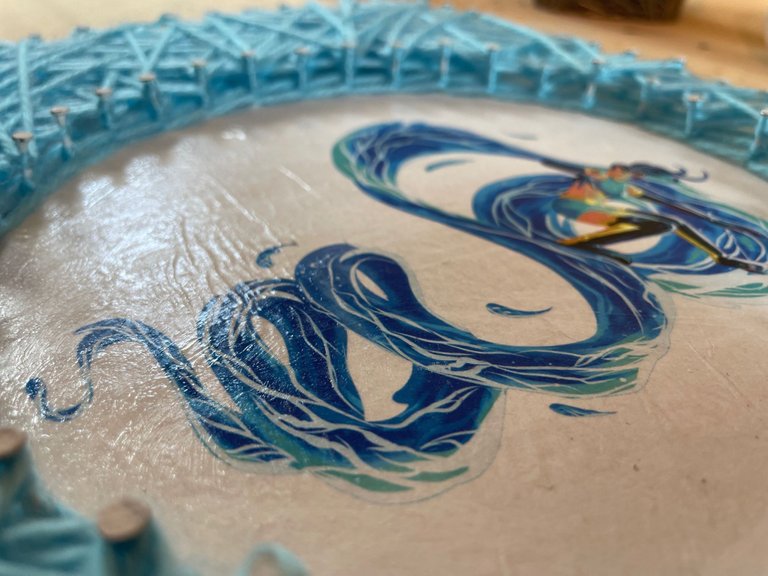 Below is the link to my other works dedicated to this element and below is the photo with all my works put together :).
ALRIC STORMBRINGER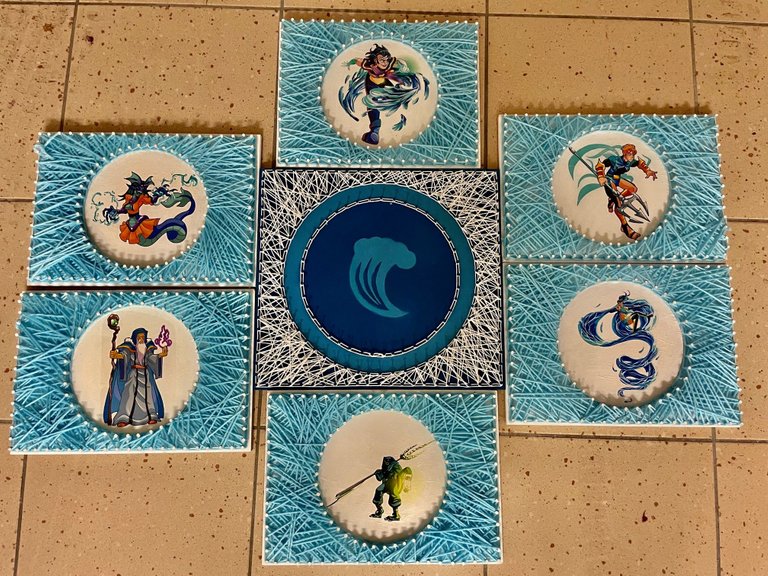 If you haven't tried this game yet my advice is to do it this is my link referral you can use the link if you like it or not but the point is always the one game to try! :-)
https://splinterlands.com?ref=blumela
If you don't like using it;) below !.
Have fun and see you in Battle !!

The photos are taken by the author and images from the Splinterlands game or Splinterlands source unless otherwise indicated.

---
---
👉ITA VERSION👈

---
Buongiorno amici!!...
Siamo giunti al termine di questa saga, sei quadretti dedicati ai Summoner dell'elemento WATER del mitico gioco @splinterlands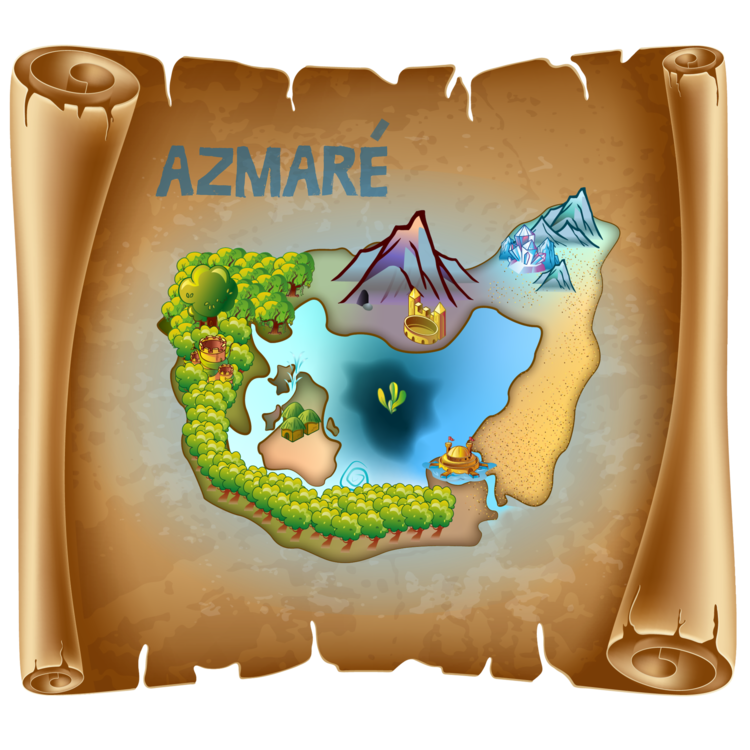 Oggi vi presento il sesto Summoner che conclude il nostro viaggio nell'isola dell'acqua, AZMARE' ma si sa amici per ogni fine c'è un nuovo inizio e ripartiremo con una nuova storia dedicata all'elemento FIRE e ai Summoner che compongono questa isola ma questa la vedremo più avanti oggi parliamo di VERA SALACIA!
Questo Summoner appartiene alla collezione DICE è un mostro RARE e ha un costo in MANA di tre.
VERA SALACIA! se schiarata conferisce il potere SNARE a tutte le carte scese in campo amiche, questo potere toglie il potere FLYING alle carte nemiche colpite!.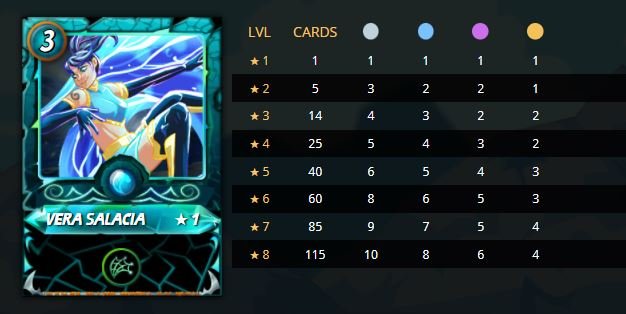 Dopo questa breve introduzione andiamo a realizzare il nostro quadro con soggetto VERA SALACIA!,
quello che ci serve è una tavola di legno, dei chiodi, vernice bianca, spago azzurro per richiamare i colori dell'elemento WATER, vernice protettiva e l'immagine del nostro Summoner stampata su carta con grammatura più bassa possibile (io ho usato la 30 grammi) per realizzare il nostro decupage.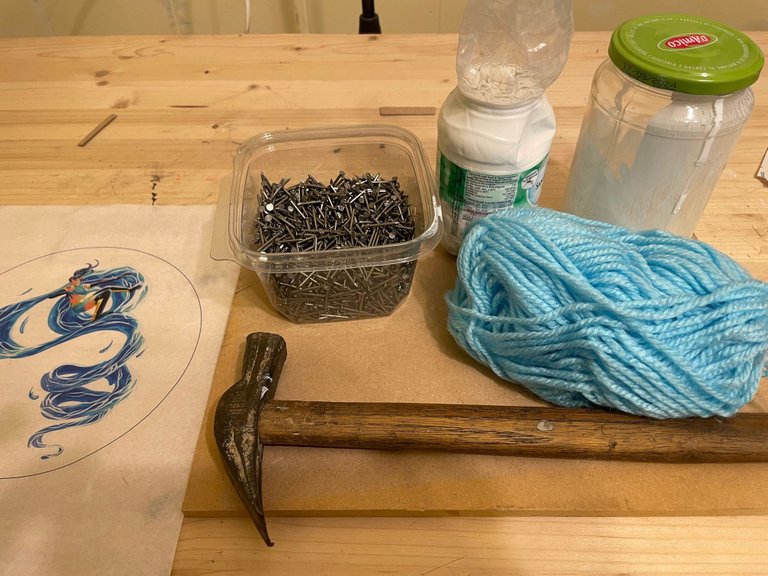 STEP 1
Troviamo il centro della tavola, io ho utilizzato una tavola con misure 31 x 22 centimetri.
Una volta trovato il centro facciamo un cerchio che contenga la nostra immagine, il nostro Summoner va incollato all'interno del cerchio quindi attenzione a non fare il cerchio troppo piccolo.
Fatto il cerchio tracciamo una cornice a mezzo centimetro dal bordo su tutti i lati, ci servirà come traccia per non andare troppo vicino al bordo, con i chiodi si riscia di rompere la tavola sul bordo che è più fragile, mezzo centimetro dal bordo è sufficiente per non danneggiare la tavola.
Tracciato il cerchio e la cornice segniamo i punti dove pianteremo i chiodi, aiutrandovi con un cartoncino misuriamo 1,5 centimetri e iniziamo a segnare i punti sia sul cerchio che sulla cornice in modo da avere i chiodi tutti equidistanti.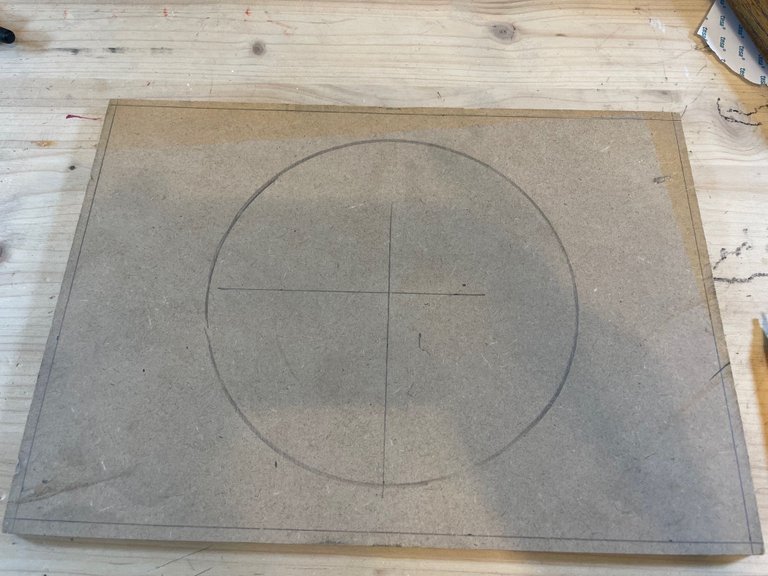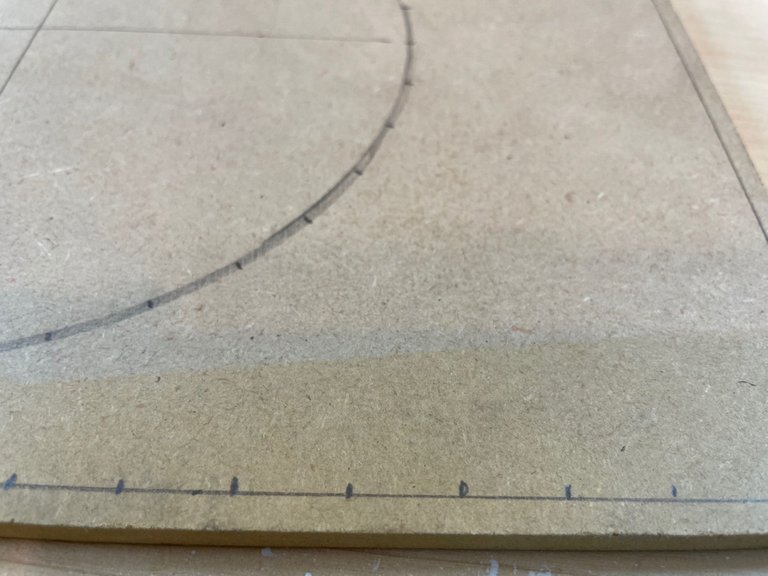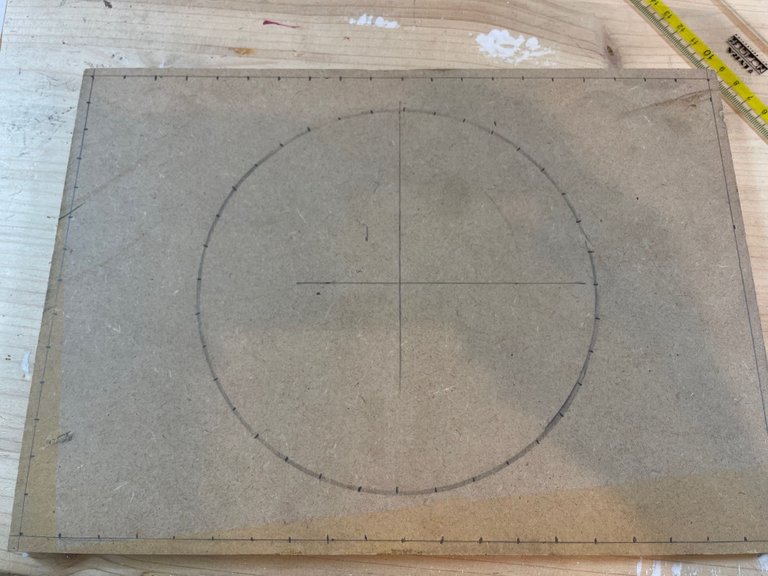 STEP 2
Inchiodiamo!!! una volta seganti tutti i punti non ci resta che iniziare a piantare i chiodi su di essi.
Non mi sono mai preoccupato di piantarli dritti e alla stessa altezza dal momento che verranno quasi tutti nascosti dallo spago che inseriremo più avati.
Armati di pazienza e ATTENTI ALLE DITA!!, piantiamo i chiodi su tutti i punti come in figura qui sotto.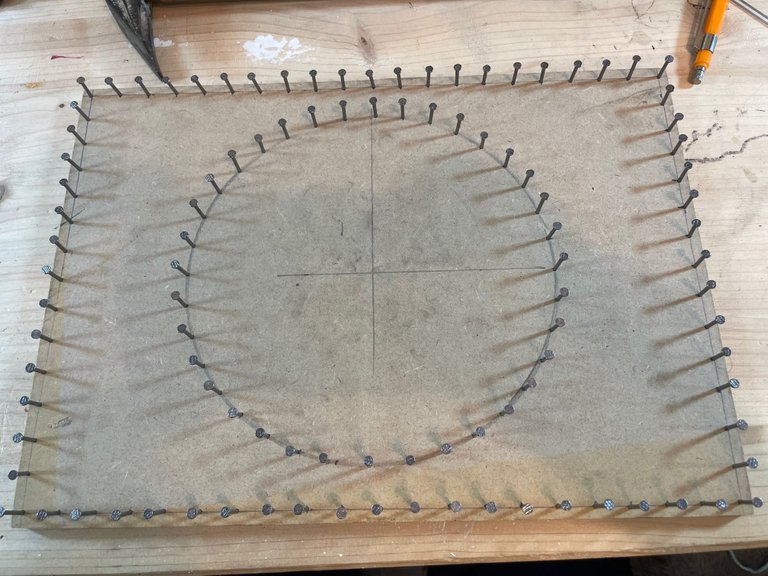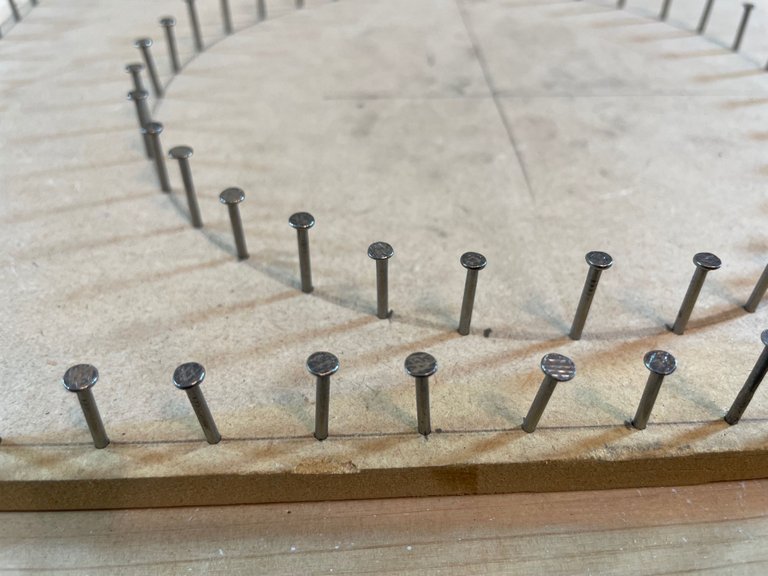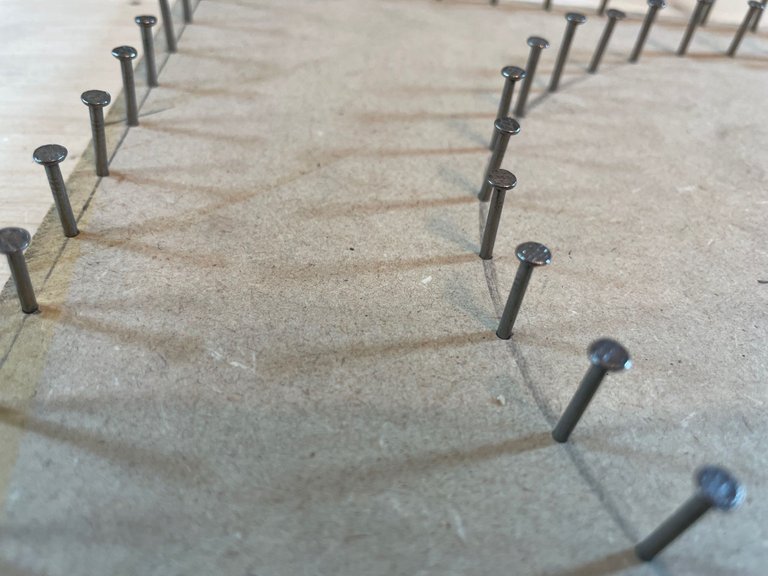 STEP 3
Come stanno le dita?? :-) io sto ancora i mprecando un pò per qualche martellata sbagliata sul mio pollice hahaha
Andiamo avanti! finito con i chiodi verniciamo tutta la tavola chiodi compresi di bianco, utilizzo il bianco perchè nasconde meglio la carta, anche se si usa una carta molto sottile nella stampa con un altro colore diverso dal bianco po si vedrebbe.
Diamo una mano di bianco, facciamo asciugare e diamo una seconda mano di bianco per rendere tutto più uniforme e aspettiamo che si asciughi.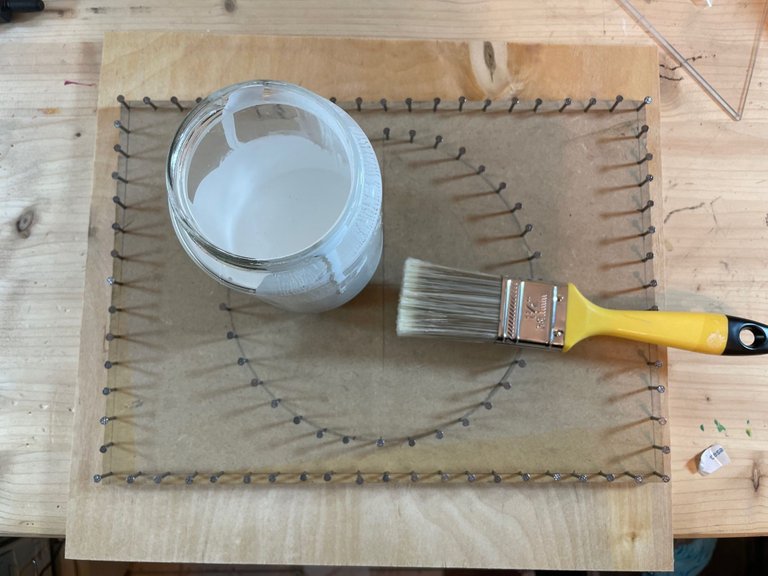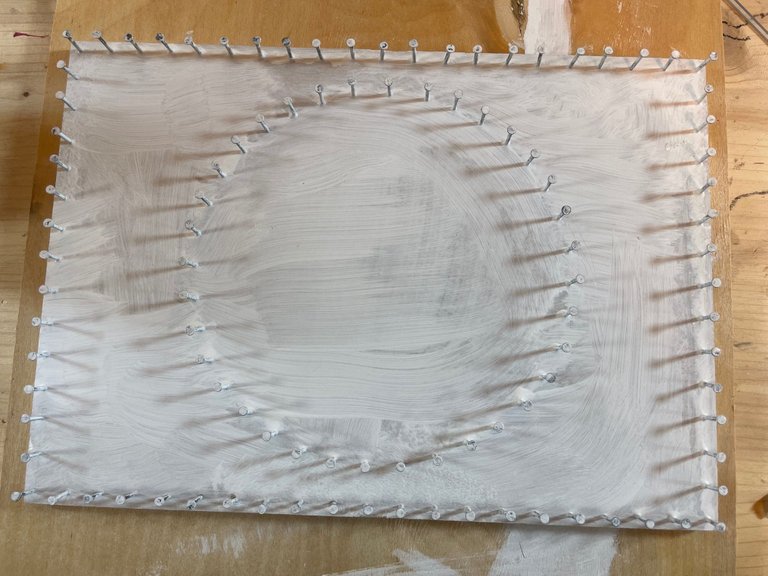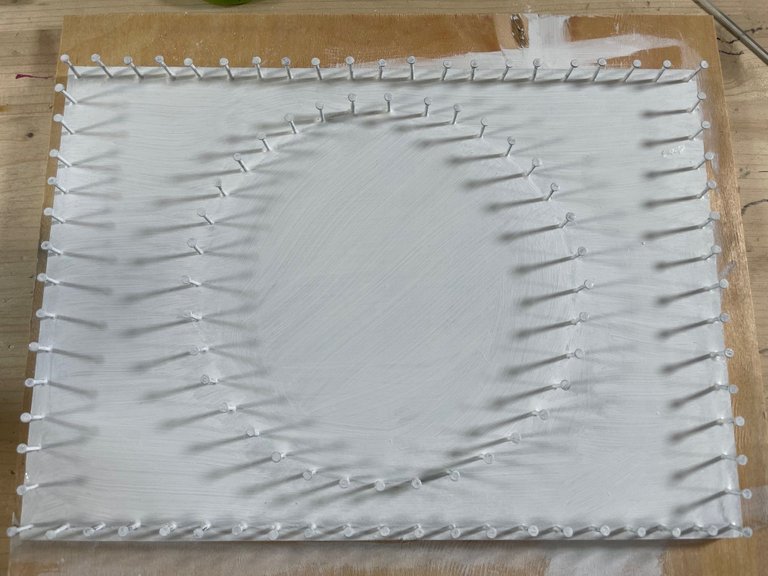 STEP 4
Ritagliamo la nostra immagine e la prepariamo per essere incollata dentro al nostro cerchio una volta che la vernice sia bene asciutta.
Io mi sono fatto un cerchio di riferimento per ritagliare l'immagine in modo da ricoprire tutto l'interno del cerchio e arrivare con i bordi del foglio ai chiodi su tutto il cerchio in modo da non lasciare scalini nel mezzo del cerchio visibili e un pò fastidiosi.
Una volta ritagliato a misura del cerchio all'interno di questo stendiamo la colla vinilica su tutta l'area e piano piano stando attenti a non fare grinze nell'immagine la stendiamo al suo interno rimuovondo delicatamente eventuali bolle formatesi qua e là.
Facciamo asciugare la colla e con un pennellino stendiamo uno strato di vernice protettiva sulla foto, questa la renderà più brillante e impermeabile ai liquidi oltre che rendere più resistenti i colori alla luce.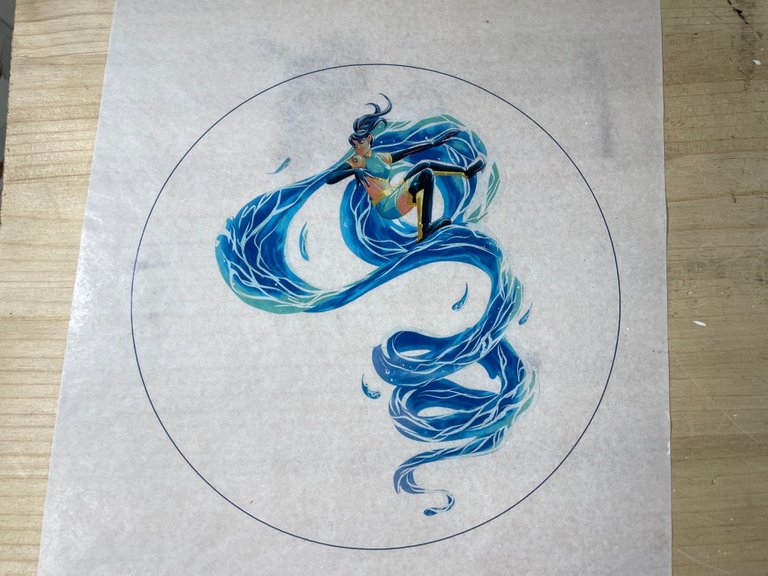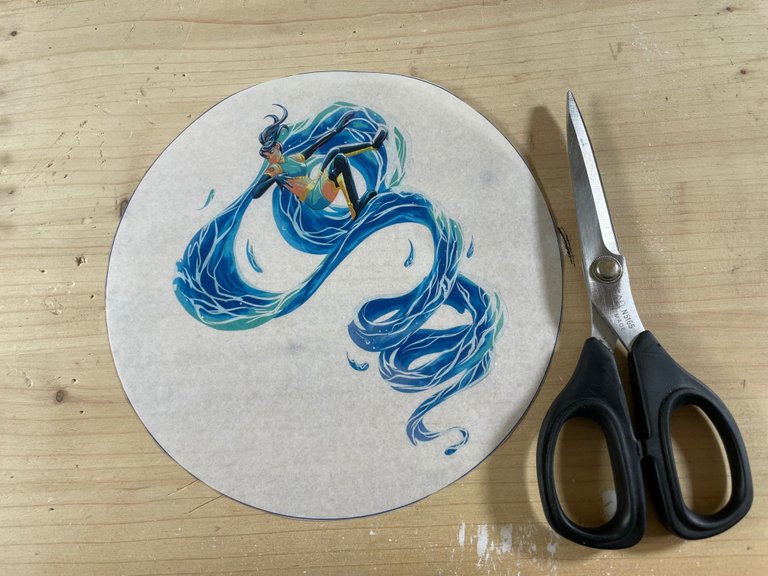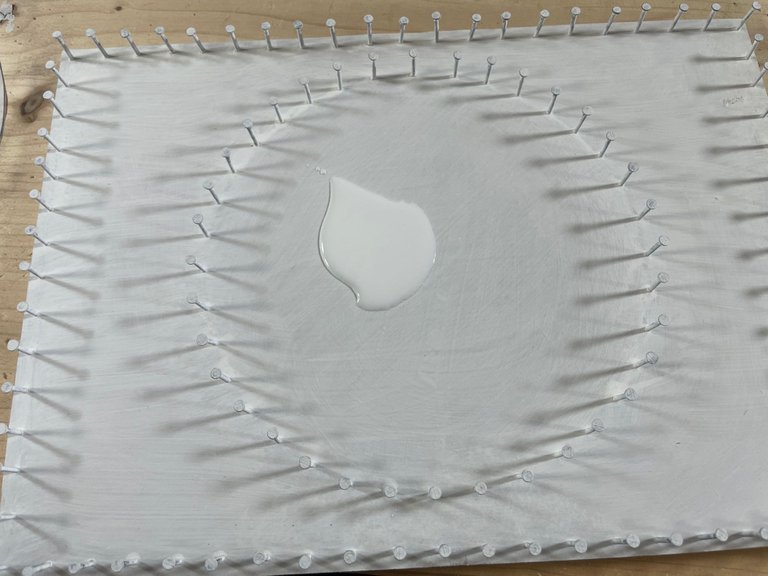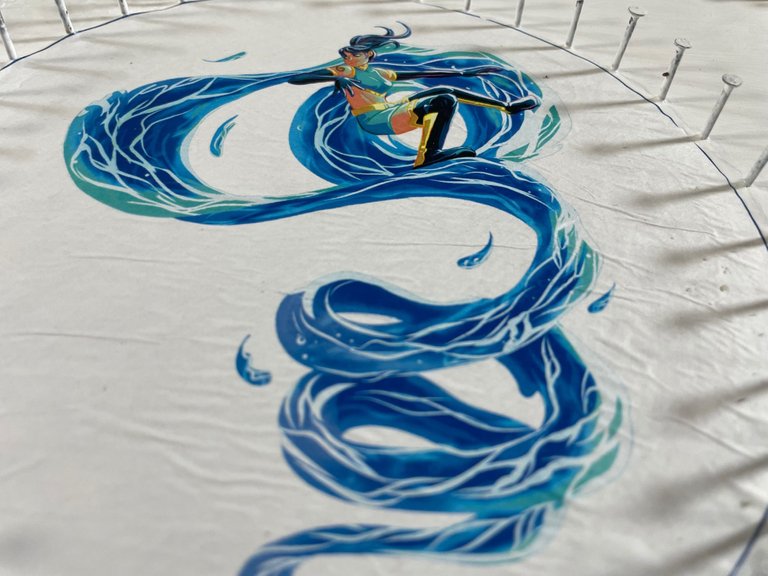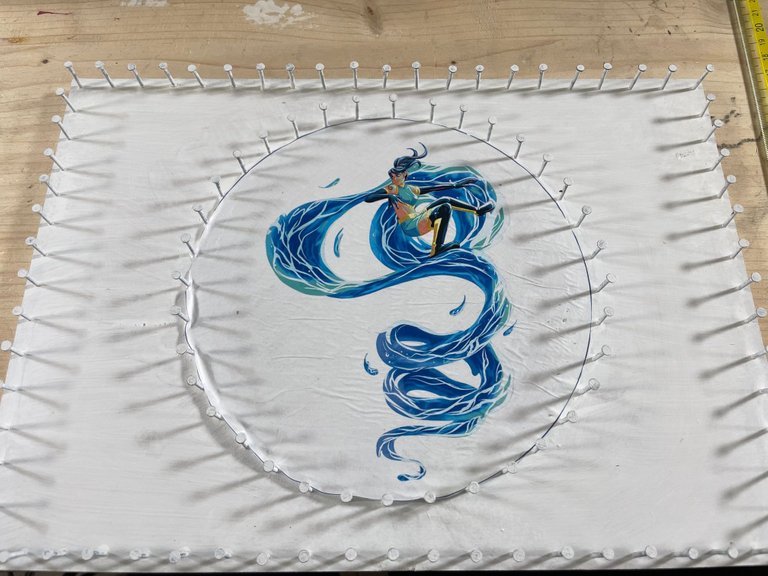 STEP 5
Siamo giunti quasi alla conclusione del nostro lavoro, qui serve lo spago e tanta pazienza!.
Annodiamo lo spago a un chiodo qualsiasi e iniziamo a tirarlo da chiodo a chiodo formando cerchi prima in senso antiorario su tutti i chiodi poi una volta fatto tutta la cornice dei bordi e del cerchio ripetiamo l'operazione sempre su tutti i chiodi ma in senso orario spiengendo lo spago fino alla base del chiodo come in questa figura.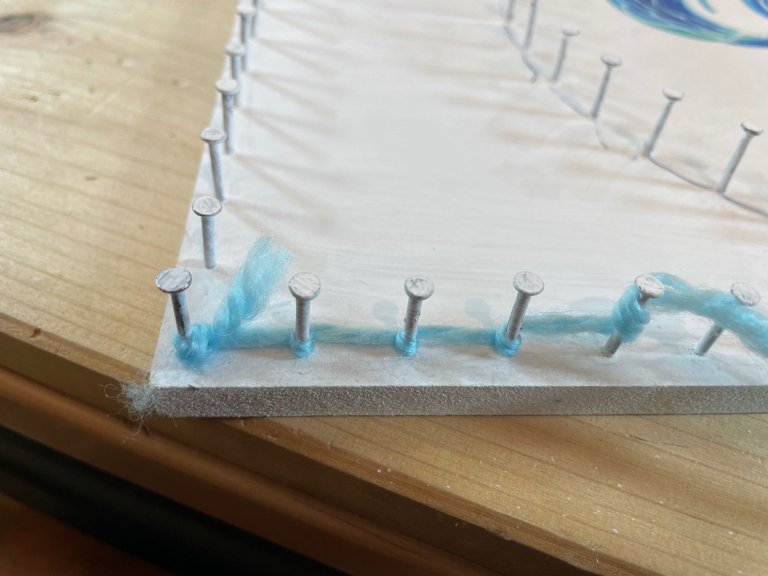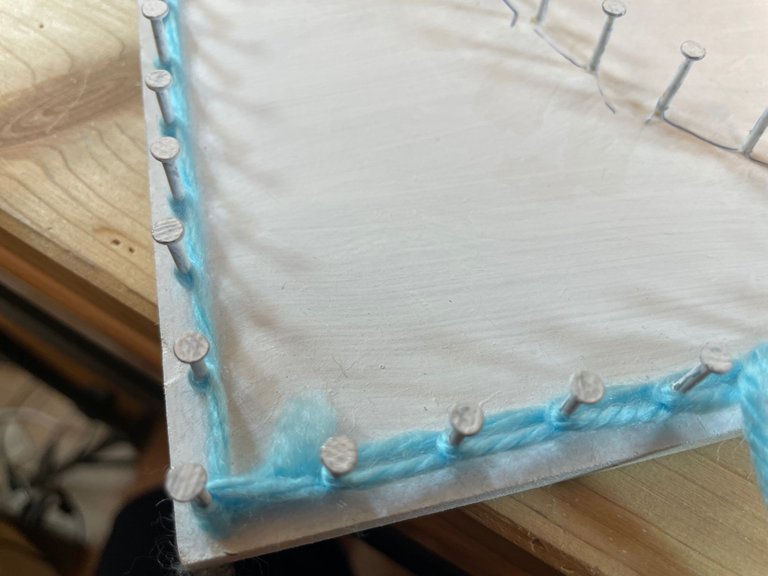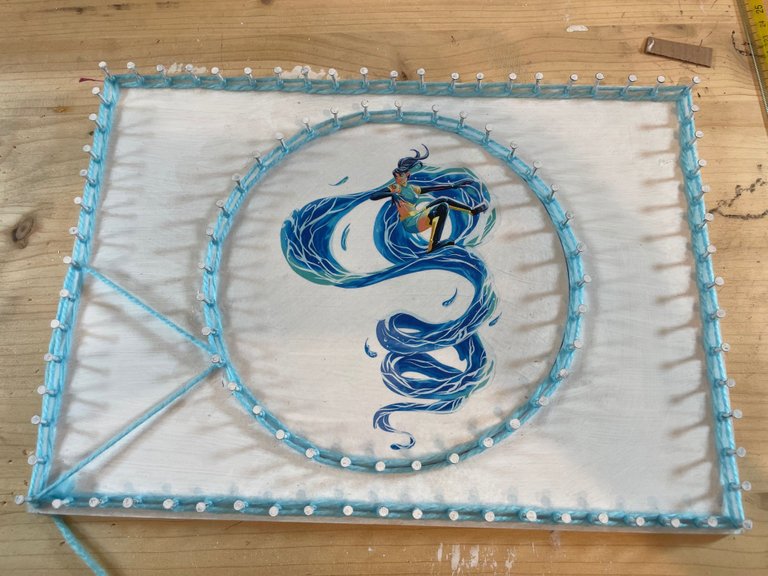 Realizzato il bordo ci si sbizzarisce come uno vuole per ricoprire tutta la tavola esterna al cerchio tirando spago a più non posso tra chiodo e chiodo a piacere e sentimento.
Ecco il mio risultato finale, ecco concluso anche il sesto Summoner.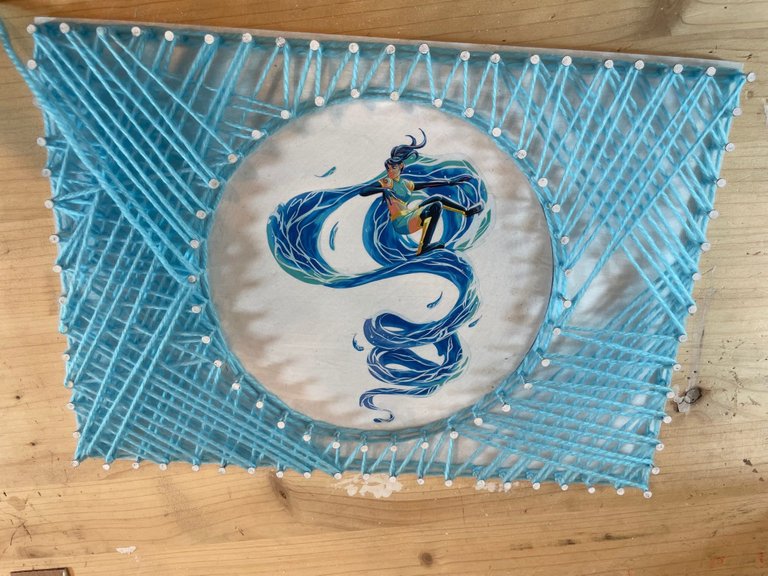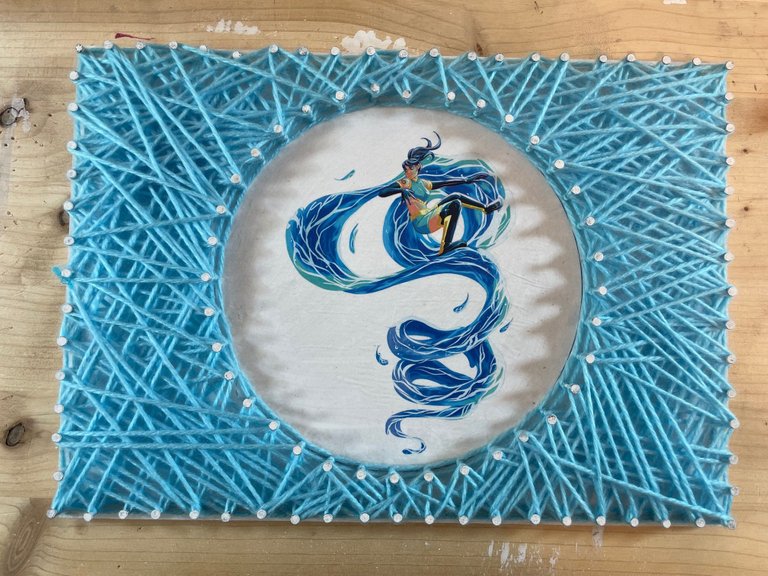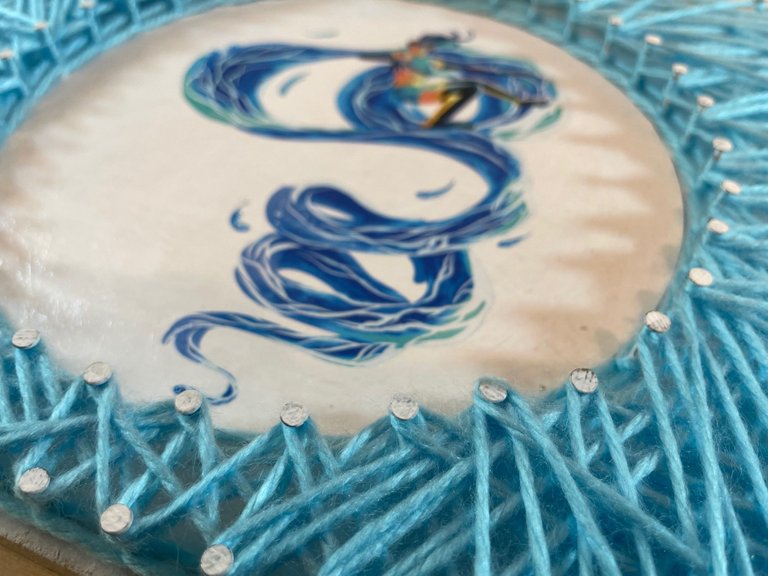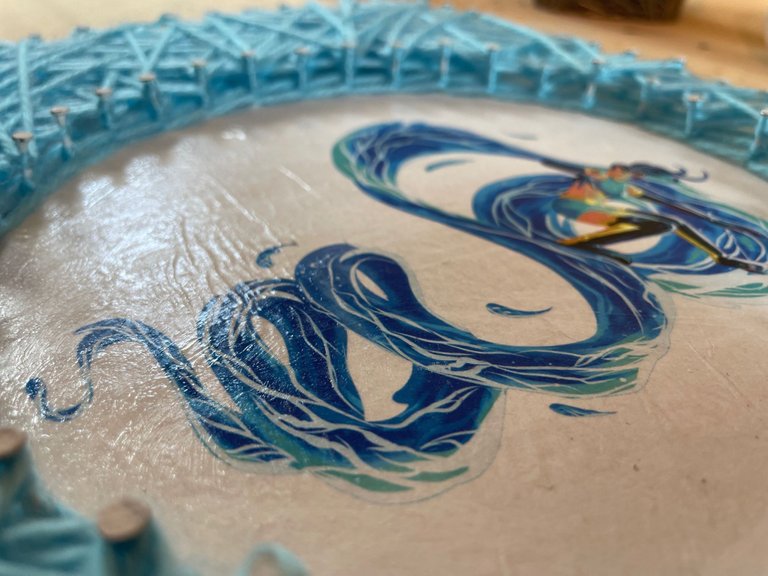 Qui sotto il link degli altri miei lavori dedicati a questo elemento e sotto la foto con tutti i miei lavori messi insieme :).
ALRIC STORMBRINGER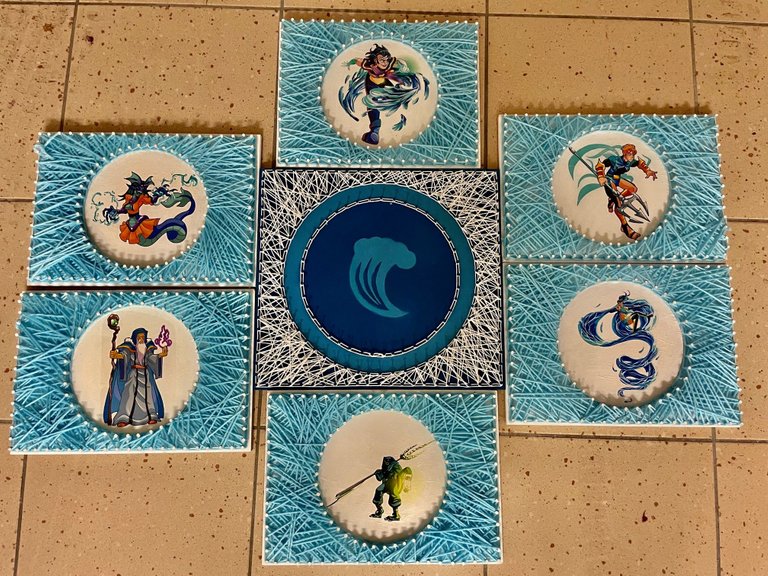 Se ancora non hai provato questo gioco il mio consiglio è quello di farlo questo è il mio link refferal puoi utilizzare il link se ti fa piacere oppure no ma il punto è sempre quello gioco da provare! :-)
https://splinterlands.com?ref=blumela
Se non vi fa piacere utilizzarlo ;) qui sotto!.
Buon divertimento e ci vediamo in Battaglia!!

Le foto sono scatti dell'autore e immagini del gioco Splinterlands o di fonte Splinterlands, salvo dove diversamente indicato.

---
---