Between August and September, DeFi has definitely exploded and many stocks such as UNI, YFI, UMA and other stocks have reached staggering figures. A run-up to buying decentralized coins has begun with clogging of the Ethereum network and exorbitant transaction costs. Many users have opted to invest in DeFi for the exorbitant economic returns, taking advantage of a certain stability and impassivity of Bitcoin.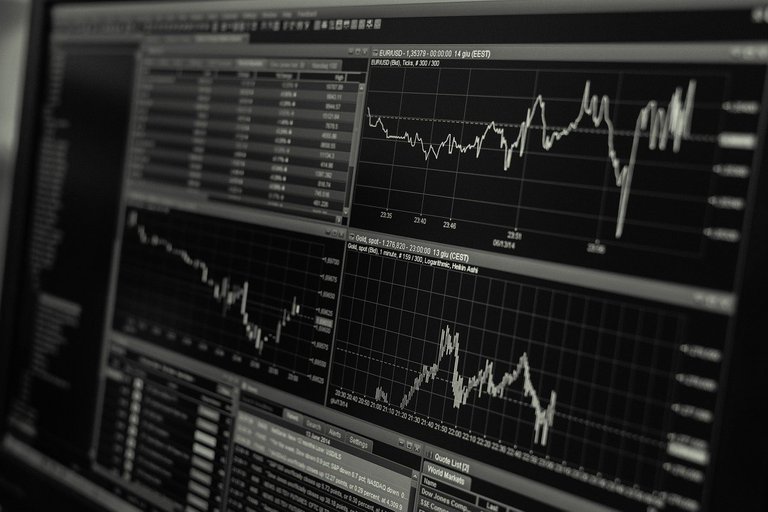 After a couple of months, DeFi seems no longer to attract investors who, on the contrary, are moving their capital back to Bitcoin, which in recent weeks has started a progressive bullish movement, touching today $ 14220, fees are significantly reduced and liquidity decreases. Is this the end of DeFi?
This is the graph of UNI, the Uniswap coin that peaked immediately after its issue exceeding $ 6 and is now stable at $ 2 with a loss of about 66%.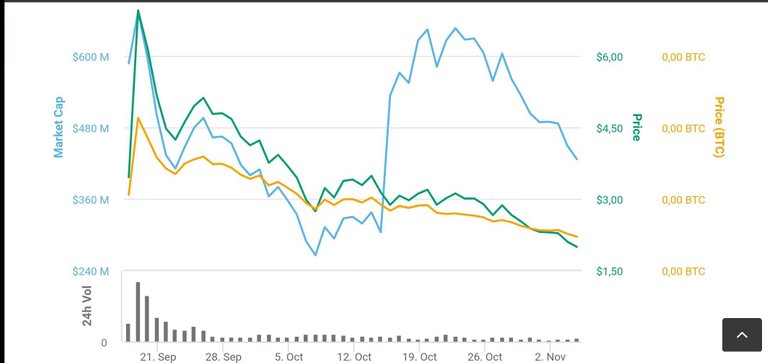 Here is the graph of YFI (yearn.finance) which shows an incredible evolution from the starting $ 800 has exceeded the $ 40,000 of mid-September and currently the price is around $ 9,000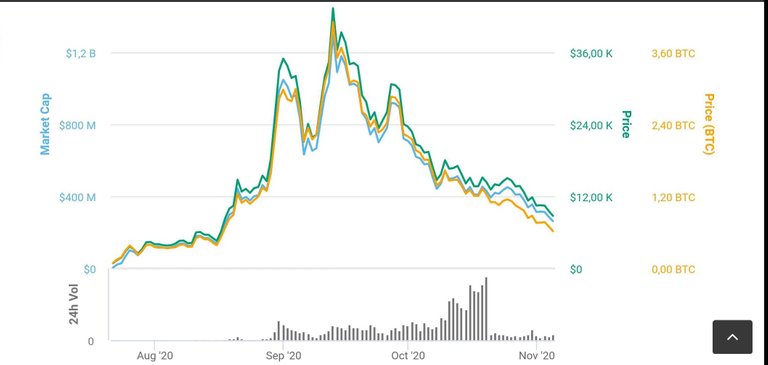 Finally Band which accelerated the price in September until it reached $ 15 and today settles at $ 4.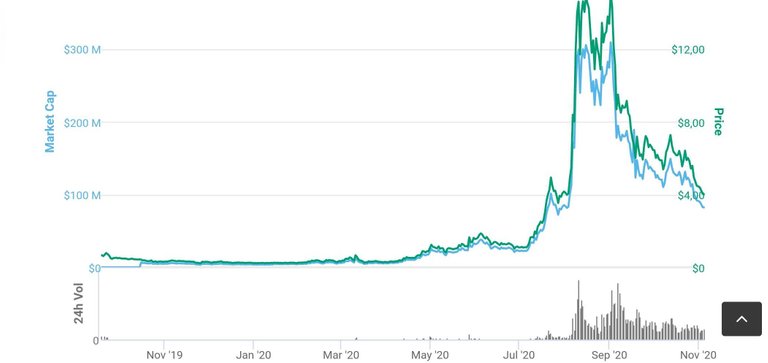 It is therefore evident that DeFi at the moment has lost that charm that characterized the months of August and September, probably reaching such speculation that the manipulators have sold with skyrocketing profits, to the detriment of small investors. In my view DeFi is an excellent market but unfortunately it was clear that it was governed purely by speculation rather than by real interest in the listed projects.
Meanwhile, Bitcoin continues its progressive and constant rise, a healthy growth that helps the maximum sharing of digital gold, essential to be able to build tenuous supports on which to build, step by step, the long climb to the top.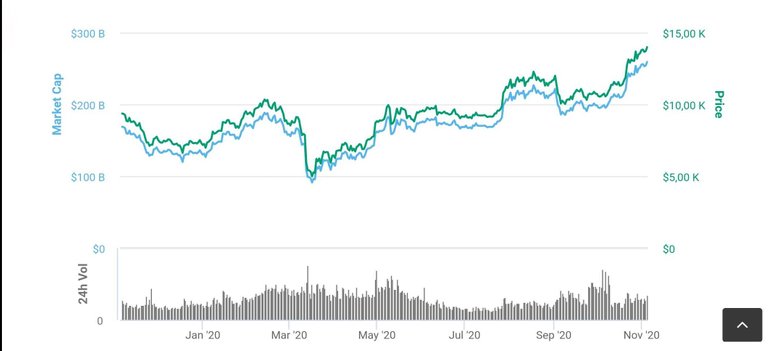 The one-year chart shows an increasing trend, with the exception of March and April, the period in which the pandemic broke out and almost all the markets suffered declines. To date, Bitcoin is at levels that have not been seen since the beginning of 2018 and this is thrilling the holders who have always believed in the cryptocurrency, even when it touched the downside threshold of $ 3000.
Will Bitcoin be able to hit $ 15,000 by the end of the year?
There are all the prerequisites for a sparkling December, in the hope that even the altcoins can begin to recover the lost ground and start a progressive interest on the part of new potential investors.
Regards
ITA
Tra agosto e settembre la DeFi è decisamente esplosa e molti titoli come UNI, YFI, UMA e altri titoli hanno raggiunto cifre da capogiro. È iniziata una rincorsa all'acquisto di monete decentralizzati con intasamento della rete Ethereum e costi di transazione esorbitanti. Molti utenti hanno optato per investire nella DeFi per gli esorbitanti ritorni economici, approfittando di una certa stabilità e impassibilità di Bitcoin.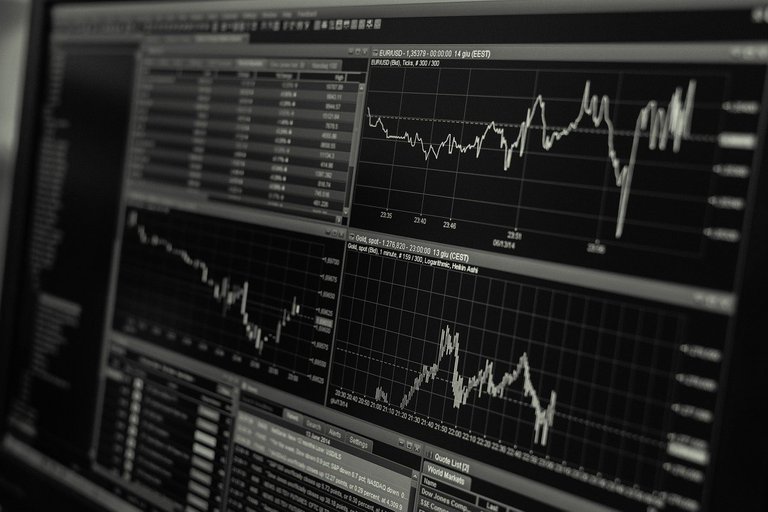 A distanza di un paio di mesi, la DeFi sembra non attrarre più gli investitori che al contrario stanno spostando i capitali nuovamente su Bitcoin che nelle ultime settimane ha iniziato un progressivo movimento rialzista sfiorando oggi i 14220 $, le fee sono notevolmente ridotte e la liquidità diminuisce. È la fine della DeFi?
Questo è il grafico di UNI, la moneta di Uniswap che ha raggiunto il picco subito dopo la sua emissione superando i 6$ ed ora è stabile sui 2$ con una perdita di circa il 66%.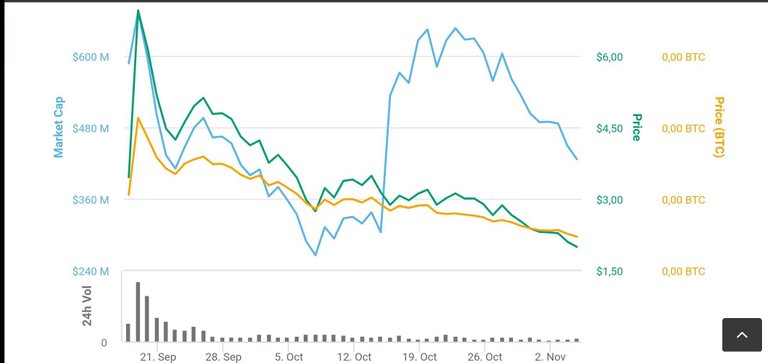 Ecco il grafico di YFI (yearn.finance) in cui si evince una incredibile evoluzione dagli 800$ di partenza ha superato i 40000$ di metà settembre e attualmente il prezzo si aggira sui 9000$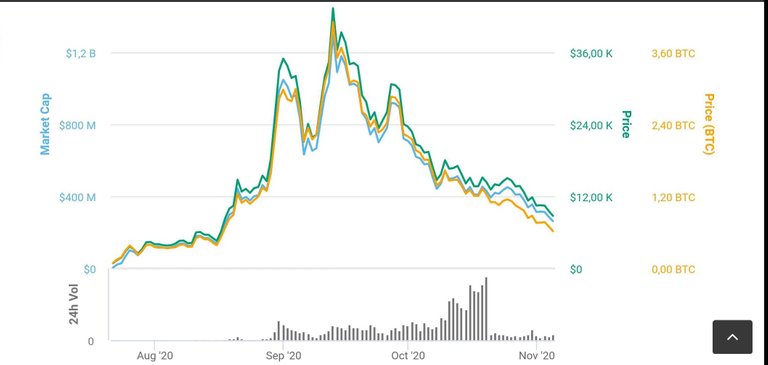 Infine Band che ha avuto un'accelerazione sul prezzo nel mese di Settembre fino a raggiungere i 15$ ed oggi si assesta sui 4$.
È evidente quindi che la DeFi al momento ha perso quel fascino che ha caratterizzato i mesi di Agosto e Settembre, raggiungendo probabilmente una speculazione tale che i manipolatori hanno venduto con profitti alle stelle, a danno dei piccoli investitori. A mio modo di vedere la DeFi è un'ottimo mercato ma purtroppo era evidente che fosse governata puramente da speculazione piuttosto che da reale interesse nei progetti listati.
Bitcoin intanto continua la sua ascesa progressiva e costante, una crescita salutare che aiuta la massima condivisione dell'oro digitale, fondamentale per poter costruirenuivi supporti su cui poter costruire, gradino dopo gradino, la lunga scalata verso la cima.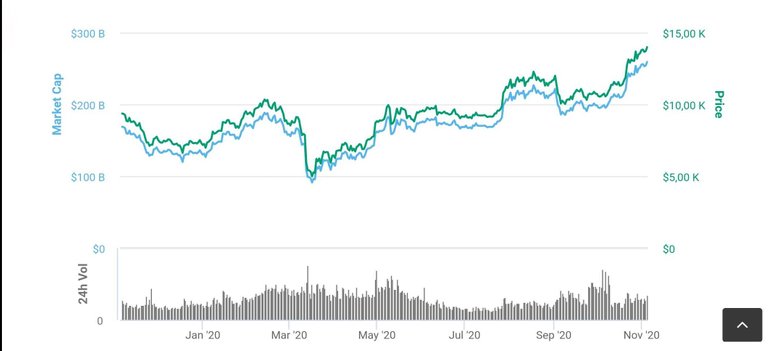 Il grafico ad un anno evidenzia un andamento crescente, ad esclusione di Marzo e Aprile, periodo in cui è scoppiata la pandemia ed un po' tutti i mercati hanno subito delle flessioni. Ad oggi Bitcoin si trova a livelli che oramai non si vedevano da inizi 2018 e questo sta entusiasmando gli holders che hanno sempre creduto nella cryptovaluta, anche quando ha toccato la soglia ribasso dei 3000$.
Bitcoin riuscirà a toccare quota 15000$ entro fine anno?
Ci sono tutti i presupposti per un Dicembre frizzante, nella speranza che anche le altcoin possano iniziare a recuperare il terreno perduto ed avviare un progressivo interesse da parte anche dei nuovi potenziali investitori
Saluti