Technology is making bigger and bigger steps forward and will completely revolutionize our way of life in the near future. The technology also takes into account the blockchain sphere and here is the birth of the first watches with integrated wallet to be able to make purchases or payments without having to take your smartphone and credit card.
Franck Muller, famous watchmaker and author of high-caliber and inexpensive watches, has created a line of luxury watches together with Bitcoin Cash, in total there are only 500 pieces available for the modest sum of $ 9900, which can be purchased exclusively in cryptocurrencies. The limited edition line is called Free the Money, Free the World and consists of a titanium body, very resistant to shocks and water pressure, which integrates a QR code that identifies the public key of the wallet. , while the private one is well protected inside the body.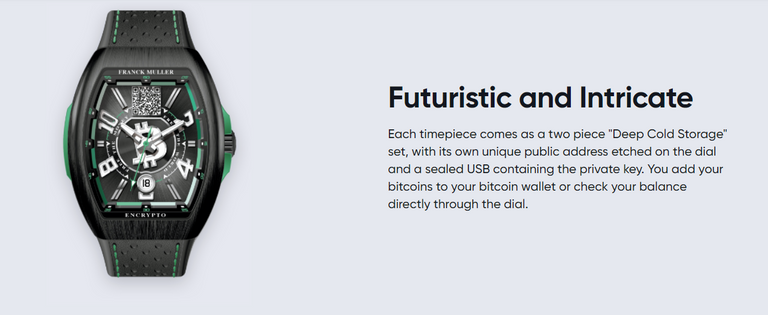 ---
The watch is really very elegant and beautiful and can be purchased on the Bitcoin.com website. Mate Tokay of Bitcoin.com and Tyler Gallagher of Regal Assets also participated in the making of the luxury watch, which is why it is sold on the Bitcoin.com website.

---
Let's take a leap into the future of at least 10 years, we are in December 2030. Blockchain and crypto will be much more than a niche and more speculative market. Stores will accept some cryptocurrencies for payment, equipped with smart devices like watches or bracelets or hats, who knows. The payment is immediate, just scan the QR and the buyer can send the final amount from his wallet to that of the shopkeeper in a few seconds. The transaction is free, the receipt is registered on the blockchain and a copy can be requested on your email or perhaps activated by default.
I can send a donation or a sum of money from the other side of the world simply by scanning the QR code of the wallet concerned, without costs, safely and in a matter of seconds. The banks? They went bankrupt already in 2027.
Are you ready for the future?
Read more about the Free the Money, Free the World collection HERE.
ITA
La tecnologia effettua passi in avanti sempre più grandi e nell'immediato futuro rivoluzionerà completamente il nostro modo di vivere. La tecnologia tiene conto anche della sfera blockchain ed ecco la nascita dei primi orologi con wallet integrato per poter effettuare acquisti o pagamenti senza più dover prendere il proprio smartphone e o la carta di credito.
Franck Muller, famoso orologiaio e autore di orologi di elevata caratura e poco economici, ha creato una linea di orologi di lusso assieme a Bitcoin Cash, in totale ci sono solo 500 pezzi disponibili alla modica cifra di 9900 $, acquistabili esclusivamente in cryptovalute. La linea in edizione limitata si chiama Free the Money, Free the World e consiste in una scocca in titanio, molto resistente agli urti e alla pressione dell'acqua, che integra al suo interno un codice QR che identifica la chiave pubblica del wallet, mentre quella privata è ben protetta all'interno della scocca.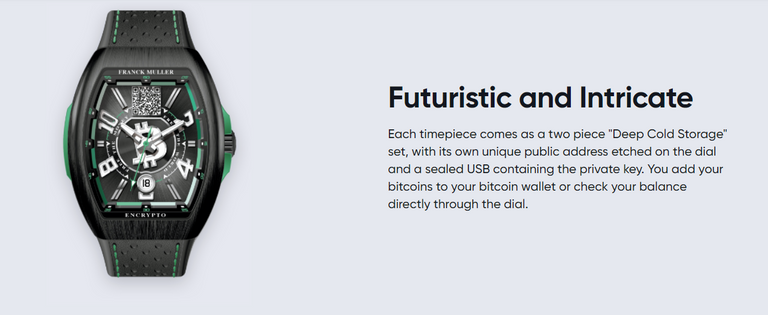 ---
L'orologio è davvero molto elegante e bello ed è acquistabile sul sito di Bitcoin.com. Alla realizzazione dell'orologio di lusso hanno partecipato anche Mate Tokay di Bitcoin.com e Tyler Gallagher di Regal Assets, motivo per cui è venduto sul sito di Bitcoin.com.

---
Facciamo un salto nel futuro di almeno 10 anni, siamo a Dicembre 2030. La blockchain e le crypto saranno molto più di un mercato di nicchia e maggiormente speculativo. I negozi accetteranno alcune cryptovalute per il pagamento, dotati di dispositivi smart come orologi o bracciali o cappelli, chi lo sa. Il pagamento è immediato, basta scansionare il QR e l'acquirente può inviare in pochi secondi l'importo finale dal proprio wallet a quello del negoziante. La transazione è gratuita, la ricevuta è registrata sulla blockchain e potrà essere richieste una copia sulla propria email o magari attivarla di default.
Posso inviare una donazione o una somma di denaro dall'altra parte del mondo semplicemente scansionando il QR code del wallet interessato, senza costi, in modo sicuro ed in una manciata di secondi. Le banche? Sono fallite già nel 2027.
Siete pronti per il futuro?
Maggiori informazioni sulla collezione Free the Money, Free the World potete leggerli QUI.