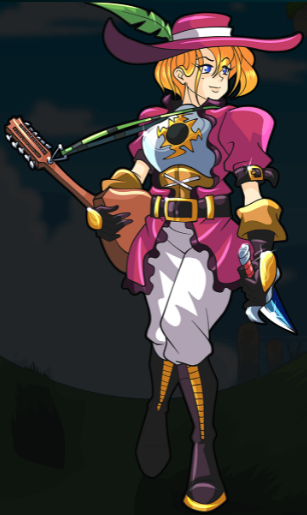 What will be, what will not be, as the subject of the great Splinterlands contest, while not participating assiduously and constantly, it is always a pleasure to check what the curators have chosen, so it was Silvershield Bard's turn, a beautiful daughter in costume of the Life Element, let's see how I took this news...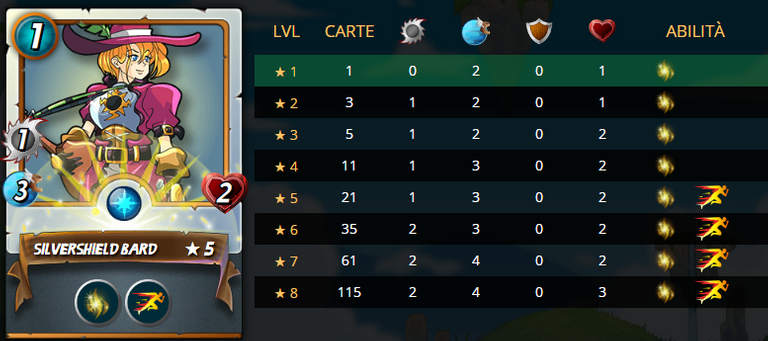 It is a Rare Card, it costs enough, 38 cents of dollar (40 DEC) if purchased individually, in the case of multiple purchase the price drops but not that much, it is a card that teases me, enough, it does not drive me crazy but certainly teases me, because it has characteristics that make me love it...
First of all it costs only 1 Mana, in terms of score, this is certainly a positive fact, which makes it very attractive especially when there are games with low Mana endowments, but not only, because from level 5, the one at which the 'I actually upgraded, acquires the skill of Agility, which enriches its endowment, but not only...
A further level, the 6th, and, as you can verify from the table, my Silvershield Bard will have doubled firepower, going up from one unit per hit to 2, and a very concrete idea to bring her, sooner or later, to the maximum level, there is, as at the 8th level she has 3 lives, which are not bad, always considering the fact that it costs only 1 Mana...
But all this blablare, as the great Italian comedian Maurizio Crozza would say admirably making fun of the equally great Flavio Briatore, without thinking about a battle is absolutely not good, especially when it comes to the Splinterlands contest, so let's go and see together with those who take the field Silvershield Bard in the battle that I will propose to you...
1st position
Furious Chicken
2nd position
Prismatic Energy
3rd position
Parasitic Growth
4th position
Our Princess
5th position
Gelatinous Cube
6th position
Halfling Alchemist
But where did they actually go to fight?
Do not get upset, here is the reference link, where you can actually enjoy the succession of shots of the game...
https://steemmonsters.com?p=battle&id=0c1b5d929d24064d3c928a8bf417e3134f005d7d&ref=mad-runner
I sincerely thank Splinterlands for several reasons for these wonderful opportunities that it offers us, and if any of you are not yet registered in this game I recommend with increasing determination and pleasure, this is my affiliate code...
https://steemmonsters.com?ref=mad-runner
If you want to participate in this very valid contest, here is the link to access it...
https://peakd.com/splinterlands/@splinterlands/share-your-battle-weekly-challenge-silvershield-bard
The images were taken from the Splinterlands game, I made a screenshot with my computer...
---
Versione Italiana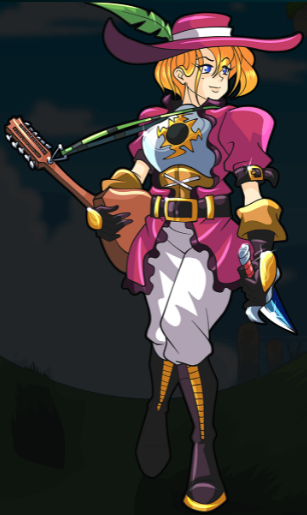 Cosa ci sarà, cosa non ci sarà, come soggetto del grande contest di Splinterlands, pur non partecipando assiduatamente e costantemente, è sempre un piacere verificare quale sia la scelta dei curatori, per cui è stata la volta di Silvershield Bard, una bella figliola in costume dell'Elemento Vita, vediamo come ho preso questa notizia...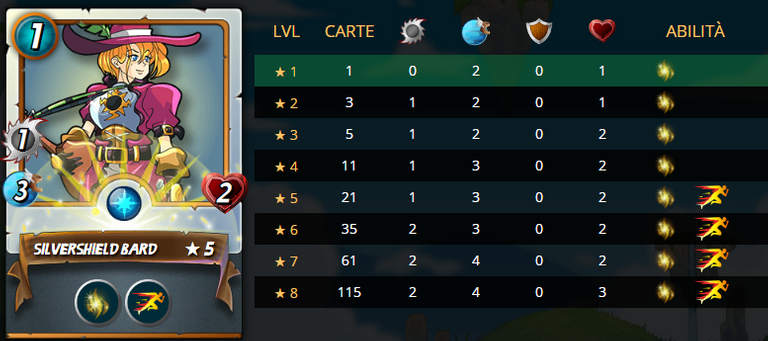 E' una Carta Rara, costa abbastanza, 38 centesimi di dollaro (40 DEC) se acquistata singolarmente, nel caso di acquisto multiplo il prezzo scende ma non più di tanto, è una carta che mi stuzzica, abbastanza, non mi fa impazzire ma certamente mi stuzzica, perché ha delle caratteristiche che me la fanno amare...
Innanzitutto costa solamente 1 Mana, in termini di punteggio, questo è un fatto certamente positivo, che la rendono molto appetibile soprattutto quando ci sono partite con bassa dotazione di Mana, ma non solo, perché proprio dal livello 5, quello a cui al momento l'ho effettivamente potenziata, acquisisce l'abilità di Agilità, che arricchisce la sua dotazione, ma non solo...
Un ulteriore livello, il 6°, e, come potete verificare dalla tabella, la mia Silvershield Bard avrà una potenza di fuoco raddoppiata, salendo da un'unità per colpo sferrato a 2, e un'idea molto concreta di portarla, prima o poi, al massimo livello, c'è, in quanto all'8° livello lei ha ben 3 vite, che non sono niente male, considerando sempre il fatto che ha un costo di solamente 1 Mana...
Ma tutto questo blablare, come direbbe il grande comico italiano Maurizio Crozza prendendo mirabilmente in giro l'altrettanto grande Flavio Briatore, senza pensare a una battaglia non va assolutamente bene, soprattutto quando si parla di contest di Splinterlands, per cui andiamo a vedere insieme a chi scende in campo Silvershield Bard nella battaglia che vi proporrò...
1° posizione
Furious Chicken
2° posizione
Prismatic Energy
3° posizione
Parasitic Growth
4° posizione
La nostra Principessa
5° posizione
Gelatinous Cube
6° posizione
Halfling Alchemist
Ma dove sono andati effettivamente a combattere??
Non vi agitate, ecco qua il link di riferimento, dove potete effettivamente gustarvi la successione dei colpi della partita...
https://steemmonsters.com?p=battle&id=0c1b5d929d24064d3c928a8bf417e3134f005d7d&ref=mad-runner
Ringrazio sinceramente Splinterlands per diversi motivi per queste meravigliose opportunità che ci offre, e se qualcuno di voi non è ancora registrato in questo gioco, raccomando con crescente determinazione e piacere, questo è il mio codice affiliato...
https://steemmonsters.com?ref=mad-runner
Se vuoi partecipare a questo concorso molto valido, ecco il link per accedervi...
https://peakd.com/splinterlands/@splinterlands/share-your-battle-weekly-challenge-silvershield-bard
Le immagini sono state prese dal gioco Splinterlands, ho realizzato uno screenshot con il mio computer...