Hello Splinterland warriors!
How are you all guys hope you will be blessed and fine i am here with another post of Splinterlands and arranging this post for the social media partcipation arranged by splinterlands team in which i am going to share a legendary pull the death monster that i got from the recent quest rewards.
ANCIENT LICH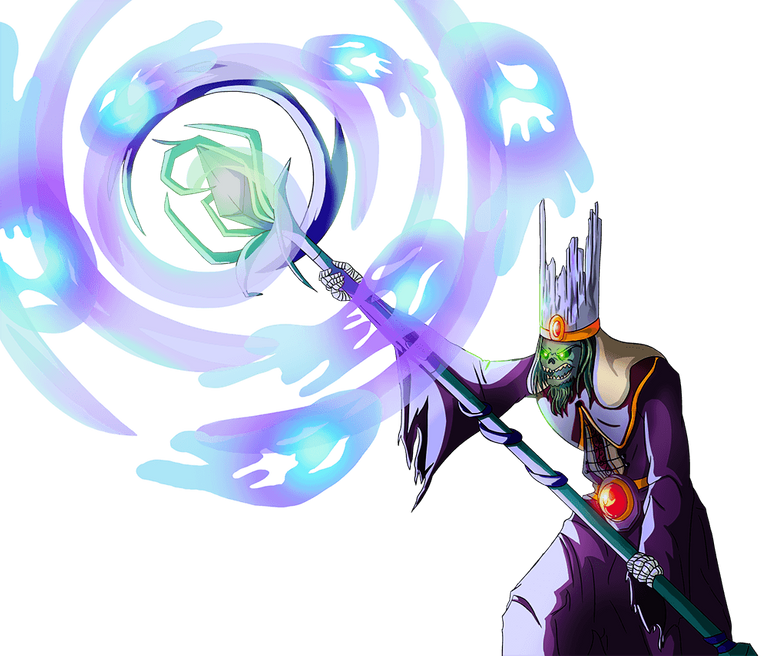 Long before the Splintering, in the ancient world of magic, there lived a greedy King called Kiro the Collector. In those times, the land now known as Mortis was a green and thriving jungle full of an even greater variety of creatures than live in the Jungles of ΛZMΛRÉ today. Deep in the Jungle of Hilopa, Kiro's palace sat, defended naturally by venomous predators and carnivorous plants. Read full story
To be honest not using the death summoner mostly when other summoners are availble for the battlefield like Daria, and earth splinter mostly i am using these two summoners for all my battle instead of quest. However, lots of potion charges are availble which brings this legendary pull to my collection after a long time in the last season i think and this one is the 2nd BCX that i am holding in my collection and soon will upgrade this card from free getting. This is really a nice card with life leech ability that belongs to the death family and taking 7 mana with 3 life to grow by itself when attacking on enemy to gain more life by leeching ability with enough and strong magic attack.

MARKET PRICE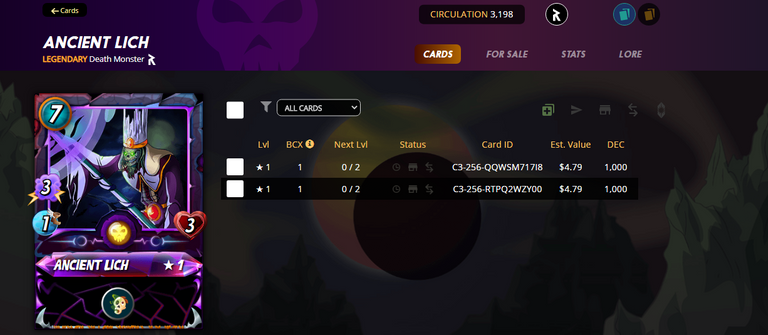 Well, here you can see the circulation supply of this legendary card which is enough as compared to other cards and i got two BCX of this Monster both are from the quest rewards. Check the price of this monster which is almost near to $5 so currently i have $10 available in my collection only in the form of these two BCX which is equal to worth of buying a spell book. So by getting these two cards i recovered my investment of buying a spell book in general terms and of course these cards are the proof for someone who want proof and afraid of investing in this game so you can easily show these legendary card with high worth that you can get free from the quest and season end rewards.

ABILITIES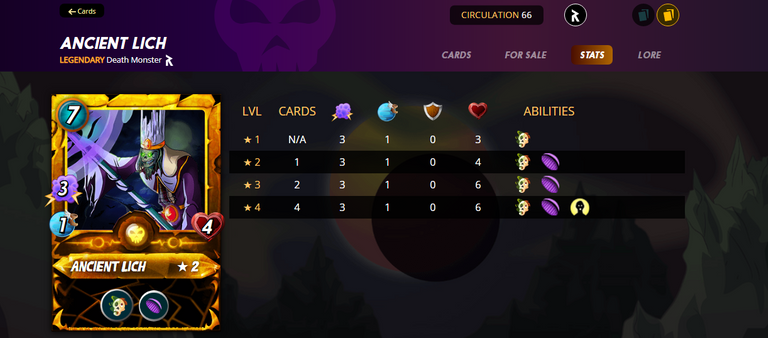 Well, there are three abilities in this card and needs 11 BCX in regular to make it level 4 and 4 BCX in gold foil for upgrading this card to max level. However, the life leech ability you get from level 1 and the void from level 2 but the other ability resurrect that will be unlocked at max level which will bring the dead monster back in to the battlefield with a single life and full armors.

LEAGUE UNLOCKED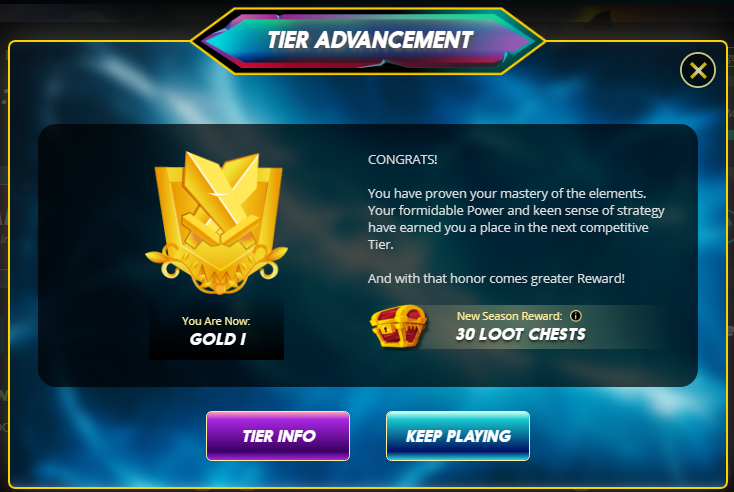 Finally reached to gold 1 league after a lot of time and it takes 1 week to reach there because in this season i recoverd the rating from 1600 to 2500 which is really difficult for me because of silver league where you can only use limited monsters with limited abilities so beating your opponent with limited abilities is not easy when your opponent are playing for lower leagues like silver, and bronze. But still happy that reached here now the next target is near the diamond 3 league soon i will cross the bridge from gold to diamond to get more season end rewards.

QUEST REWARDS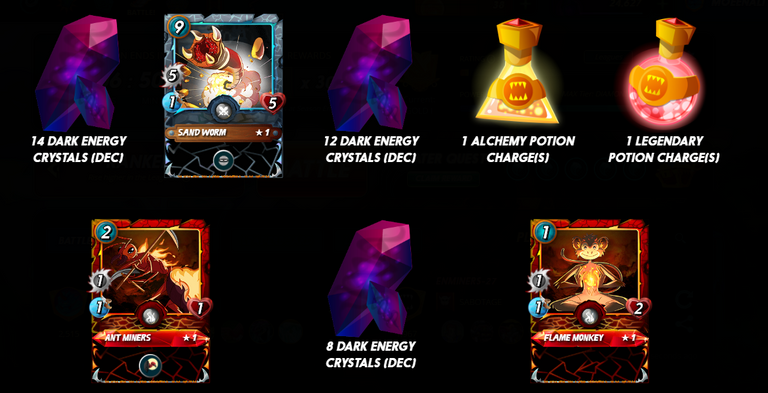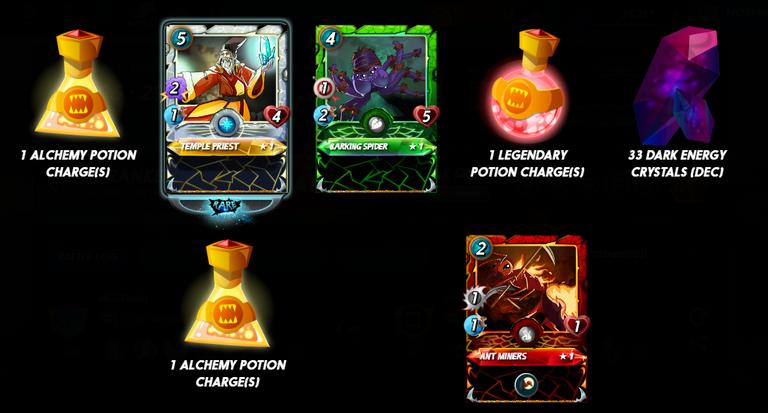 These are the two days quest rewards the one is from yesterday quest with gold 2 league and the other one is from today's quest with gold 1 league that you can see in the snap. Well, from yesterday rewards i got one rare temple preist with two common cards and from today's rewards i got only 3 common cards with some dec tokens and potion charges. So overall quest rewards are not bad because while playing the game and winning the battles we are also getting enough rewards in the form of dec which is also good.

All images are from the Splinterlands website

If you are new to this game then signup here to play the game click here for signup
---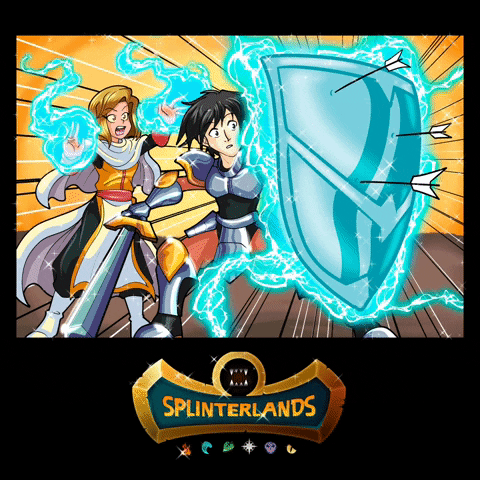 ---
Thanks For visiting my Blog
Best Regards @moeenali