26-09-2022 - Short Crypto News [EN]-[IT]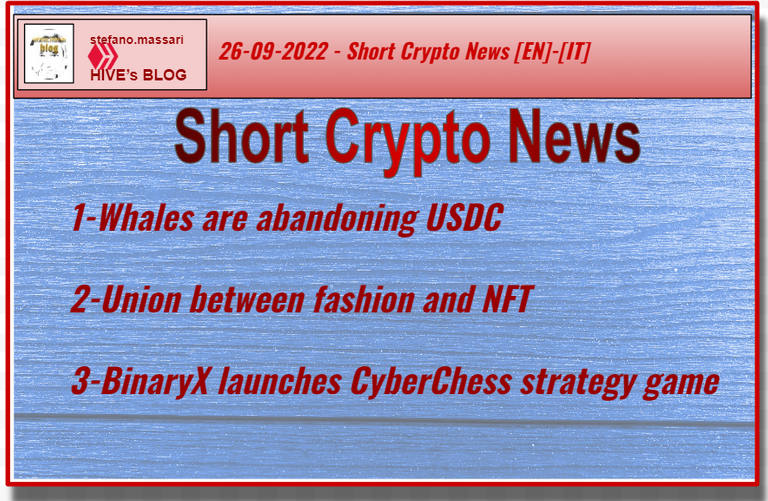 ---
~~~ La versione in italiano inizia subito dopo la versione in inglese ~~~
---
ENGLISH
Short news from the cryptocurrency world.
Short news from the cryptocurrency world
1-Whales are abandoning USDC
According to some experts, whales are dumping the USDC stablecoin. The Fed's latest intervention triggered sales in the crypto sector and USDC seems to be among those that are suffering the most. As of today, USDC's capitalisation is USD 49 billion, but it still remains the fourth most capitalised cryptocurrency. Recall that Circle is the company that created USDC and has currently frozen all its tokens on Tornado Cash. According to Geralt Davidson (cryptocurrency trader) USDCs held by the top 1% of addresses is steadily decreasing.
2-Union between fashion and NFT
Cristóbal Balenciaga was a well-known Spanish fashion designer who founded the Balenciaga fashion company in 1937. Now his original designs will be released in the form of NFT. In order to understand who Cristóbal Balenciaga was as a designer of yesteryear, we can quote a quote from Christian Dior who described him as "the master of us all".
3-BinaryX launches CyberChess strategy game
BinaryX is a GameFi gaming platform and launches a new game called CyberChess. This game has a different feature from current blockchain-based games. It is a free-to-play and play-and-earn web3 game, i.e. it can be used and tested without making an initial investment. This model creates a different system for the entry of new players by allowing them to enjoy the game in a traditional way. New users can choose to invest later and then use the platform in play-to-earn mode.
My opinion
1-This news about USDC baffles me. We have seen crypto winters in the past, but this 2022, for the first time, has brought the cold weather down on stablecoins. This 2022 has made everyone realise that stablecoins are not so safe.
2-Fashion and NFT come together, also bringing back some of the history of fashion itself. Another excellent initiative involving NFTs.
3-I believe that more and more blockchain-based games will adopt this form. You can't invest in every game you want to try, so I think a lot of blockchain gaming will slowly align with this idea.
Question
What do you guys think about these three pieces of news? What is your opinion on them?
Previous Posts
https://hive.blog/hive-146620/@stefano.massari/06-09-2022-short-crypto
https://hive.blog/hive-146620/@stefano.massari/26-07-2022-short-crypto-news-en-it
https://hive.blog/hive-146620/@stefano.massari/21-06-2022-short-crypto-news-en-it
Referral
My HIVE referral link:
https://hiveonboard.com?ref=stefano.massari

ITALIAN
Notizie brevi dal mondo delle criptovalute
1-Le balene stanno abbandonando USDC
Secondo alcuni esperti, le balene stanno scaricando la stablecoin USDC. L'ultimo intervento della Fed ha fatto scattare le vendite nel settore cripto e USDC sembra che sia tra quelle che stiano soffrendo di più. Ad oggi la capitalizzazione di USDC è di 49 miliardi di dollari, ma rimane sempre la quarta moneta del comparto cripto con più capitalizzazione. Ricordiamo che Circle è la società che ha creato USDC e attualmente ha congelato tutti i suoi token su Tornado Cash. Secondo Geralt Davidson (trader di criptomonete) gli USDC detenuti dal top 1% degli indirizzi è in costante diminuzione.
2-Unione tra moda e NFT
Cristóbal Balenciaga è stato un noto stilista spagnolo che fondò nel 1937 l'azienda di moda Balenciaga. Ora i suoi design originali verranno rilasciati sotto forma di NFT. Per capire bene chi era Cristóbal Balenciaga, stilista di altri tempi, possiamo riportare una frase di Christian Dior il quale lo definì come "il maestro di tutti noi"
3-BinaryX lancia il gioco di strategia CyberChess
BinaryX è una piattaforma di gaming GameFi e lancia un nuovo gioco chiamato CyberChess. Questo gioco presenta una caratteristica diversa dagli attuali giochi basati su blockchain. E' un gioco web3 free-to-play e play-and-earn, cioè si può usare e testare anche senza fare investimenti iniziali. Questo modello crea un sistema diverso per l'ingresso di nuovi giocatori permettendo a questi di godersi il gioco in maniera tradizionale. I nuovi utenti possono scegliere di investire in un secondo momento usando poi la piattaforma in modalità play to earn.
La mia opinione
1-Questa notizia su USDC mi lascia perplesso. In passato si sono visti crypto inverni più o meno lunghi, ma questo 2022, per la prima volta, ha fatto calare il freddo sulle stablecoin. Questo 2022 ha fatto capire a tutti che le stablecoin non sono poi così sicure.
2-Moda e NFT si incontrano riportando anche alla luce parte della storia della moda stessa. Un'altra ottima iniziativa che riguarda gli NFT.
3-Credo che sempre più giochi basati su blockchain adotteranno questa forma. Non è possibile investire in ogni gioco che si vuole provare, quindi secondo me gran parte del gaming su blockchain si allineerà piano piano a questa idea.
Domanda
Voi cosa ne pensate di queste tre notizie? Qual'è la vostra opinione a riguardo?
Post precedente
https://hive.blog/hive-146620/@stefano.massari/06-09-2022-short-crypto
https://hive.blog/hive-146620/@stefano.massari/26-07-2022-short-crypto-news-en-it
https://hive.blog/hive-146620/@stefano.massari/21-06-2022-short-crypto-news-en-it
Referral
Il mio referral link di HIVE:
https://hiveonboard.com?ref=stefano.massari
---
source news 1:
https://coingape.com/is-usdc-in-trouble-as-whales-dump-crypto-trader-explains/
source news 2:
https://cointelegraph.com/press-releases/fashion-meets-nfts-original-cristobal-balenciaga-designs-released-in-nft-drop-slated-for-july-21
source news 3:
https://blockchain.news/news/gamefi-platform-binaryx-launches-strategy-game-cyberchess-with-$500-000-prize-pool
THE END
---
---