Fiat 1600 S Osca Maserati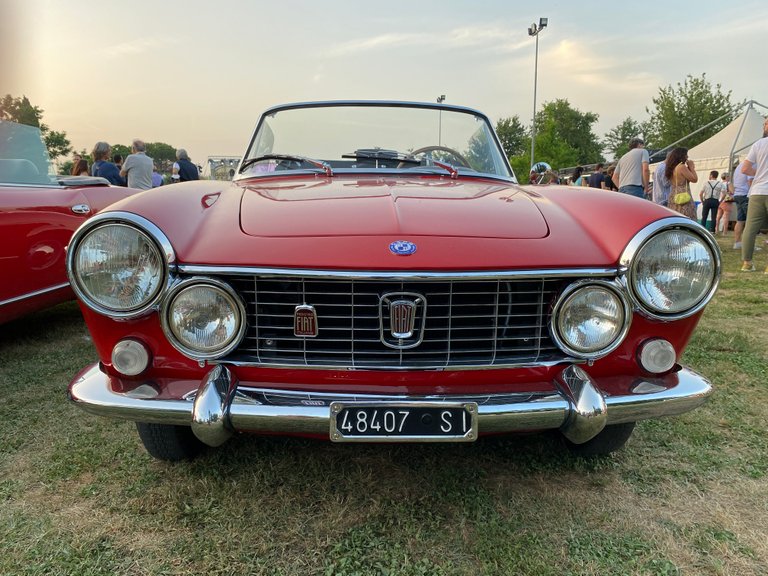 [ENGLISH]
Below are photos of a Fiat 1600 S Osca Maserati.
The word OSCA stands for Officine Specializzate Costruzione Automobili. An automobile workshop established in 1947. O.S.C.A. was from Adolfo and Omar Orsi who as early as 1937 acquired the Officine Alfieri Maserati factory from brothers Ettore, Ernesto and Bindo Maserati with the intention of entering the automobile business.
The first O.S.C.A. passenger car model was the MT4 barchetta of 1948.
Fiat 1600 S Osca Maseratis were produced by FIAT from 1963 to 1966 and were precisely equipped with an O.S.C.A. twin-shaft engine.
On this car the O.S.C.A. logo is visible on the hood, colors blue, light blue and white.
In my opinion this passenger car is both sporty and elegant. The front end is aggressive, while the lines of the side show elegance. The interior is interesting: leather seats, wood-covered dashboard and steering wheel, and red carpets that echo the body color.
The engine of the O.S.C.A. was a 1568cc with an output of 90 hp and put the car in a condition to reach a top speed of about 180Km/h. This sports car was in fact called the 1600 S.
The Fiat 1600 S Osca Maserati is considered a good collector's car, in fact, a 1963 model is priced at 55,000€.
What do you think of this Italian-made car from the 1960s?
Photos of my property taken with IPhone-11

[ITALIAN]
Qui di seguito le foto di una Fiat 1600 S Osca Maserati.
La parola OSCA significa Officine Specializzate Costruzione Automobili. Un'officina di automobili creata nel 1947. La O.S.C.A. era di Adolfo ed Omar Orsi i quali già nel 1937 acquisirono dai fratelli Ettore, Ernesto e Bindo Maserati la fabbrica Officine Alfieri Maserati con l'intento di entrare nel settore delle automobili.
Il primo modello di autovettura O.S.C.A. fu la barchetta MT4 del 1948.
Le Fiat 1600 S Osca Maserati furono prodotte dalla FIAT dal 1963 al 1966 ed erano appunto equipaggiate da un motore bialbero O.S.C.A.
Su questa autovettura il logo O.S.C.A. è visibile sul cofano, colori blu, azzurro e bianco.
A mio avviso questa autovettura è sia sportiva che elegante. La parte frontale è aggressiva, mentre le linee della fiancata mostrano eleganza. Gli interni sono interessanti: sedili in pelle, plancia e volante ricoperti in legno e tappeti di colore rosso che richiamano il colore della carrozzeria.
Il motore della O.S.C.A. era un 1568cc con una potenza di 90 CV e metteva l'autovettura in condizione di raggiungere una velocità massima di circa 180Km/h. Questa sportiva venne infatti chiamata 1600 S.
La Fiat 1600 S Osca Maserati viene ritenuta una buona auto da collezione, infatti un modello del 1963 ha un prezzo di 55.000 €.
Che ne pensate di quest'auto di fabbricazione italiana degli anni '60?
Foto di mia proprietà scattate con IPhone-11
—-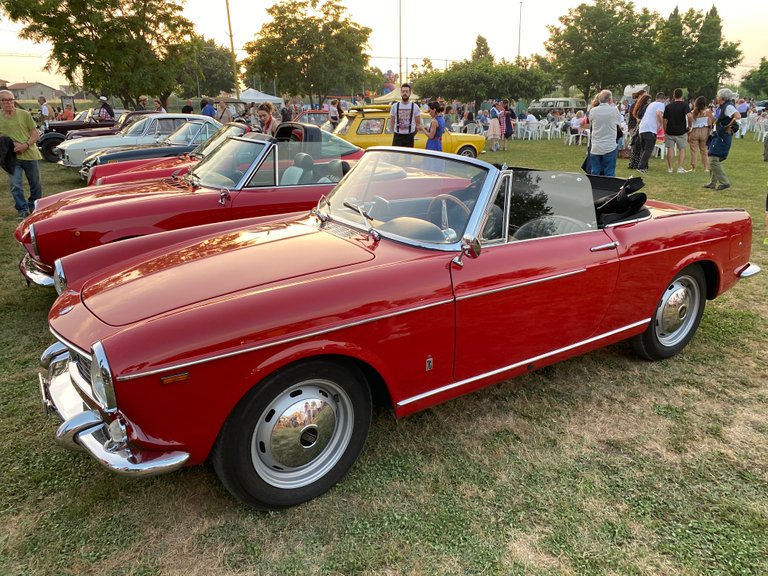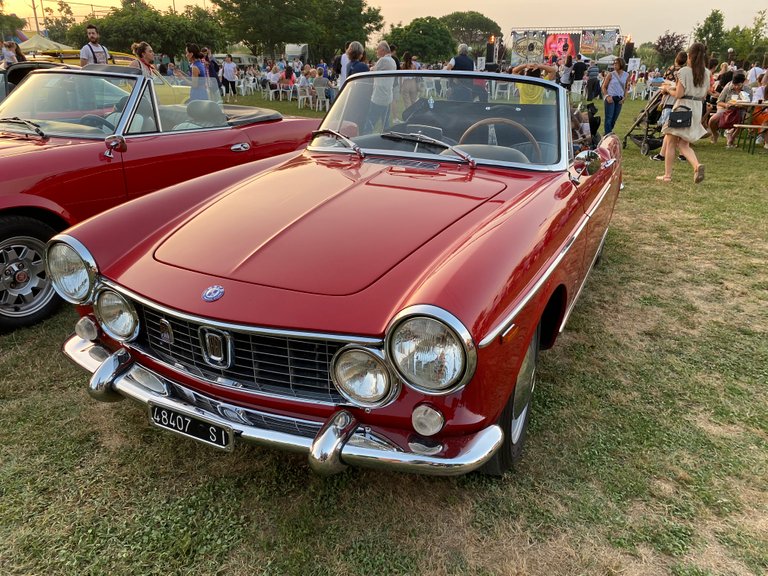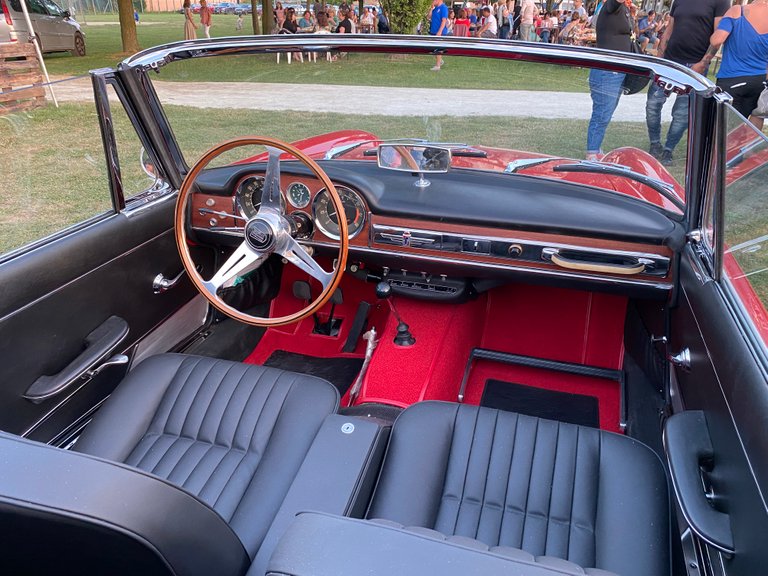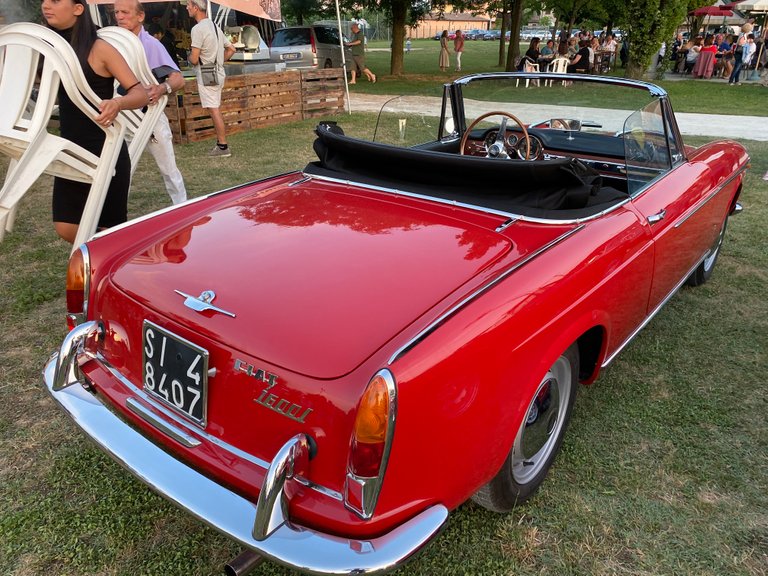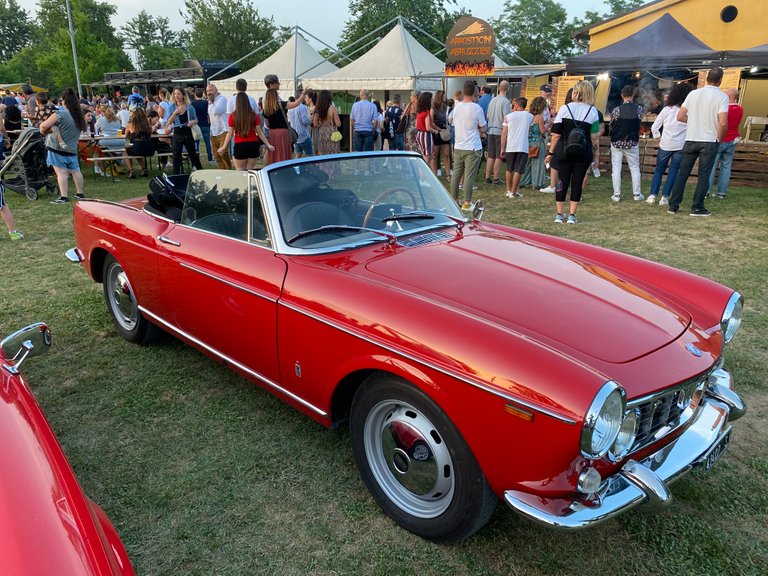 Thanks for reading
—-
THE END
---
---