D.Buzz is a #HIVE microblogging interface. It's a censorship-free twitter alternative (but can also work together with Twitter.) The short messages incentivize users to put as much information in the least possible words number of words.
All of D.Buzz posts are short microblogs with a maximum of 280 characters per post. It's a HIVE-based Twitter. I read some of the posts on latest section. I filter them according to the niche & when I get enough buzzes, I compile them in a collection like this one.
Say "Hi" if you meet me on my sub account: @ahmadmangazap!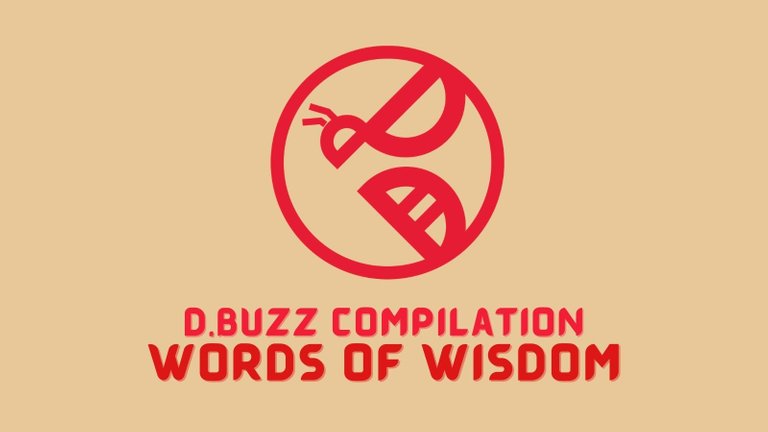 I usually compile buzzes that don't fit a specific niche in a general compilation. This one is different. Unlike #STEM or #Finance focused compilations! This one is a compilation of random posts that has to do with knowledge, learning or wisdom! I love this theme and there are enough people who share their life knowledge on D.Buzz.
As usual: There's no minimum quality or standard for these posts. I found them informative or they stood-out to me in some way. I just found them interesting enough to compile together:
---
---
--Mandy Hale
Sometimes the lack of self-love is the only barrier between us and seeing the beauty in the world. I say loving one-self is selfish but a good kind of the necessary selfishness!
---
If you don't notice the change, either,

You are blind towards it
or
You are already growing in the right direction of change.
Agree?
I think this one of the wisest statements I heard lately. I think there are other possibilities for someone to not notice change, these are the most common ones and you'll have one degree of each at any point in your life.
---
Books people need to read

human action by ludwig von mises
man, economy and state by murray rothbard
mystery of banking by murray rothbard
democracy the god that failed.
I didn't read any of these books... But I loved seeing a book recommendation on D.Buzz. I like the title "Democracy: The God That Failed." That's how you write an intriguing title~
---
Have you ever observed that we pay much more attention to a wise passage when it is quoted than when we read it in the original author? --Philip Hamerton https://en.wikipedia.org/wiki/Philip_Gilbert_Hamerton
I noticed that too, and I think it's the power of Quoting, and why we should do it more...
When you read the whole thing you're thinking about the whole package. The quote is part of a whole. There's a context behind it. You don't think about what it means because the meaning is clear to you at the time.
Quoting in another (or out of) context makes you interpret it differently. You feel you own your interpretation, you add a new meaning to it!
---
Blind belief in people telling you what you want to hear is dangerous and overall detrimental to any society when done on a mass scale. That is what we have become and why we will someday fall.
The problem with today's people is that we're so used to hear what we want to hear. Marketers are so used to feed us what we want to get what they want of us. No one cares about their needs or the needs of others.
---
Five snacks that may help you sleep:

Cottage cheese (low or no fat)
Popcorn
Almonds and walnuts
Banana
Decaf barley tea
Watch this short video for additional info.
Video:
Keeping good health is a wisdom too, so I decided to finish with the video above.
---
Wish you all the best~
I'll leave you with that today! Keep learning everyone. Today's struggle, is tomorrow's wisdom!