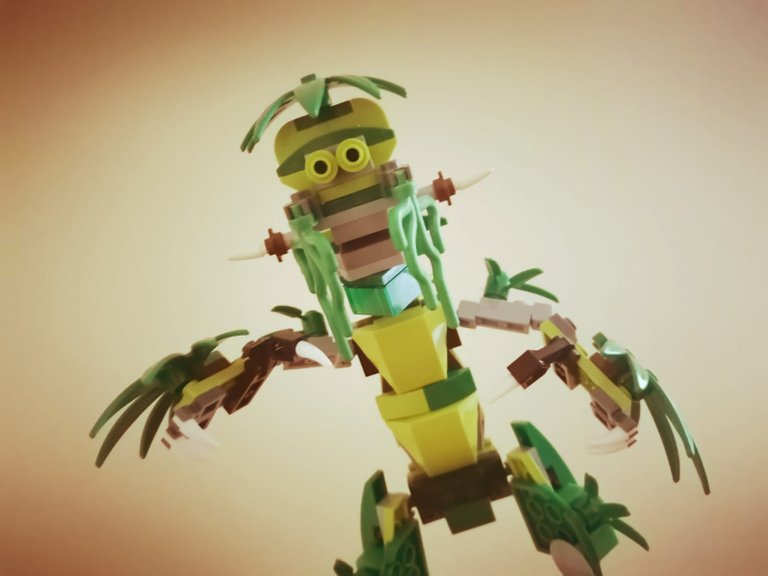 Hmm, interesting fact ...
Sometimes, i wonder how everything can go in to an interesting direction in matter of art :)
All my three processes of creation, and only breadcrumbs? :))) Funny world ...
No ofense, but it's funny to see drawings of actors and well-known characters, which as blogs presented here, are receiving hundreds of $$$ and no one think also, like in the case of #cover music here inside this #blockchain, that these actors might ask for their royalties :)
Maybe it's true, that as long as you are abstract or you are composing music that doesn't fit the consumerism of this wonderful society, you'll never succeed because your music it's not silly ... and this applies maybe to lego creativity or sculpting process as well ...
But maybe it's true ... who cares ... or the new trends in matter of writing blogs are shapeshifting into a new direction ...
Meanwhile,
Here i am with my new sculpting creation that i've started today ... My new Christmas house built with clay, small stones and wood :)
It will be a Winterish' house that will host some awesome lego minifigures and their magic stories :)
To start a sculpting creative journey, we know that we need ... some tools ... and one important thing, the candle with the cinnamon flavor, to inspire my creativity :)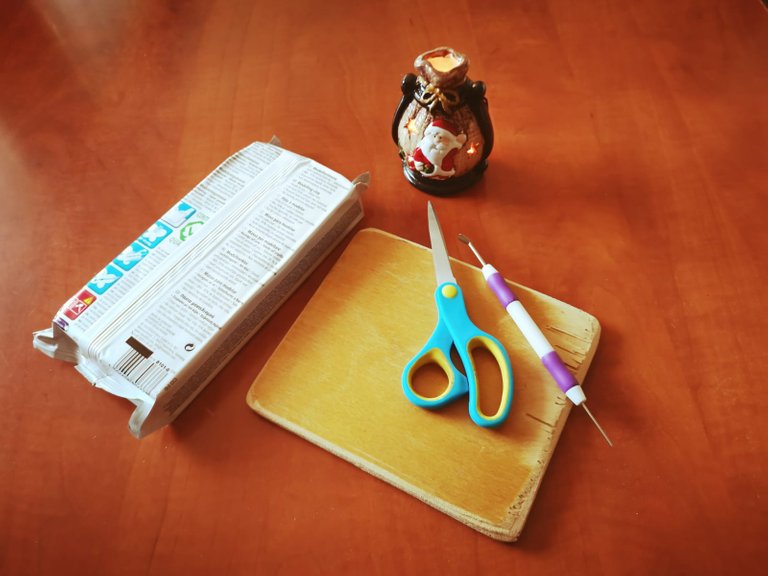 ... and the most important thing, the clay ...
The clay house, started to have some shape, and soon, the base started to settle around the jar ...
It's not quite a big jar but enough to offer me the clay house for a winterish' season, that perfect house on which you would like to live, even for a couple of days, or just to become an elf or a leprechaun and to live forever in an eternal matrix where the magic of Christmas would last forever ...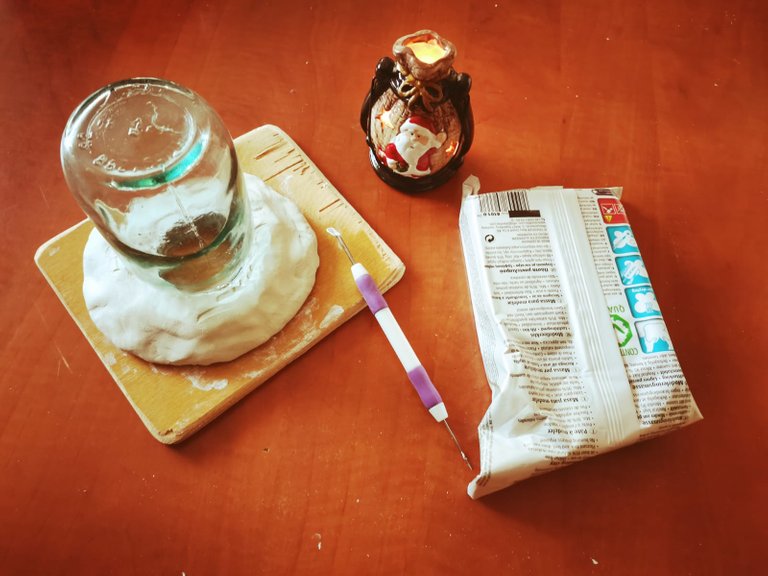 Every time, keep the clay you don't use, inside it's recipient 'cause you don't want to see it dry by the time you want to finish the next step of your sculpture ...
Soon as my base started to be shaped, the next awesome phase started ... The main base started to be filled with rustic little stones to give that old fashioned patina ... and i think it started to look quite awesome, even so in a raw stage ...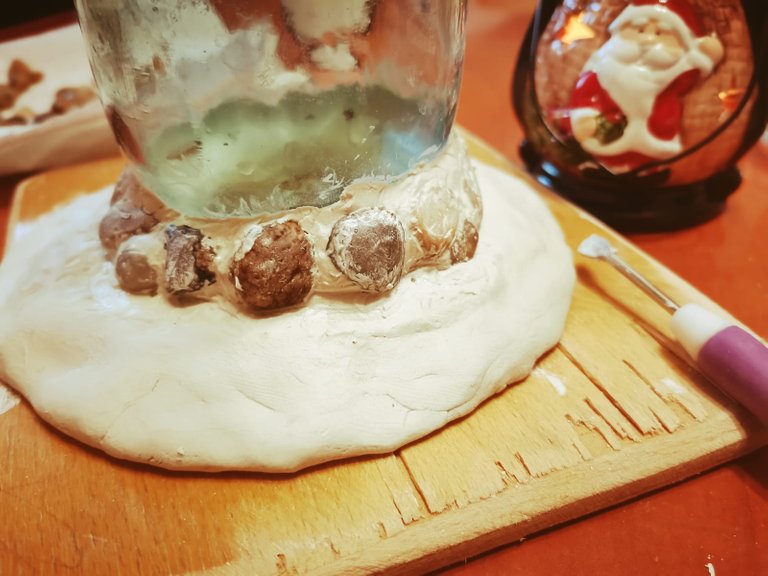 After quite some minutes of sculpting and placing each little stone into its own place, the entire clay house started to look already amazing.
By the time i've got to the moment where i needed to give the shape to the rustic door, i've realized that even so in a simple white color like the snow the winterish'house started to look good and i think that even Santa Claus would have thought to live there too ...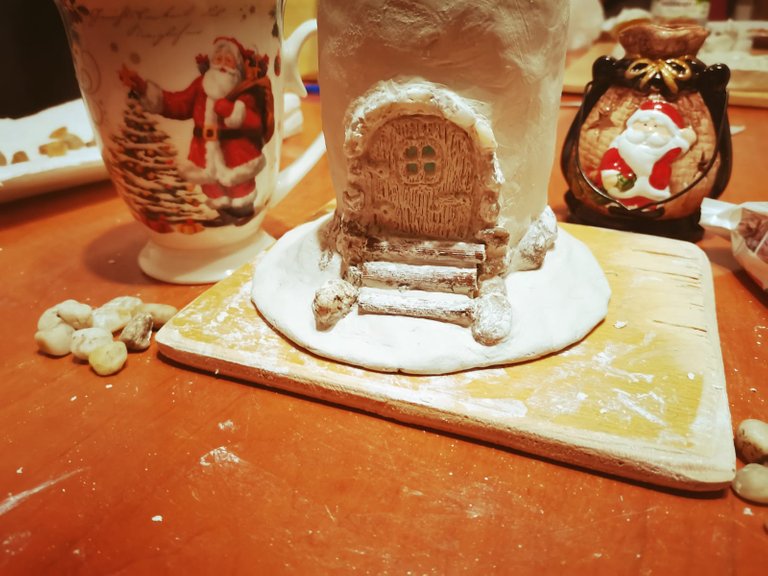 After a cup of tea, i've decided to leave this awesome #artwork to dry ... therefore ...
I know,
Some of you are waiting for my third episode of my journey inside the magic world of sculpting in clay, through which i've created a Winterish'clay house ...
So many, or maybe just a few, actually :) have seen my previous two episodes through which i've #build my magic house inside the Winterish land ...
Therefore,
I've thought to share with you a few photos with the end result and i'll involve as well some magic lego minifigures as well ...
I think, everyone would dream to have such a house, with a roof that looks like it's been made from cone pines and the rest of the house would be white from the snow and decorated at its windows with the Christmas tree branches as well.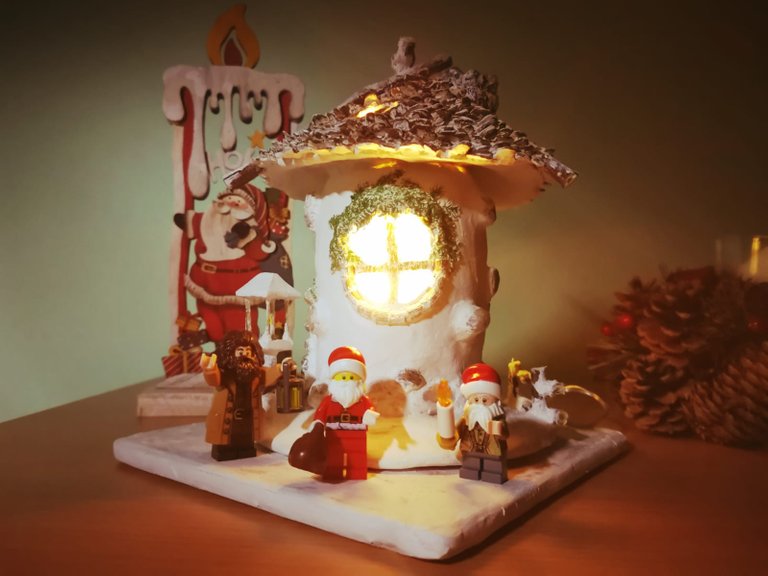 Even Santa Claus and his little elf, were happy to live inside this awesome winterish house :)
The window looked amazing with the lights within the house, like a magical view from an illusory wonderland that nowadays for the most of people of our society it seems like it doesn't exist anymore ... or maybe it's just that state of a mind and soul that has forgotten the sacred child from within their body temples ...
I guess everyone would love to hear a story told by the magic elf of Santa Claus, or at least to follow him in the magic night of Christmas Eve, having him as a leader with the sacred candle of Christmas Light ...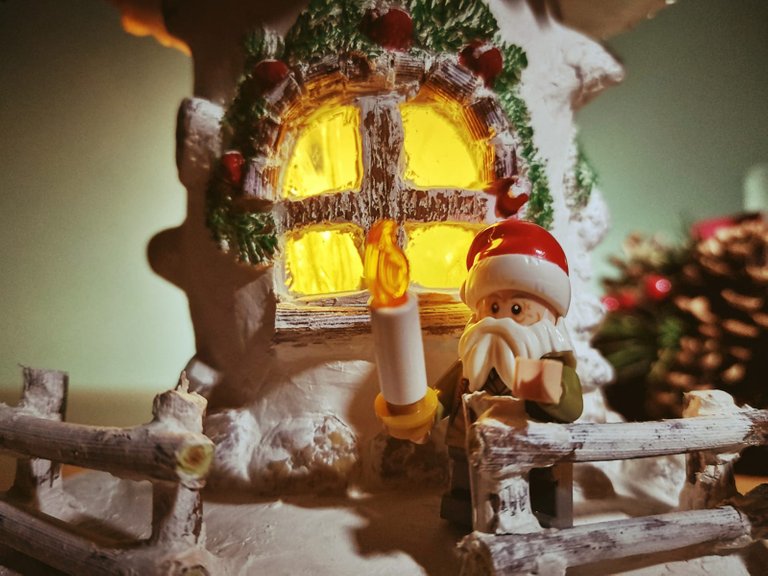 My winterish house has even a magic lamp that illuminates every soul who is still believing in their inner child who is still living inside this wonderful world which will remain eternal ... only if you are still believing in Santa Claus ...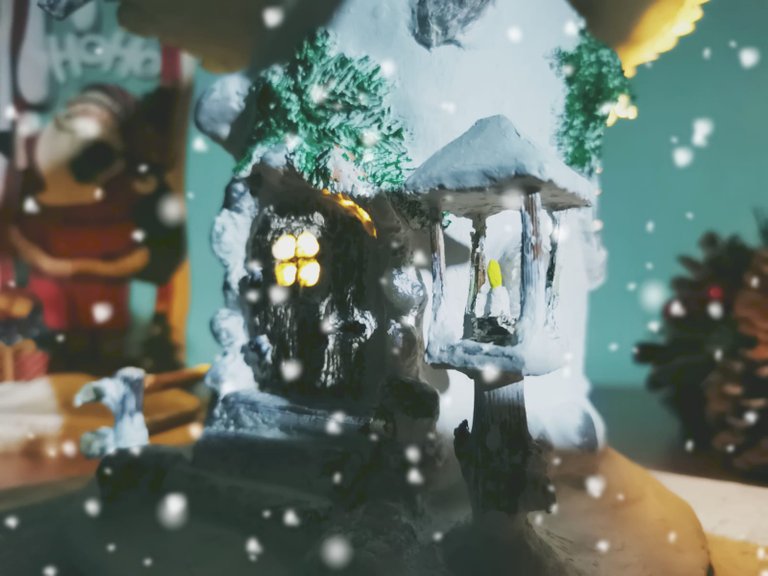 With this magic snow, the entire environment looks like from a world of elves ...
I do hope that you will enjoy my #artwork and maybe somehow, somewhere within this #blockchain there will be some big #whales that will #support my #art ...
I do hope that this awesome #blockchain will become a prosperous one in this new year of 2021!
Meanwhile, let's step further and reflect on another #creative moment that somehow took some time to invest in its building or better to say modelling process.
HoHoHo!
I know, some of you already have seen my clay sculptures from other episodes, but some days i've thought to start a new design of a clay cottage for my #lego buddies, which the next days it will be ready to be presented through some of our #fiction #stories ...
Here is the first step on which even my buddy, the magic elf, helped me, and actually cleaned a lot after all those straw felt from the roof ...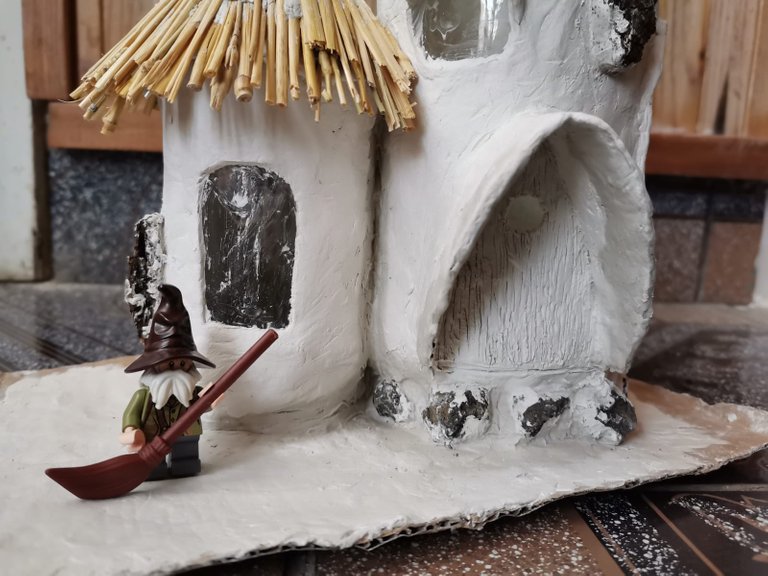 We are on the very first steps in the process of sculpting our clay cottage ...
It requires time to dry, therefore, it takes different stages to achieve a final artistic #artwork ...
The best thing as well, was, the fact that we've received help, when Filius and Dobby appeared, and brought some cool ideas :))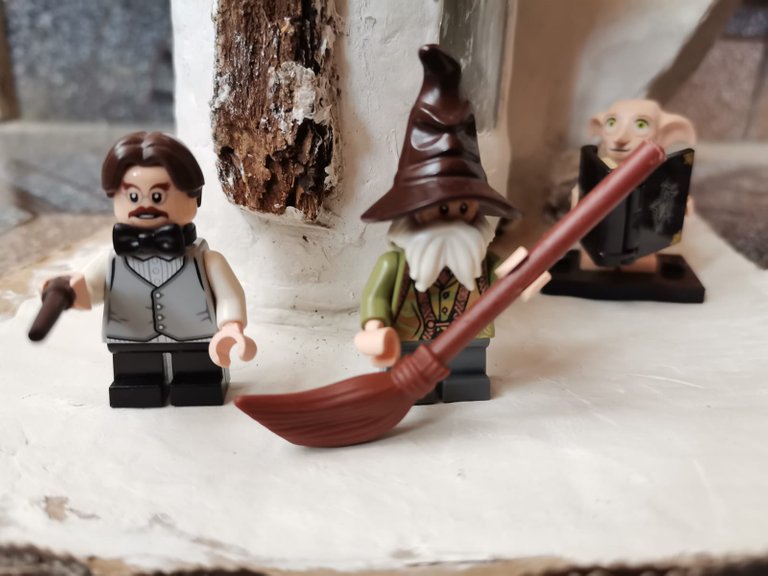 From time to time, Dobby would appear on the roof of the cottage to see the entire spectrum and to take some new sketches,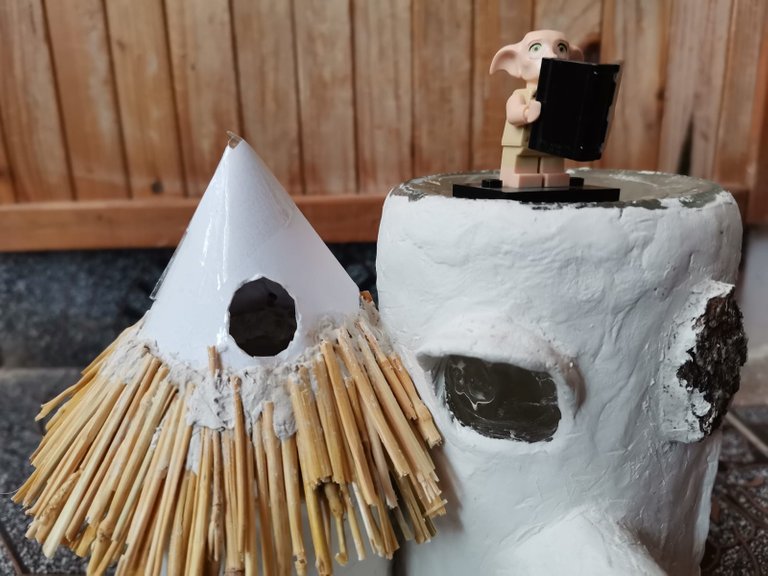 while Filius and the elf were creating everything on the ground through magic.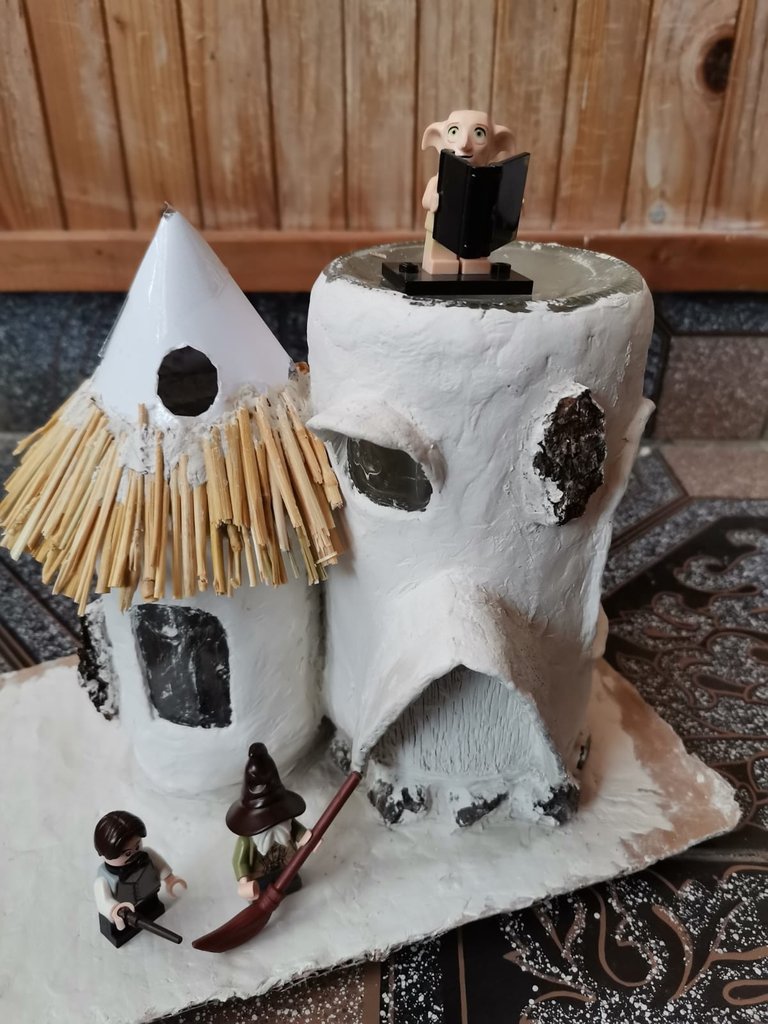 When everything was set for this first step within the process of building this cottage, they would sit on top of the cottage, admiring their magic #artwork ...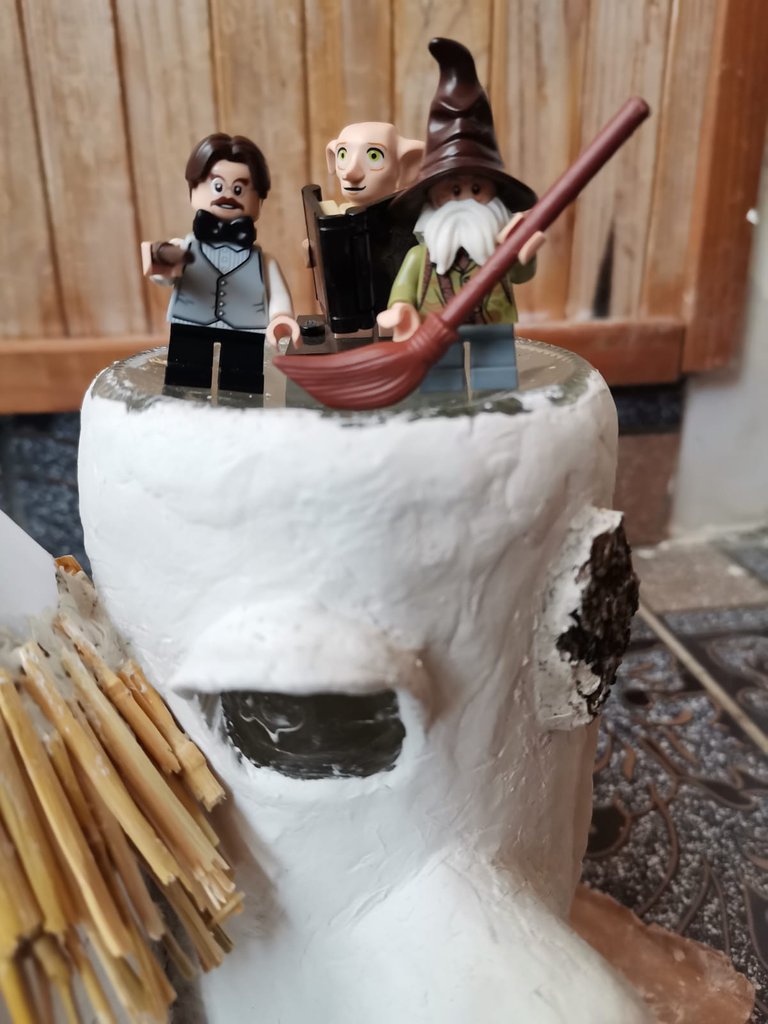 This cottage will look awesome when it will reach the final steps through its creation process and will be as well a magic lamp :)
Imagine a clay cottage like this being a magic lamp inside an enchanted forest.
Living the life of an elf, or a leprechaun without having this stress of this crazy world ...
Maybe i am a dreamer? Much appreciated your comments and the most important thing, the stepping by and #upvote my #artwork ...
My buddies, whispered me that they will thank you all for your #support and soon we'll finish this magic clay cottage.
HoHoHo