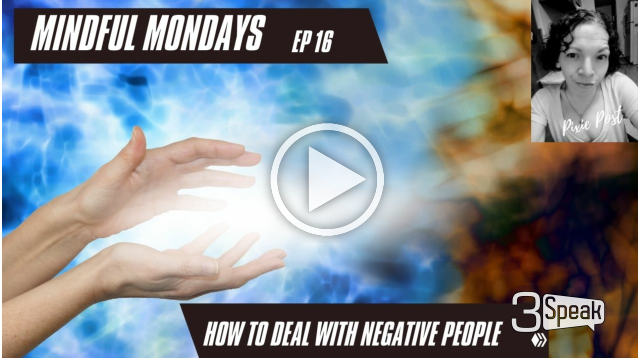 ---
#PixiePost #MindfulMondays #NegativePeople
Sometimes, it can be challenging to create success in our lives, whether it's business or personal. We attempt to keep the momentum going as we strive to achieve our goals & dreams while juggling every day life…
Unfortunately, that can be magnified when we are surrounded by negative people. Their attitudes & way of being can really deplete us of our own energy & lower our frequency, causing more friction…
Today's Mindful Monday addresses this very real issue most of us face & how to protect ourselves without depleting our own value...
Remember, always protect your own energy & don't allow anyone to dull your sparkle. ;) 💜
Today's Music: Who New - Milva (Instrumental)
─── ・ 。゚☆: .☽ . :☆゚. ───
Feeling stuck in your life's endeavors & not sure how to reboot? Get unstuck with this 30 Day plan & e-book: https://plus1success.com/pixiepost
Coffee, Cards & Pixie Dust podcast https://anchor.fm/pixiepost
Give this a like if you enjoy this kind of content. It lets me know what videos give YOU value. Don't forget to subscribe & hit the notification bell so you don't miss the next video.
💜 To know thyself is to know thy truth. 💜
─── ・ 。゚☆: .☽ . :☆゚. ───
Regular Music:
Oliver - Cospe
Get a 30 Day Free Trial of Epidemic Sound https://www.epidemicsound.com/referral/cgrnmi/
A Must Have Tool To Grow Your Channel
https://www.tubebuddy.com/pixiepost
💜 This video is not sponsored - affiliate links above are products I fully believe in and use 💜
─── ・ 。゚☆: .☽ . :☆゚. ───
Connect with me on the following social media sites:
Instagram: @pixie_post_dreams (Jenn Nieto)
@timmytheangelkitty (Timmy)
Twitter: https://twitter.com/ThePixiePost
LBRY: https://lbry.tv/$/invite/@ThePixiePost:9
Odysee: https://odysee.com/$/invite/@ThePixiePost:9
My NEW Store: https://www.zazzle.com/store/pixie_po...
The Pixie Post - http://www.trker.com/go/96848
Pixie Post Facebook Page: http://fb.me/pixiepostwithjennnieto
Hive: https://hive.blog/@pixiepost
PeakD: https://peakd.com/@pixiepost
─── ・ 。゚☆: .☽ . :☆゚. ───
---
▶️ 3Speak