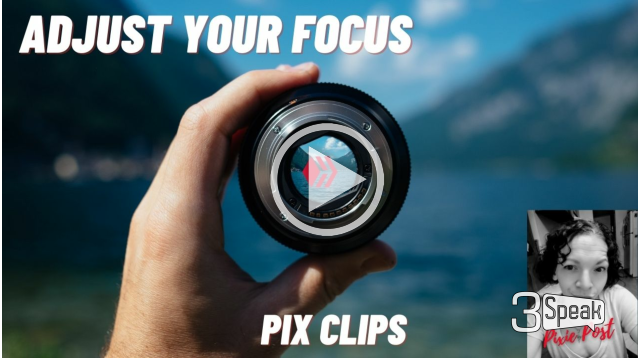 ---
#PixiePost #PixClips #AdjustYourFocus
There was something I have been noticing lately among our society & even in our individual lives…the loss of focus….
It seems clarity has dimmed & multi tasking is at a high, but at what cost? That old saying "Less is more"completely describes this situation…
When we lose focus on the things we need to accomplish or give attention to, we lose out in many ways…we tend to keep running the rat race, trying to keep up & missing out on important things in life that really matter…
Here, I go into this topic with a slightly different perspective & how you can do a couple of things to change this almost instantaneously…
Today's Music: Follow Me Wild Horse - Cospe
─── ・ 。゚☆: .☽ . :☆゚. ───
Feeling stuck in your life's endeavors & not sure how to reboot? Get unstuck with this 30 Day plan & e-book: https://plus1success.com/pixiepost
Coffee, Cards & Pixie Dust podcast https://anchor.fm/pixiepost
Give this a like if you enjoy this kind of content. It lets me know what videos give YOU value. Don't forget to subscribe & hit the notification bell so you don't miss the next video.
💜 To know thyself is to know thy truth. 💜
─── ・ 。゚☆: .☽ . :☆゚. ───
Music:
Oliver - Cospe
Get a 30 Day Free Trial of Epidemic Sound https://www.epidemicsound.com/referral/cgrnmi/
A Must Have Tool To Grow Your Channel
https://www.tubebuddy.com/pixiepost
💜 This video is not sponsored - affiliate links above are products I fully believe in and use 💜
─── ・ 。゚☆: .☽ . :☆゚. ───
Connect with me on the following social media sites:
Instagram: @pixie_post_dreams (Jenn Nieto)
@timmytheangelkitty (Timmy)
Twitter: https://twitter.com/ThePixiePost
LBRY: https://lbry.tv/$/invite/@ThePixiePost:9
My NEW Store: https://www.zazzle.com/store/pixie_po...
The Pixie Post - http://www.trker.com/go/96848
Pixie Post Facebook Page: http://fb.me/pixiepostwithjennnieto
Hive: https://hive.blog/@pixiepost
PeakD: https://peakd.com/@pixiepost
─── ・ 。゚☆: .☽ . :☆゚. ───
---
▶️ 3Speak