BLOGGING CHALLENGE, Part 2: Day 23: Describe your perfect day
❣️¡Hola amigos de hive!❣️
❣️Hello friends of hive!❣️
---
Hoy con el día # 23 del reto de desafío de blogs me corresponda hablar acerca "Describe tu día perfecto".
Today with the 23rd day of the blog challenge it falls to me to talk about "Describe your perfect day".
---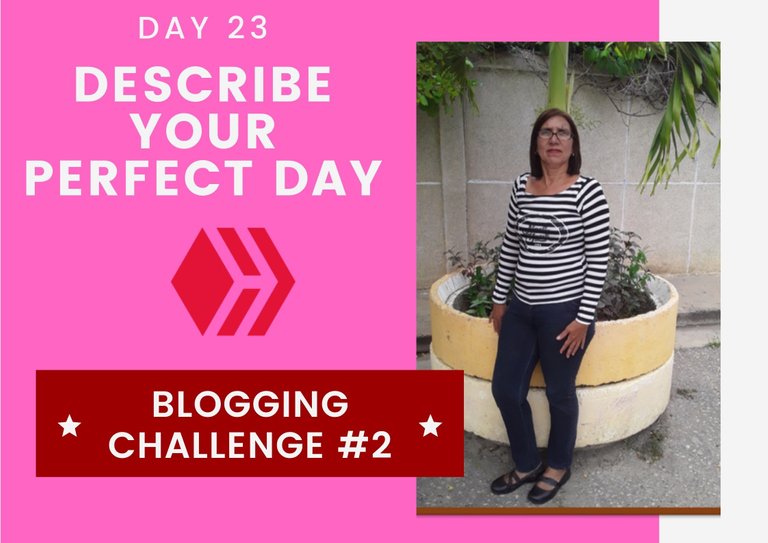 ---
Vivir en plenitud es un arte. El desarrollo continuo y la comprensión de que somos partícipes en la realidad nos ayudan a darnos cuenta de que es nuestra responsabilidad cambiar la realidad para mejorarla. Una de las claves para una vida exitosa es solo una colección de creencias de éxito. Las metas alcanzadas a corto plazo son muy importantes y nos brindan felicidad, satisfacción y plenitud.
To live in fullness is an art. Continuous development and the understanding that we are participants in reality help us realize that it is our responsibility to change reality for the better. One of the keys to a successful life is just a collection of beliefs of success. Short-term goals are very important and bring us happiness, satisfaction and fulfillment.
---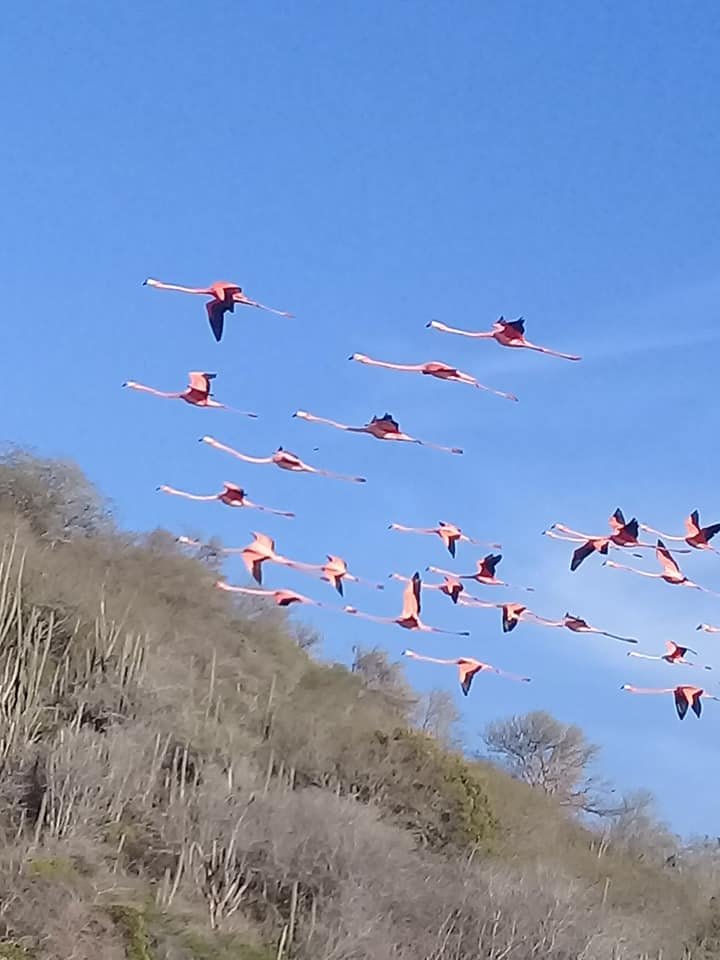 ---
Despertar cada mañana es una esperanza para comenzar un nuevo día y saber que tenemos la oportunidad de hacer cosas buenas. Para lograr el bienestar vital de hoy, debemos estar contentos con esos pequeños detalles que parecen insignificantes a simple vista, aunque estos son en realidad los más gratificantes.
Waking up every morning is a hope to start a new day and know that we have the opportunity to do good things. To achieve the vital well-being of today, we must be content with those small details that seem insignificant at first glance, although they are actually the most rewarding.
---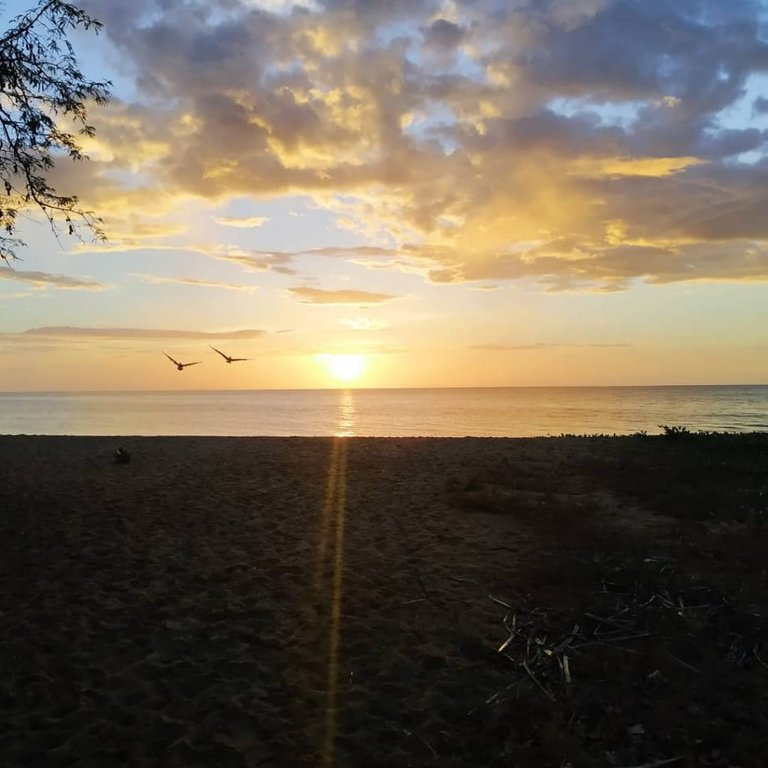 ---
𝕸𝖎 𝖉í𝖆 𝖕𝖊𝖗𝖋𝖊𝖈𝖙𝖔 // 𝕸𝖞 𝕻𝖊𝖗𝖋𝖊𝖈𝖙 𝕯𝖆𝖞
---
Un día sin complicaciones, sin tener que pensar en las cosas malas, estar en un lugar muy tranquilo rodeada de las personas que mas quiero, sin tener que preocupación, todos juntos compartiendo risas, historias, chistes, etc. Además disfrutar ese día como si no hubiera otro, cantando, jugando, bailando, saltando, haciendo cosas nuevas. Muchas veces no nos damos cuenta que las cosas y los momentos más simples son los mejores, y por eso debemos agradecerle a Dios por comenzar un nuevo día, por estar siempre en conexión con la espiritualidad, porque cuanto más disfrutas el viaje, más placentero es.
A day without complications, without having to think about the bad things, being in a very quiet place surrounded by the people I love the most, without having to worry, all together sharing laughter, stories, jokes, etc. Also enjoy that day as if there were no other, singing, playing, dancing, jumping, doing new things. Many times we don't realize that the simplest things and moments are the best, and that's why we should be grateful to God for starting a new day, for always being in connection with spirituality, because the more you enjoy the trip the more pleasant it is.
---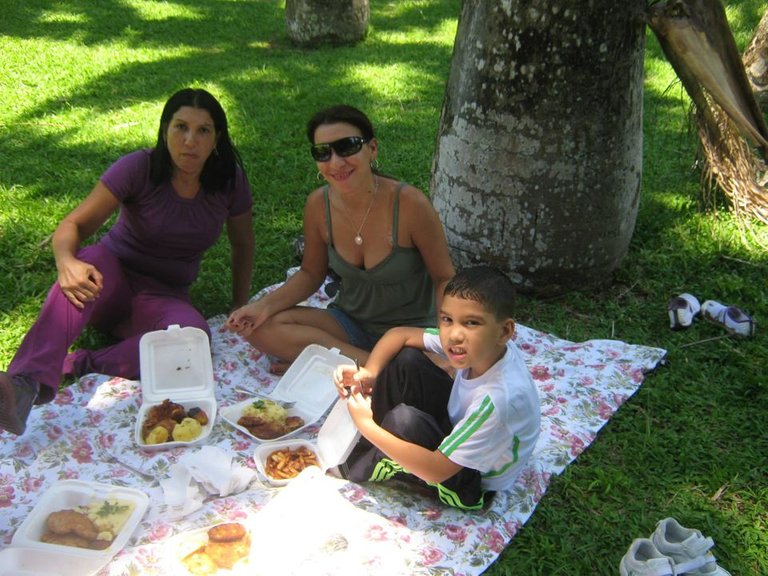 ---
No olviden unirse al Blogging Challenge, es muy divertido y así nos conocemos un poco más. Espero que les haya gustado, nos leemos próximamente! Gracias.
Don't forget to join the Blogging Challenge, it's a lot of fun and we get to know each other a little better. I hope you liked it, we'll read about it soon! Thank you.
---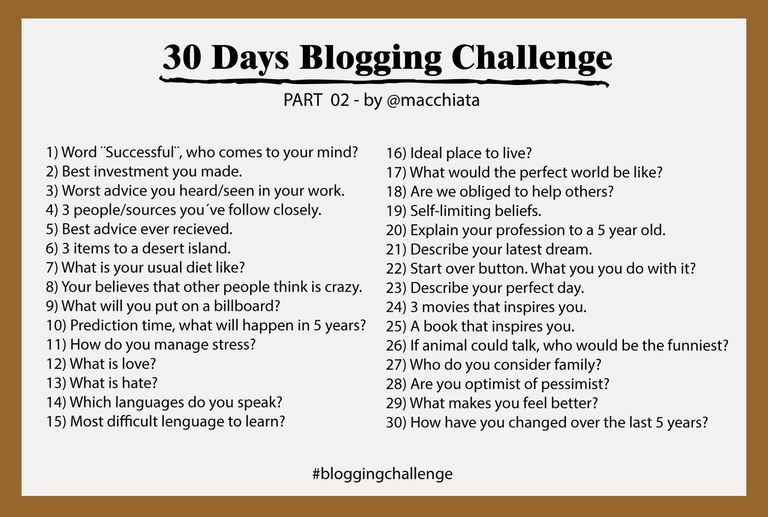 imagen realizada por @macchiata
---

---
Pictures of my property.
Camera: CellPhone Samsung Galaxy J2 core.
---

---
---