The day I found out I was going to be a father was the one that changed me forever. Which I have been waiting for all my life and which has exceeded my expectations, no matter how hard I imagined it in any way. Dear fathers, let me speak on your behalf when I talk about this experience. Not the other way around, but I'm sure they tried the same feelings for us.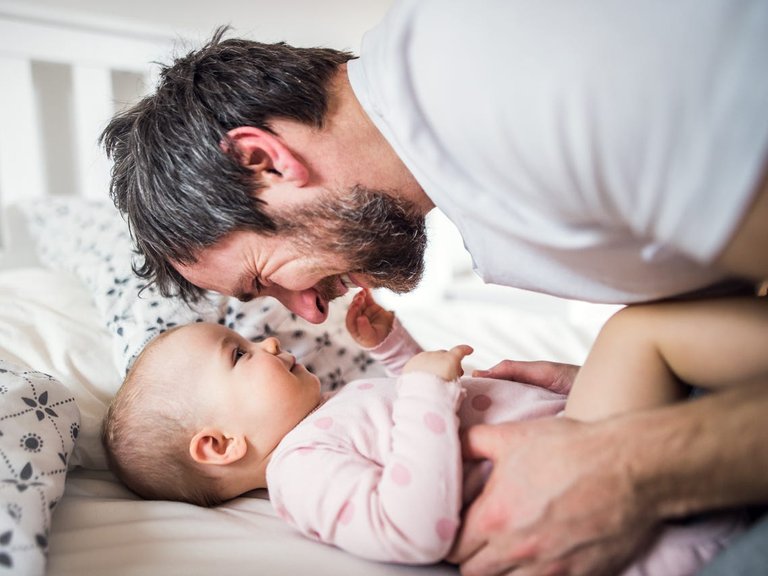 source
There comes a time in life when you begin to imagine the day you become a father. You try to put yourself in the shoes of the adult who will have a child, you ask yourself a thousand questions, you sketch in your mind the figure of your child. There are very strong feelings that shake you. The first thing that comes up is the fear of not being able to handle this future role. Then you wonder if you're really ready. Then comes the fear of the financial situation and everything that society says we "should" have in order to give birth to a child. You are suddenly scared and you don't seem so sure that you want to take on such a role and such a big responsibility. I also had to deal with all this unknown in mind for a few days, weeks, months.
Some men have a more developed paternal instinct, while others have a harder time developing it. It's normal, we're all different. Well, I'm part of the gang that developed it as a teenager. Ever since I know myself, I have liked children, I have become easily attached to them, I have taken care of them and I have seen myself in the position I am in today.
After relationships of all kinds in which I experienced many things, life surprised me anyway and taught me that, in fact, you are never ready for the future relationship. Because you don't know what awaits you. Do we learn from mistakes made in past relationships? Maybe yes, maybe no. Yes, we can work on general things, but we cannot expect to have exactly the same situations to which we will have the correct answer next time. It's not like that. We are different, our partners the same, and the situations we go through the same. So, all we have to do is move forward with confidence that maybe the next relationship will be the one that will bring us the happiness we are looking for. We, humans, are in constant search of happiness. Instinctively we know, we want, we feel we deserve to be happy. And we keep trying until we get to feel it from all corners.
Only when you feel completely happy do you take the next step. The love between you and your half must bear fruit. You feel it's time. That you are mentally prepared to have a child. And you throw your head forward. Whatever it is, it will be, but you feel that you are ready and that you can face any challenge. Let there be a baby!
The day I found out I was going to be a father was by far the one I will never forget. I still have in mind the two dashes I saw on the test. I still feel the urge to announce the big news to the whole world. The thrills I felt when I heard his heart beating. The ecstasy I experienced when I first saw the ultrasound. The moment I found out she was going to be the girl I always imagined I would have.
Being a father is a gift! And the day I found out I was going to be a father was the day I was truly blessed! Dear fathers from all over the country, I'm sure you've been through at least the same conditions. Dear future fathers, if you feel it's time and you have the right person by your side, do it. The beginning of the most beautiful period of your life awaits you.
---
Posted via proofofbrain.io