Enjoy Some Religious Music For Saint-Jean-Baptiste Day ~ Today's Topical Event ⛪️
Today is "Saint-Jean-Baptiste Day"! A religious Topical event that is listed on the "National Calendar" Website for Thursday 24th June 2021.
Declared a National holiday in the Canadian province of Quebec and celebrated by French Canadians worldwide, especially in Canada and the United States, Saint-Jean-Baptiste Day. This event honors the traditional feast day of the Nativity ~ or the birth of St. John the Baptist.
Many celebratory events are organized around Saint-Jean-Baptiste Day. From small family gatherings like picnics, bonfires, parties, and yard sales, to large organized events such as concerts, parades, sports tournaments, and firework displays, there is something for everyone.
Church bells also ring out in celebration, and local funfairs and dances are hosted. These events are also sometimes broadcast live on TV or live-streamed on social media. The celebrations are co-ordinated by the Mouvement national des Québécoises et des Québécois.
The colors for the day are blue and white, with many people wearing these to attend events. The public holiday is a day off from school and most businesses are also closed.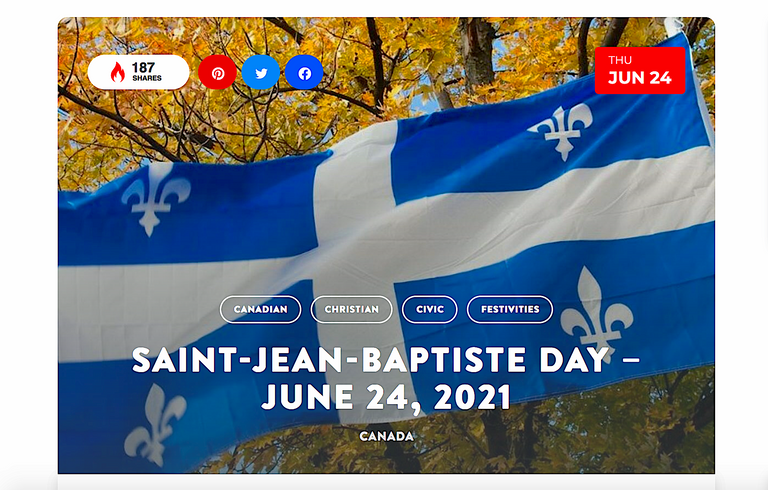 Some of the above "Text Info" & (Image) sourced from [here]
The National Calendar Website Link [here] (For even more INFO).
Now some appropriate Music for Today's Topical event...
St. Mark's Anglican Church broadcasts its mid-week Thursday Service of the Word for June 24th, focusing on St. John the Baptist. This service premiered on St. Jean Baptiste Day.
St. Mark's Anglican Church offers a variety of online services and video series. To learn more, please visit their website [here]
My Song Selection for Today is: "St. John the Baptist" ~ Thursday Online Music Church Service.
Above Music Video Source: ©YouTube [Here]
Also notice that the special Twitter "hash tag" #SaintJeanBaptisteDay is currently trending!
So you can start interacting with many others on Today's topical event, by Tweeting there NOW!...
Many Thanks for reading and listening, I hope that you all learned something new and were entertained. As we all need to keep our brains active!
see you all again very soon... 👋
---
---