It is possible that some connoisseurs of this term will find a way to question the comparison, but even if we are a little flexible and take the context a little further, we will find that within tokenized communities it would fit very well.
this word used to be known only by a few artists, when their work was very successful.
Nowadays it is the big corporations that get their hands on large sums, you don't have to go far, you can take a look at platforms like Spotify to name a few.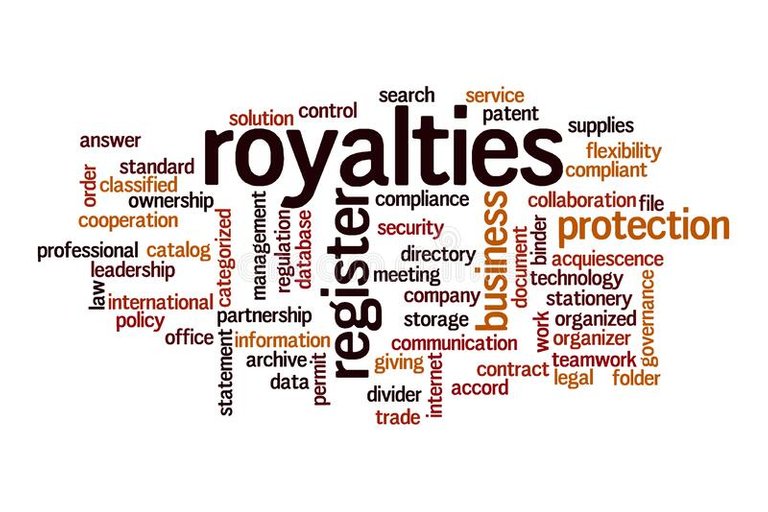 fuente
Which for an artist just starting out, the pay is absurdly low.
Anyway this is not the case, I just brought it up to give you a little broader look, for those of us who create content daily in our community with any other within the Hive environment, it becomes a little easier to relate this word to what we are doing.
And if you have a different point of view great just leave it in the comments so we have something to talk about and exchange ideas and perspectives.
I have to bring up the topic of artists again if you look at today I guess it's a little bit easier to achieve success than it used to be despite the large number of people trying to do it through the different platforms.
and maybe this is where you wonder why the heck is it easier?
Well, because the more money you have to promote your content the more people will be able to access it and that's where your odds increase according to mathematics,
And I can imagine you asking yourself what does one thing have to do with the other? Well, let me tell you that within this community there are people who look at the long and medium term, just like an artist without talent, but with resources, who knows that accumulating in the medium and long term will come his time.
I usually see many news about how people get rid of their cryptocurrency, and it is where a small group, with many resources is ready to buy them, and what a paradox since here in #POB there is not much difference, And although well I already knew it made me reflect even more the article of @calumam
https://www.proofofbrain.io/hive-150329/@calumam/lions-prey
where he tells some truths, which may be uncomfortable for some!
some strive to help others climb, while others only strive to climb themselves, no matter who they have to trample.
And when I refer to trample is not the physical term, but the psychological term comes into play, since the more ignorant the person is, the more it benefits this select group!
Which has understood that abundance is found in intelligence, and intelligence tells them to accumulate!
The opposite of what the weak hands do! Boy, I would like to grow faster, but for now I have to deal with some commitments from my little creatures.
Maybe that's why some of my colleagues have reached the 1000 pob barrier long before me!
The focus is unwavering, the vision is clear, the determination is vital.
And as long as this is ongoing, I will continue to row for the community!
I must confess how much I enjoy seeing a new entry, and while it is clear to me that it is largely due to the price of #pob, a % of them will understand the vision and stay for the long haul.
It is very possible that from that % who stay, someone will come up with a great idea that will then be implemented in the Hive ecosystem.
That will later serve as a channel for passive and recurring income!
Now if you understand more clearly when I tell you that we are in a constant Royalty.
Some maximize it, others lose it, others take it out to see how it vanishes in real life!
A few others Accumulate!
Don't let your effort go to waste, which in the end was not only yours, someone with some self-interest or in collective, has collaborated to make it possible.
It is clear to me that you can not do #POB in #POB, outside there are those who should be inside, if your commitment is still intact, tell a little bit out there, what is happening here inside.
And if you want to share it here that's fine, and if not, well, don't worry, you don't have to tell everything you do!

---
Posted via proofofbrain.io