THE MISUSED POWER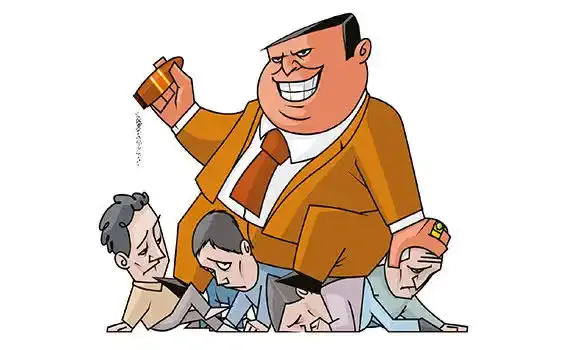 I live in a world where power is being misused, no matter how big, no matter how small. The slightest feeling of power in any organization is being used against so many.
I would start with the Power Holding Company, the power of electricity. Officials withholds electricity from reaching other streets for long while their streets enjoy electricity all day, all night.
Talking of education, lecturers demands for sex before giving good grades out, supervisors demand bribes before they mark a project well done, just because they are in the position of power in that particular field. They take bribes from lazy rich kids and give them better grades than those who truly deserve it.
In different companies and organizations, sex is also demanded for employment, most people already have candidates/slots for their employees even before screening and interviews, their families and friends even when they do not meet up with the requirements, thereby sending qualified people back home.
I live in a world where paramilitaries (police and security officials) arrest innocents because they are not willing to bribe them off, some times they even fire just because an innocent insists on standing on his right. They are given the power for our safety, but they use it against us for their pocket. A world where police officers collects monthly payments from internet fraud stars for their free movement no matter what they do or who they scam.
I live in a world where politicians promises to serve the people but after election, they begin to starve the people. A world where politicians refuses to pay up workers salaries for months but will never joke with any of their personal allowances. A world where the billionaire thieves prosecutes the once who steal to keep their body and soul together.
Even down to our primary schools, seniors bullying their juniors just because they are stronger and bigger in body sizes. They forcefully take what belongs to their juniors not because they need it, but most times just to destroy it and to feel in power.

A world where house helps are treated like slaves, they are the first to wake up in the morning and the last to sleep at night, they get beating for every little mistake they do while the child in the house are as spoiled as brats, they sleep on the floor in the corridor while the children have their own rooms and personal beds. They have no access to education working day and night just because they are being paid a few penny, just because they have nobody to run to.
I live in a tragic world where power is constantly being misused, no matter how big, no matter how small, the slightest taste of power in any organization is being used against so many.
But what the world I live in don't understand is that POWER is never constant, it might be yours today, it might be mine tomorrow, but one thing is certain, one person won't be in the position of power for life.
All Thanks to you for reading through my writeup on power, a contest on the WORD OF THE WEEK by @calumam. I wish you a wonderful week.
---
Posted via proofofbrain.io
---
---