My Third Hive Power Up Day

Ok so where has time gone! And what are crazy time it has been. I am entering into what has now become a tradition of writing a HIVE PUD post on the first of every month. I also realized I am posting on a new platform this time and that this might be a good opportunity to raise awareness about PUD and the advantages especially for small bees looking to grow. So instead of my usual introspective piece I thought I would write a little inforamtive peice.
Ok quickly for those who do not know what PUD is look at this great post by @traciyork
https://peakd.com/hive-167922/@traciyork/announcement-post-hive-power-up-day-june-1st-2021
And for those who don't want to click
HIVE power UP Day
---
Hive Power Up Day has been taking place on the first day of every month since it's creation by @streetstyle on that other blockchain back on April 13th 2019. Essentially, we ask that...
On the first day of the month...
... anyone who is able to, powers up some Hive on the first of the month.
... accounts that are powering down, pause during the 24 hour span of the first of the month.
... anyone who is trading/selling Hive, pause those transactions during the 24 hour span of the first of the month (and possibly even cancel any type of sell order on any exchanges during that time as well).
---
Now besides showing support for the blockchain you can also win prizes, this is based on % power up compared to your current HP so anyone is in with a chance!
How to qualify for prizes
---
For those who have done Power Up Day in the past, please be aware these requirements changed a bit starting with the September 1st 2020 Power Up Day, so please read carefully:
Your reputation must be above 39 and below 70.
Your total Hive Power (before the 1st) must be more than 100 and less than 8000.
You must power up at least 10 Hive on June 1st.
You must write a post about your power up on June 1st with the tag #HivePUD (International) or #HPUD (Spanish).
---
Last month I won first prize with a ~%200 power up , lets go look at what I won for a month
1st Place -
600 HIVE Power delegation for 30 days - - Sponsored by @theycallmedan, and distributed by @eddiespino through the @aliento account. ✅
300 HIVE Power delegation for 4 weeks - Sponsored by @traciyork ✅
5 HIVE Basic Income units/levels Gift - Sponsored by @improv ✅
150 HIVE Power delegation for 21 days - Sponsored by @alokkumar121 ✅
Wow look at that! It was fun having every up-vote worth $0.05!
Now I am not aiming for top position this time, I have 700 HIVE to power up and I am sitting on 924 so expecting to do about a 75% power up. It is a fun little competition to be a part of and if your in @theterminal discord you can join in and win some additional delegation for @thekittygirl


Ok thats a wrap from me ! Have fun and if you don't join in this time, why not give a shot next time!
UPDATE
@revisesociology has gone and made a lier of me by tipping me 10 HIVE and pushing me over 700. Many thanks for the unexpected gift!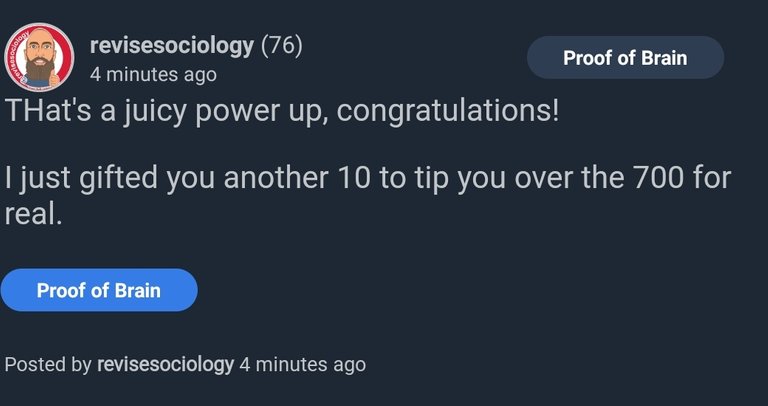 ---
Posted via proofofbrain.io
---
---