HiveBuzz Monthly author challenge, halfway there!
This month I decided to try and get the monthly author badge. The challenge is that you have to post something on HIVE for every day of the month.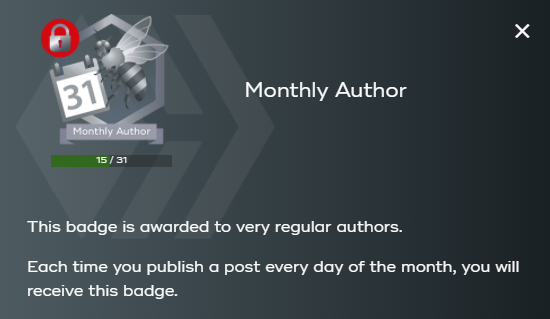 Today I reached the halfway mark, well almost, 15 out of 31 and I realized it's not that easy. At least, not for me. If you simply share your daily splinterlands rewards everyday for example, the challenge gets a lot easier. I have done the same for a day or two but I have also written some +2000 words guides etc.
Also, sometimes I feel like writing, sometimes I don't. The good thing is that you can simply create drafts and schedule the publish date/time. This helps a lot when trying to post consistently.

I have realized, that posting consitently is the key to success. At least, if you post valuable content. If you write a guide for example, bigger votes will find their way to your posts. This will not happen with every post and there are no guarantees, but after posting x amount of valuable posts you will see some nice average results.
Mixing it up with some low effort posts like sharing a splinterlands pack opening or a daily reward is obviously fine, but you can't expect the same rewards, which is actually a good thing. It proofs that valuable & high effort content gets better rewards. That said, it's not always 100% fair ofcourse, the value of a post does not always get the rewards that it deserves and the other way around. Overall though, better posts get better rewards.

Want to earn more money with blogging? Make sure to join HIVE and Start cross-posting to publish0x!
---
---