Community engagement is stabilizing
Last week was positive on all parameters. When subscribers, investors and active users were growing engagement managed to stabilized. New initiatives to reward the engagement are picking up once again.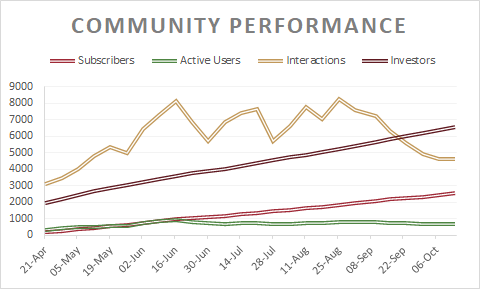 Highlights of the week
2531 (Last week 2442) subscribers to the community - This was the strongest parameter with the growth of 3.64%.
676 (Last week 666) active users are actively posting on POB. During the last week number of active users remained stable.
There are about 6578 (Last week 6388) investors who are/were holding POB tokens. 3.68% growth of investors. Investors have seen a continuous growth since April, when I started compiling these reports.
Growing number of investors against the interactions also indicate that the stakeholders of the community are now not interested in the engagement but prefer to be in the curators role.
Engagement is key
For last couple of weeks the engagements were failing down. In last week, a new cross platform initiative of #cinetalkies was started. Though its difficult to measure the performance, it is likely to be one of the most useful project in the next few days.
After the failing trend of engagement, this week the engagement was found to be stable. Last week the total engagements were 4605 and this week the engagements were 4606. Though a negligible growth, the silver lining is that it has not fallen.
Hope the new initiatives would help to pick up from these levels.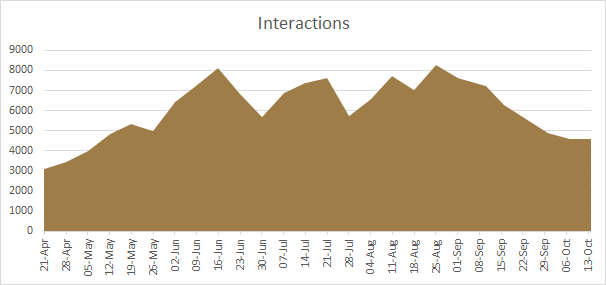 CINETalkies Engagement
Though I am supporting the project. The numbers are not looking that great. It is necessary that the community owner @raymondspeaks and @themarkymark get into the game and support this. Because the only spike that is visible in the engagement trend is when @raymondspeaks was involved on the page. Otherwise the page is mostly lackluster.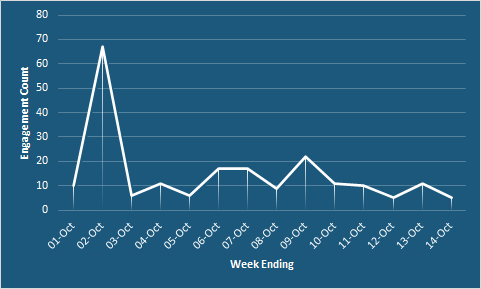 However, overall the #pob community is now marching ahead once again and that is encouraging news for all of us here.
---
Posted via proofofbrain.io
---
---