[Closed] Moonthumb's Mysterious Wheel of Random Prizes Giveaway - Ep. 8 (We finally reached the minimum)

If you read the last Moonthumb's Mysterious Wheel of Random Prizes Giveaway post, I talked a bit about having problems trying to give out ENGAGE tokens. I would typically try to give out 5 to each person who qualified so that I could comment on up to ten posts each day. However, ever since the hard fork (or so it seams), I have not been able to give any way. Therefore, I increased the amount I was giving for each comment to 10 (meaning I could only qualify five comments each day). Even with this additional time to reward the qualifiers, we still were waiting to hold this giveaway until we reached the minimum (which we hit late yesterday). So that means...IT'S TIME TO SPIN THE WHEEL!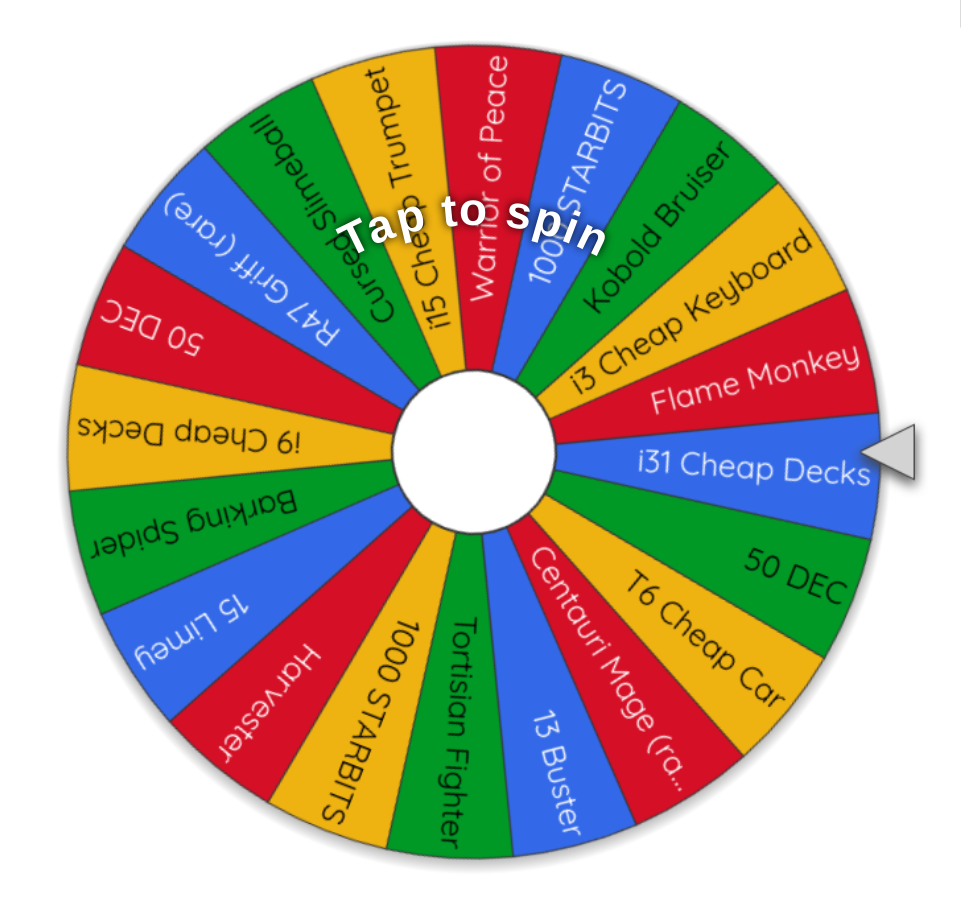 ---
Since we have just reached the minimum, that means there are fewer participants and a higher chance of winning, but we will keep the prize wheel the same. I decided to add to the intrigue for this spin by creating a video instead of just showing images. You can see the Prize wheel spin here
---
Now let's take a look at the rules for this giveaway:
Rule #1: Read the entire post to make sure you find all of the rules that apply to this giveaway.
Rule #2:
It seems like this page is loosing steam (not to be confused with Steem), but we still had 12 people qualify (which is barely enough for a spin) even though it took some extra time. I'll still sick with twelve for the minimum number of qualified participants for this giveaway. BONUS: If we reach 25 qualified participants, I will spin for TWO winners).
Rule #3:
If your Rising Star and/or Splinterlands username is different from the one you commented with, include them in your comment. Or if you want to give your winnings to someone else, enter their username instead and indicate that you want your prize to go to them. However, there can only be ONE entry for each account [for example, if my username is @moonthumb and I want to give my winnings to @theroad2freedom, I can add that name to my entry, but @theroad2freedom cannot submit another entry with their own name]. Also, in the interest of fairness, please only include one entry per person. I try to give everyone an equal chance to win. If I find out someone is using more than one account, I will ban those accounts from the giveaway. Additionally, only one person can qualify for each account that makes a comment (for example, you can either qualify for yourself or someone else, but you cannot do both. However, you are always free to tag someone else in your comment so that they are aware of the giveaway and can enter for themselves).
Rule #4:
Please be aware that I use these rules to make sure people are reading the post and to help eliminate bots. IF YOU DO NOT ANSWER THIS QUESTION IN YOUR REPLY, YOU WILL NOT QUALIFY FOR THIS GIVEAWAY! So the question is...Do you play just Rising Star, just Splinterlands, or both?
---
Once again, I created a short video to show the winner.
Congratulations to the winner (you'll have to watch the video to see if it was you)!
---
Finally, here is the list of all of the past participants (to help you find the post for the next giveaway). As usual, if you do not want to receive these notifications, leave me a comment and I will remove your name from the list.
@alejoca, @bitandi, @chuckrick, @cryptzy, @dirtnowitzki, @double-eagle, @eldon1, @finris, @gregory-f, @guurry123, @hhayweaver, @imfarhad, @irisworld, @javiss, @jdike, @jfang003, @johnsdowie, @julianhorack, @kevinnag58, @kurogan, @legalizabrazil, @m0rt0nmattd, @m3ss, @magooz, @manclar, @manukass, @mcparravicini, @mimismartypants, @minimining, @musdim, @obeliscocoin, @oduncu, @ph1102, @pixiepost, @polessins, @rarej, @regenerette, @shogo-takuan, @solymi, @specialfeelings, @supriya.gupta, @theums, @trentonlundy1, @tokutaro22, @tommyl33, @troikivmm, @yankosoito, @yeckingo1, @yocazo, @zarwelius, and @zonadigital21
Thank you for taking part in Moonthumb's Mysterious Wheel of Random Prizes Giveaway
---
You might want to check these out, too:
---
Posted via proofofbrain.io
---
---