OK...I hinted at this in one of my posts last week. I guess it's time to put my NFTs/crypto where my mouth is. Since I have participated in so many giveaways (and won a few), I felt it was only fair to give back. So, this will the the first of (hopefully) many giveaways I do.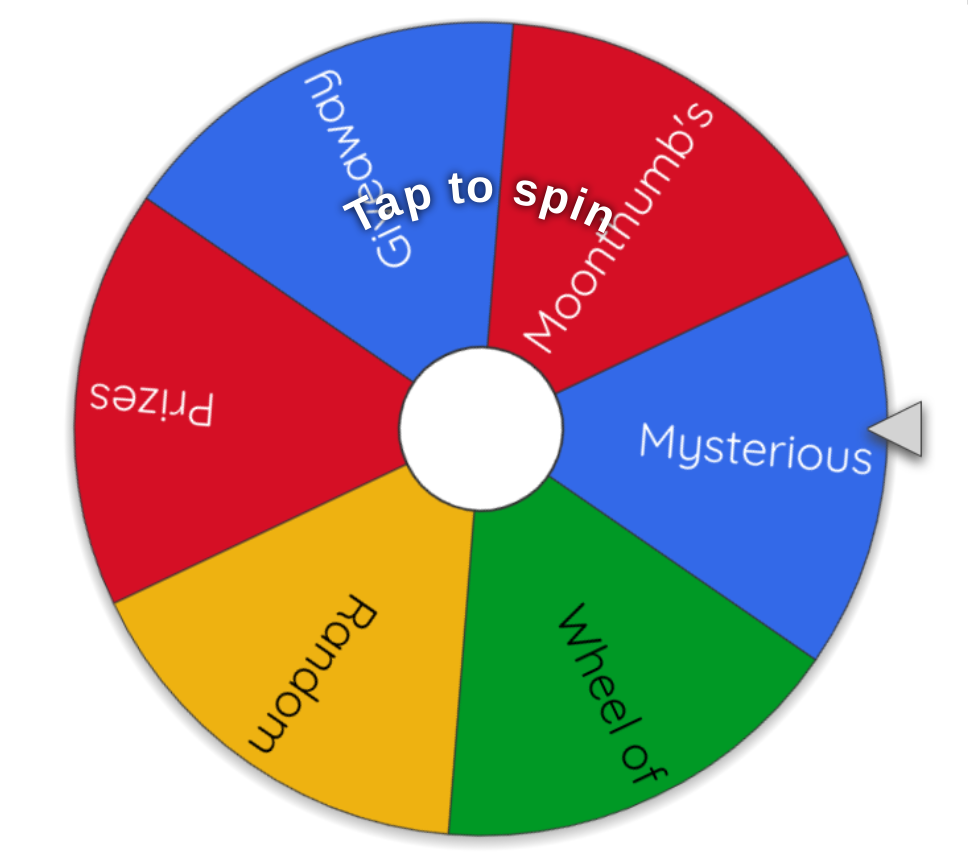 However, this one will be a bit different from others you've probably seen. Not only will the wheel decide who will win the prize in each giveaway, it will also decide WHAT will be won (that's where the "Random" part comes in. You won't know what the prize is until the winner is drawn).
I am starting this giveaway for a few different reasons:
To encourage engagement (to give you something to comment on so that you can earn crypto).
To encourage ME to post more often (that's right! I need encouragement, too)
To encourage participation in various crypto games on the Hive blockchain (even though I play some games on a few other blockchains, I will stick to games on the Hive blockchain...for now).
To encourage people to actually read the posts and participate in the fun (there will be different response criteria required for each post in order for your entry to qualify).
To encourage involvement in the giving mindset (you will have the opportunity to contribute prizes to this giveaway).
REASONS
Here is a bit more details about each of these reasons:
Engagement
One of the main reasons for being a part of the Hive blockchain it to earn crypto. A good way to do this is by commenting on the posts of others. However, we often are not sure what to comment. In these giveaways, I will not only give you an opportunity to win prizes, but to also earn various types of crypto (which will probably change from one post to the next) by providing the desires information in your comment.
Posting
This one is actually for ME! Even though I love playing blockchain games, I feel awkward posting about my progress in the game. Let's face it, how may blockchain gaming posts do you skip over because it's just somebody else telling what their level is, what cards they got, or how many points/tokens they have accumulated. I try to make it interesting and offer tips and tricks, but sometimes, you just run out of ideas. So, this will give me an opportunity to provide content that people actually want to read (because I am bribing them with the opportunity to win a prize).
Participation
Okay...This is is a bit selfish on my part. I really LOVE games and would like to play with people I know. I figure if you follow my posts, we will at least become a little more familiar with each other and will smile and wave if we see each other in one of the games. Besides, the more people that play, the more fun everyone has. Besides, I need to find some new people that I can actually beat (for now).
Following Directions
Sorry folks, this one is a pet peave of mine. If someone says everyone you have to meet certain requirements in order to qualify to win and then when someone that doesn't follow the rules get selected and gets the prize anyway, I get a bit steamed. In my eyes, that means that everyone that actually read the requirements and followed directions got cheated out of winning. I want people to actually read my posts. I want people to actually follow the rules. If you do not follow the rules, you will NOT be included in the giveaway. Enough said.
Generous Community
In my experience playing games on the Hive blockchain, I have found a community that is encouraging and generous (not everyone, but a good number). I want to not only give back to that community, but encourage participation by more people. Therefore, I am offering you the opportunity to contribute prizes to be included on the wheel for the next giveaway. Not only will you get recognized as the contributor of that prize, but you will also get an additional compensation entry in that giveaway. I may, or may not offer other types of additional entries in my giveaways, but there will ALWAYS be the opportunity to get a compensation entry on the wheel by contributing a prize. I will, at my discretion, give additional compensation entries for donations of higher level/value. NOTE: You do not have to qualify for a giveaway before any compensational entries can be assigned. A qualified participant is anyone who has earned a space on the wheel, regardless of how many spaces they have earned [for example, Jack qualified for a space on the wheel, Jill made a donation and received a compensation entry, Jim qualified for a space and made a donation (receiving an additional compensation entry). Even though there are four spaces earned on the wheel (one for Jack, one for Jill, and two for Jim), there are only three qualified participants].
RULES AND EXPECTATIONS
I wanted to make a few other things clear from the get-go:
My goal is to have twenty prizes that can be won in every giveaway. If more than one winner is selected for a particular giveaway, prizes won will be replaced with other prizes in subsequent spins (either another copy of the prize that was won or a different one of similar value).
There will be a minimum number of QUALIFIED participants for each giveaway. This number will likely grow if the value of the prizes increase.
I want to have at least one RARE OR HIGHER card on the wheel for every giveaway.
This is a Random giveaway not only because you don't know what prize you will be winning when you enter. It will also run at Random times. The wheel could be spun at any time after the minimum number of QUALIFIED participants is reached. If I decide to do subsequent giveaways, the announcement of the winner for the previous giveaway will include the reveal for the next giveaway.
The rules for each giveaway will be different. If you do not follow the rules, you WILL NOT QUALIFY to win. There will be no reminders. There will be no "yes, but's". There will be no exceptions. If you have a question or are unsure of the requirements, ask before the giveaway occurs.
Unless otherwise stated in the rules of a specific giveaway, tagging, upvotes, and reposts are appreciated, but not required. However, there could be instances where you will need to do one or more in order to qualify. Also, there could be chances to earn extra spaces for tags, upvotes and/or reposts. Additionally, there is a good possibility that I will upvote and/or reward qualifying entries (especially those containing tags, upvotes, and/or reposts).
I am a fair and unbiased person. I am not out to cheat anyone. My decisions will be final.
GIVEAWAY #1
So, now for this first giveaway:
Here is a list of prizes that will be on the wheel:
RISING STAR:
13 Buster
15 Limey
25 Dalilah
r47 Griff (rare)
i14 Cheap Sax
i15 Cheap Trumpet
i16 Cheap Cello
i17 Didgeridoo
i3 Cheap Keyboard
i8 Mid Range Mic
i9 Cheap Decks
t6 Cheap car
1000 STARBITS
Splinterlands:
Kobold Bruiser
Flame Monkey
Tortisian Fighter
Wave Runner
Biceratops
Harvester
50 DEC
I will be adding cards/tokens from other Hive games (like dCity, dCrops, Rabona, etc.) in future giveaways.
RULES FOR THIS GIVEAWAY:
There will be one winner in this giveaway. They will win one random prize from the list above.

Since this giveaway does not have a following yet, you must tag someone who has not already commented or already been tagged by someone else in order to qualify for this giveaway. You may tag more than one person. As long as at least one of your tags has not been used before, you can qualify. If someone you tag comments after your tag, you still qualify (that's the opject).

If your Rising Star and/or Splinterland username is different from the one you commented with, include them in your comment. If you want to give your winnings to someone else, enter their username instead. However, there can only be ONE entry for each account [for example, if my username is @moonthumb and I want to give my winnings to @theroad2freedom, I can add that name to my entry, but @theroad2freedom cannot submit another entry with their own name].

There must be at least 10 qualified entries before the giveaway will be held.
I'm sure I have forgotten something. If you have any questions, don't hesitate to leave me a comment.
---
Posted via proofofbrain.io