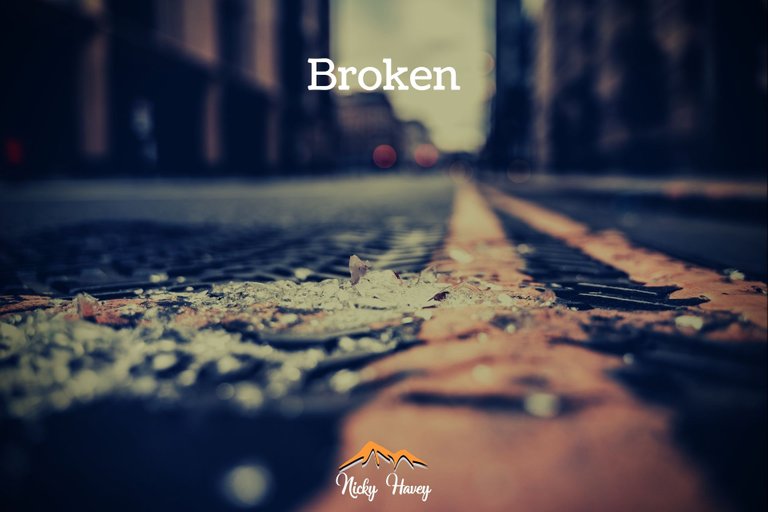 Image Source
Broken
This is something I've been feeling of late, even with the victories from recent days of getting the music PC back up and running, it feels like something has just gone from within and I can't tell what it is. Maybe the burnout takes longer than a rough night's sleep to get over along with coming to realise that there are way too many echoes of the past that are coming back to haunt me from the last 10 years (internally and externally) and it's just time to f**k that right off.
Like the track I shared yesterday that formed my post based around the word "Atmosphere", this is another track that I made from a few years ago that is once again relevant which is filled with atmosphere from the start. I guess for me, today's share is a more dramatic atmosphere and, dare I say, being a little miffed at the way things are going in 3D land! Seems that this is all leading to one thing... ending up Broken!
The inception of this track came from slightly different circumstances but in the grand scheme of things, they were the same. Back in 2011, I was doing some training for a marathon in Berlin and after a 10 mile training run, I ended up breaking my toe in a freak accident walking up the stairs after having a shower.
I lived in a house where the bedrooms were on the upstairs and on the downstairs, the living room, kitchen and then bathroom at the end. So as I was making my way back up the stairs, my foot got caught in the towel on the back lift and only my middle toe landed on the stair with my whole bodyweight landing on it... SNAP!
So that ruled me out of the marathon and I was pretty pissed then so just channeled everything in to this track you hear above and actually, starting to make me feel better just by ranting and listening in lol!
I'm still removing myself from Twitter at the end of June after ditching FB last month - have to say, it feels really freeing! Will still keep my Hive account seeing as that's permanent whatever happens but being online and posting every day has been a tough challenge as part of the #hiveblopomo - definitely going to be taking a break (not sure how long) at the end of the month, re-focus and make sure I can pick up the pieces of this broken boy!
Take care
Nicky
---
Posted via proofofbrain.io