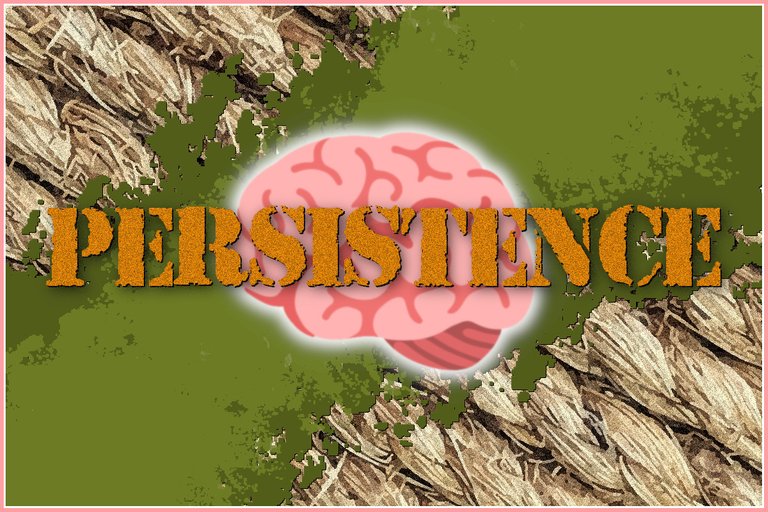 Image Source
Alright so we're back again for another Word of the Week Challenge from @calumam and after finishing in the top 3 previously with the "Atmosphere" round, I've got to try and keep the podium spot haha! This time, the word is "Persistence" and I'm going to provide another Drum & Bass track I made which epitomises this word as without having persistence, I wouldn't have made it through my PhD - this is "Can't Give In":
Can't Give In
I think you either have this never-say-die attitude within you or you don't, and the only way you get to grow as a person is by pushing through the toughest of tough times. When I was 3 years in to a PhD that eventually took nearly 6, I was at a make or break point and could have easily thrown in the towel. One thing after another went wrong with it, all factors out of my control, and those who have either been to Uni, done a dissertation or a PhD yourselves, know how lonely a place it can be.
Even though there were other PhD students in the same situation all offering each other moral support, you were still on your own. To put it in to perspective, back in my day (old man), a PhD was funded for 3 years, then you had 1 year after (unfunded) to hand in your thesis. I had 2 extensions, one for an extra 12 months funding and time extension, which eventually took my total time to 5 years 9 months.

Persistence - Digging Deep
I did write my PhD Survivor Guide a couple of years ago, reliving the full tale if you wanted to give yourself nightmares... errr... I mean... light reading about the full journey! That post alone was longer than my undergraduate thesis haha! In the end, once I had all the facilities and equipment I needed, I got all my data and results in the space of 10 months, working day and night, blood, sweat and tears (and a few burns) then wrote up in the year after - all 29,000 words and 330 pages.
At least, that's what I thought... then 2 weeks before handing in, my supervisor said I can't include these results as he didn't speak to our collaborators to ask if I could include them despite telling me for two years that it was fine to put those in... Yeah... just correlate that to the previous 5 years and that was my PhD experience lol! I ended up re-writing everything in that two weeks, handed it in uncorrected and ended up with a pass... CHEERS ME DEARS!!
So if you're listening to the track as you're reading this, you'll probably notice the gritty theme to this one which represents digging deep and not giving in, having persistence to see those big challenges through. If I had given up 3 years in, then life would be very different for me I'm sure. As it is, persistence paid off and I now relish challenges!

Join The Challenge
That's my entry folks, hope you enjoyed it. Would love to read your stories so I'll be checking out posts this week - make sure you post from the Proof of Brain site and follow the instructions from Calum's post here.
What have you achieved that you persisted and had to dig deep with? Share your story and get inspired!
Nicky
P.S. tagging in a few friends (no obligation but would be cool to read your stories) - @anaclark @trucklife-family @plantstoplanks @traciyork @fionasfavourites @uwelang
---
Posted via proofofbrain.io