What is HiveLIST? What HiveLIST is NOT...Updates and More!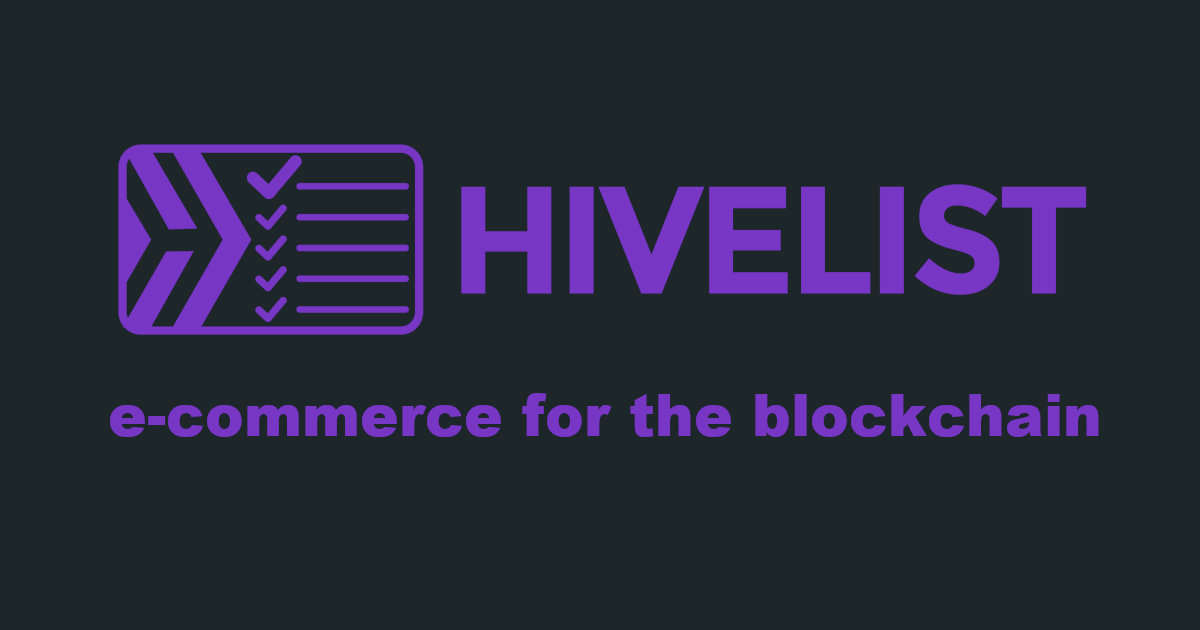 Hello by lovely hivians! Hope all is well with everyone! So we have been extremely busy as of late trying to wrap up the big pieces of the Hivelist platfrom. It's FINALLY ALL COMING TOGETHER!!!
With all these updates to the blockchain classifieds network, the creation of the Outpost and NFT markets, and the upgrades to the retail store, which is now also including a professional services marketplace and a place for people to showcase NFTs from different markets and blockchains all in one place.
So based on this, and the fact that it's been a while since I have had to clarify these things, this is a good time to update the Hive community on what HiveLIST is and what HiveLIST is NOT!
You may have noticed recently some comments or possible downvotes on your posts from the Hivelist account. This is because we are finding that your post or multiple posts are not what we are looking for on our site. It's not because we don't feel like your post is quality, but it is because you are misusing the 'Hivelist' tag in most cases.
We are trying to keep our network pure for it's original intent, which to be an e-commerce marketplace for the Hive community.
So what is HiveLIST?
Well, coming straight from the home page at https://hivelist.io,
"Hivelist is an All-In-One ecommerce platform for the greater Hive and crypto community where people can be free to do business using crypto. Our vision is to be the e-commerce platform for a future economy based on doing business in cryptocurrencies.
Our Mission is to offer a safe and transparent solution for people to do business using crypto in a documented way, no more scamming! As a member of the Hive community, your username is not only your social name and wallet address, but it also carries reputation! So you can know and check to see if the person you are trying to do business with is a reputable member of the community.
Built on values. This is a community and e-commerce platform that was built with integrety and transparency! We aim to be a more honest and reputable solution than Craigslist and Amazon!"
That really sums it up the best way we know how... This is what the HiveLIST network is! Period!
The 3 Main Parts of HiveLIST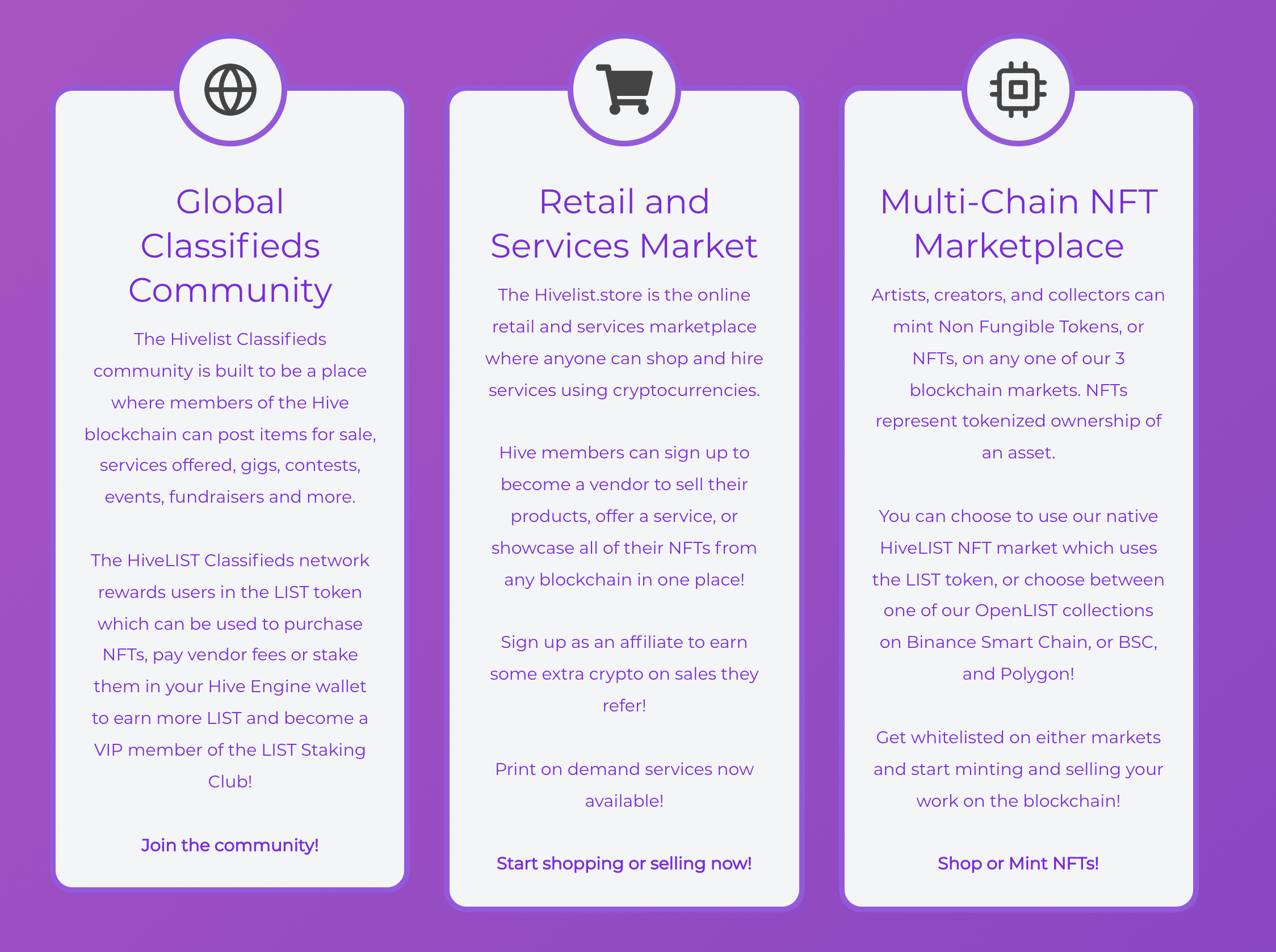 Part 1: Global Classifieds Community
This is the part of the HiveLIST platform that is on the Hive blockchain and is the main classifieds and advertising part of HiveLIST.
To properly use the classifieds, you will use one of a few different category tags that fits with the type of post you are creating for the platform. On the main website on the side bar, you will see a list of the tags and if you click on the tag it will disclose the meaning and purpose of the tags.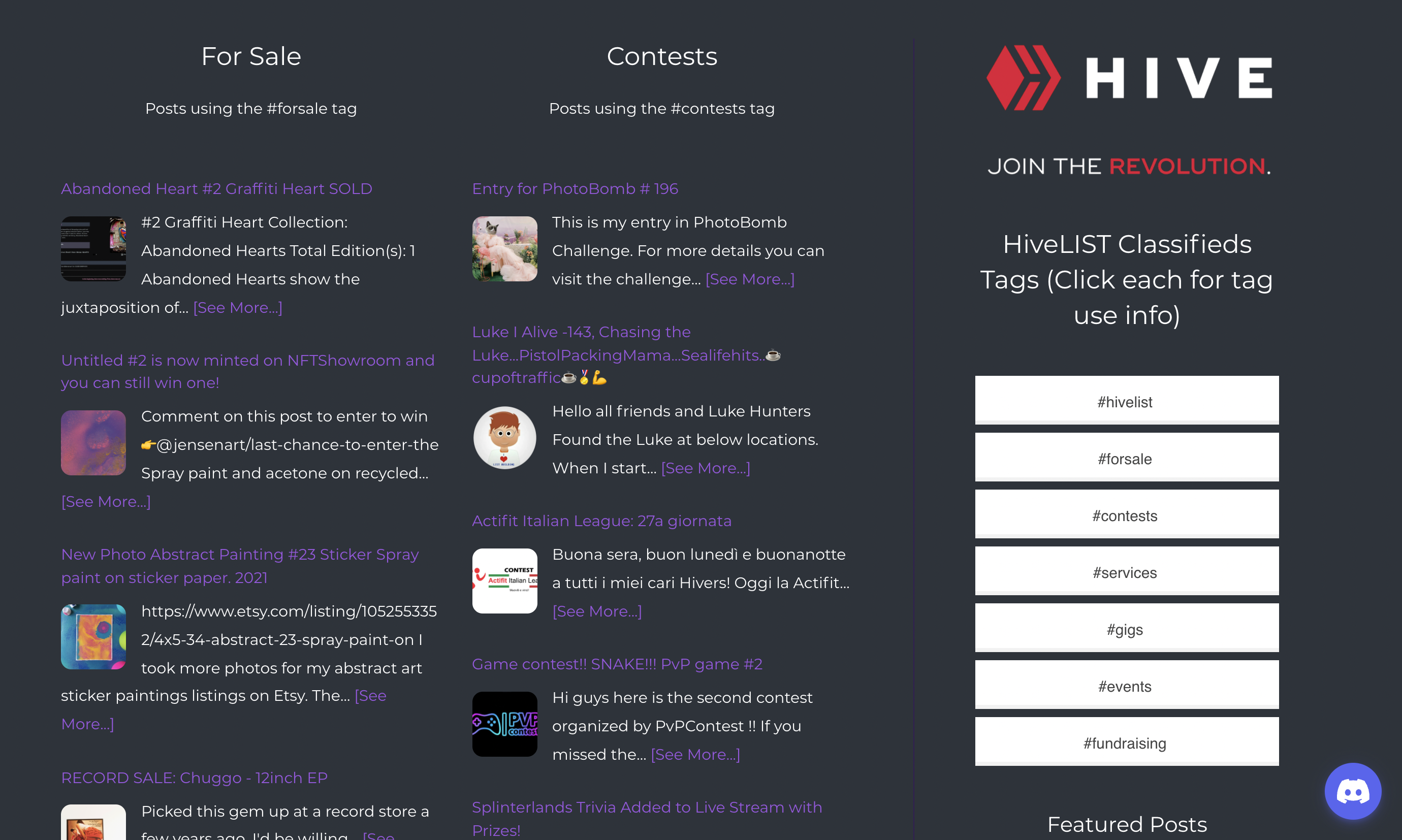 But just for documentation sake, I will go over them here...
Here are the list of Hivelist tags and their proper uses:
Promoting Proper Posts!
We are going to be out in force moderating and promoting posts on the HiveLIST platform as we are getting ready to launch a marketing campaign to try and drive traffic to not only the store and the community, but to HIVE overall.
So if you are making posts of your items for sale, services, you are offering, gigs, you are looking for, contests or events you are hosting or promoting, or if you are hosting a fundraiser, we are looking SPECIFICALLY at those categories for promoting posts.
Promoting posts burns the amount of LIST that is used to promote it.
Users can also promote their own posts as well especially if you are trying to get our attention! We are going to start promoting the promoted posts via short form posting on @dbuzz which will go to Twitter and some weekly posts featuring some of the promoted posts as well as any updates for that week.
Part 2: Multi Vendor Retail and Services Marketplace!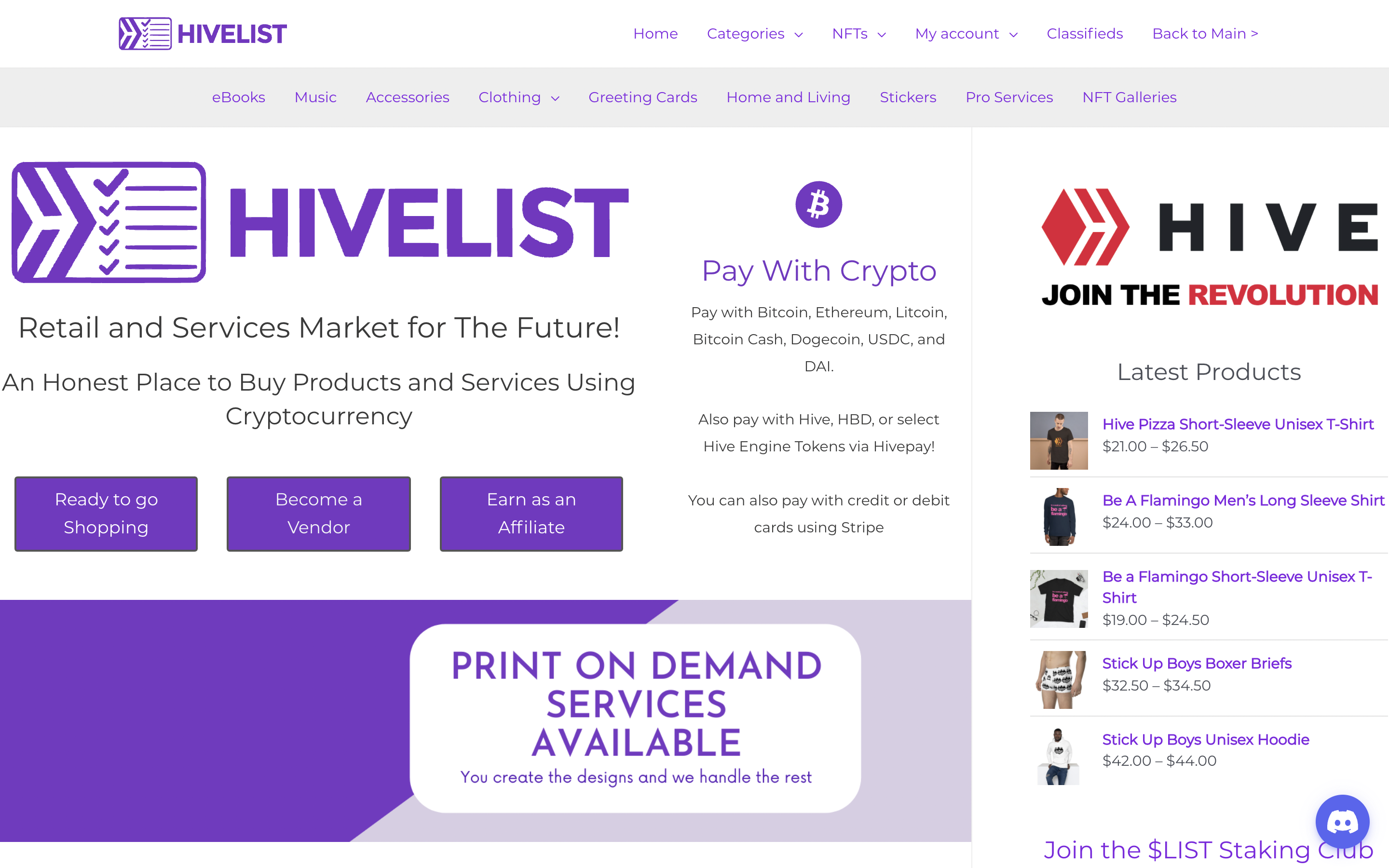 The second main part of Hivelist is not on the blockchain per say, but is a Wordpress based ecommerce store that allows Hive users to start their own merchandise store on our platform and sell what they want. Customers can purchase items with a variety of crypto currencies and the vendors also get paid out in HBD. We do accept fiat, but you know, we are doing this to give our cryptoCURRENCIES a usecase.
We sell everything from clothing, accessories, and handmade items, to ebooks and music! Store vendors can also use their HiveLIST store to showcase any NFTs that they have on other marketplaces and blockchains. You would just set up your product as an affiliate product and link to the proper market! We call these NFT Galleries!
This store now also houses our professional services marketplace where freelancers can post services that they offer and allow people to book and pay for their services in crypto...
So think about it like this... Amazon and Fiverr had an honest crypto loving baby and it was named HiveLIST, lol.
We are now offering Print on Demand services on the store as well! So if you are already a store vendor, you will see an option for POD Submit and you will be able to send your designs to use, pick a few products, and we do the rest! We work with some of the top print on demand producers in the world so the products and services are quality for sure! We just make it simple for vendors and handle all the middle man stuff for you, we just take a bit bigger cut on the sales.
If you are NOT a store vendor, you can pay per design and we will sell it on the store for a 15% cut of the sales and we will give you credit for the design in the title and description, and then we will pay you our on the 1st or the 15th of the month.
For our store, we also have an affiliate program which allows users to sign up and earn 3% of the sales fees from any sales the refer to the store! Vendors are also encouraged to sign up as affiliates!
The retail and services market are the more centralized, traditional style business that was created to help fund the development and marketing of the entire platform.
Part 3: Multi-chain NFT Marketplace!
So now that HiveLIST is an official Hive-Engine outpost, we also have our own native NFT marketplace where users can get whitelisted and mint NFTs or collectors can buy and sell NFTs all with the LIST token! To get whitelisted for minting, it's an automatic process. First you have to have 1000 LIST tokens staked in your wallet to support the network. Then you pay the 100 LIST whitelisting fee and boom, you can mint NFTs.
There is an NFT creation fee of 30 LIST base fee and 2 LIST per edition. So if you are minting one item, it will cost 32 LIST. If you mint 10 editions of the same piece, it will cost 50 LIST. These prices can be adjusted in the future if the LIST price rises up to near Hive prices. But for now, LIST tokens are pretty cheap, plus we give different options to earn. See https://hivelist.io/list-token for more information on that...
Then we also went and created 2 OpenLIST collections, one on Binance Smart Chain, and the other on Polygon!
We also give a way for users exchange into either base coin as they will need to be used to purchase NFTs on those markets.
The Polygon collection also shows on Opensea.io
Check out all the info and instructions on how to use those markets on the NFT Marketplace Hub! https://hivelist.io/nft-marketplace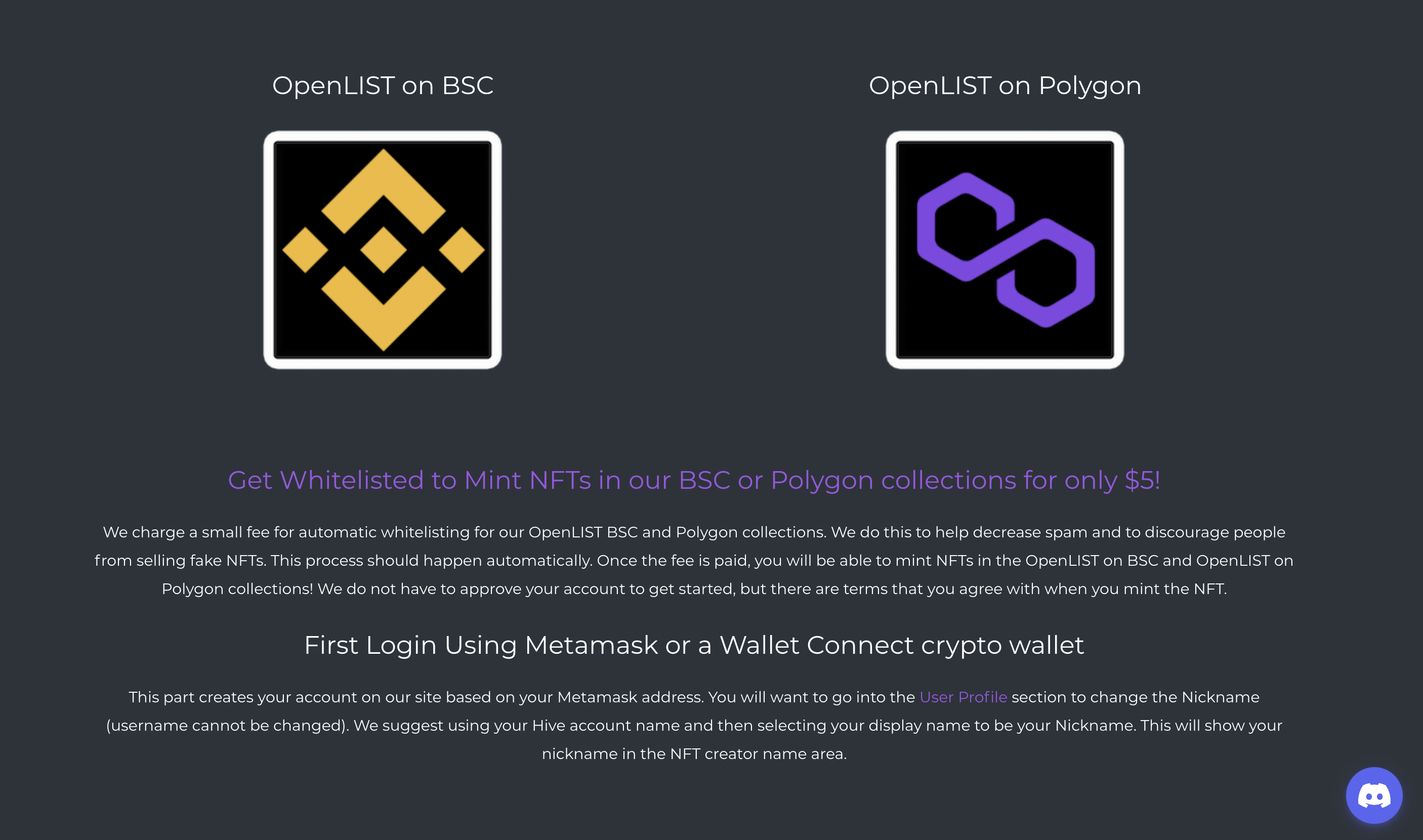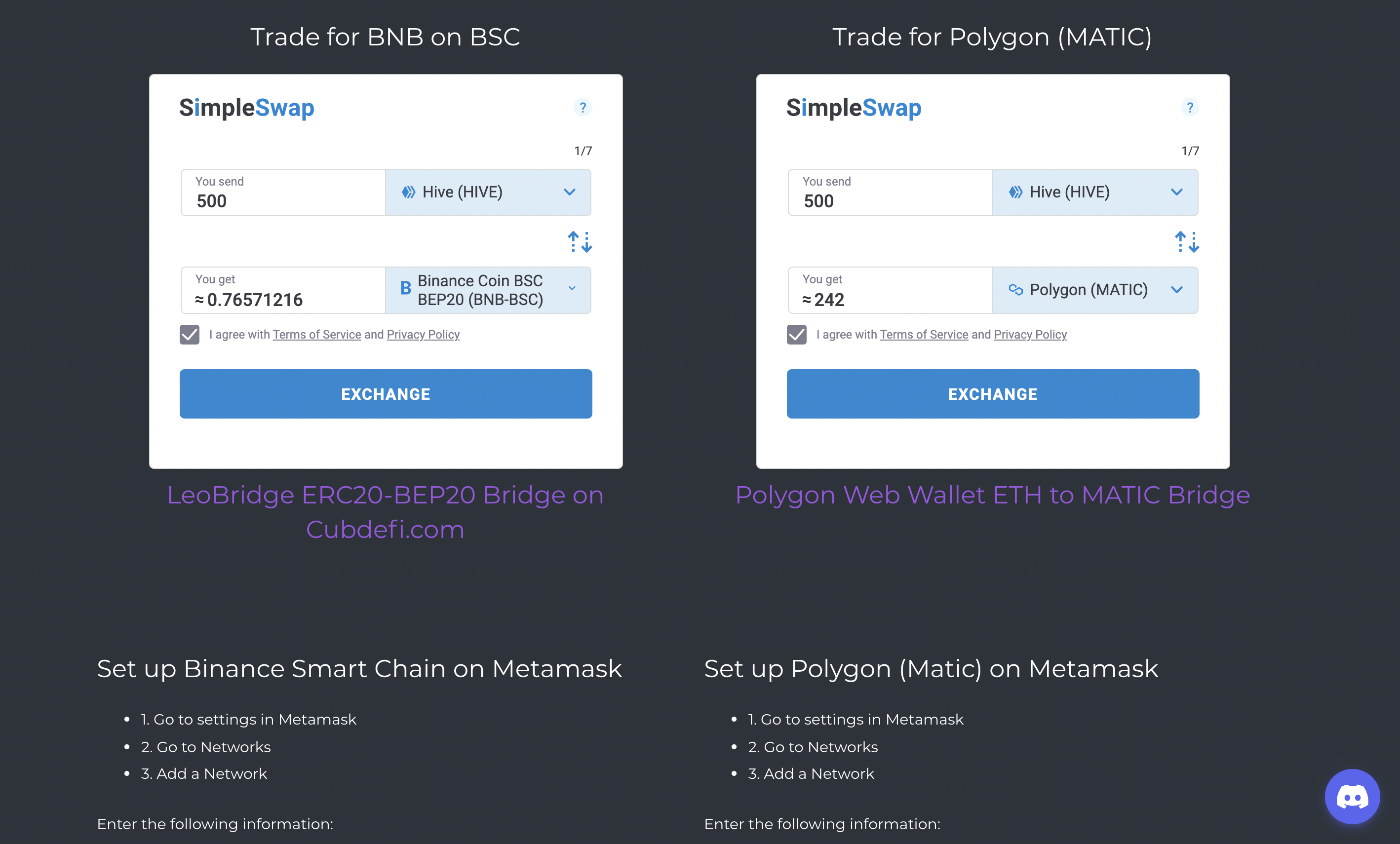 What HiveLIST is NOT!
HiveLIST is not a place that you post random stuff that is not related to doing business online. If your post does not fit into one of the categories above, or you are promoting the platfrom yourself, then your post does not belong on HiveLIST. We are trying to build an e-commerce platform for Hive, not another posting front end, so please respect that we are trying to do something different than any other community or tribe on the Hive blockchain.
So on that note, we will be actively downvoting posts that we feel are abusing the rewards pool. It is extremely hard to keep building a platform and paying for it ourselves basically when we have people posting and using the #hivelist tag mainly to earn rewards, then turn around and dump them back on the market. We have been investigating and seeing a pattern of the repeat offenders.
So step one, if we haven't warned you before, or haven't had to warn you in a while, you will get a little comment on your posts. If you continue to leech the rewards pool with irrelevant posts, we will begin downvoting without further warning. Some of you know who I am looking at...
For general posts about ecommerce, business, play2earn, defi, investing and such, we highly suggest using the #hivehustlers #hustler and #hivecommerce tags. These types of posts are great on that community, but not for Hivelist. We have removed the Hivecommerce tag as an earning tag for Hivelist, but will soon be giving it it's own rewards pool where it will pay out in COM tokens! But for now it will earn you HUSTLER dollars that when staked will earn you COM tokens, which if you stake that earns daily payouts in SIM, CTP, LIST, and WEED tokens and adding more soon!
In Conclusion
I first just want to say thank you to everyone who has supported me in this journey of building what is one of the most robust communites on Hive... in my opinion of course, lol. We have allot to offer the overall Hive ecosystem and hope to see it to continually grow!
Keep calm and Hive on!

---
---