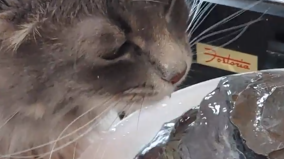 ---
Ezra, My cat only likes fresh water.
Yesterday I hooked up this water fountain for my cat. He only likes fresh water. If I put water down in a bowl, he won't drink it. Yet if he sees me at the kitchen sink, he wants to come by and have a drink.
Sooooo, problem solved. :) He seems to like his fountain. I told my wife we'd need to really clean it well once a week or so, since I don't want bacteria growing in the bottom of the fountain.
I get that this is a #selfie group, but he was so cute I just had to post his photo.
What's quirky about YOUR pet?
Leave a comment below and tell me what's strange, weird, or quirky about your pet. :)
-Rob
---
▶️ 3Speak
Oh, one more item: I'll add the #leo tag on here since this cat is here to prove the following:
Can you blog on the hive blockchain and earn crypto. Yes. What you DO with that crypto is up to you. Me? I am staking it all and growing my accounts. Ezra the cat up there benefits by the upvotes and comments on my posts because the more I earn, the better cat toys he can affort. :D Cat-lovers will understand.