Lost childhood friend...
Not all of us are lucky to have childhood friends from the first class until now. I do feel they are so lucky to have old childhood friends, they do know mostly all the things about us (sometimes it is and sometimes it can be bad). Friends are the most precious creature on the planet Earth, other than your parents and loved ones. I have a few friends who are both me from 9th or 10th class, the good thing is we are still in touch and we are close to each other only a group of 5 to 6 people.
---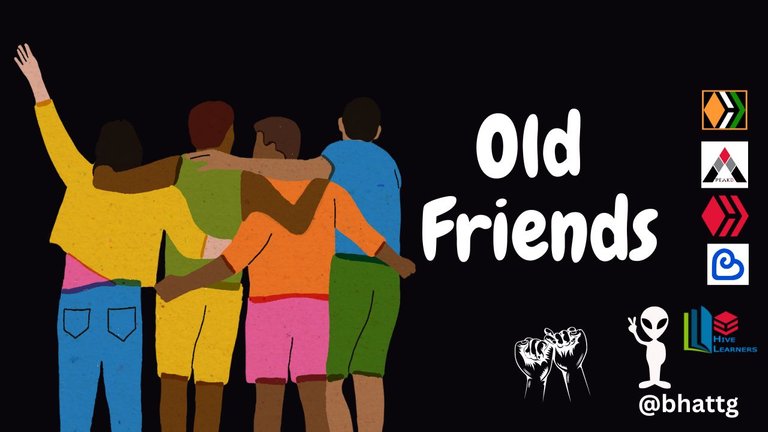 ---
Made Via Canva
I was been in many states when I was a kid so I don't have friends that are close to me from day one, If I do remember correctly I did change around 5 to 10 schools. I did change around 3 schools here in my town, where I am right now. So, I did make a few friends but I have not that many memories of my childhood friends that much. I do have some cloudy memories of my childhood, I do remember a few things but don't have a clear picture, The time was different that time. we don't even have a telephone at that time. So, it is not an easy task to find someone from old times that is more hard to do if you don't remember the names of your friends.
I have seen that boy's friends are more long-lasting as compared to girls (what do you think), not all do long last though :p. This can't be true, in the afternoon I saw today's topic (this must be a coincidence )and one of my friends called me. He said that meet me after your office we have our old friend from class 6th here. I was kind of surprised after the call from my friend. wow, we meet in 2006, and now it's 2023. I did have some memories of him, but I was not sure if he does remember me or not. I was really excited, to meet him after a long gap. His after was in the armed forces so the job was not fixed in one state so his after used to take his entire family with him.
I left the school where we used to study after 2 years he left the school and moved to Mumbai after that he went to a different state (the told me that when we meet today).
Now is a married man and has a child of one kid, he is a senior automobile engineer and he is planning to move to Europe. Currently, he is working in Vietnam, he shared a lot of things with us in a few hours. I was lucky to meet my childhood friend after a very long time. we did exchange our numbers let's see now when we are gonna meet again. Life is so uncertain can't say whether we will meet again or not. someone has said the true words "Old is gold", even though we did spend a few hours (or you can say barely an hour) we dod enjoyed that a lot.
see you in the next post, till then keep learning and keep exploring...
---
If you are not playing the splinterlands and Golem Overlord games then feel free to join my referral 😁
My splinterlands referral
My Golem Overlord referral
few posts from my past that might be helpful for you.

10 daily comments ❌
Ecency Boost ❌
Help others ✅
wish me luck 😅
Thanks a lot for staying till the end 😃🙏, let me know what you think.
Never forget one thing you should be grateful for because what you have someone has a dream of that. So learn to be grateful. Be Thankful.🙏😀
Thanks a lot for being here, let me know what you think.


Thanks & Regards
@bhattg
-----Together we will make this a better place-----
---
---