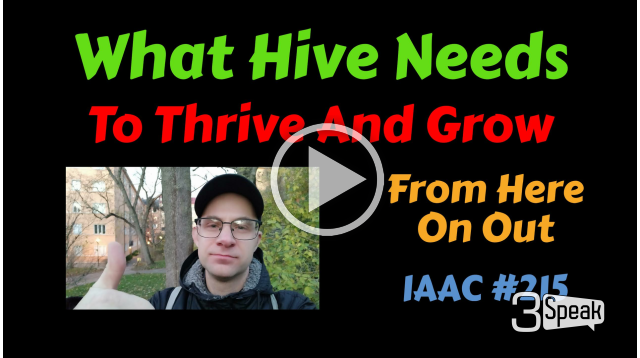 ---
Hi there and welcome to my vlog, my name is Erik Gustafsson and I go by the handle @flaxz on 3speak, CTPtalk and Hive.
What Hive Needs - To Thrive And Grow - From Here On Out
In this video I talk about what I think that Hive needs in order to turn the current downtrend around, and to keep growing and thriving.
So there is no secret that the price of Hive is dropping, and some of that can be explained by the amount of time it has taken to work out all issues after the hardfork, while we also have a global downturn in the economy.
I know that all witnessess are working very hard to get things working with the nodes and such, but that is still a factor when it comes to less techy content creators, and it is getting better.
Due to the economy many Hivers also need to cashout some to feed themselves, and that also has an effect on the price.
Now what I think needs to happen is these 3 things.
First of all we need to keep adding use case, to add more utility where people spend their Hive and Hive-engine tokens on chain rather than exchanging them for fiat, create demand really, more demand than we currently have.
Secondly we need to grow the active userbase by telling the rest of the world about the massive use case that we do have here, and get more people onboard.
And lastly we need to add a way to reward comments, right now we have content creators engaging with each other, while most other social media have content consumers engaging with each other without creating content themselves, I have an idea about creating a separate token for comments, though lack the knowledge and funding to make it happen right now, but I will keep trying to find a way for it.
What do you think?
Watch the video to get more details.
I Am Alive - Day 215
It is now my day 215 for the #IAmAliveChallenge, and you can read how it started and how to join in this guide, I Am Alive Challenge - The Guide.
This is all about celebrating that you are alive despite the hard times we now live in, and to share that with the world and the Hive blockchain, you are alive, and that matters.
We Are Alive!
Enjoy Watching The Video!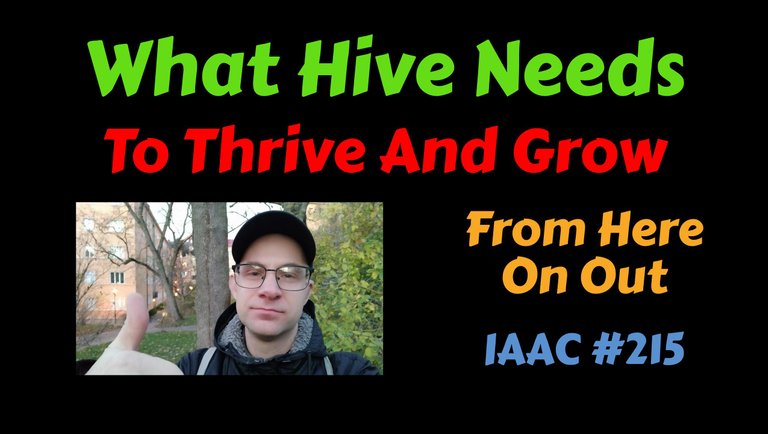 Made in Desygner
Stay safe, awesome and alive!
Sincerely,
Erik Gustafsson
This is my own personal opinion, do your own research before investing, and seek legal counsel if uncertain.
---
Credits For Music
Royalty Free Music from Bensound, track Hey!
---
The 4 points to join the #IAmAliveChallenge.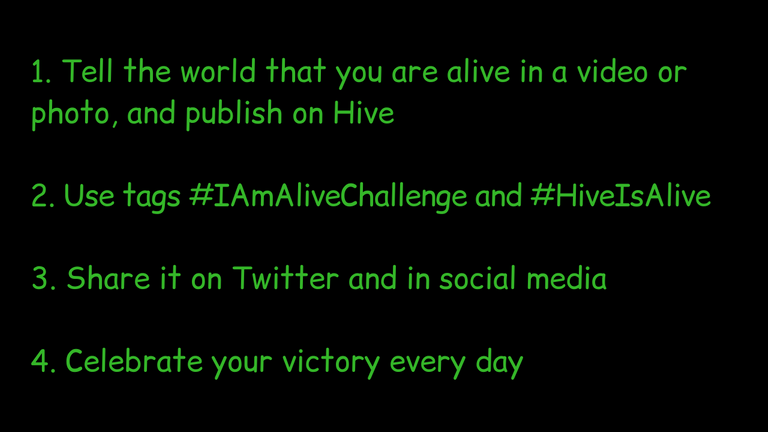 Made in Canva
---
5 Posts And Videos From The I Am Alive Challenge Community That I Recommend For You
---
---
Hello #hive 🖖