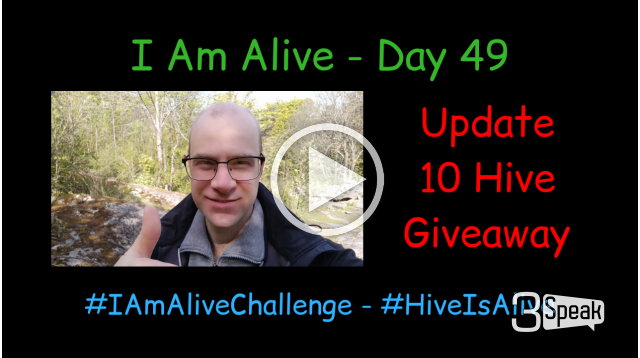 ---

Made in Canva
Hi there and welcome to my vlog my name is Erik Gustafsson and I go by the handle @flaxz on CTPtalk, 3speak and Hive.
I Am Alive - Day 49
It's now day 49 of the #IAmAliveChallenge, and here is the link to the video with my initial announcement, I Am Alive - Day 1 - #IAmAliveChallenge - #HiveIsAlive.
Keep spreading your light and gratitude to be alive during these hard times, each day matters and you matter, and invite more people to join, the instructions are listed below.
This is the 4 points to join the #IAmAliveChallenge.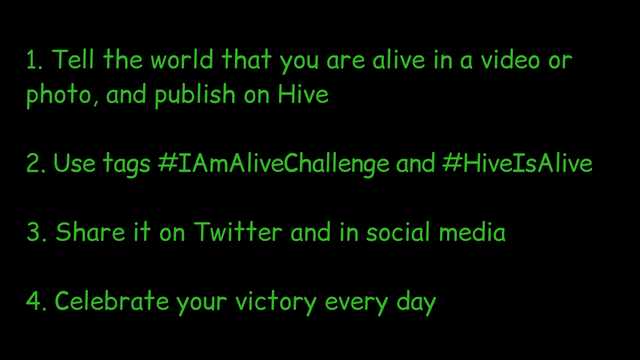 Made in Canva
Update 10 Hive Giveaway
So in my video yesterday I announced a 10 Hive giveaway, where the 10 first people to post their #IAmAliveChallenge posts and videos to our Hive Community would each be rewarded with a 1 Hive tip through PeakD.
Now I have rewarded the following accounts with a 1 Hive tip each for this giveaway.
@elianaicgomes
@iamraincrystal
@jlufer
@maddogmike
@russellstockley
@invest4free
So far 6 action takers, and that means there are still 4 Hive tips yet for this giveaway of totally 10 Hive.
I also decided to add a 1 Hive tip for @bradleyarrow, I think he deserves it for all his hard work, but that is added on top of the 10 Hive for the giveaway.
So hurry up and start posting in our community while there are still spots open.
I Am Alive Challenge Participants
Here are the 49 people that have joined so far, not including myself.
@bradleyarrow
@russellstockley
@ph1102
@pixiepost
@elianaicgomes
@justclickindiva
@maddogmike
@griega
@lisamgentile1961
@jan.kretschmer
@rcaine
@bonnie30
@adityajainxds
@iamraincrystal
@certain
@alokkumar121
@hafizullah
@sumit71428
@isabelpena
@steemer-sayu907
@adritaa
@rem-steem
@gungunkrishu
@linco
@mspbro
@k-banti
@ridoykhan22
@thecrytotrader
@willspatrick
@robwillmann
@hirohurl
@mamasez
@rishabh99946
@iamalisha
@elbrava
@romiz.amin
@bien
@ospro
@yousafharoonkhan
@toufiq777
@ononnaa
@generra-abraham
@jlufer
@iamjohn
@asad44
@joy-only-joy
@sahitya2702
@arrliinn
@invest4free
Thank you very much for joining #IAmAliveChallenge, and keep spreading your light, and declare each day a victory, You Are Alive!
Decentralized Engagement Rewards
So I am now rewarding engagement for this challenge, each day I go through all posts from the day before and Tip meaningful comments made on the posts using @tipu, these tips are 0.1 Hive in value and I have a daily limit of 5 Hive for this, so max 50 tipped comments per day.
Only meaningful comments by real people count, and made directly on the post, and no spamming posts with comments, and comments on your own post does not count, I will do this tipping manually so I select what I want to tip.
I hope rewarding good engagement will mean that we get more of it among the participants of the #IAmAliveChallenge, and maybe also bring more people in.
I Am Alive Challenge Posts And Videos
Here are the posts and videos that has been published since my last video, at the time I am writing this (which is different from when the video actually gets published).
IAmAliveChallenge | I Am Alive - Day Twenty-Eight
I Am Alive Challenge 21 May 2020 #iamalivechallenge and Name Three Things
I am alive Challenge day-19: A super cyclone "Amphan" coming towards us! #IAmAliveChallenge - #HiveIsAlive
Your Brain on Hive Without The Terminal: REDFISH RALLY 100 MEME CHALLENGE - Week 3
Not feeling well, but slowly getting better | I Am Alive Day #17
Day #45 of I am Alive Challenge
I am alive challenge day 49 for 21st May 2020
Giveaway on I Am Alive Challenge - It is day 49
I Am Alive - Day 47 - #IAmAliveChallenge powered by @flaxz
I am alive - day 1 for this account 😜
If You're a Good Person, Don't expect Good In Return !! | #iamalive #hiveisalive - DAY 14
I Am Alive On Hive Challenge Day 43 #IAmAliveChallenge - #HiveIsAlive
I Am Alive Day-54 need to keep mental and economic balance in the situation of ups& down
I hope that was every post and video, thank you so much, you are awesome.
I Am Alive Ebook - Team Alive Discord - Our Hive Community - Our Twitter List - Our Curation Trail
Team Alive has created the I Am Alive ebook to help you join this challenge, and to help onboarding more people to the Hive blockchain and the CTPtalk tribe.
The Team Alive Discord is filled with resources for you to promote your posts, help with rebranding the ebook and to promote that, and to chat with the community and give you support.
The I Am Alive Challenge Community has been created to more easily find other posts and participants to interact and engage with, and build a community out of the challenge, plus also to help newcomers to the blockchain if they do not have enough RC they can use the RC of the community to post, I have delegated 50 HP to it.
We have also created the I Am Alive Challenge list on Twitter to help participants find each other and to interact and invite more people to the challenge.
We have set up a Curation Trail for this challenge, it is managed by @bradleyarrow and you can find more info about this in our Discord, in the Curation Trail channel run by Bradley, plus also in a post with instructions made by Bradley, Joining a Curation Trail... Updated.
---
This is my own personal opinion, do your own research before investing, and seek legal counsel if uncertain.
Enjoy Watching The Video!
Stay safe, awesome and alive!
Sincerely,
Erik Gustafsson
---
Credits For Music
Royalty Free Music from Bensound, track Hey!
---
Get the CTP Blueprint from @elianaicgomes, and avoid getting lost in information overload.
---
Sign up for free to the I Am Alive ebook, click the banner below.
---
---
▶️ 3Speak