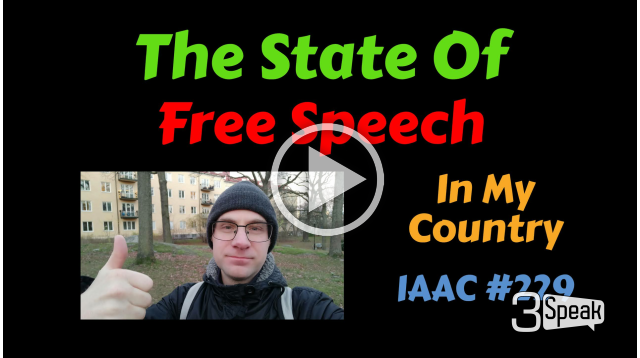 ---
Hi there and welcome to my vlog, my name is Erik Gustafsson and I go by the handle @flaxz on 3speak, CTPtalk and Hive.
The State Of - Free Speech - In My Country
In this video I talk about how free speech is doing in my country, and this is in response to, State of Free Speech In Your Country // Hive Community Leaders Initiative // Task 6 from @hiveangelists.
I got to know about it from @pixiepost see her video here, In Response to "State Of Free Speech In My Country" | Pix Vlogs - Special Edition, and also from @ph1102, see his video here, Little Big Signs .:. State of free speech in my country, empty pockets, and more....
So I am living in Sweden, and I have noticed lately that the movement to restrict what is said in public has picked up pace a lot with the entrance of Covid-19.
Sweden does not really have any major social media natively, and therefore regulating the major foreign ones falls for the most part on the European Union, who is pushing for more censorship.
As to major Television, Radio and Newspapers, we have a state owned network of TV and Radio, plus a lot of privately owned TV and Radio channels and lots of different newspapers.
That might look good on the surface, but all commercial TV, Radio and Newspapers are owned by 2 Corporations, one of them by a rich Swedish family, and both of them with part ownerships from Wall Street banks.
That they all have kind of the same agenda can be seen when you see the same copy and paste news in all of them, plus they all collectively go hounding against anything that is not seen as politically correct, and this is what is seen in the public room.
So fighting back against censorship is very much needed, and it's one of the major reasons for why we need decentralized solutions such as Hive and 3speak.
Watch the video to get more details.
I Am Alive - Day 229
It is now my day 229 for the #IAmAliveChallenge, and you can read how it started and how to join in this guide, I Am Alive Challenge - The Guide.
This is all about celebrating that you are alive despite the hard times we now live in, and to share that with the world and the Hive blockchain, you are alive, and that matters.
We Are Alive!
Enjoy Watching The Video!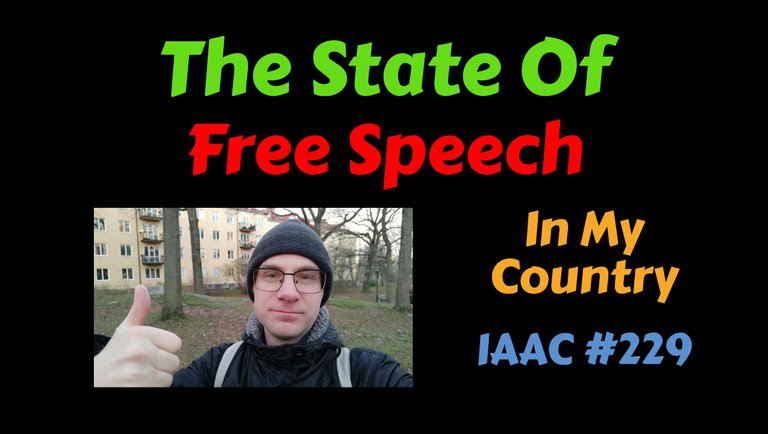 Made in Desygner
Stay safe, awesome and alive!
Sincerely,
Erik Gustafsson
This is my own personal opinion, do your own research before investing, and seek legal counsel if uncertain.
---
Credits For Music
Royalty Free Music from Bensound, track Hey!
---
The 4 points to join the #IAmAliveChallenge.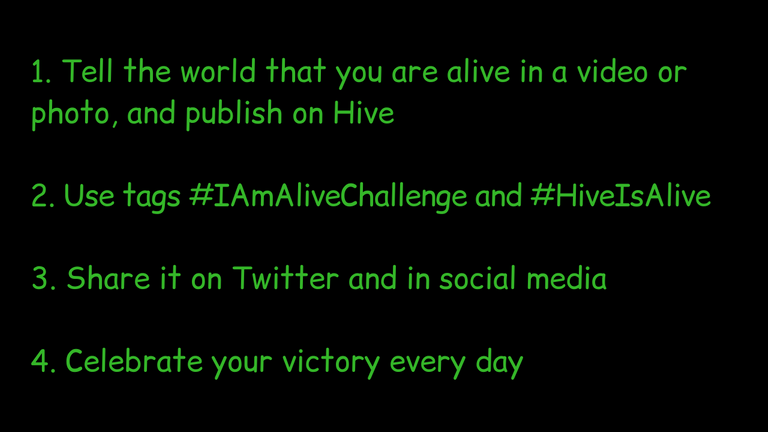 Made in Canva
---
---
---