What a day so far?
Hello and welcome to all the readers.
A late start of the day. Still struggling with my laptop.
It seems that the only option left to get a clean windows is to go back to factory settings. But, i want to be sure before i do it. Currently, digging out some of the wallets of the cryptos i had some balances on. And also the documents and files scattered around.
A long way to go.
Also been watching 100 cricket (first edition), a newest shortest format game of cricket played currently in UK.
Well, each team plays 100 balls. New set of rules too.
T20 cricket is 20 overs (120 balls)
One day cricket is 50 overs (300 balls)
And then you have test cricket.
Ok, lets talk about scavenger hunt.
Today at listopia we had 2 occupants
Cupoftraffic
Bootscootintraffic
I started my hunt on the ipad and it was not very great
Logged into the clicktrackprofit and then started the scavenger hunt and the first destination was cupoftraffic.
And when i reached 48th page and clicked to verfiy, i got a message you are on the wrong country and need to go to bootsccotintraffic.
So i went to bootscootintraffic and surfed 44 pages and found luke. But while taking the snapshot on the ipad, i ended up restarting the ipad.
So i decided to fix the norton antivirus installation on my laptop and then continue with the hunt.
So after an hour, i started where i left on the ipad.
The next stop was cupoftraffic, i surfed 48 more pages and found luke.
then i went back to bootscootintraffic, surfed 44 more pages and found luke.
then i went back again to cupoftraffic, surfed 48 pages and found luke. Strangely, it said you have completed the scavenger hunt.
Collected few CTP badges along the way.
Evidence:
I got only 3 screenshots. But one is duplicate, my bad :(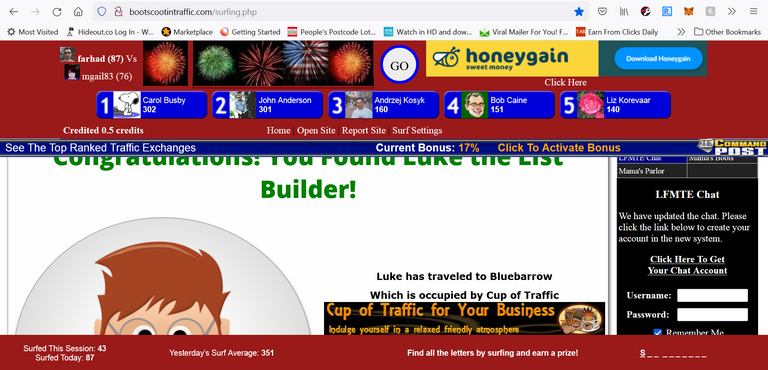 ---
thank you for reading my post.
Have a nice day.
Farhad Kias
[imfarhad]
---
🏂 Are you participating in Alive Engagement Contest?
On Alive Engagement Contest, they are giving out daily prizes of 200 Hive Power delegations for 4 weeks, and that is done every day, which means a total of 5600 Hive Power delegations for 4 weeks each month. Anyone with Hive account can participate.
for more details click the link 👇
📌 https://peakd.com/hive-155221/@iamalivechalleng/this-is-the-daily-prize-drawin-fg6cnp154111ks5m723la516b6u4376d
---

---
---