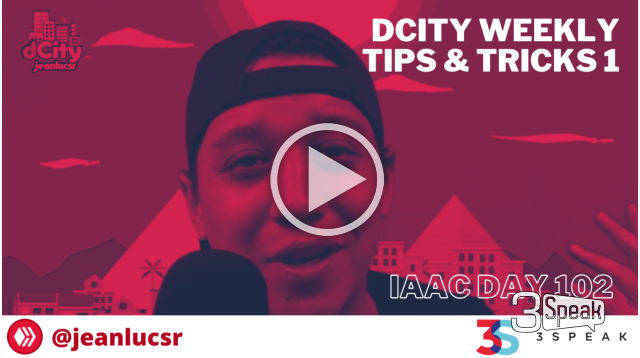 ---
Welcome to the DCity Weekly Update, where I share the gameplay of DCity, one of the games on Hive.
What is DCity
DCity is a city simulation game that runs on the Hive ecosystem. It has a 24 hour simulation, which allows you to make changes to your city on a daily basis.
You can mint cards (NFTs or Non Fungible Tokens) to built your city, or you can buy the open market. Every card has a certain value, which is link to a certain amount of earnings, popularity, population, education, creativity and/or workers.
You can earn with your city through an in game token, called SIM and some cards even help you simulate mining activity for other tokens. Additionally you can also earn rewards based on your city's ranking in the top 400 biggest city's by population.
I do have to note that this game is pay to play, you have to actually buy your cards with Hive. But on the other side, you get rewards as well. And if you have ever purchased SIM City in your life, just consider this, have you ever had your money that you purchased the game for back in a year through gameplay. How awesome is that?
If you are interested to learn more. Head over to DCity.io and create your own city.
Tip of the week
The first tip I want to share I one I got from @empoderat way before I even started playing, which is, learn to play the market. There are several cards that you can buy for relatively cheap. You can buy your random cards for 4 HIVE or 800 SIM, but a lot of cards will be on the market for much cheaper. Also, occasionally people dump there cards for much less than they are worth.
For instance, I got this awesome Egyptian background for just 1 HIVE and this Asian Background for just 2 HIVE. Two cards that would probably take forever to get if I had to mine them myself and regularly go on the market for around 8-10 HIVE.
Steal of the week
In this segment I focus on the cards that are currently available on the cheap on the market.
I had a hard time choosing between WEED Farms, Hotels and Brewery, but I'm picking Brewery.
Currently you can get your hand on a Brewery for around 5 Hive which is a pretty good deal. You can always try to get it as a random card through DCity purchase, but you only have a 1% chance of getting one. The best part of
Also currently on the cheap are Research Centers, which you can get for between 2 and 2.5 Hive, which in my eyes is a steal, especially if you consider that you need at least one to mine a background. So If you don't have on yet, get yours quick.
Special thanks to @rafalski for making Hivespace.data available for all these awesome statistics.
Game development
We currently have 1636 active users playing the game daily and a user data base of just over 2000, which is great as it has almost doubled since I started playing.
Personal
As for my own city this week. I had an good week. I actually mined an 'Open Source' and a 'Robocop' in the past week, which I think is really cool. I try to purchase at least 2 in game cards every day and as I have around 30 job centers almost all the new Homeless and Immigrants that move to my city get trained straight away. For now I have been able to stay in the top 300 cities in the ranking, which for me currently is good enough.
Thank you for watching/reading!
If you are interested in playing head on offer to DCity.io and read the guidelines. If you have a Hive account, you can create your DCity instantly.
If you are DCity player, feel free to join the DCity discord.
Disclaimer: This is a weekly DCity update by a player. This is not in any way consider as financial advise. This video has not been endorsed in any way by the game creators and/or developers. Always do your own research and make your own decisions.
---
This video is part of my extended participation in the I Am Alive Challenge, with the goal to upload 300 videos on 3 Speak in 2021.
---
Not on Hive? Join us now. Click >> here << to create an account
---
▶️ 3Speak