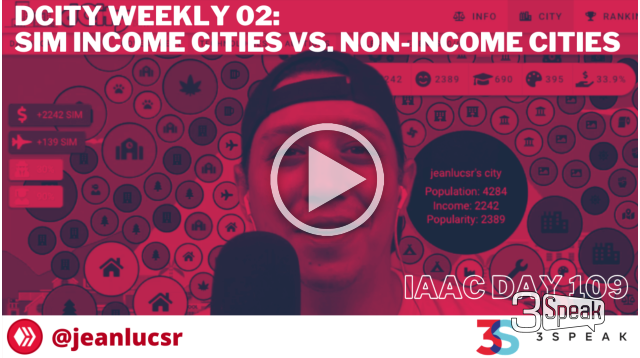 ---
Welcome to the DCity Weekly Update, where I share the gameplay of DCity, one of the games on Hive.
What is DCity
This week I focus on the requirements and basics of cards. More info can be found here > https://dcity.io/info
Strategy
The two main strategies on DCity to start out are SIM Income Cities and Non-Income Cities. With the former you use the daily SIM income of your city to invest and grow. The latter allows you to grow quicker and move up the leaderboard (ranking) as the top 400 cities get Hive earnings. The higher you rank, the higher the reward. The are however other things to consider, like a 30% tax for Non-Income Cities being one of them.
Steal of the week
In this segment I focus on the cards that are currently available on the cheap on the market.
This week I choose the 'Forest' card, that has dipped below 2 SWAP.HIVE for the first time in awhile.
Special thanks to @rafalski for making Hivedata.space (I messed up the website name last week) available for all these awesome statistics.
Game development
We currently have 1685 (+49) active users playing the game daily and a user data base of 2133.
Personal Gameplay
As for my own city this week. I got a new MIC, but aside from that, a relatively boring week with no new technologies or backgrounds.
Thank you for watching/reading!
If you are interested in playing head on offer to DCity.io and read the guidelines. If you have a Hive account, you can create your DCity instantly.
If you are DCity player, feel free to join the DCity discord.
Disclaimer: This is a weekly DCity update by a player. This is not in any way consider as financial advise. This video has not been endorsed in any way by the game creators and/or developers. Always do your own research and make your own decisions.
---
This video is part of my extended participation in the I Am Alive Challenge, with the goal to upload 300 videos on 3 Speak in 2021.
---
Not on Hive? Join us now. Click >> here << to create an account
---
---
▶️ 3Speak