Introduction - I am Alive Challenge!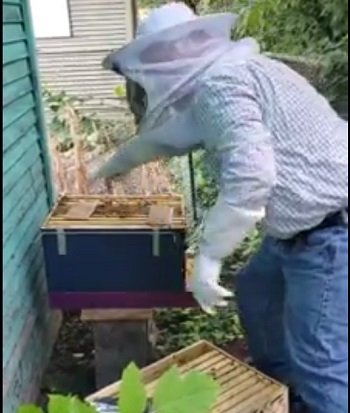 Me Tending my Beehive
Short and Sweet!
I am getting ready to go to bed in preparation for a trip I am taking to South Carolina today. I am going to a festival and to promote #HIVE to some fellow media creators. I just came across this challenge, and I had to do a quick post about it.
Old School
I was blogging on Steemit almost from the beginning. I got involved when I had first got clean from Heroin, and I documented my recovery for my blog. I did ok, but life happened, and I moved on to other things. Now, I am back, and very active with HIVE. I Curate for the Music For Life community and am getting involved with CineTV as well as other projects here. When I came across the #IAmAliveChallenge, I figured why not put something in?
One Day at a Time...
Something you learn in recovery is to take life one day at a time, and if you have to, one minute at a time. When you learn how to do that, you start to become appreciative of the little things. You start to appreciate the things you have instead of worrying about the things you do not have. When you have acceptance for the circumstances that surround your life, then you are truly on your way to peace!
Thank You!
I know it is not much, but it is true. Appreciate what you have, and take things as they come, and I promise you, life will be better!
---
---