It's Thursday - and I'm on the hunt for Larry
Thursday already, where does the time go?
I've been a bit remiss in recent weeks not getting involved with the #larryisalive challenge, which is silly really as its one of the easiest challenges to be a part off.
All you need to know about the challenge can be found in this brilliant post from Erik Gustafsson aka @flaxz Larry Is Alive. Check it out, get involved and maybe win some prizes. One of the tag lines of the UK National Lottery is "you gotta be in it to win it" and that fits here just as much.
If you read the post, you will see there are 5 sites to complete a task for to gain tickets for the draw, as well as extras tickets for other activity, but i'm easing my way back into this today by just completing one of those five tasks.
So, with Spotify blaring out a bunch of 80's Rock Anthems, I'm at site that is the biggest reason i'm even on Hive at all... The one, the only mailer on the blockchain ...
Listnerds
The task to complete here is to click on a minimum of 10 mails. Clicking in this instance means clicking the images and/or links that take you to the poster's content. Sometimes it's an affiliate, mostly it's an article showing the poster's passion for a subject, or their daily activity, yes even a post for challenges like this can be found there.
Once you've done that, all you need to do is show some proof that you've done the task. Haha, did you think just your word would be good enough. Unfortuantely not, but it's dead easy to prove your efforts.
Simply login into your Listnerds account, if your not already, navigate to the TASKS menu option. There you will see your activity for the day/week and month. Simply screenshot or snip those boxes - remembering to include the date from your browser bar just like this: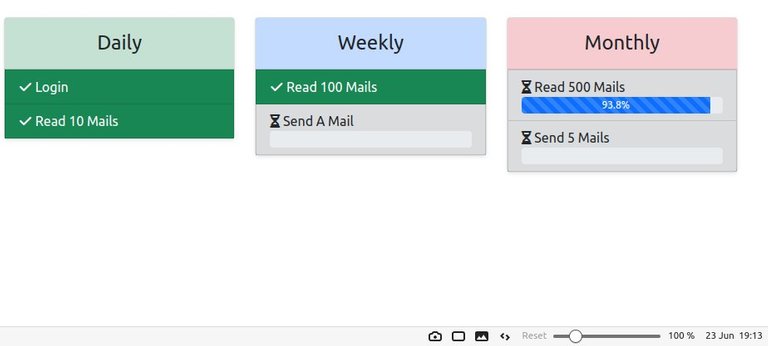 then create a post and upload the image, add a few tags and publish. This is a daily challenge, but on Thursday's extra prizes can be nabbed if you participate in the post by sharing the link to your #LarryIsAlive post in the comments of the weekly Alive Chat post - todays can be found HERE
So there we are easy peasy to get involved...costs absolutely nothing - well a bit of your time perhaps, but you're probably reading great content already from all over the various front-ends that Hive has to offer so why not give yourself the chance to win something while you're doing it.
Have a great day/afternoon or evening whereever you maybe, and thanks for reading. Signing off with Tears For Fears, Shout booming out of my speakers...yaaay!!!
Oh and GOOD LUCK!!!
---
---