We Are Alive - ALIVEM Is Activated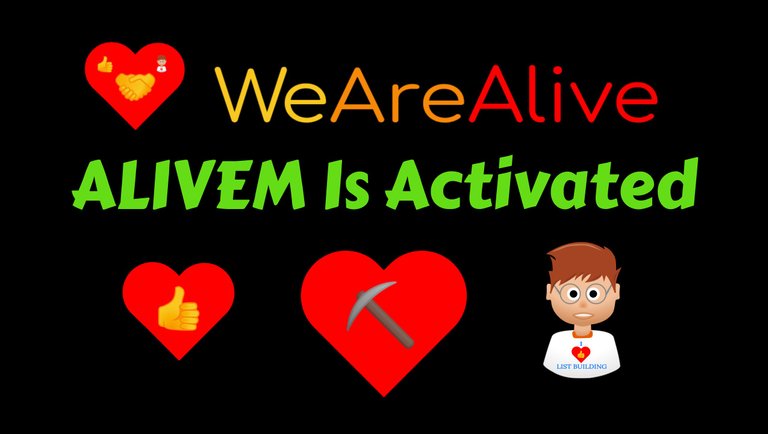 Made in Desygner
ALIVEM Is Activated
Our miner token, ALIVEM, has now been fully activated, and is working according to the parameters specified in our white paper, White Paper 2.0 - ALIVE And ALIVEM.
This is our current ALIVEM token holders.
@threesteps
@jlufer
@kingneptune
@d00k13
@guurry123
@aliveprojects
@flaxz
@jimmy.adames
@masoom
@chireerocks
@hivecoffee
@bradleyarrow
@bilpcoinbot
@brutalmonkey
If you have not yet staked your ALIVEM then make sure to do that as soon as possible, otherwise they are not mining ALIVE tokens for you.
Out of the initial sell order we made of 1000 ALIVEM for 5 Hive each there is currently 654 left to sell, and do note that for each 1000 ALIVEM we put on the market we also double the price.
Additional Changes
When we updated Scotbot to decrease the rewards pool to Authors/curators with 20%, which is now delivered as mining rewards, we also updated the way we issue ALIVE tokens.
ALIVE tokens are now directly issued by Scotbot on the @aliveandsocial account, and that account is now the owner of both ALIVE and ALIVEM.
This makes the whole tribe operation automated, and when Hive-engine has worked out a Smart Contract to replace Scotbot then we are now ready to jump on that, plus it removes any need to manually issue tokens to a Scotbot rewards pool.
All of this is now updated, and we informed and got feedback about this change here, We Are Alive - Suggesting Update - To Improve Token Contingency.
What's Next?
The next part is that we use the Hive we get from continued sales of ALIVEM to buy BEE on the market, and once we have 1000 BEE we will enable delegations of ALIVE power.
When that is complete the ALIVE and ALIVEM tokens have the features that we have published in our white paper, and we continue to build our tribe, hopefully to the most successful one on Hive.
Thank You!
Thank you very much for reading this post, leave your thoughts in the comments below, and ...
Stay safe, awesome and alive!
Sincerely,
We Are Alive And .Social
Written by @flaxz
This is my own personal opinion, do your own research before investing, and seek legal counsel if uncertain.
---
---
---
---