We Are Alive - Delegations Are Enabled For ALIVE Power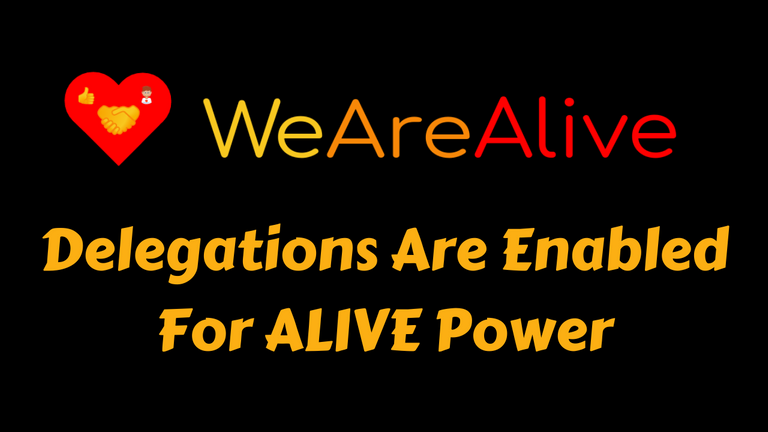 Made in Desygner
Delegations Are Enabled For ALIVE Power
A few days back by now we where able to enable the delegation feature for our ALIVE token, so now you are able to delegate ALIVE Power, and this was done at a cost of 1000 BEE which we got from continued sales of our miners.
So thank you very much everyone who has bought our miners.
@threesteps
@jlufer
@kingneptune
@hafiz34
@gank
@d00k13
@faireye
@guurry123
@iamraincrystal
@aliveprojects
@alokkumar121
@flaxz
@hivecoffee
@jimmy.adames
@khan.dayyanz
@masoom
@neshk
@chireerocks
@bradleyarrow
@b4phom3t
@bilpcoinbot
@brutalmonkey
@ddn688
As a direct consequence of this we have also added a second prize to the Alive Engagement Contest, a 4 week delegation of 300 ALIVE Power.
You can also delegate ALIVE Power, maybe to a newbie who needs some to get started with curation, or a project that you want to delegate to, or perhaps you want to create a secondary account to curate with.
We will soon also release the info on how we are going to delegate ALIVE Power from @aliveprojects to tribe member projects that works to increase the value of our ALIVE token, so look out for that, we want the stake to spread out and the tribe to grow.
Thank You!
Thank you very much for reading this post, leave your thoughts in the comments below, and ...
Stay safe, awesome and alive!
Sincerely,
We Are Alive And .Social
Written by @flaxz
This is my own personal opinion, do your own research before investing, and seek legal counsel if uncertain.
---
---
---
---